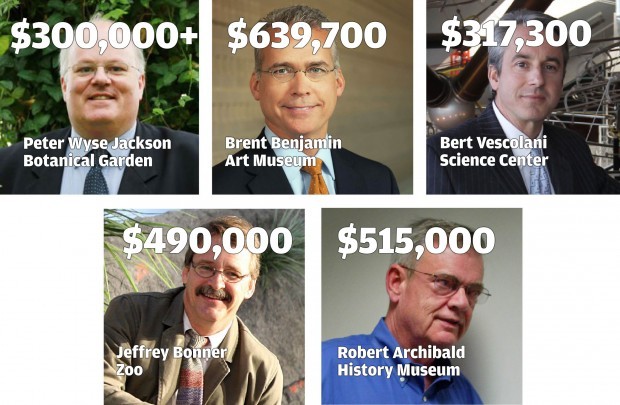 ST. LOUIS • The head of the Missouri History Museum, Robert Archibald, had a $90,000 salary in 1990.
By 1997, Archibald's salary had risen to $185,000. Nine months later, the board of trustees added $20,000 more. The next year, it gave him another $9,000 in January, then $35,000 in October.
In total, Archibald got 11 raises between 1997 and 2008, often worth five figures, sometimes twice in one year. This past summer, the president of the board of trustees, V. Raymond Stranghoener, signed a new contract with Archibald for $375,000 in base pay for 2013.
Archibald also has an annual $33,000 housing allowance, a museum-paid minivan and yearly retirement payments — worth about $89,000 last year alone. He gets six weeks of leave each year for "historical research and writing," which comes on top of four weeks of vacation. In previous years, he had eight weeks of vacation.
Then, this past July, the History Museum board spelled out the riches of one more perk. It agreed to pay Archibald for 410 unused vacation days, due as a lump sum upon his retirement. If Archibald were to retire at the end of this year, that check would come to $580,000.
In recent weeks, board members of the Zoo-Museum District, which oversees tax money distributed to the History Museum and other cultural institutions, have discussed withholding money from the History Museum because of anger over Archibald's pay and business dealings.
"When does that stop?" asked Commissioner Gloria Wessels about Archibald's pay raises.
Commissioner Jerome Glick was particularly irked at the vacation deal.
"That," he said, "is an abuse."
Stranghoener, the head of the museum's trustees, says the vacation and salary increases were necessary to keep Archibald, whom he described as a nationally recognized leader.
He said Archibald led two multi-million dollar expansions, won a national museum service award presented by then-First Lady Hillary Clinton, and was offered a top job at the Smithsonian Institution. And under Archibald's leadership, Stranghoener noted, museum attendance has risen from 157,000 annual visitors to more than 356,000 today.
Moreover, Archibald's compensation alone isn't unusual when compared to chief executives at the four other tax-supported institutions.
In fact, chief executive pay at all five — including the Missouri Botanical Garden, St. Louis Art Museum, St. Louis Science Center and St. Louis Zoo — has risen sharply over the past two decades.
In 1990, Zoo Director Charlie Hoessle earned under $90,000 a year. His replacement, Jeffrey Bonner, this year will make more than $500,000 in total compensation, including salary, retirement and other perks. Botanical Garden chief Peter Raven made $103,000 in 1990, and $404,000 in total compensation by the time he retired in 2010.
And former Art Museum boss James Burke collected $155,000 two decades ago. Yet current Director Brent Benjamin will receive nearly $640,000 in compensation this year.
In total, chief executive compensation at the five institutions rose from a combined total of $661,000 in 1990, to $1.3 million in 2000, to $2.5 million in 2010 — a 280 percent increase over the two decades.
Even after adjusting for inflation, that's still a growth of 130 percent.
The St. Louis institutions are under added scrutiny that comes with receiving tax money. The five split about $70 million a year from a tax collected on residents in St. Louis city and county.
The board members who govern each organization argue they have little choice when it comes to paying their chief executives. The institutions' leaders, they say, are top-class in their fields and command top salaries.
"You have to appreciate what kind of zoo we have," said Zoo commission chairman and former Mayor Jim Conway. "We are recognized as one of the top zoos in the world."
The Zoo will get about 3.4 million visitors this year, Conway said, likely the largest count in the region. "We probably will draw more people than the baseball Cardinals," he said.
Patrick Mulcahy, head of the Art Museum Commission and former CEO of Energizer Holdings, echoed similar sentiments.
"We truly have a world-class CEO," he said. Two museums, in fact, recently called him looking to hire away Benjamin, Mulcahy added.
To hold onto the chief, Mulcahy said, the board aims to keep Benjamin's salary in the top 25 percent of art museum directors in the nation.
And salaries across the country have risen.
According to a database kept by the nonprofit evaluator Charity Navigator, museum and zoo chief executive compensation has grown from an average of $192,000 in 2001 to $320,000 in 2011. Among the 53 institutions that list figures for both 2000 and 2010, pay ballooned from $249,000 to $368,000, a 50 percent increase.
It mirrors the dramatic rise of CEO pay and bonuses in the corporate world and even at large non-profit organizations.
With cultural institutions, experts says, the job is harder now than it was then. Twenty years ago, museums picked scholars to fill the role of director, said Dewey Blanton, a spokesman for the American Alliance of Museums, based in Washington D.C.
"That's not the case these days," he said.
Blanton said the portion of museum budgets funded by government sources has dropped from about 35 percent in the 1990s to around 25 percent today. That decline put a premium on presidents skilled at raising money.
"The main job of a history museum director is fundraiser-in-chief, communicator-in-chief, advocate-in-chief," he said.
But in St. Louis, taxpayer contributions haven't dipped — they've increased. The Art Museum and Zoo now get about $20 million a year from a tax collected from St. Louis city and county residents. The Science Center, History Museum and Botanical Garden are sent about $10 million each.
The institutions work to raise private money, too. And, in most cases, they succeed.
Zoo revenue rose from $14 million in 1990 to nearly $70 million in 2010. The Art Museum's boomed from $17 million to $56 million. History Museum revenue doubled. The Science Center's grew by one-fifth.
Still, the climb in CEO salaries here has outpaced the increase in revenue. Twenty-two years ago, chief executive pay made up about 1 percent of each institution's total revenue. By 2010, that figure had almost doubled.
In particular, Archibald's compensation at the History Museum took up 3.1 percent of his institution's revenue in 2010, the highest of all the St. Louis institutions. And his museum doesn't stack up to the others in visitor attendance or fundraising, Zoo-Museum District commissioners have pointed out. Tax money makes up about 60 percent of the History Museum's annual revenue.
"Compensation should be tied to the size of organization," Glick said. "The History Museum has not prospered as nicely as the other institutions."
Stranghoener disagrees. Archibald's pay, he said, has increased with the success of the museum. Under Archibald, he said, "the whole scope of the operation grew exponentially."
The rise in compensation hasn't looked the same at each local institution.
For instance, when Peter Wyse Jackson took over for Raven at the Botanical Garden in 2010, the board set his base salary at $300,000.
But it also gave him a list of extras — a leased 2010 Hybrid Toyota Highlander worth $698 a month, $20,000 toward his move from Ireland, and yearly round-trip flights from Europe for each of his college-going children.
In addition, the Garden agreed to pay half of Wyse Jackson's utilities in the Director's Residence, where Henry Shaw's will requires him to live. He also was entitled to $280,000 for preparation of "work and lab space," and $670,000 for "renovations of the mechanical systems and upgrades to the residence," according to Wyse Jackson's contract.
Garden staffers said the residence hadn't been renovated in 40 years. Wyse Jackson used the money, part of a Danforth Foundation grant set aside specifically for that purpose, to update heating and air conditioning, rewire electricity and tuck-point brick, staffers said.
The Zoo, too, recently had to find a way to pay its chief outside of his $490,000 base salary.
Bonner is a member of the city's retirement system, which will endow him a six-figure annual pension when he retires. His contract also stipulates 12 months of pay upon retirement. But the Zoo learned a few years ago that the IRS caps pensions for six-figure salaries — meaning Bonner wouldn't get the annual pension he anticipated when he took the job in 2001.
So last year, the board agreed to pay him what it believed he was owed: $901,586, plus a percentage of his pay every year going forward, worth about $49,000 this year.
Bonner said he donated the bulk of the 2011 payment back to the zoo.
"My wife and I had always planned to support the zoo's campaign and we are thrilled that we could make an even more significant contribution … than would have otherwise been possible," Bonner said in an email.
But it wasn't a bad deal for Bonner, either. He got a tax break on the payment. And the type of gift he gave — a deferred payment gift annuity — will, beginning in 2020, pay him about $34,550 a year after taxes.
None of the retirement plans here, however, equal those provided Benjamin at the Art Museum. Benjamin has a total of five retirement plans. One plan alone now contributes $100,000 a year as part of his total compensation.
Art Museum staff point out that those payments require him to stay through the end of the plans, and, sometimes, meet certain board goals. If he takes another job, he'd lose the money.
Douglas Yaeger, former CEO of The Laclede Group and chair of the Science Center commission, said he would expect leaders who have grown their institutions to get paid more.
"Those guys have been there a long time, run great institutions," he said.
The Science Center's current CEO, Bert Vescolani, is young, Yaeger said, and isn't making the same as the others yet, nor is he receiving the same perks. Vescolani, 48, only took the job last year, and did so after an outcry about executive compensation at the center.
The Post-Dispatch last year reported about bonuses and pay to several executives at the Science Center. In the wake of the stories, the center ended bonuses and cut the number of vice president positions. Vescolani's predecessor, Doug King, received more than $440,000 in total compensation, plus an $86,000 bonus, before leaving for a higher-paying job in Seattle.
But in time, Yaeger acknowledged, Vescolani could be in line for heftier compensation.
"He'll be more valuable and more marketable," Yaeger said. "If we want to keep him here, we'll have to pay what the market is."