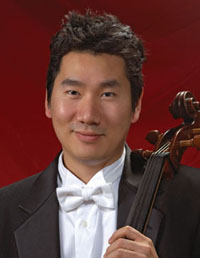 "Daniel Lee: Tchaikovsky, Bruch, Dvorak, Schubert, Morricone" is not the cellist's first recording. He signed his first contract with a major record label, Decca, when he was 14, and was the youngest and final protégé of the famed Russian cellist Mstislav Rostropovich.
Principal cello of the St. Louis Symphony Orchestra since 2005, Lee has continued to perform widely as a soloist here and abroad. In recent seasons, he's performed with the symphony orchestras of Baltimore, Cincinnati, Cleveland, New Jersey, Philadelphia, Seattle and, of course, St. Louis.
For this recording, he tried out his material in several house concerts here, as well as in recital. The extra effort shows in his assured, eloquent performance, with a rich sound that sings like a human voice.
The disc's anchor piece is Tchaikovsky's Variations on a Rococo Theme, op. 33. Played on Lee's 1706 Gofriller cello, the sound is burnished and dark. Lee's lived with the Variations for half his lifetime, and the resulting performance shows that depth of experience.
There's also a riveting reading of Max Bruch's "Kol Nidre" and two definitive executions of a pair of works by Dvorak, "Silent Woods" and "Songs My Mother Taught Me."
The cello takes the vocal part in Schubert's "Ave Maria," and sings beautifully. Two pieces written for film by Ennio Morricone, "Deborah's Theme" from "Once Upon a Time in America" and "Gabriel's Oboe," from "The Mission," take the place of encores.
Charles Olivieri-Munroe leads the Czech Philharmonic Orchestra in a supportive accompaniment.
The recording, with liner notes in Korean and English, is currently available only in South Korea, and at Powell Symphony Hall. It should be available in an American edition in the future; for now, CDs (including some autographed copies) may be had by calling the SLSO at 314-533-2500.
---
"Daniel Lee: Tchaikovsky, Bruch, Dvorak, Schubert, Morricone." Daniel Lee, cello; Czech Philharmonic Orchestra, Charles Olivieri-Munroe, conductor. (Sony Classical S70629C)