With live theater taking a long intermission due to the pandemic, there's no telling when theatergoers will see their favorite actors back onstage. But COVID-19 is also disrupting the lives of folks behind the scenes.
Those artists — such as set, lighting, costume and sound designers, along with directors, stage managers and others responsible for putting on a show — don't usually get the spotlight that actors do. But they share their sense of uncertainty.
Kareem Deanes, a sound designer who has worked with local companies including the Black Rep, SATE and Upstream Theater, says the mood among theater craftspeople is "pretty pessimistic right now."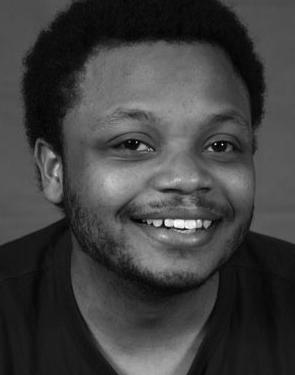 "We've watched as folks who are in charge of making national and local decisions have been passing the buck onto other people," Deanes says. "As opposed to having any kind of shared leadership on how we can move this forward."
In the best of times, theater companies struggle to cobble together enough money from government grants and private donors to make it to another season. In the shadow of COVID-19, prospects for survival are incalculably worse. In St. Louis, the blow has been softened by the fact that it's fairly common for theater artists to have day jobs.
But aside from economic considerations, the pandemic has prevented craftspeople from pursuing their craft.
Michele Siler, a costume designer whose credits include St. Louis Shakespeare Festival's "Into the Breeches!" and Upstream's "The Agitators," says she was working on costumes for New Jewish Theatre's "We Are the Levinsons" when the health crisis brought the production to a halt. Wendy Kout's play about a divorced television writer coping with family problems has been indefinitely postponed.
"In early March, we were in dress rehearsals," Siler says. "And we were being very careful with our hand sanitizers and all that. It would have been an astonishing play, and it breaks my heart that people won't get to see it."
Other shows that Siler had planned to work on include the Tennessee Williams Festival St. Louis production of "The Rose Tattoo." The costumes, she says, were "all designed and ready to go." The festival, which is scheduled for October, revised its programming in response to the pandemic but plans to present "The Rose Tattoo" in 2021.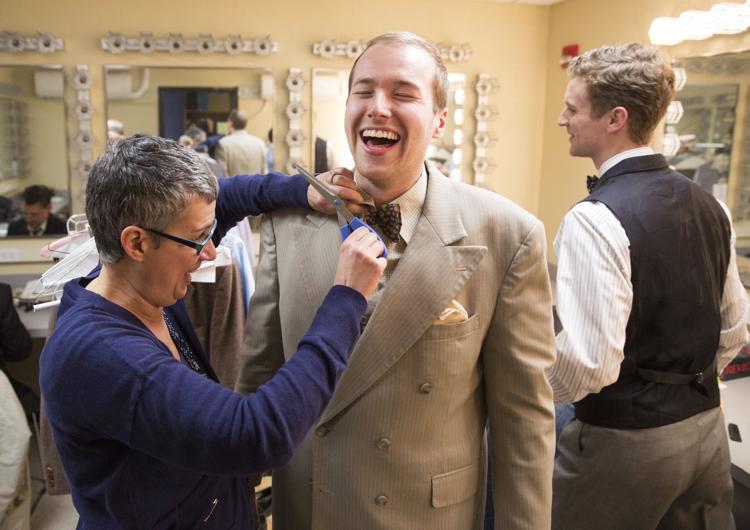 Scott Miller, artistic director of New Line Theatre, says he misses the thrill and camaraderie of directing musicals. But that doesn't mean theater isn't on his mind.
Recently, Miller has released two books that channel his interests: "Night of the Living Show Tunes," a collection of short horror fiction inspired by musical theater, and "Broadway Musical Christmas Carols," a songbook in which yuletide favorites are adorned with new lyrics referencing musicals. The books are available on Amazon.
"I had the ideas for both of them, and I think I had maybe written one story for the horror anthology," Miller says. "I was waiting for a break between shows — and I got one."
Unlike theater artists who have day jobs, working in theater is for him a full-time gig.
"Literally, all of my waking time, I'm thinking about musical theater one way or another," Miller says. "And all of a sudden, that just got yanked out of my life. I knew it wasn't permanent, but I knew it was going to be for a long time, and that was so hard to deal with."
Suddenly, he had to adjust to a world without "artmaking, and seeing my theater friends, and creating characters, and learning music. All those moments when you hear the cast sing a big number for the first time. All of that stuff was taken away, and it was the first time I realized that everything I do, in my life, is built on the idea of people gathering together in a room. And I just had never thought about that before."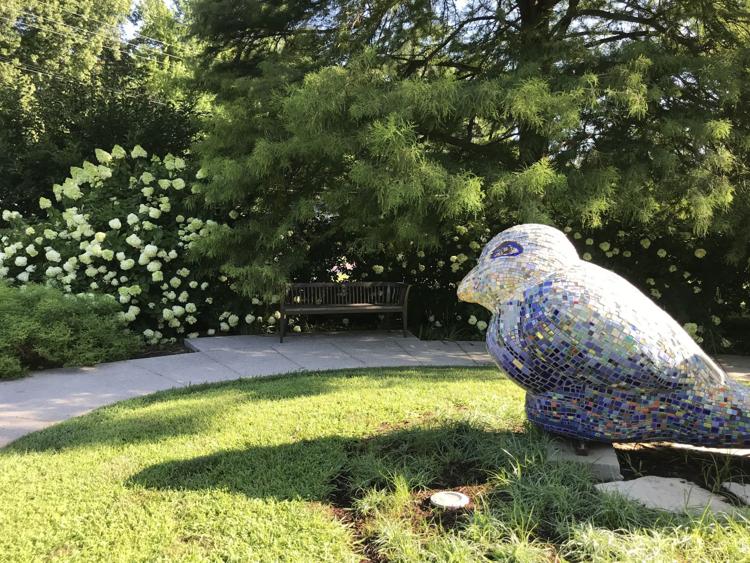 Catharine Magel is a St. Louis-based public artist whose work is in local and international collections. She also has been a scenic painter for the Muny and says she has "not allowed fear to take over."
"I've found myself making sure that I work really hard on something I was really interested in doing," she says. Among several projects Magel is working on is a gallery she plans to open in 2021 with business partner David Kniepkamp.
At Stages St. Louis, downtime for creative staff has been transformed into an entrepreneurial opportunity. The company recently unveiled "The Stages Collection," which its website describes as "a new line of collectibles … of both stunning beauty and heartfelt whimsy."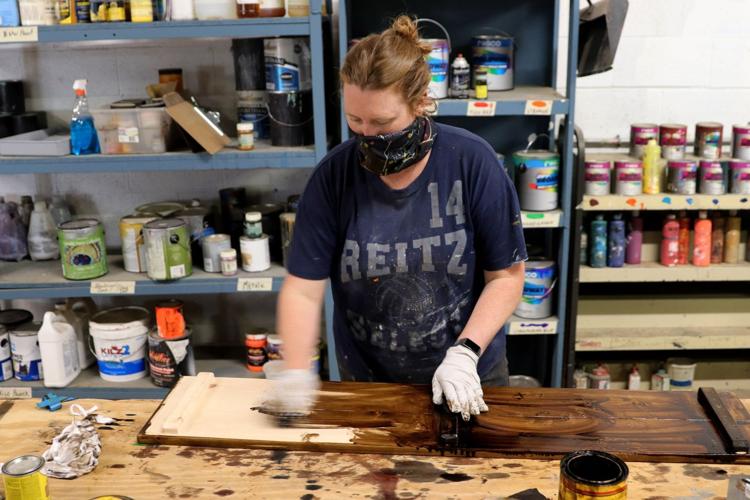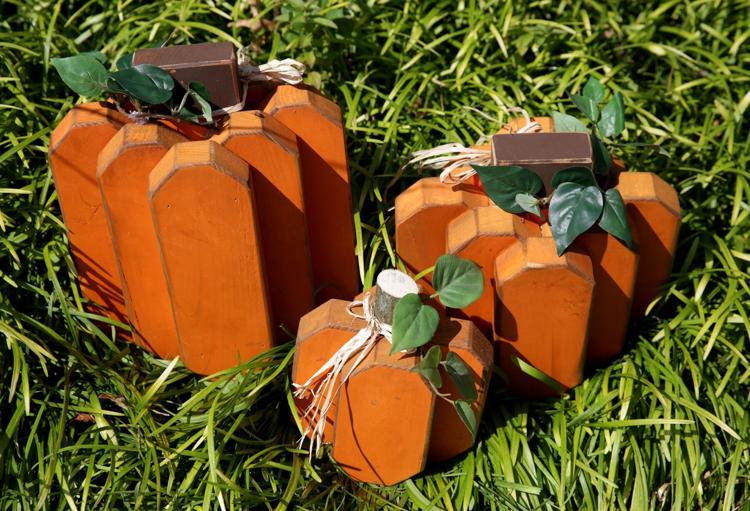 "It was tremendously difficult to have to postpone our 2020 season and not employ the 150-plus different artists we bring in annually — in our casts, crews, technicians and designers," says Andrew Kuhlman, associate producer at Stages. "So we wanted to come up with something that not only helped in raising some funds for our organization, but also supported those amazing artists."
And that something turned out to be the Stages Collection — an idea conceived by executive producer Jack Lane and brought to life by Stages artisans. Artistic coordinator Alicia Scott-Aune says the staff was invited to brainstorm about the kinds of items to be included in the collection.
"I compiled a list of everyone's ideas, and then we just kind of sat down and went through it," she says.
The collection has raised more than $10,000 since it was launched online Sept. 1, Kuhlman says. Buyers may have items shipped or pick them up at the Stages administrative office in Chesterfield. Among the more popular offerings, Scott-Aune says, are wooden pumpkins — available individually or as a set of three — that charmingly evoke autumn and Halloween. The pumpkins also serve as proof that a lot can be done with a little imagination.
"They're made out of two-by-fours, actually," Scott-Aune says.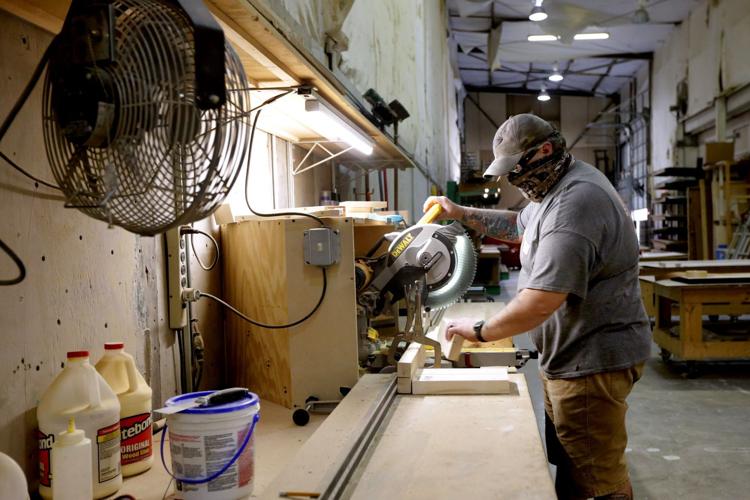 The online shop represents a whole new field of endeavor for Stages, Kuhlman says.
"Probably the most difficult part of the entire process was taking really nice photos of every single item," he says. "And trying to figure out shipping costs. It's worked out exceptionally well so far.
"It's definitely a lot of effort," Kuhlman says. "But the effort is worth it. We wanted to continue offering some kind of artistic product to the community, and allow people to come in and say, 'I miss Stages so much, but I'm going to take this home and be able to remember it.' We're giving you something good, to make you feel a little bit better, in a time where it's rough. We're all feeling it."
---
Here's what local companies have planned for 2021
Concerned about COVID-19?
Sign up now to get the most recent coronavirus headlines and other important local and national news sent to your email inbox daily.