Drivers almost can't avoid a current art exhibition. And why would they want to?
Messages such as "Joy is possible" and "Justice" are among the free public artworks presented across St. Louis this month on an unusually big platform — billboards.
"That a car-full of people could see my work is super exciting to me," says Jessie Donovan, one of several artists who worked with the Luminary and STLMade to present eight billboards in the public art project titled "I watch for good news. I work with folks to create good news."
The billboards are on view through at least Dec. 2.
"You're just driving to work, and you see that — it could change the rest of your day," Donovan says. "It could make you think twice about how you see people."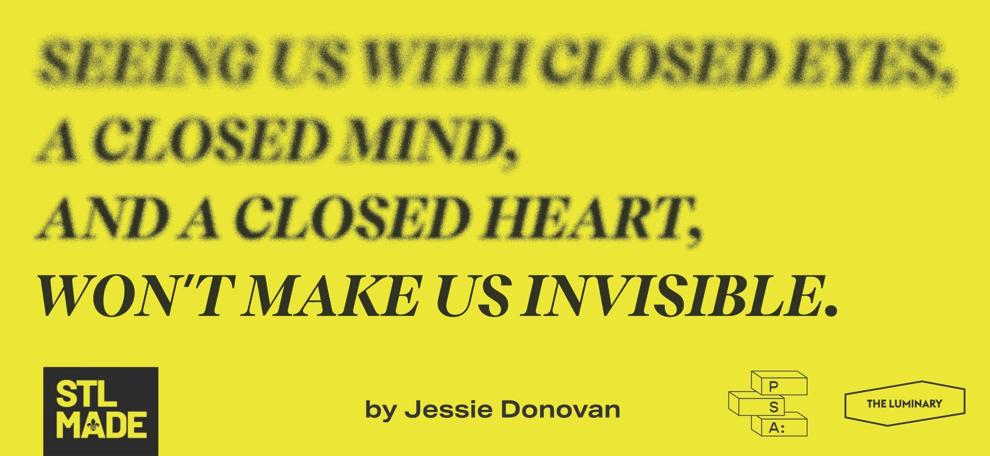 Donovan's work, made with collaborators at PSA, shows text that begins blurry and soon comes into focus: "Seeing us with closed eyes, a closed mind, and a closed heart, won't make us invisible." The yellow billboard, at McCausland and Manchester avenues, had a quick deadline, said the 26-year-old artist, who usually works in printmaking and drawing.
"I'm primarily a visual artist, but I also love writing," she said. With only a week to present an idea, the design was soon off for a billboard company to produce the image.
The billboards are situated as far south as "Expressions" by Collin W. Elliott on South Kingshighway to North Lindbergh Boulevard with "Justice" by Simiya Sudduth. A map of all locations is at theluminaryarts.com.
James McAnally, director of the Luminary, says the project both offers art as a form of "solace or hope" and is a way for art to show up in people's lives unexpectedly.
A news release about the exhibition says: "In a moment of shared struggle and collective uncertainty, where do we look for good news? How can we work together to create some good news in our region?"
McAnally says social justice is part of the focus, but the project also asks about issues that need to be dealt with in order for the region to move forward.
Some of the designs include words that are simple affirmations, he says. Photographer Jen Everett closely cropped an image of children and included the words "Joy is possible."
Brock Seals' billboard offers empathy with "You're not alone."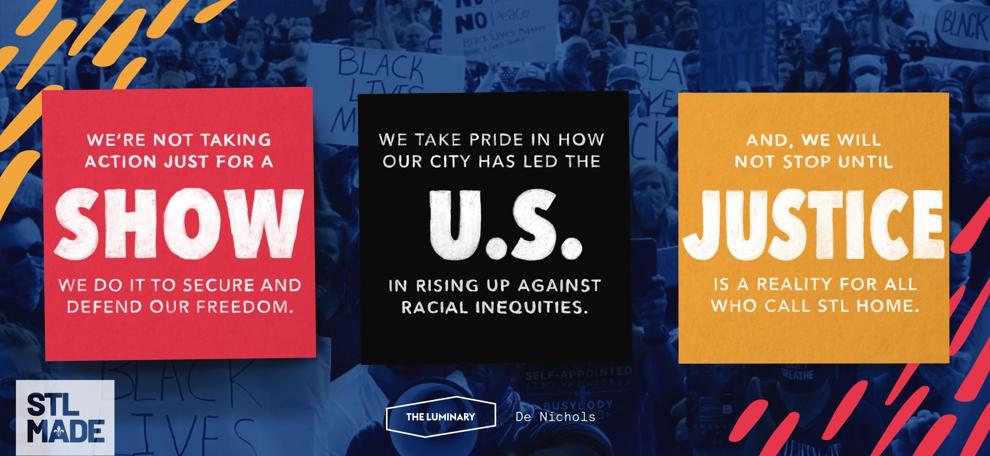 For two billboards, De Nichols used sticky-note-type signs. In one, over a background image of a protest, a note says, "We take pride in how our city has led the U.S. in rising up against racial inequities."
The "Justice" board by Sudduth comes from a body of work featuring landscape-based tarot cards, including one showing a Black woman in a traditional dress and holding cotton. Information on the work says "the justice tarot card in an upright position represents justice, responsibility, cause and effect balance, equilibrium."
Another billboard, by WORK/PLAY, shows a historic photograph of a gang truce with the words "manifest" and "unity."
Elliot's "Expressions" consists of four happy or relaxed photographs of young, Black subjects. The work is described by the artist: "The connection between Black youth and peace (rested presence) has been scarred through the media. This photo series attempts to combat and denounce that projection through portraits with closed eyes, empowering movement and relaxed posture."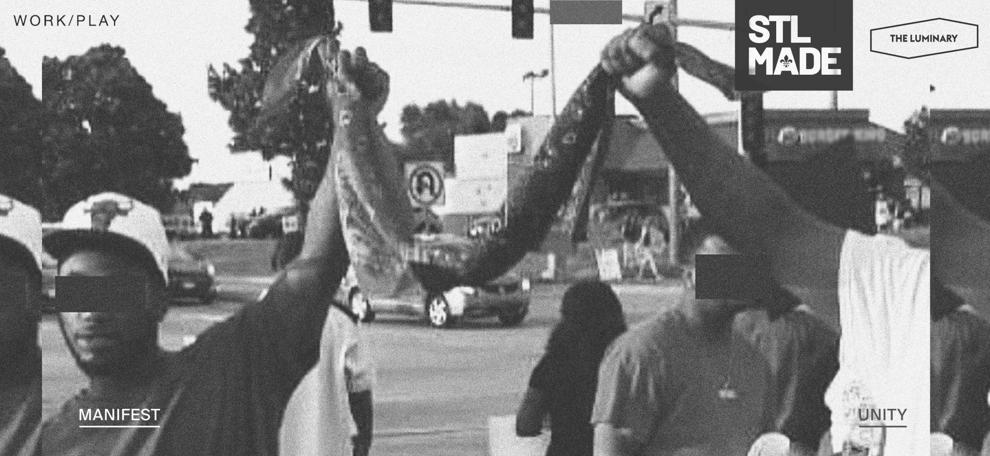 Each artist was given a $500 stipend and reimbursed for expenses, McAnally says.
The billboards, he says, are "an exciting opportunity to see their work on that scale."
The artists have shared images of the billboards on social media, which may encourage viewers to get in their cars and take a trip to see the artworks themselves — while also keeping an eye on the road.
What "I watch for good news. I work with folks to create good news" • When Through Dec. 2 • Where Various billboard sites • How much Free • More info theluminaryarts.com