Ellsworth Kelly's site-specific wall sculpture "Blue Black" (2000), named for the colors of its two painted aluminum panels, has been a constant presence at the Pulitzer Arts Foundation as exhibitions have come and gone. Now it has inspired one.
Curated by New York-based conceptual artist Glenn Ligon, the exhibition "Blue Black" features more than 50 works — including paintings, photography, film, textiles and sculpture and reflecting a wide range of artistic styles and approaches. Among the renowned artists represented are Ligon, Kelly, Jean-Michel Basquiat, Ross Bleckner, Philip Guston, David Hammons, Derek Jarman, Kerry James Marshall, Joan Mitchell, Joan Miro, Chris Ofili, Bill Traylor, Kara Walker, Andy Warhol and Carrie Mae Weems.
"I have very much wanted to work with Glenn," said Cara Starke, director of the Pulitzer. "The conversation with him started over a year ago, and I left it as a very open conversation. I invited him to come out to get to know us and see our space and see what might be exciting for him to work on."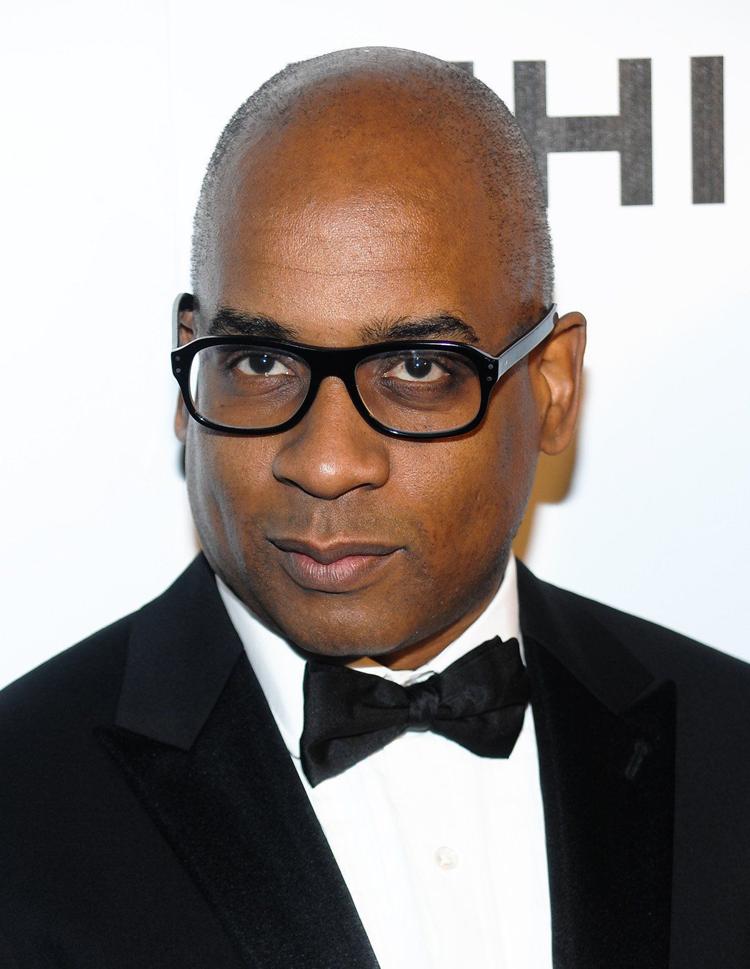 Ligon said he considered the possibility of an exhibition of his own work. But Kelly's "Blue Black" sparked his imagination, bringing to mind Louis Armstrong's rendition of the Fats Waller song "(What Did I Do To Be So) Black and Blue."
"It was really about experiencing the space and seeing 'Blue Black' and thinking that somebody must have done a show in response to that piece," he said. "Because the colors blue and black are so resonant and so prominent in contemporary art and in older art."
Upon learning that no such show had been done, Ligon welcomed the opportunity to rectify the situation.
"In the last couple of years, in the curatorial projects I've done, I've put my work in the context of other artists that I'm interested in," he said. "I thought this would be a good extension of that project."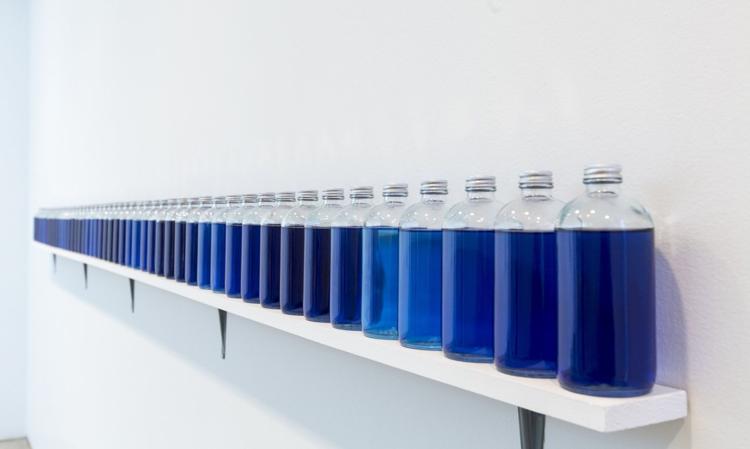 "Blue Black" includes three Ligon works: "A Small Band" (2015), "Untitled (I Am Not Tragically Colored)" (1990) and "Malcolm X, Sun, Frederick Douglass, Boy with Bubbles (version 2), #2" (2001). Admirers of Ellsworth Kelly's work won't want to miss the perhaps ironically titled "Black Blue" (1959), an oil painting that complements "Blue Black."
Kerry James Marshall's "Untitled (policeman)" (2015), a painting that depicts an African-American police officer in a moment of reflection, transcends topicality to make a nuanced statement about American race relations. With "Four Idioms on Negro Art #1 Folk" (2015), the often provocative Kara Walker offers a grim, graffiti-influenced take on social unrest.
Andy Warhol is represented by "Liz #4" (1963), a portrait of fabled actress Elizabeth Taylor as superficial yet fascinating as his images of Elvis and Campbell's Soup cans. Derek Jarman's strikingly original "Blue" (1993) — the avant-garde English filmmaker's final work before his death in 1994 at age 52 — is aptly titled: The visual content is simply a blue screen, accompanied by a soundtrack of voices and music.
Some flexibility was involved in selecting the artists to be represented in the exhibition, Ligon said.
"The criteria were pretty strict, in a way — they had to have blue and black in the work," he said. "But then I loosened that a bit, because I thought there's lots of work that has blue and black in it but has other colors.
"Or there's work that is conceptually black, if you think about race. I was interested in work that dealt with race and blackness, as well as the color black. So it just kept expanding out from there."
An example of a "conceptually black" artwork would be Ligon's neon-and-paint sculpture "A Small Band," which spells out the words "blues," "blood" and "bruise." The sculpture was inspired by minimalist composer Steve Reich's sound piece "Come Out" (1966).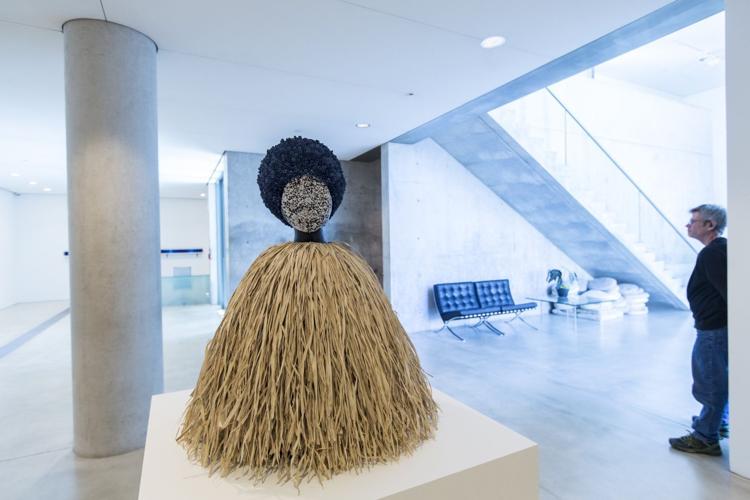 "He uses testimony of one of the kids (Daniel Hamm) who was involved in a notorious police brutality case in Harlem, called the Harlem Six," Ligon said.
"One of the kids is explaining what happened that day when he was arrested. He'd been beaten and had been taken to the police station, but he wasn't bleeding." Hamm says that he had to open up the bruise to make the blood "come out to show them" that "he had been hurt, so they would take him to the doctor. And Steve Reich makes a whole recording out of just those words, 'come out to show them.'
"But what was interesting is, if you listen to the recording," Ligon said, "Daniel Hamm makes a little slip of the tongue. Instead of saying 'bruise blood,' he says 'blues blood.' And when I heard that, I thought it's so interesting to think about the blues having a relationship to trauma.
"I was interested in how blues, blood and bruise become conjoined, and that's where the piece started from."