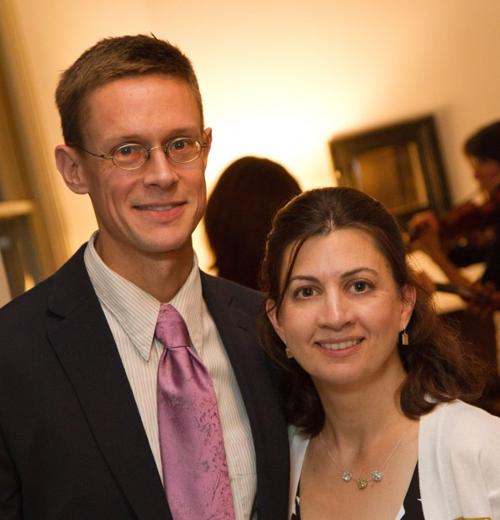 June is a big month for chamber music in St. Louis. The St. Louis Symphony Orchestra has finished its regular season and moved to the pit at Opera Theatre of St. Louis in two divisions. That gives its musicians opportunities to perform elsewhere when their split isn't on stage.
Meanwhile, with school out, students, teachers and other performers have their days free and time to travel.
The Innsbrook Institute, located at and sponsored by the Innsbrook Resort near Warrenton, starts Friday and runs through June 15. SLSO concertmaster and Institute artistic director David Halen was a founder in 2001, along with Ed Boyce, Innsbrook's chairman, and Ron James, then the resort's director of marketing.
The Institute has grown and flourished. This year, 50 students from around the country and 20 professionals will spend a week at the leafy resort, hiking and sailing when they're not practicing, attending master classes or performing.
The artists include five violinists (Halen, education director Jonathan Swartz, Robert Lipsett, Lee-Chin Siow, Chee-Yun), four pianists (Wendy Chen, Grace Fong, Natasha Paremski, Stephanie Trick), two cellists (Mike Block, Jacob Braun), one violist (Yizhak Schotten), one flutist (SLSO principal flute Mark Sparks) and, from Canada, the Cecilia String Quartet (violinists Min-Jeong Koh and Sarah Nematallah, violist Caitlin Boyle, cellist Rachel Desoer), winners of the 2010 Banff Festival.
The concerts will add soprano Miran Halen and vocalist Sharon Nathanson, along with conductor Ward Stare, in a casual setting. "This year's theme is a 'Carnevale of Music,'" said Linda Buschmann, assistant executive director of the Institute. "We will be visiting Paris, Vienna, Germany, taking our audience on a musical journey around the world."
Highlights include "The Ultimate Piano Concerto," on June 12, Romantic favorites in "Austro-Hungarian Empire" on June 14 and the season's very grand finale on June 15, when Stare conducts an orchestra made up artists, students and area musicians for a concert that will culminate in Beethoven's Symphony No. 7.
The concerts take place in the newly renovated Aspen Room. Prices are reasonable, and those 17 and under are admitted free.
The Missouri Chamber Music Festival, now in its third season, packs a punch larger than its three-concert series might suggest. Co-founder Scott Andrews is the gifted principal clarinet of the SLSO, and he can call on his colleagues to join in — including, for the final concert, music director David Robertson.
Robertson won't be conducting, though; he'll be the narrator in a complete-with-dancers production of Stravinsky's "L'histoire du soldat (The Soldier's Tale)."
"We're doing some different things this season," Andrews said. "For our big finale concert, we're collaborating with dancers in 'A Soldier's Tale.' It's a bigger production than we usually do." Adam Sage will choreograph dancers from Missouri Ballet Theatre. Since the forces are too large for the festival's usual venue, First Congregational Church of Webster Groves, that concert will be in the CMS Concert Hall at Webster University.
On the same concert, they'll premiere their first commission, "kiss to the earth," by Amy Beth Kirsten. The festival received a grant from Chamber Music America to fund the commission. It was composed for the Calyx Trio: festival co-founder and pianist Nina Ferrigno, violinist Catherine French and cellist Jennifer Lucht.
"Because of 'Histoire' and the dancers," added Andrews, "we decided to focus on dance this year." That includes a rare performance of Stravinsky's original realization of "The Rite of Spring," for two pianos. "It was so complex, with so many chords, that Stravinsky couldn't realize on one piano," Andrews said. "From that, he was able to orchestrate it."
The second pianist is Hugh Hinton, based in New England and with an impressive resume. He'll also perform the Schubert Fantasia for Piano Four hands with Ferrigno.
The Stravinsky arc continues with his neoclassical "Suite Italien," based on music by Pergolesi. There's also music by Purcell, Nielsen and Piazzola.
With Robertson serving as narrator, "Soldier's Tale" will be conducted by James Sommerville, principal horn of the Boston Symphony Orchestra and music director of the Hamilton Philharmonic Orchestra.
There's a larger contingent of musicians this year, and that includes more players from the SLSO. They include principal double bass Erik Harris, violinist Jooyeon Kong, principal percussion Will James, acting principal trumpet Tom Drake, acting associate principal trombone Vanessa Fralick and viola Shannon Farrell Williams.
For a chamber music experience outside the metro area, there's the Jacques Thibaud String Trio, performing at Peaceful Bend Vineyard in Steelville, Mo., on June 22. Brewer Science, a Missouri-based technology manufacturing company, presents the ensemble, regular performers at European chamber festivals: violinist Burkhard Maiss of Germany, violist Hannah Strijbos of the Netherlands and cellist Bogdan Jianu of Romania. Hors d'oeuvres will be served at 6:30 p.m.; the concert starts at 8, in the wine cellar.
Also in its third year, the Gesher Music Festival of Emerging Artists, is now presented by PNC Arts Alive through a grant. Dedicated to presenting classical music by Jewish and non-Jewish composers with a connection to a Jewish perspective, "Gesher" means "bridge" or "connection." This year's festival runs June 23-30.
Kathleen Sitzer, artistic director of the New Jewish Theatre, and her daughter, Chicago-based cellist Sara Sitzer, founded the festival, with Sara Sitzer as artistic director. It's grown enough that they've hired a program director, violist Dee Sparks.
This year's guest artist is classically trained jazz pianist Peter Martin. 
Gesher will also perform in other venues than the Jewish Community Center, with concerts at the Ethical Society, the Kranzberg Arts Center, a program at the Tavern of Fine Arts and assorted "pop-up" concerts.
"What we're trying to do is go to places that aren't used to having this kind of program, making unscheduled appearances — at the Amtrak station, a health clinic, a grocery store — to reach more underserved people," Sitzer said. We'll be giving away a lot of complimentary tickets at those events."
The music ranges from Mendelssohn and Schubert to an homage to Schubert by Israeli composer Gilad Hochman, in its U.S. premiere.
---
What • Innsbrook Institute
Where • Innsbrook Resort, 1 Aspen Circle, Innsbrook
How much • $20 to $30; 17 and under free
What • Missouri Chamber Music Festival
When • June 13 through 17
Where • First Congregational Church of Webster Groves, 10 West Lockwood Avenue and CMS Concert Hall at Webster University, 535 Garden Avenue
How much • $20 to $35; festival pass also available
What • Jacques Thibaud String Trio
When • 8 p.m. June 22 (appetizers at 6:30)
Where • Peaceful Bend Vineyard, 1942 Highway T, Steelville
More info • Arts Rolla, 573-364-5539, or Peaceful Bend Vineyard, 573-775-3000
What • Gesher Music Festival of Emerging Artists
When • June 23 through 30