Floating spider webs, an archway of steel bicycles and a wall of life-size bombs — or at least their artistic renditions — will welcome visitors at the reopening of the Mildred Lane Kemper Art Museum this weekend.
The museum on the grounds of Washington University shows off its expanded space and impressive new exhibition featuring renowned Chinese artist Ai Weiwei.
Presenting some well-known Ai works is guaranteed to ratchet up the excitement for the art museum, closed since May 2018 for an expansion estimated at $12 million.
Its new entrance looks out on a former parking lot, now a village green of sorts for several new academic buildings, a welcome center, the museum and more. The exterior boasts a pleated, stainless steel facade. Meanwhile, an enormous underground parking garage will make access to the museum easy.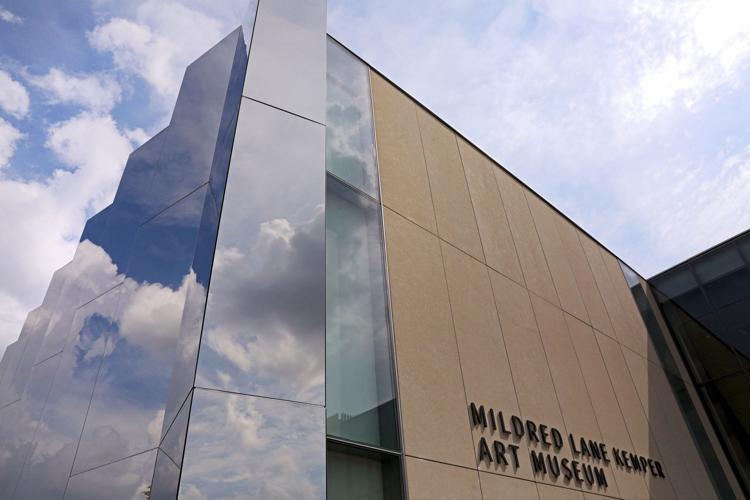 The renovations allow the museum to "give us the opportunity to do bigger temporary exhibitions and also show more of the permanent collection," says Sabine Eckmann, the Kemper's director and chief curator. "And for the first time we can show the permanent collection chronologically."
When the museum reopens to the public Saturday, the lower level will still be closed due to ongoing construction there. But its bright 27-foot-high entrance, with windows facing outdoor sculptures and a new park, is ready to show off a new installation by Tomás Saraceno. Iridescent modules contain web-like creations, "suggesting a utopian vision of life in the sky," says the museum's description.
The new entrance can be used for receptions and talks or panel discussions, Eckmann says. The Kemper Art Museum, a teaching museum, is especially known for special exhibitions with particular emphasis on how the social and political intersect with art.
Humanitarian voice
With "Ai Weiwei: Bare Life," which runs through Jan. 5, different media are displayed together in two themed galleries. Ai, often called China's most famous artist, emphasizes human rights abuses and the global refugee crisis using media including wallpaper, porcelain, video and photography, including a selfie of himself detained by police.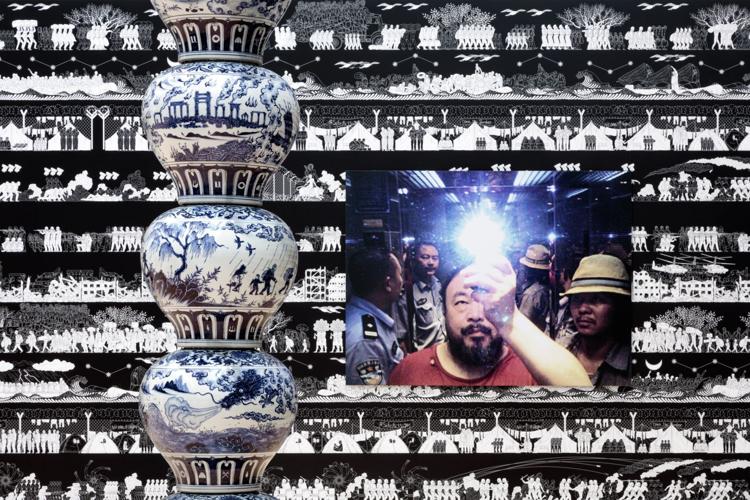 In the catalog to the exhibition, Eckmann writes that Ai is "one of the most important humanitarian voices and conceptual artists practicing today," and the show brings together some new pieces along with significant artwork from the past two decades.
The title "Bare Life" draws from the work of philosopher Giorgio Agamben regarding unprotected people deprived of citizenship rights, perhaps living a basic biological existence rather than a "good life." 
Ai is quoted as saying "my take on this naked, this bare life, is that it necessitates an interrogation, one that questions where people stand on certain issues of power and principles. It is an interrogation about life, about one's ability to act, and this ability can in turn affect a whole society, a collective of many, in the most positive, meaningful way."
In one gallery, an entire wall is covered with the wallpaper "Odyssey," which depicts refugees with images reminiscent of figures on ancient Greek vases. A close look, though, reveals black-and-white horizontal bands divided into themes of war, ruin, journey by land, crossing seas, refugee camps and protests. 
Images of refugees also surprise the viewer on another medium: traditional-looking Chinese porcelain vases and plates. Painted blue on white, people carry backpacks or rolled bedding in "The Journey" (2017) as they trudge round and round a plate. 
On the wall across from "Odyssey" is another wallpaper, this one with graceful geometric designs of an arm giving the finger to authority. The images in "Finger" seem at once forceful and humorous. 
The piece that demands the most space is the arch of 720 bicycles that almost touches the ceiling. Ai's "Forever Bicycles" have been shown in various configurations around the world. Named after a popular Chinese brand, the installation evokes not only the ubiquitous mode of transportation but also is linked to the 2007 arrest of a Beijing man arrested and beaten for riding an unregistered bicycle. He attempted, unsuccessfully, to sue the police and later retaliated by attacking and killing six officers. Public sympathy rose for the man, Yang Jia, after he was briefly tried behind closed doors, then executed.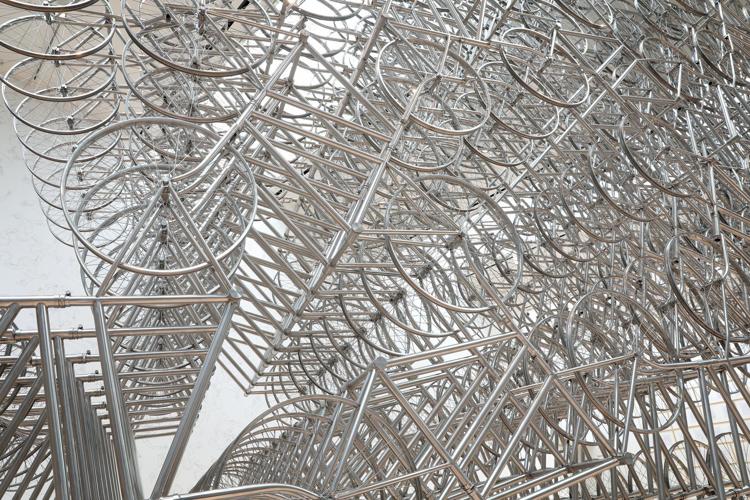 Ai cannot "separate art from activism," Eckmann says, although he often shows something frightening in a beautiful way. One example is a new wallpaper of bombs from 1911 to 2006, rendered life-size using computers. He has also taken antiquities and remade or even destroyed them, as he did in 1995 when he famously smashed a vase reported to be from the Han dynasty. Photos from that act have been re-created with Legos at the Kemper exhibition.
"The experience of being in exile is part of his life,"  says Eckmann, who traveled to Ai's studio in Berlin and worked intensely planning the themed exhibition.
Every artwork on display seems to have an interesting story behind it, and knowing a bit about Ai's own life adds context. His father, a poet, was banished from Beijing during Chairman Mao's Cultural Revolution, when Ai was a baby. So he lived with displacement from a young age. "The experience of being in exile is part of his life," says Eckmann, who traveled to Berlin to interview Ai and worked intensely on planning the exhibition.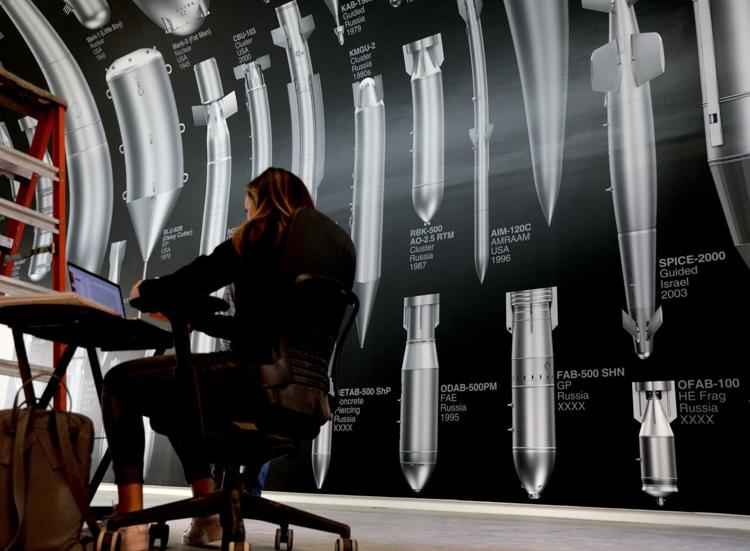 In 2009, the artist was detained by police, prevented from testifying for an activist charged with "subversion of state power." Ai had led a persistent, unwelcome investigation into the deaths of 5,000 schoolchildren in the 2008 Sichuan earthquake. Police beat and arrested him, he says, and held him for 81 days. In 2011, the state demolished Ai's studio in Shanghai. In 2015, he left China for Berlin. 
Since then, Ai has visited dozens of refugee camps, Eckmann says. A movie made from the visits, "Human Flow," will be shown in the university's Steinberg Hall on Oct. 4.
The Ai Weiwei exhibition doesn't seem disconnected from the rest of the Kemper; instead, it seems to highlight exiled artists in the collection along with the museum's emphasis on political statement. 
Expanded space
The permanent collection on the first floor begins with contemporary works from the 21st century, including a burned piece from a Chicago building that is marked with the crosshairs of a firearm. 
Upstairs, paintings from the 19th and 20th century include images of westward expansion, realism and expressionism. Works by Max Beckmann and Max Ernst, two of several artists who were displaced during World War II, are included. In the future, Eckmann says, more global work will be added.
When the museum's lower level opens, scheduled for February, work on display will range from Old Master prints to contemporary photography. The museum will have a permanent space for video art and a larger teaching gallery. Overall, the museum holds some 8,700 pieces.
"We're bringing a broad range of artistic cultures together," Eckmann says.
What "Ai Weiwei: Bare Life" • When Saturday through Jan. 5; museum hours are 11 a.m.-5 p.m. Saturday, Monday, Wednesday-Friday, noon-5 p.m. Sunday (museum is open till 8 p.m. on the first and third Thursdays of the month) • Where Mildred Lane Kemper Art Museum, Washington University, 1 Brookings Drive • How much Free, but reservations are recommended at brownpapertickets.com • More info 314-935-4523; kemperartmuseum.wustl.edu