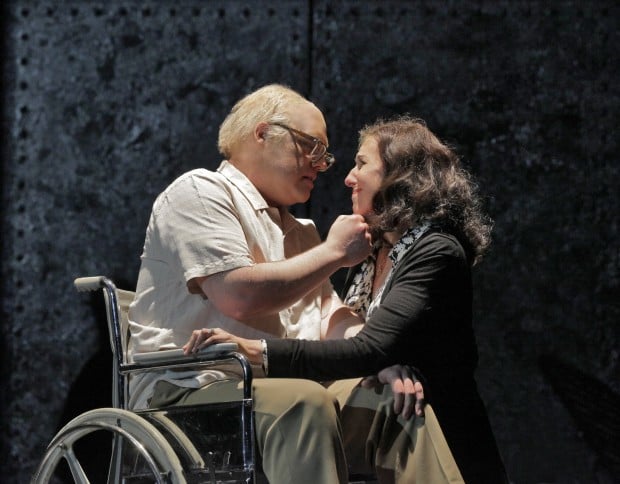 It's been a rough year for classical music organizations around the country, with the Philadelphia Orchestra entering bankruptcy and scores of others challenged financially or closing down. Here in St. Louis, though, everyone seems to be weathering the financial storm — and most of the non-financial news is good, too.
1. Story of the year • Opera Theatre of St. Louis' production of John Adams and Alice Goodman's "The Death of Klinghoffer," which deals with the Palestinian question from both sides. In other cities, productions have set off protests; not here. General director Timothy O'Leary wisely enlisted the formidable Batya Abramson-Goldstein, executive director of the Jewish Community Relations Council. She helped to form a 12-member interfaith steering committee, with Jews, Muslims and Christians. Together, the group set about educating the community — and themselves.
2. Best new musical development • The Missouri Chamber Music Festival, founded and staffed by St. Louis Symphony Orchestra principal clarinet Scott Andrews and his wife, pianist Nina Ferrigno, had its first season in June. Plans for a second annual festival are under way.
3. Best opera director • James Robinson. Robinson's work on OTSL's "The Death of Klinghoffer" was sensitive, balanced and moving.
4. Worst opera director • James Robinson. Robinson's work on OTSL's "Don Giovanni" was crude, ugly and inexcusably bad.
5. Anniversary of note • A. Dennis Sparger completed 25 years as artistic director of the Bach Society of St. Louis this year; may he enjoy many more.
6. Venue of the year • Kansas City's Kauffman Center. Our orchestra and opera company are far better, but KC has a beautiful new $413 million performing arts center with every amenity, all of it privately funded and all of it paid for.
7. Best new direction • Union Avenue Opera, which specializes in pocket productions of grand opera classics, offered a gripping contemporary opera of its own, "Dead Man Walking." With strong direction by Tim Ocel and a committed cast, this was one of the finest productions the company has ever given.
8. Worst old direction • Director David Alden, a specialist in the tired Eurotrash school of opera production, with a thoroughly hideous take on Debussy's already-difficult "Pelleas and Melisande" for OTSL. Not even Stephen Lord's sterling work in the pit and some fine singing could save it.
9. My favorite concerts (symphonic) • I missed much of the 2010-11 season due to health issues, so I can't say which was the very best of the SLSO this year. But for pure enjoyment, two moments stand out: the world premiere of "Stumble to Grace," composed by Steven Mackey for pianist Orli Shaham, playfully written and performed with joy, on Sept. 23; and the collaboration between conductor Ward Stare and pianist Stephen Hough, in Tchaikovsky's Piano Concerto No. 2 in G major, on April 29.
10. My favorite concerts (choral) • The St. Louis Chamber Chorus opened its 2011-12 season on Oct. 4 with a revelatory performance of a gorgeous mass setting, the "Missa Rigensis," by Latvian composer Ugis Praulins. On April 17, the SLCC offered a lovely and intriguing program of music rethought, reworked or refinished, while opening St. Alphonsus "Rock" Roman Catholic Church to an appreciative audience.
11. 11 choice recordings, in no particular order:
• Joyce DiDonato: "Diva Divo" (Virgin Classics). The brightest star in the new generation of mezzo-sopranos sings a well-chosen selection of arias magnificently.
• Christine Brewer: "Echoes of Nightingales" (Hyperion). Brewer's "middle-brow" album features encores from great dramatic sopranos of the past.
• Cappella Nova: "Who are these Angels? New Choral Music by James MacMillan" (Linn Records). The British choir Cappella Nova brings pure, radiant singing to music by MacMillan, one of today's most interesting composers.
• Daniel Lee: "Tchaikovsky, Bruch, Dvorak, Schubert, Morricone" (Sony Classical). Lee, principal cello of the SLSO since 2005, anchors his disc in Tchaikovsky's Variations on a Rococo Theme, op. 33.
• Hélène Grimaud: "Mozart Piano Concertos 19 and 23" (Deutsche Grammophon). The reliably elegant Grimaud brings light and beauty to these performances.
• St. Louis Chamber Chorus: "Christmas from Saint Louis" (Regent Records). A lovely mix of carols from the region's finest a cappella choir.
• Handel and Haydn Society: "Mozart Requiem" (Coro). An authoritative reading led by Harry Christophers; St. Louis native Phyllis Pancella is the alto soloist in the fine quartet.
• Pacifica Quartet: "Shostakovich: String Quartets Nos. 5-8" (Cedille). Intelligent playing in what is expected to be the first of a full cycle.
• Marlissa Hudson: "Libera." St. Louis native Hudson in a fine collection of African songs by Fred Onovwerosuoke, spirituals and classical arias.
• Anonymous 4: "Secret Voices" (harmonia mundi). An almost hypnotic collection of music for women's voices from 13th century Spain.
• Gerry Pagano: "Connections." The SLSO bass trombone is back with the members of the St. Louis Low Brass Collective in a well-played collection of music for brass.
11 people who help to make St. Louis music great • Bill Ash, Fred Bronstein, Adam Crane, David Halen, Amy Kaiser, Paul Kilmer, Peggy Neilson, Timothy O'Leary, Pat Partridge, Linda Ryder and Alayne Smith.
May light perpetual shine upon them:
• Margaret Salomon, 81, first female violist in the St. Louis Symphony Orchestra
• Sublime soprano Margaret Price, 70
• Serialist composer Milton Babbitt, 94
• SLSO chorus manager Richard Ashburner, 57
• Violinist Eugene Fodor, 60
• SLSO timpanist Richard Holmes, 69
• Baritone Cornell MacNeil, 88
• Celebrated atonal composer Ketzel the Cat, 19
• Conductor Robert Bergt, 81
• Tenor Salvatore Licitra, 43
• Early music soprano Montserrat Figueras, 69