Like many sixth-graders, Ronald Ollie dreaded art class. Drawing realistic pictures felt impossible. A buddy he shot marbles with made a suggestion: Go abstract.
"It was so freeing," Ollie remembers more than five decades later. He never became an artist but did develop an abiding passion for paintings with swoops of color, geometric lines or inventive shapes. 
That didn't change when he was a student in Rolla, surprising fraternity brothers by taking dates to the St. Louis Art Museum. When one found out later that Ollie even collected abstract art, he remarked, "'Are you crazy? You're an engineer,'" the collector recalls with amusement.
Later, the former boy from north St. Louis would relax after traveling for work, gazing at some of the 200-plus pieces he'd collected: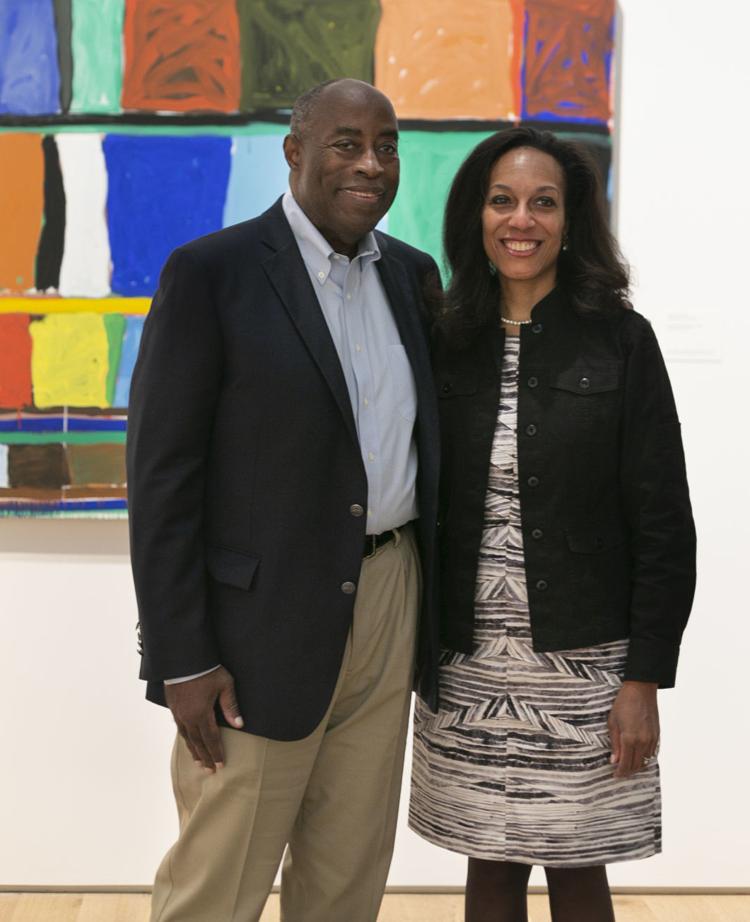 "It would refresh me," he says, leaning back in his chair and closing his eyes as if listening to soothing music.
"A hobby sustains you — it keeps you. That's the relationship I had with my art."
Ollie talked last week at the St. Louis Art Museum as 40 of the works he'd collected go on display. The exhibition "The Shape of Abstraction" not only showcases many of the 81 artworks Ollie and his wife, Monique McRipley Ollie, gave to the museum in 2017, it also helps rectify a deficit: the decades-long near-invisibility of some black artists working in the movement.
The full story
Ollie told the chief curator at the Kalamazoo Institute of Arts that leaving black abstract artists out of the history of art means "you don't tell the full story." It's "like leaving out jazz in the history of American music."
Rehema C. Barber recounts Ollie's words in an essay for the catalog accompanying the St. Louis exhibition. She writes that with the show and other national exhibitions highlighting "non-Euro-American abstractionists, the annals of art history are being revised and expanded."
Although black artists such as Herbert Gentry and Norman Lewis were contemporaries of people like Jackson Pollock and Mark Rothko, they weren't necessarily invited to exhibit with them.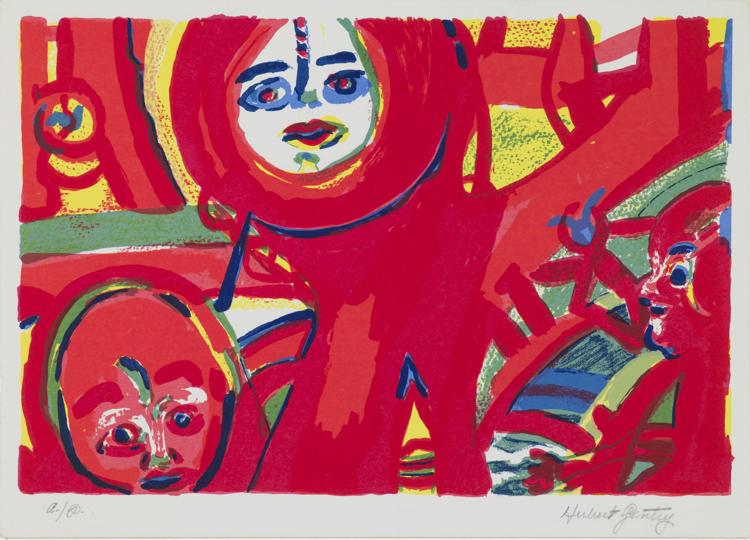 Ironically, perhaps, observers wouldn't necessarily have known the race of the artist. The abstract artworks don't usually depict literal figures, and the titles may or may not refer to cultural heritage. Some abstractionists were even criticized by activists who preferred their work to be more obviously uplifting to African Americans, says Gretchen L. Wagner, the museum's Andrew W. Mellon fellow for prints, drawings and photographs. 
Artist William T. Williams once told an interviewer: "What I try to do is be very focused on my own history, my own experience. I don't consciously try to make 'ethnic art.' What I'm assuming is the sum total of experience will come to bear on my art."
One section of the exhibition, called "Representation's Role," includes pieces that do link figures to abstraction. Lewis' etching "Togetherness" from 1973 shows simple figures marching in an oval, which is cut through the center by a zig-zagging line of people.
A link to social history turns up, too, in a display table with catalogs Ollie collected, including one from the 1971 De Luxe Show in Houston. The show is considered one of the first racially integrated contemporary art exhibitions. It is one of many catalogs, books and articles that Ollie also donated, which will be accessible to the public for research at the museum's Richardson Memorial Library.
Color and material
Wagner and Alexis Assam, former Romare Bearden Graduate Museum fellow, took media attendees on a tour of the show, highlighting works from its four thematic sections: "Influences Abroad," "Attention to Materials, "Representation's Role" and "Taking Shape."
Some of the artists had traveled to Europe, reaping the benefits of the G.I. Bill to study in Paris or be in proximity to living artists such as Pablo Picasso and Georges Braque.
Later in the 20th century, some of the artists pushed their creations behind the confines of a canvas rectangle.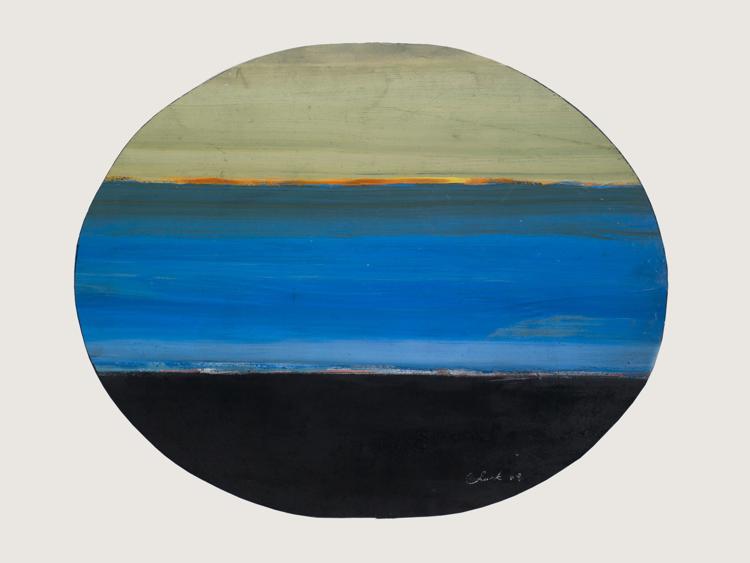 On display are an oval painting by Ed Clark and a canvas by Sam Gilliam that appears held to the wall with pushpins. Although it looks flat in a photo, the 78-inch-long piece actually curves away and back toward the wall. 
Gilliam's piece "Ruby and Ossie" is acrylic on plywood with metal hardware. A piece of the wood seems to open like a door, and Ron Ollie says that Gilliam asked him what color he wanted the back of the artwork painted. "Whatever color you want!" Ollie responded, saying he didn't try to tell artists what to do. 
The variety of color and form helps make the works appealing. "Abstract art is so much about the aesthetics," Wagner says. "Visual pleasure, that's the point."
Before Ollie's donation, the museum did have works by Gilliam, Lewis and Jacob Lawrence. But with the gift, it has gained artwork by 30 additional artists. One on display is by Lamerol A. Gatewood, who grew up in St. Louis.
Educating Ollies
Ron and Monique Ollie's gift is named the Thelma and Bert Ollie Memorial Collection in honor of Ron Ollie's parents, who raised their four children on Rolla Place in the Greater Ville neighborhood.
His parents emphasized a broad education, taking the family to the Muny and St. Louis Art Museum. Although each of his parents wanted to attend college and earn degrees, they weren't able to, instead putting educational hopes on their children.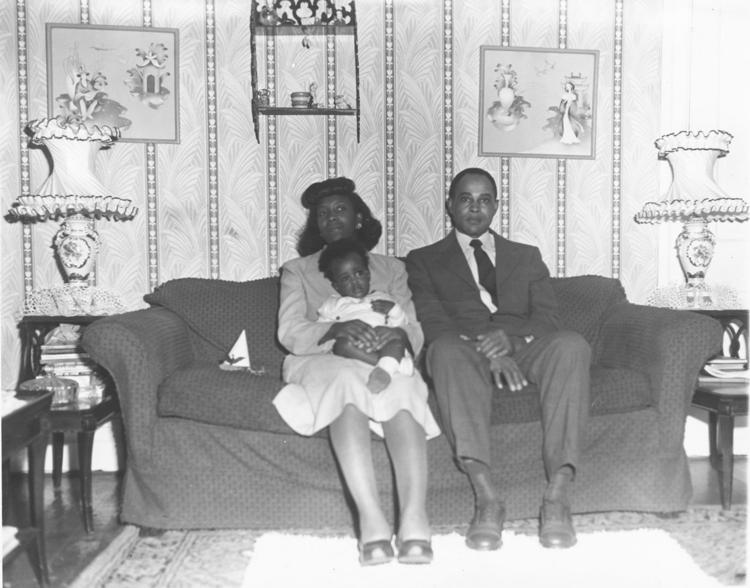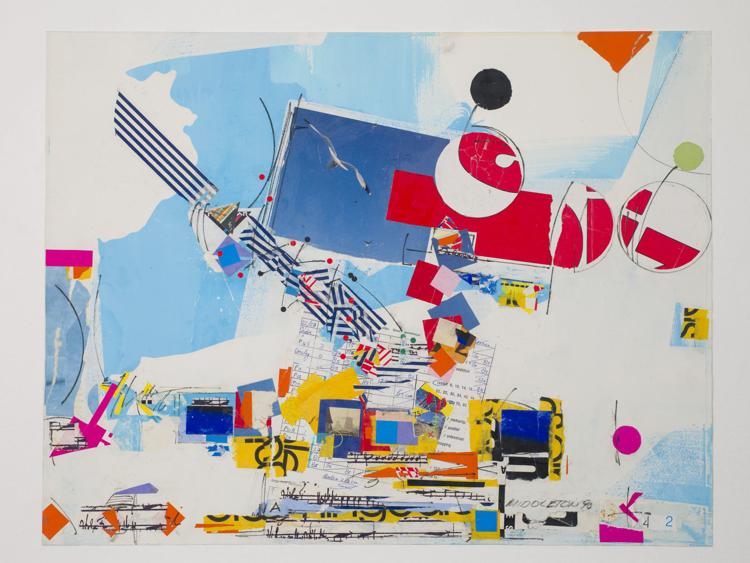 One of Ollie's brothers is now a retired college professor; the other is a real estate executive in Chicago. His sister, also retired, was a former principal at Farraguet Elementary School, which Ron Ollie attended. 
Born at St. Mary's Infirmary in 1951, Ollie graduated in 1969 from Northwest High School and later earned his mechanical engineering degree from the University of Missouri-Rolla.
While growing up, he says, his neighborhood was integrated. It wasn't until the family was in Jefferson City when he was about 10 that he learned some restaurants didn't seat black families. He'd never heard of such a thing. 
"A lot of black parents protected their kids at that time," he says. They attended the First Baptist Church and supported the NAACP, but his parents didn't want him putting himself in danger during street protests. 
The attitude was, "We could beat this, but we had to be educated and smart," he says. 
After graduation, Ollie would work on both coasts. He now lives in Newark, N.J., where he's on the board of the city's museum. Monique Ollie, whom he met at an arts exhibition, has a doctorate in biomedical engineering.  
Ron Ollie's career would lead him from engineering to business development and entrepreneurial projects.
His collecting career started with posters of works he saw at the Museum of Modern Art in New York. Eventually he began meeting artists and dealers, and a modest inheritance from his mother was used to purchase art. Although he didn't have a lot of money, he'd sometime pay for work over time. Twice, an artist let Ollie pay his rent during the summer in exchange for a painting. 
As he learned more from the artists themselves, he gained confidence in choosing art. Although often, he says, he was just drawn to certain pieces. When he got one home, he says, he'd "look at it for a week."
For the exhibition, Ollie asked Quincy Troupe, another former St. Louisan, to write a poem. The title of the poem turned out to be perfect for the museum exhibition.
Troupe's last stanza seems to echo some of Ollie's own words: "because art is shrouded inside mystery & magic/it is a force that can enrich, sustain life,/nourishing through beauty, joy, mirroring truth ..."