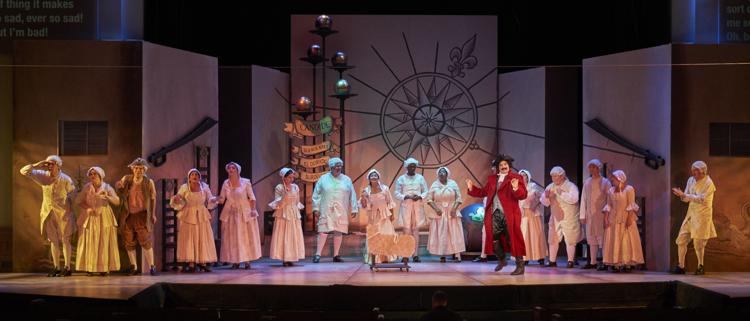 Leonard Bernstein's operetta "Candide," first produced as a Broadway show in 1956, has gone through numerous revisions and reworkings with about 10 librettists, including Bernstein himself, tinkering with it over the years, and now finds its most natural home in opera houses.
There's so much material here that a producer can pick and choose to suit. The version that landed at Union Avenue Opera on Friday night proved an inspired choice to open the company's 25th season. Artistic director Scott Schoonover (who also conducted) chose to produce the 1988 Scottish Opera version, with a first-rate cast and production.
Based on Voltaire's novella of 1759, "Candide" takes on the hyper-optimistic worldview of Gottfried Wilhelm von Leibniz, a brilliant polymath who made groundbreaking contributions to math, physics and other fields. Leibniz didn't do as well in philosophy; his notion that ours is "the best of all possible worlds," and that therefore "everything is for the best" provided Voltaire and his adapters with rich possibilities for satire.
In the Westphalian castle of the Baron and Baroness Thunder-ten-Tronckh, the innocent Candide, a bastard cousin of the family, studies Leibnizian philosophy under Dr. Pangloss with their daughter Cunegonde, son Maximillian and maid Paquette. When he and Cunegonde propose marrying, he's kicked out and begins a series of picaresque adventures that take him and his cousins to a host of colorful destinations and through assorted tragedies and setbacks. They learn some realism along the way, and, in the end, resolve to make their gardens grow.
After an uninspired reading of the famous Overture that featured an awful lot of sour notes, things improved considerably, especially musically. In her UAO debut, director Annamaria Pileggi did a superb job as she kept things moving fast and smartly, with plenty of hilarity to balance out the story's cynical darkness. It's to be hoped that she'll be back.
Scenic designer C. Otis Sweeney provided an attractive, functional unit set, decorated with globes (including a large one that allowed for pointing out where the characters were headed next) and a sign post that memorialized their travels. Costume designer Teresa Doggett's clever, flexible costumes helped to differentiate the vast array of characters, and were appropriate for their mid-18th century time period; in one perfect detail, Candide's stockings even boasted clocks.
Jesse Darden as Candide. Brooklyn Snow as Cunegonde in "Candide" at Union Avenue Opera. Photo by Dan Donovan 
Jesse Darden brought a clear, well-produced tenor and solid acting chops to the title role, his character managing to maintain his innocence until the very end, in a quietly authoritative performance. As Cunegonde, Brooklyn Snow was a delight, tiny, cute, and tossing off her big number, "Glitter and Be Gay," with clean coloratura, seeming effortlessness and an interpolated high note that was surely in Queen of the Night territory.
Soprano Christine Brewer, in the role of the unfortunate Old Lady (just ask her about her buttock), had a commanding presence and impeccable sense of humor and comic timing; this was luxe casting indeed. In no fewer than four central roles (Voltaire, Pangloss, Martin and Cacambo), baritone Thomas Gunther made a series of distinct, well-drawn impressions. Charlie Tingen was a perfect Maximillian.
In a large cast filled with talented multi-taskers (too many, alas, to mention in the available space), tenor Christopher Nelson was another standout, making his biggest impression as the lecherous, cynical, high-note-popping Governor of Buenos Aires. Another was Graham Emmons, whose brief roles included the Anabaptist James and Don Issachar. The ensemble was strong in every way.Union Avenue Opera: "Candide" When 8 p.m. Friday (repeats 8 p.m. Saturday) • Where Union Avenue Christian Church, 733 North Union Boulevard • How much $35-$55 • More info 314-361-2881 or unionavenueopera.org