For classical music organizations in St. Louis, Ferguson was a call to intensify their efforts to reach out to underserved communities in the region.
The largest organizations, and some of the smaller ones, already had long-standing programs in place. Ferguson made them more aware, more conscientious about their efforts.
Marie-Hélène Bernard, president and CEO of the St. Louis Symphony Orchestra, didn't arrive in town until almost a year after the death of Michael Brown, but she was well aware of the polite protest that took place during the SLSO's performance of Johannes Brahms' "Ein deutsches Requiem (A German Requiem)" on Oct. 4, 2014.
As the performance was about to begin, protesters sang the civil rights-era standard "Which Side Are You On?" while others, at the front of the dress circle boxes, unfurled homemade banners and dropped paper hearts printed with "Requiem for Mike Brown" onto the seats below.
Ferguson "was a catalyst for this region to assess where we are, to truly improve, to be even more intentional about bridging the divide," Bernard says. "For me, it's created a platform for greater coverage."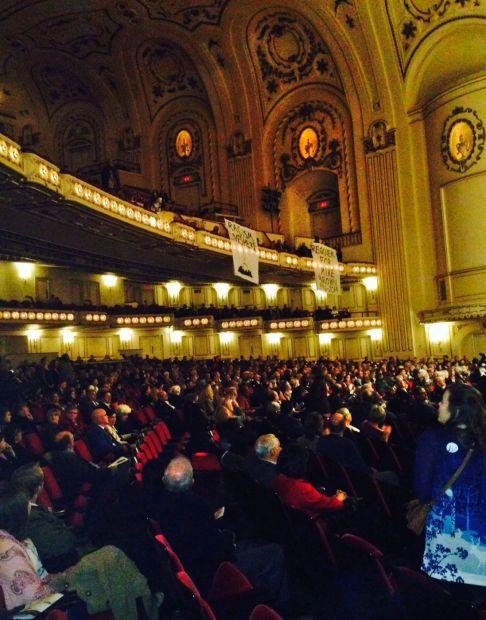 The SLSO, she points out, "has been embedded in its community for a long time, since the 1980s," with the creation of the In Unison Chorus to perform African American music at popular annual concerts and with other community programs, sending musicians to perform in churches and schools.
Since Ferguson, "the partnership has deepened. We're using music to create dialogues. We've totally transformed the way we work with teachers and deepened our relationship with them. Teachers are the conduit between us and students, between us and their families. Music becomes the anchor, a language, a way of expressing oneself. It teaches the value of discipline and teamwork."
The SLSO has added a program with the University of Missouri-St. Louis to provide scholarships and internship possibilities for local students, "being a connector in the music industry with students who aspire to a musical career."
Two of those graduates are now on the SLSO's staff.
Opera Theatre of St. Louis was also engaged in North County before Ferguson. In its aftermath, OTSL organized a scholarship fundraiser at Normandy High School, "#WithNormandy, A Concert for Peace & Unity," with participants including Jazz St. Louis, St. Louis Public Radio, and opera stars Christine Brewer and Denyce Graves.
"It was a one-off," says Allison Felter, director of education and community engagement for OTSL, "but it helped us double down on our presence and our emphasis on making sure we could send programming into that area. It raised the level of consciousness. When we have a program and we are trying to determine who would benefit — not that we have the silver bullet — we want to maintain a strong presence in the Ferguson area."
OTSL has always recruited students from high schools including Normandy and others in North County for its artists-in-training program; several of them have made careers in opera, including tenor Jermaine Smith, bass-baritone Robert McNichols Jr. and mezzo-soprano Kendall Gladen. OTSL also offers its AIT prep program in those schools, giving students their first voice lessons, raising their awareness of classical music and helping them to prepare for the competitive auditioning process.
That presence existed well before Ferguson, but, Felter says, "we worked harder. We were intentional about the placement of programs," with more focus on the Ferguson area. When OTSL was given funds and support for an arts intensive, they took it to Johnson Wabash Elementary and Ferguson Middle School. "We could have gone anywhere; any area is going to benefit — but our consciousness was raised, and we have responded when possible."
OTSL featured African American tenor Vinson Cole in its inaugural season in 1976. "This has been part of our practice since the beginning — to cast the best voices regardless of race, ethnicity and so forth," Felter says. "But our work is not finished; we need to keep going."
At Union Avenue Opera, artistic director Scott Schoonover says the company has become more thoughtful and consciously inclusive about programming. "We were before, but now there is more urgency and a seeming willingness of audiences to attend things beyond classic opera."
St. Louis Classical Guitar has long offered guitar classes to public schools in north St. Louis and North County. Its "Guitar Horizons" initiative supports 25 programs, with a teaching artist who comes in twice a week to co-teach with a classroom music teacher. SLCG also provides weekly professional development opportunities for area music teachers at no charge, as well as occasional in-school residencies with touring artists.
"These are deep challenges," Bernard says. "But I have a sense of hope that we can continue to do work that will transform society. It won't be overnight; it's not one commission here, one concert there. It's work that you do every single day. The work was begun before; the work has continued — and the work will continue."