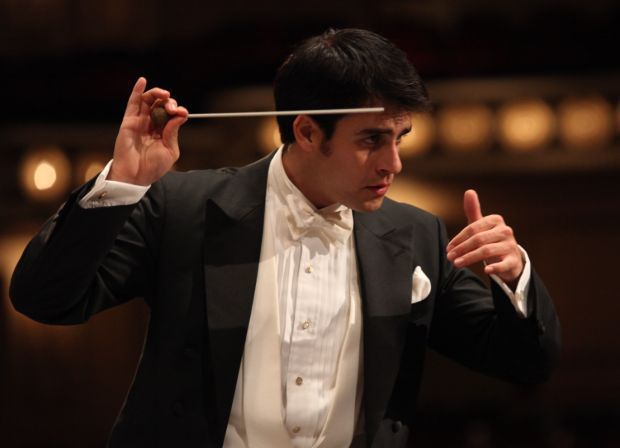 The 2018 St. Louis Symphony Orchestra's New Year's Eve concert was standing room only; Powell Hall was a great place to celebrate on Monday night, with fine music-making and good humor.
Former SLSO resident conductor Ward Stare retained the basic concept for the program (the program's not announced until the audience arrives, and even then there will be surprises), while making it less chatty.
There were plenty of colors and sparkles onstage. Stare opened with an energetic reading of the "Roman Carnival" Overture by Hector Berlioz. Bright and engaging, it benefited from principal English horn Cally Banham's beautifully played opening.
Stare next acknowledged the last minutes of the Leonard Bernstein centenary with four selections from Bernstein's Divertimento for Orchestra. Noting that waltzes are associated with New Year's, he went from there into a zippy but effective account of Richard Rodgers' "The Carousel Waltz."
A highlight was hearing principal trombone Timothy Myers as euphonium soloist in Herman Bellstadt's tuneful "Napoli." Myers was outstanding, performing with a clear tone and clean runs; he deserved the enormous ovation he received.
The evening's big surprise arrived after a purported singalong on Kerry Mills' "Meet Me in St. Louis" (it would have been helpful to have projected words here and elsewhere in the program). Leonard Slatkin (who moved back to St. Louis last year) and Cardinals legend Ozzie Smith led the revised version of Peter "P.D.Q. Bach" Schickele's "New Horizons in Music Appreciation." It pitted the orchestra against the conductor in the first movement of Beethoven's Symphony No. 5, as Slatkin and Smith provided commentary. Bass trombone Gerard Pagano played the referee; principal oboe Jelena Dirks contributed a devastatingly funny turn as she challenged a call. There were plenty of St. Louis-specific jokes.
One touchingly St. Louis-specific moment: double bass Donald Martin was brought in as a substitute — and Slatkin announced Martin's retirement from the SLSO at the conclusion of the concert, after 56 years. More work should have been done with balance; Smith and Slatkin were often hard to hear and understand. Still, there were great moments all around.
The second half began with Slatkin conducting a Dvorák-influenced arrangement of "Shenandoah" by his wife, composer Cindy McTee, with fine solo work by associate principal flute Andrea Kaplan and concertmaster David Halen. Next was the hilarious "Carmen's Hoe-Down" by his father, Felix Slatkin.
Stare resumed the podium with Johann Strauss Jr.'s polka "Éljen a Magyar! ("Long live the Magyar!)" In Jeno Hubay's czardas "Hejre Kati," associate principal second violin and soloist Eva Kozma proved herself a virtuoso.
After "On the Beautiful Blue Danube" and Rossini's "William Tell" Overture (with principal cello Daniel Lee shining on the introduction and a cry of "Happy new year!" at the end), it was time for the traditional encores: the "Missouri Waltz" and "Auld Lang Syne." Judging by the applause, a wonderful time was had by all.
Stay up-to-date on what's happening
Receive the latest in local entertainment news in your inbox weekly!