The St. Louis Symphony Orchestra's celebration of its 50 years with Leonard Slatkin continued over the weekend at Powell Symphony Hall.
Starting as an assistant conductor, rising to become music director and moving on to the created-just-for-him post of conductor laureate, Slatkin has influenced the sound of the SLSO (and, one suspects, they have influenced him) as no other conductor. At age 75, it's appropriate to honor him.
On Saturday night, he led a varied program: a series of variations (old and new) composed in his honor; a Mozart concerto and a major tone poem by Richard Strauss.
First, he had a few words for the (unaccountably sparse) audience. "I just had to prove to you that I'm still alive," Slatkin said, in response to the recent debacle at the Emmys when his picture appeared during the "In Memoriam" segment instead of that of the late André Previn. "There's some suspicion that the Ukrainians were behind it."
"Yet Another Set of Variations (on a Theme of Paganini)," its composer listed as "Various," is a sprawling set of reworkings of a familiar theme.
Slatkin wrote a couple of them; his son Daniel, a composer for TV and movies, wrote another; and his wife, Cindy McTee, wrote one. Joan Tower, William Bolcom and Guillaume Connesson are all represented.
Some of them were commissioned by the SLSO when Slatkin retired from the orchestra in 1996; others were written for his 75th. Some are straightforwardly humorous; others are serious. It's a lot to bring and hold together, but the dedicatee handled the assignment with good form.
At times it seemed like too much of a good thing but most of them were cleverly done. Slatkin suggested that the audience follow along with the assorted titles in the program, but given the darkness of the auditorium, that was impractical.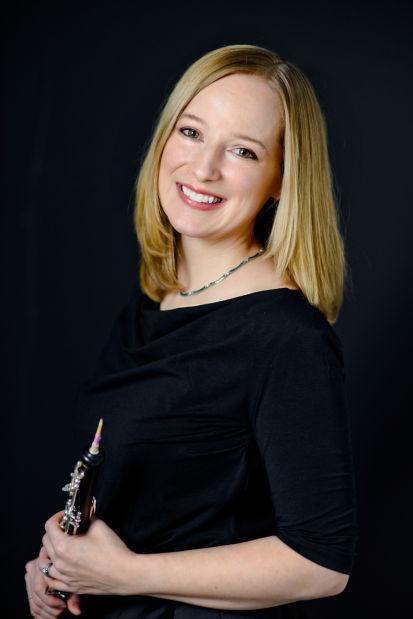 After 11 variations, a "transitional interlude" and a finale, it was time to move on to something in a more traditional vein.
Principal oboe Jelena Dirks was the soloist in the Mozart Oboe Concerto, offering beautifully elegant playing throughout. She has a fine legato line, and provided distilled loveliness in a fluid performance of one of Mozart's most graceful concertos. Her work enhances SLSO concerts week in and week out; it was good to see and hear her in the solo spot.
The second half was a solid reading of "Ein Heldenleben (A Hero's Life)," by Strauss. Strauss made no bones about being his own heroic subject matter and conductors are often willing to assume that mantle in their turn.
Concertmaster David Halen, who left his chair to associate concertmaster Heidi Harris in the Mozart, resumed it for the Strauss. "Heldenleben" sometimes threatens to turn into a violin concerto, and Halen made the most of his extended passages, playing with passion, accuracy and sweet singing.
The orchestra sounds different, smoother, when Slatkin is on the podium. In this big, complex work, everyone stayed perfectly together, expressively making the hero's journey. Every member of the SLSO contributed to a magnificent reading.