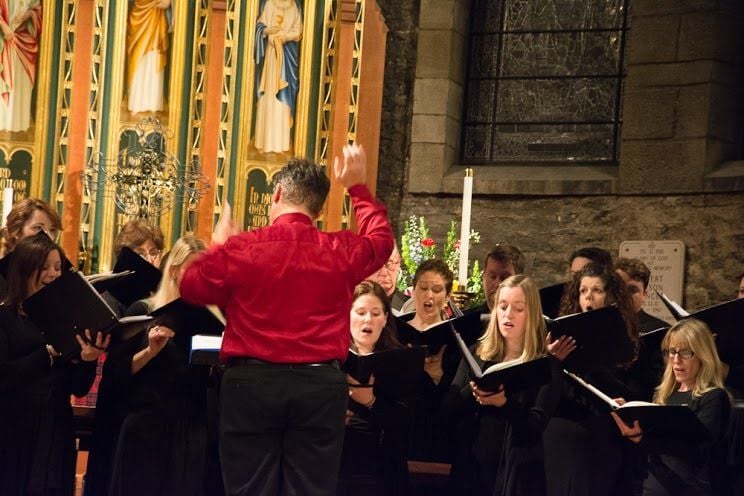 Most musical organizations have a template for their holiday concerts, a familiar set of tropes that get changed up slightly each year as to content but not as to format: the big centerpiece composition, the carol singalong and so forth.
St. Louis Chamber Chorus artistic director Philip Barnes does things a little differently: He focuses on Christmas music from a different country or region every year. On Sunday afternoon, the theme was Christmas Down Under, giving the holiday an Australian accent and Christmas works from composers native to the Antipodes.
The venue this time was that West County architectural meringue, St. Anselm's Roman Catholic Church. Better known as the St. Louis Abbey, the nave has poor sight lines, but more than makes up for that with a wonderful acoustic, one of the region's best.
Music by Peter Sculthorpe (1929-2014) opened each of the concert's halves, with the tuneful "The Birthday of thy King" to start and "Morning-Song for the Christ Child" later on. Both were interesting pieces with intriguing harmonies; both were well sung.
The talented young (b. 1995) Australian Lachlan McDonald's original arrangement of the familiar Basque carol "Gabriel's Message" received its U.S. premiere; he's one to watch. It was followed by the gorgeous "O Oriens," by Australian-born Melissa Dunphy (b. 1980), taken here a little slowly by assistant conductor Andrew Jensen.
Music by an archetypal Australian composer, William G. "Billy" James (1895-1977), made up almost one-third of the selections, beginning with "Sing Gloria," with a carillon style that gave it the effect of pealing bells. Most of the James pieces were in a traditional Christmas carol mode, particularly "The Little Town Where Christ Was Born." "The Carol of the Birds" was jolly, while "The Three Drovers" felt very Australian.
The second half held three pieces by Malcolm Williamson (1931-2003). The first, "Dawn Carol," combined elements of plainsong with more modern sounds. "Christmas 1914 (HMS Iron Duke)" was touching and tuneful; "This Christmas Night" was lovely, peaceful and thoughtfully harmonized.
"Puer natus in Bethlehem," by Stephen Whittington (b. 1953) was very cool, with a lot of musical interest. The beloved carol "Silent Night" got a very different take, with new harmonizations, in an arrangement by Daniel Brinsmead (b. 1988).
The one disappointment was "Susannine," a 2010 St. Louis Chamber Chorus commission by the New Zealand-born, Sydney-dwelling Clare Maclean (b. 1958). There's some simply sour writing in it, making it an unappealing choice. It was led by assistant conductor Orin Johnson.
The singing was overwhelmingly excellent, a couple of slightly wobbly entrances notwithstanding. The choir boasts an excellent blend, and produced some fine soloists, not all of whose names were available. Once again, the St. Louis Chamber Chorus claimed its title as the region's finest a cappella ensemble.