Fetch your pith helmets, fellow explorers: Animatronic dinosaur season is in full swing in St. Louis.
On April 17, the St. Louis Zoo debuts "Dinoroarus." And in nearby Maryland Heights, dinosaurs in a traveling show called "Jurassic Quest" are roaring in the Hollywood Casino Amphitheatre parking lot through April 25.
This summer, July 17-18, a "Dino Stroll" exhibition comes to the Gateway Convention Center in Collinsville.
The zoo exhibition, formally called "Emerson Dinoroarus," is in the space that used to be occupied by the Children's Zoo, which closed last year.
There had been plans to revamp the space within the next several years, but the pandemic accelerated those plans. The hands-on experiences in the Children's Zoo could not safely continue.
"Dinoroarus" will use the 3½-acre space for at least the next two years while the zoo works to create another permanent attraction for families. "Dinoroarus" opens April 17 and will run through Oct. 31. It will close for the winter and reopen in spring.
As visitors walk along the repaved paths, they will see 16 groupings of animatronic and stationary dinosaurs in refreshed landscapes. Some of them roar, spit water and even chomp on a wiggling fish. There's a life-size triceratops, an 18-foot-tall brachiosaurus and a nest of quetzalcoatlus babies, watched over by their very large, long-beaked mother.
"This guy spits, and I have no control over it," warns St. Louis Zoo director Michael Macek, leading a tour through "Dinoroarus." A dilophosaurus greets visitors, occasionally with a squirt of water. So does another dinosaur, a feather-festooned Utahraptor, at another end of the path.
"They're all really neat," Macek says. "The setting is what's really spectacular. And of course, we can also blend it with some of the live collection we have as well."
Transforming the space took about four months, and the dinosaurs purchased from a Texas-based Billings Productions arrived in March. The effort cost about $700,000, which the zoo plans to recoup through "Dinoroarus" admission fees.
Horticulturists placed the dinosaurs in landscaped areas planted with palms, azaleas and other bright-colored plants with roots in prehistoric times.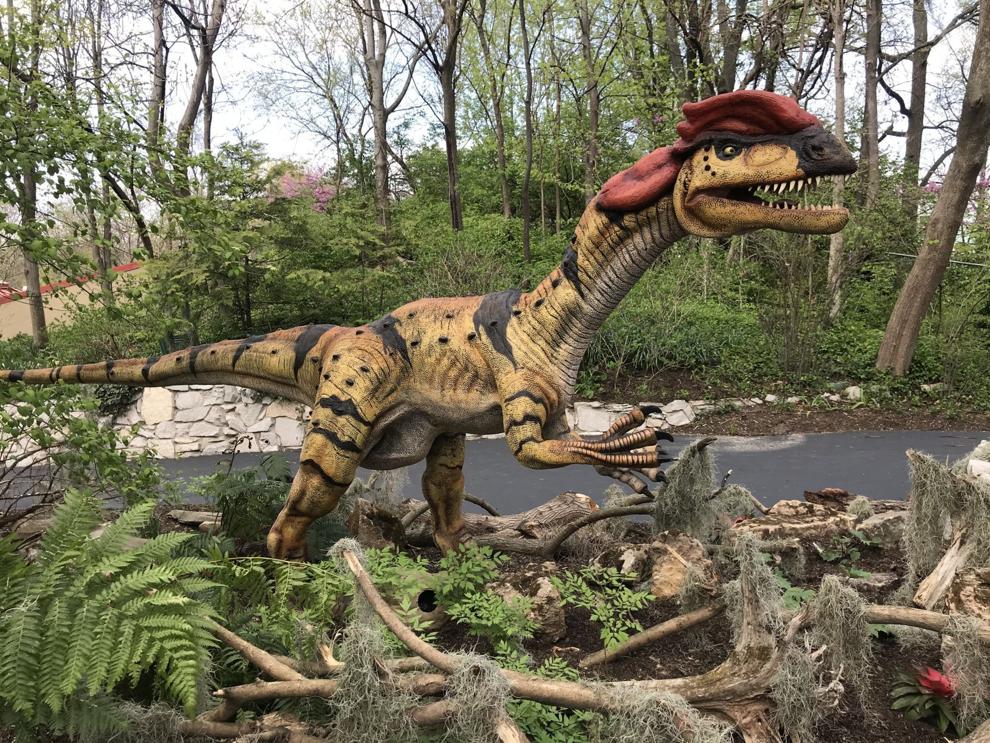 Some animals from the old Children's Zoo remain, such as the Tasmanian devils and otters, with informational plaques explaining their relationship to dinosaurs. Visitors can catch a glimpse of the goats in the goat yard, and the alpacas, sheep and cow still live behind fenced areas but out of view. Some animals found new homes at other accredited facilities.
The indoor space from the Children's Zoo now offers a refreshment stand, gift shop, tanks of jellyfish and a touchless display about the robotics under the dinosaurs' artificial skin.
Interpreters will roam the area with birds and baby dinosaur puppets, and as pandemic restrictions ease, areas will be added for dinosaur fossil "digs." Signs will offer trivia questions, information about connections to animals and creatures living today, reasons why dinosaurs went extinct and how to protect existing animals.
Macek says the decision to close the Children's Zoo was the hardest of his career, but he's "very happy" with the result.
"We've got something that's specific to children and their families," he says. "It's mission-centered. We talk about climate change, conservation, extinction and things like that. And it's fun."
"Jurassic Quest Drive Thru" in Maryland Heights also includes dinosaurs, but in a completely different format. Visitors can pull up an audio tour on their phones as they drive past 70 dinosaurs that move and make sounds. Guests can also text questions to "rangers."
The exhibit had traveled around the country at indoor venues but switched to an outdoor format during the pandemic.
"It presents challenges, and it's a different experience, but it has been a very positive experience," says "Ranger Marty" Hoffman. "Actually, we just served our 2 millionth customer since June of last year. People are looking for things to do that are fun and safe."
What "Emerson Dinoroarus" • When April 17-Oct. 31 • Where St. Louis Zoo, 1 Government Drive, Forest Park • How much $5.95 for ages 2 and up (tickets may be purchased at the zoo; advance zoo reservations required) • More info stlzoo.org/dinoroarus
What "Jurassic Quest Drive Thru" • When Through April 25; hours are 1-8 p.m. Wednesday, 9 a.m.-8 p.m. Thursday-Friday and Sunday, 9 a.m.-9 p.m. Saturday • Where Hollywood Casino Amphitheatre, 14141 Riverport Drive, Maryland Heights • How much $49 for standard-sized vehicle • More info jurassicquest.com