Mozart's "Titus" ("La Clemenza di Tito," or "The Clemency of Titus") is all about the singing. Opera Theatre of St. Louis' new production, which opened Saturday night at the Loretto-Hilton Center, delivers the vocal goods.
Music director Stephen Lord, conducting his final production in that capacity, chose "Titus" as his swan song, and cast its six roles with some of the best of the young singers whose careers he's advanced in recent years. They did not disappoint; it's hard to imagine a better cast.
Few conductors possess Lord's invaluable combination of understanding of both voices and vocal scores. Add to that his excellent rapport with instrumentalists — this is one conductor who never fails to connect the musicians of the stage with those of the pit — and it's clear that this is the end, not only of an era, but of a kind of golden age at OTSL.
Mozart composed "Titus," his last opera, for the coronation of the Holy Roman Emperor Leopold II as King of Bohemia, with a story from an account in "The Twelve Caesars," by the Roman historian Suetonius. Titus is a kind and generous ruler who, despite an attempted assassination by his best friend and the woman he plans to marry, forgives them.
The composer succeeded in perking up the even-then old-fashioned opera seria style, but it's still pretty static compared to the trio of familiar masterworks he wrote with Lorenzo Da Ponte. It's the music that makes it.
In the title role, tenor René Barbera sang splendidly and captured both the essentials and the nuances of the emperor's character as he moves from openness through grief and anger. This is an artist who has continued to mature and grow since his 2011 debut in "The Daughter of the Regiment," and he's making an important career. It's a pleasure to have him back.
Vitellia, the daughter of the emperor Titus' father deposed, is a tragi-looney in the grand Donna Elvira mold. As portrayed by soprano Laura Wilde, she's a force of nature, with a big rich voice that's perfectly produced from high notes to chest voice, particularly in her final aria, "Non più di fiori."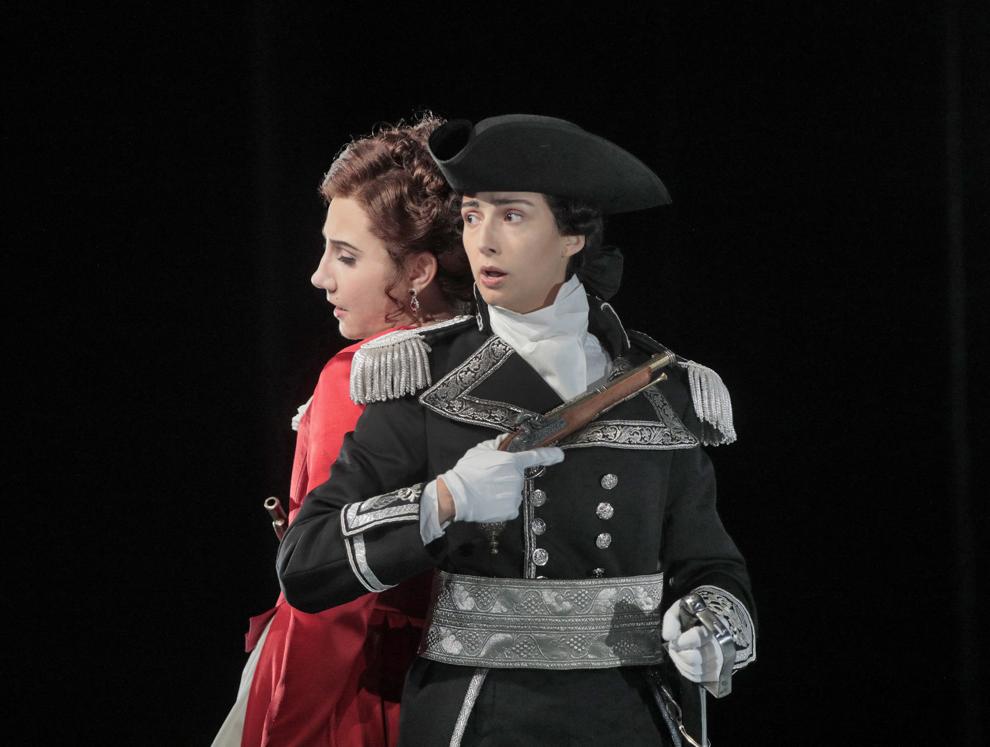 Mezzo-soprano Cecilia Hall as Sesto, who betrays his friend out of love for Vitellia, has terrific acting chops and effortless coloratura. Both she and mezzo Emily D'Angelo, as Annio, were completely believable in their military trouser roles. D'Angelo, who made Annio a vital part of the action, has a gorgeous, well-trained voice.
Bass-baritone Matthew Stump was suitably imposing as Publio, prefect of the Praetorian Guard, and sang with authority and admirable clarity. As Servilia, Sesto's sister and Annio's beloved, soprano Monica Dewey was much more than a charming ingenue, singing beautifully and investing her role with real strength of character.
Principal clarinet Scott Andrews, on the basset horn, was a real partner in his duets with Hall and Wilde; this split of the St. Louis Symphony Orchestra seemed never to hit an errant note. The chorus, under Cary John Franklin, sang well, often from the aisles or catwalks.
Director Stephen Lawless placed the action in the late 18th century, with a few Roman trappings, and brought out all the drama (and, perhaps, some emotional elements that would not have been present at the opera's première) in a staging that was relevant to the 21st century without being heavy-handed.
Set and costume designer Leslie Travers kept things in black and white, with handsome costumes; a giant American eagle, its head facing the olive branch in its right talons, rose and fell as required, for a simple but effective design.
No surtitles were used for the secco recitatives, but the words (with the help of English diction specialist Erie Mills) were clear enough without them. Christopher Akerlind's lighting was, as usual, superb.