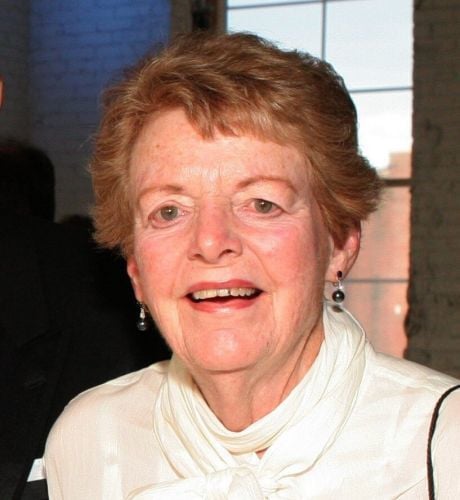 Phyllis Brissenden, a contributor since 1976 to, and life board member of, Opera Theatre of St. Louis, animal lover and environmentalist, was a famously generous philanthropist with a sharp sense of humor.
Once, former general director Charles MacKay recalls, she came to his house in Lafayette Square for a cup of tea and a cookie.
"I told her there was something I wanted to talk about. She said, 'Oh, dear, it's the fundraising moment.' I launched into my pitch; my cat, Pushkin, sat at her feet, hoping that she would give him a morsel to eat. Phyllis listened — it was a big number — and then looked down at Pushkin and asked him, 'Do you think I should give him the money?' Pushkin immediately went, "Mrroww!' Phyllis said, 'I take that as a yes,' and agreed. It was her biggest underwriting to that date."
Phyllis Herndon Brissenden died of heart failure Dec. 17, 2019, at Heritage Manor in Springfield, Illinois. She was 86.
Mrs. Brissenden was the daughter of Obed Lewis Herndon and Marian Matheny Herndon, who owned dry goods stores in Springfield. She had a strong interest in the city's history.
She graduated magna cum laude from Sweet Briar College in Sweet Briar, Va.  During World War II she worked at United Way in St. Louis for several years, making lifelong friends.
"Phyllis was a lifelong and caring Episcopalian," said a longtime friend, Patricia Hecker. "She was kind and incredibly generous. Every time someone was raising money to help a singer, she would whip out the checkbook and do something about it." Although suffering from severe lordosis, "Phyllis never complained."
Said MacKay, "Phyllis was always interested in exploring new territory, in opera, restaurants, birds and animals. She was blessed with an inquisitive, intrepid spirit. She had a passion for music, and an extraordinary commitment to Opera Theatre."
Andrew Jorgensen, OTSL's current general director, said, "Phyllis was one of the most meaningful friends this company has ever known. She was with us at our founding, she led our National Patrons' Council, she was made a life member of our board. It was a service she took very seriously."
He noted that she drove to St. Louis multiple times each season, to see every opera as many times as possible, and was always in attendance under the big tent afterward to greet the singers.
Jorgensen, his husband Mark Stuart-Smith and their dog Aria drove to Springfield for doggy play dates with Mrs. Brissenden's beloved terrier Fergus, and to look at her operatic photo albums. Jorgensen said that he programmed Carlisle Floyd's "Susannah" for the coming season largely because of her encouragement. 
Mrs. Brissenden also attended performances by the St. Louis Symphony Orchestra, Lyric Opera of Chicago, the Santa Fe Opera and other companies.
She was a longtime board member of the Illinois Symphony Orchestra and its predecessor, the Springfield Symphony Orchestra, and a supporter of the Nature Conservancy of Illinois and other environmental groups.
Mrs. Brissenden has no immediate survivors. Her husband, Walter F. Brissenden, died in 1986. Her funeral will be at 11 a.m. Monday (Dec. 23, 2019) at her lifelong parish, Christ Episcopal Church, 611 East Jackson, Springfield, with burial at Oak Ridge Cemetery.