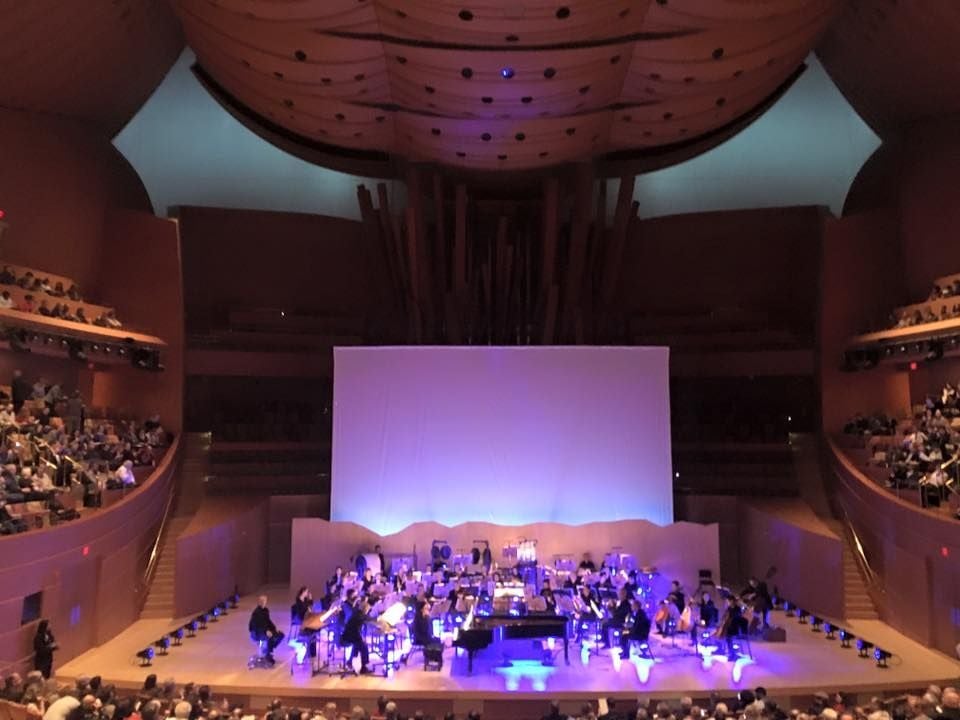 The St. Louis Symphony Orchestra has returned from its 2016 California tour, trailing rave reviews in its wake. Music director David Robertson took the ensemble to four venues around the state, playing to full houses.
The tour "started off with a bang" on Jan. 27 at the Soka Performing Arts Center near Orange County, said SLSO vice president for external affairs Adam Crane. The first three concerts used the full orchestra (and then some) in a program that matched John Adams' Saxophone Concerto with Gustav Mahler's Symphony No. 5. For the last two, a smaller ensemble reprised Olivier Messiaen's "Des Canyons aux Étoiles …" ("From the Canyons to the Stars …"), with visuals by Deborah O'Grady.
"The halls were all very different," said Crane, "and certainly very different from Powell Hall." The program was repeated to a sold-out house in Palm Desert.
Then they were off for a weekend mini-residency at Zellerbach Hall at Berkeley, where they played both programs, were part of two symposia, and gave an educational concert.
"Sunday was a madhouse for Messiaen," Crane said. "People were lined up outside. Everyone was scrambling for tickets. They were scalping tickets. That's always a good sign for classical music, especially with just Messiaen on the program, and in such a large hall. The ovation at the end was just tremendous."
In Los Angeles, Disney Hall was filled, with a waiting list for press tickets. (One audience member, who listens to the SLSO over NPR at his home in New York, booked a round-trip flight and came to hear it live.)
Los Angeles Times music critic Mark Swed wrote, "(Robertson)... found God in the complexity of Messiaen's details, and he found natural wonder in Messiaen's divinity. The members of the St. Louis Symphony could have been mistaken for a world-class new music ensemble."
Orchestra president and CEO Marie-Hélène Bernard said that the tour went smoothly, thanks to the SLSO staff, and that she wasn't surprised by how well Robertson and the orchestra performed.
That's despite having to play in a series of unfamiliar halls, and the fact that, on a tour, there's no time to adjust to a new auditorium in their collective ears. "It's like a pianist or an organist playing on a new instrument every place they go," she said.
That ease was expected. "My surprise was over how very well the Messiaen project was received wherever we played it," Bernard said. "In California and St. Louis, the reception was enthusiastic and truly amazing. This piece is not easy for anyone; it's not necessarily the kind of repertoire that's easy for people to grasp, and we learned so much in the experience of doing it."
She added, "It was a full week, and it felt like longer — but it's a wonderful way for St. Louis to take its cultural ambassadors out to another state. When you think you have one of the greatest orchestras in the world and audience in another place affirms that, it's really gratifying."