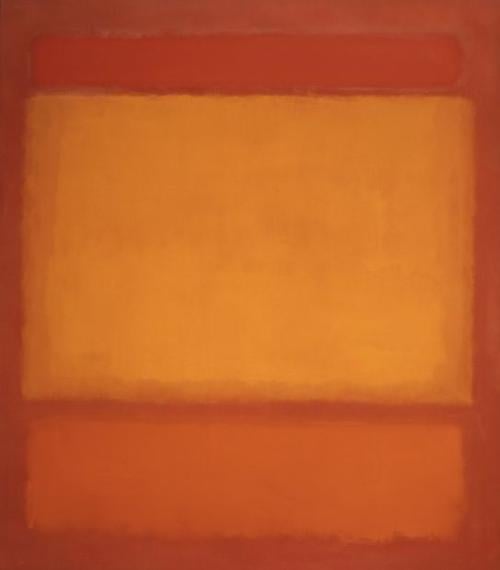 The result of the St. Louis Art Museum's deal with the Fondation Beyeler is now on the wall.
The art museum wasn't keen on lending out four paintings by German artist Gerhard Richter (b. 1932) to the Beyeler, in Basel, Switzerland. After all, they were just installed in the museum's new East Building last spring and are an important part of the museum's collection.
Then the Beyeler made an offer too tempting to refuse: The loan of four important paintings by Mark Rothko (1903-1970), in exchange. A private collector offered a fifth painting to complement them. The art museum owns four works of its own. Together, the nine works make a significant exhibition. Called "Tragic and Timeless: The Art of Mark Rothko," and curated by Simon Kelly, curator of modern and contemporary art, the show has examples of Rothko's entire oeuvre over three decades.
Last week, the art museum brought Christopher Rothko, the artist's son, to give a talk entitled "Mark Rothko and the Inner World." He took a few minutes before the sound check to chat.
Christopher Rothko, 50, is a former classical music writer who used to argue with his father about music: Even at 6, he says, "I was very opinionated." He knows these paintings well (he's been working with his father's art for about 25 years), and is especially fond of the pieces from the 1960s.
"These are works that tend to be a little darker and a little more meditative," he said. "They don't come out to meet the viewer quite as readily; you have to extend a little more effort to meet them. But I find that they're especially rich, especially beautiful in a special way. He had honed his technique to a point where he could, with the absolute minimum of materials, evoke maximal effect."
Rothko was not a showy painter, but these "are quite carefully crafted, to achieve what some people might call a very spiritual effect, a deeply intellectual effect. I think different people interact with them in different ways, but you are having an extended conversation between painting and viewer."
He adds that the loaners dovetail nicely with the art museum's holdings, especially "Red, Orange, Orange on Red," from 1962, and two late works on paper from 1969. "They make a very strong unit."
Christopher Rothko says his father believed that "viewing a work of art was an experience, something to interact with. If you are communicating with the painting, you are potentially having a life-changing, mind-changing, spirit-changing kind of experience. It's not just something beautiful to look at, but something that touches a place deep inside you."
Rothko's work "hits you on a pre-conscious, pre-verbal kind of level. That was quite intentional: He was looking for a pictorial language that was as universal as possible, that he could communicate to almost every viewer. He did not want to be tied to stories or any kind of narrative that would pigeonhole him in a time or a place. He was looking for something that could reach everywhere."
---
'Tragic and Timeless: The Art of Mark Rothko'
Where • St. Louis Art Museum, Forest Park