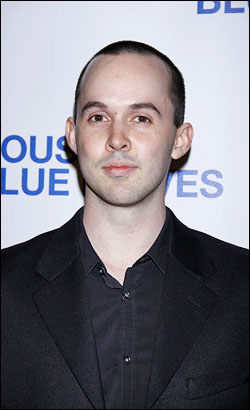 Norbert Leo Butz, formerly of St. Louis, is nominated for a Tony in "Catch Me If You Can," a show that's a nominted for the Tony for best musical. Another nominated musical, "Sister Act," features Sarah Bolt, another performer who grew up here, as a jolly nun.
Those are great roles. But simply appearing on Broadway is pretty great according to Jimmy Davis, a young actor from St. Louis. He's making his Broadway debut in the new production of John Guare's "The House of Blue Leaves."
Davis plays an MP, not exactly a huge role but, like anything else on Broadway hugely competitive. The play stars Ben Stiller and Edie Falco, whose performance earned her a Tony nomination, as an unhappy couple with a troubled son in the army (hence the MP). Davis also understudies the part of the son.
The son of Anne and Kevin Davis of Olivette, the actor was a mainstay of the Ladue High drama club before he continued his theater studies at Juilliard. He's performed at a number of theaters in the last few years but finds that there's nothing like Broadway.
"Everything is bigger," he said. "A lot more time, a lot more rehearsal, a lot more attention to detail. And a lot more invested in it.  But I think it's fun. Ask me again after 103 more nights."