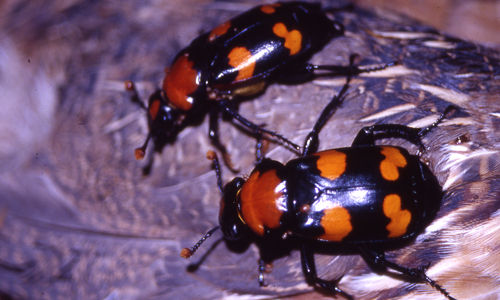 One of nature's most effective recyclers will return to Missouri this spring. Scientists will reintroduce about 200 to 300 critically endangered American burying beetles, bred in the St. Louis Zoo, to some 4,000-acres of protected prairie in southwest Missouri. The hope is to establish a breeding population of some 1,000 beetles.
"This beetle's rapid decline is reason for alarm," said Ed Spevak, zoo curator of invertebrates. "Insects like this beetle are the proverbial canary in the coalmine. Their sensitivity to environmental changes makes this insect a barometer of problems in the ecosystem."
The American burying beetle was the nation's first insect to be designated as endangered. The nocturnal insect literally buries its food, the carcasses of insects, mice, opossums, birds, snakes and other animals. Scientists don't know why its numbers have plummeted but speculate the usual suspects --pesticides, habitat loss, extreme fluctuations in climate and other factors - are to blame.
The beetles, which once lived in about 35 states, have not been sighted in Missouri since the 1970s. In 2005, the St. Louis Zoo's WildCare Institute started to breed the beetles in the zoo's Insectarium. Some 7,000 have been born. 
"This is a species that buries dead things and it is perhaps the cleanest competitor for carcasses out there," said Scott Hamilton, a biologist for U.S. Fish and Wildlife Services. "When you look at what's there that is going to feed on dead things that can be vectors for disease, you've got flies, you've got rats, you've got raccoons, all of which can carry various diseases."
Bob Merz, the zoo's zoological manager of invertebrates and director of the WildCare Institute's Center for American Burying Beetle Conservation, added the insect's reintroduction could offer other unknown benefits to humans and the ecosystem.
"A lot of it is you don't know until it comes back again," said Merz. "That happened with the wolves in Yellowstone -- the whole habitat changed and new species came back. Some of it is we may see the impact down the road if things go well."
Of course, things may not go well. The factors that wiped out the American burying beetles are still out there and landowners near the reintroduction site will not be required to change any of their land management or agricultural practices.
"It's going to be tough trying to figure out what we need to do for the species but the most important thing is we need to try," said Hamilton. "This is a common problem with dealing with endangered species. You have so many variables, but it's important to know even in failure you're going to learn something."