The anticipation is over, and the sadness kicks in.
Octavia the "corpse flower" will not produce a stinky bloom.
For weeks, visitors and employees at the Missouri Botanical Garden eagerly anticipated the rotting-meat stench of the huge flower, known as the titan arum.
Instead, she'll go into a dormant stage, and maybe she will bloom again.
"Sad news, corpse flower fans," the garden posted on Facebook at about noon Monday. "It appears that Octavia used so much energy growing that she does not have anything left to support a bloom. Though we are no longer expecting her to open, the plant will remain on display over the next few days as we monitor her decline."
At 8 feet, 1 inch tall, Octavia was the tallest corpse flower the garden has owned.
Garden officials thought Octavia would bloom sometime between July 1 and 8.
Like impatient in-laws, they watched as she grew … and grew … and grew. They adjusted the live webcam at the Linnean House, where Octavia is on display, to capture the growth. People watched from their homes and offices.
The online live chat got a little weird.
"ITS GONNA BLOOM ANY SECOND I CAN CHLOROFEEL IT!" one viewer wrote.
"Would you want everyone watching you open up your stinky interior to attract insects? I don't think so. Tnx," wrote someone else, posing as the corpse flower.
But as people frowned at their calendars and marked off the days, they wondered if something was wrong. For one, Octavia stopped growing about six days ago, said Emily Colletti, the horticulturist in charge of aroids at the garden.
Colletti has been practically living at the garden, she said, and when she did make it home, she'd check the live camera from her bed.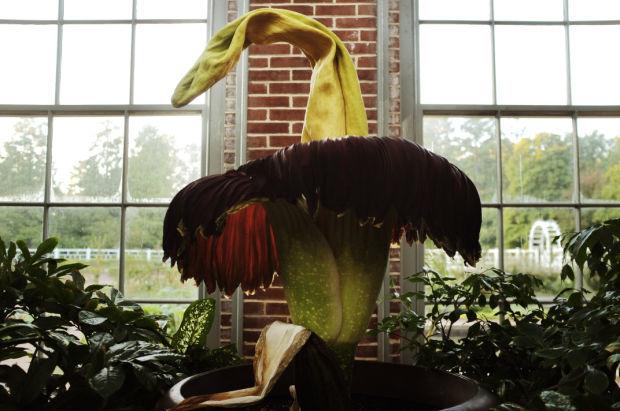 "It basically teaches you a lot about patience," she said. "And just because the signs are there doesn't mean it's actually going to happen."
She traded stories with other botanical gardens with similar sad corpse-flower stories. Nobody's really sure why some flowers don't bloom, she said.
Monday morning, she detected some deterioration of the spadix, the center columnar part that juts high. She made the sad call. She's disappointed, she said, but it was a good learning experience.
At some point in the next couple days, the plant will collapse. It's still stinky, but not as odorous as it would be had it bloomed.
This would have been the second bloom for Octavia; the first was July 9, 2017. The Missouri Botanical Garden received five tubers in 2008 and has hosted nine stinky flowering events, the most recent on Oct. 4, 2018.
Another one will bloom, but Colletti isn't sure when.
"I think they really are trying to teach us something more than about Amorphophallus titanum," she said, invoking the botanical name of the plant. "I think they're trying to teach us something about life."
These favorite St. Louis attractions are fun for everyone, and many of them are free.