Taylor Louderman, the Broadway performer from Bourbon, Mo., will star in the latest of the popular lipgloss musicals: "Mean Girls."
The show is based on Tina Fey's hit 2004 movie about a clique that rules a suburban high school and the new student who challenges the rules. The Broadway-bound show is set to open in October in Washington, D.C.
Broadway previews begin March 12; it opens April 8 at the August Wilson Theater.
At 26, Louderman already has quite a résumé. She starred in "Bring It On: The Musical," a show about high-school cheerleaders, on Broadway and on tour.
When the tour played the Fox Theatre here, she recalled how she once thought "that when I was older, it would be so cool to go on a date to the Fox. But this? This is amazing."
Louderman also played Wendy in NBC's production of "Peter Pan Live!" Recently, she's been back on Broadway in "Kinky Boots."
In "Mean Girls," Louderman plays Regina George, the queen of the clique, with Ashley Park and Kate Rockwell as her devoted sidekicks and Erika Henningsen as Cady Heron, the newcomer who stirs things up.
The show has an impressive creative team, including a script by Fey ("SNL," "30 Rock"), music by Fey's husband, Jeff Richmond (composer for "30 Rock" and "Unbreakable Kimmy Schmidt"), and lyrics by Nell Benjamin ("Legally Blonde"). Casey Nicholaw ("Aladdin," "The Book of Mormon," "Something Rotten!") is the director and choreographer.
The eldest daughter of Roger and Suzanne Louderman of Bourbon, the actress has four sisters. She began performing as a child, playing the title role in "Annie" at the Ozark Actors Theatre in Rolla. She continued at Stages St. Louis and the Muny before studying musical theater at the University of Michigan.
After her sophomore year, she was back at the Muny to play one of the sorority sisters in the "Legally Blonde." That's when she found out she had been chosen to play the lead in "Bring It On." She was so dazed when Mike Isaacson — producer of the show and of the Muny — told her the news, she has no idea what she said. (Tears, however, were involved.)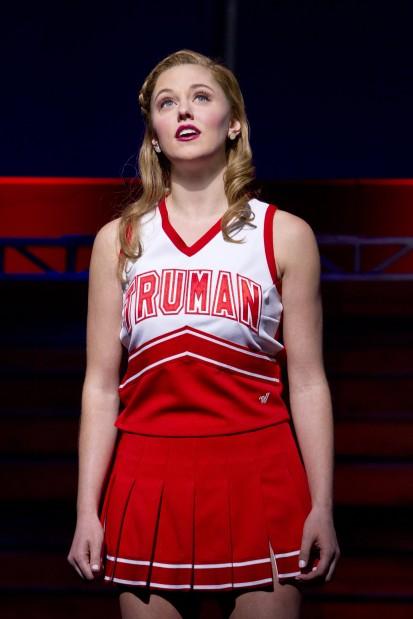 "It was all so new to me," she recalled, during the tour. "When I was at the University of Michigan, I wondered: Can I really do this for a career?
"But then I heard about 'Bring It On' and thought, 'OK!'
"I had switched high schools, like (the heroine) Campbell. I wasn't a cheerleader in high school, but I was the leader of my soccer team. I thought it totally sounded like something that I could do."
After "Bring It On," Louderman continued performing in New York and elsewhere. She returned to the Muny to play Sandy in "Grease" in 2014, Amber von Tassle in "Hairspray" in 2015 and Amneris in "Aida" in 2016.
"Legally Blonde" "Hairspray," and "Wicked" more or less define the lipgloss musical genre — shows that tap into a vast, previously undiscovered audience of teen and preteen girls.
And "Mean Girls"? We'll just have to wait and see. Still, it might be a good time to pick up an extra pot of "Ballerina Pink."