The world's tiniest, rarest water lily can fit in your pocket. Each of its white flowers is barely bigger than a penny, and the whole plant — lily pads, flowers and all — spans less than 1 foot. The lily is easy to miss if you don't know its story.
Just decades ago, Nymphaea thermarum was nearly extinct. Its only native habitat — a pool of water fed by a hot spring in southwestern Rwanda — dried up after the spring was diverted for agriculture.
But with the help of botanists and horticulturists, N. thermarum, or "Rwandan pygmy lily," survives at prominent botanical institutions such as the Missouri Botanical Garden, where it was put on display this spring.
As one of the world's top botanical institutions, the Missouri Botanical Garden helps lead global plant conservation efforts, hoping to save the planet one tiny lily at a time.
"Adding Nymphaea thermarum, the world's smallest and rarest water lily, to the collection is a wonderful illustration of the garden's commitment to conservation in St. Louis and around the world," said Peter Wyse Jackson, the president of the Missouri Botanical Garden, in a statement to the Post-Dispatch.
Some like it hot, and N. thermarum is no exception. Two of the little lilies bake in a pair of hot pools in front of the garden's Linnean House, opening their white petals during the day. The pools are heated naturally — they receive full sunlight coverage, and their black floors absorb the sun's warmth.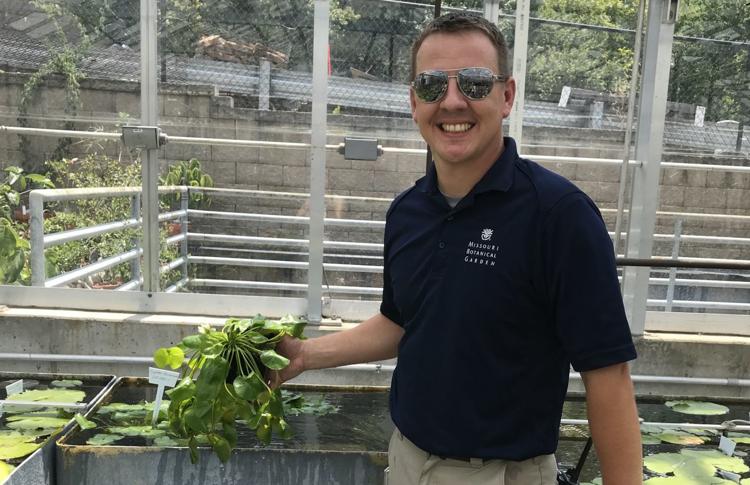 A third tiny lily is displayed in the garden's indoor Climatron. Senior nursery manager Derek Lyle hopes to add to the indoor collection and feature N. thermarum year-round. The garden's new LED grow lights, used in greenhouses and heated tanks, can give tropical plants like N. thermarum the heat and light they need to survive St. Louis winters.
Lyle predicts that the plant will become a household name, literally, with the seeds so numerous that anyone will soon be able to grow one.
But 10 years ago, few of the lilies were left.
In 1987, botanist Eberhard Fischer discovered N. thermarum in Rwanda and brought several lilies back to the Bonn Botanical Garden in Germany. In labs at the Bonn Botanical Garden and Royal Botanic Gardens, Kew in London, horticulturists struggled to propagate N. thermarum using ordinary water lily propagation techniques — planting the seeds underwater.
But in 2010, Kew propagation specialist Carlos Magdalena strayed from tradition. He figured that in order to propagate the lily, he'd need to mimic its native habitat, where the lily germinates above water before submerging itself. When Magdalena adjusted the water level and temperature, the plant finally grew.
The seeds were then given to select botanical institutions, where they were propagated using the new technique.
Lyle sought N. thermarum in 2016 and received its seed in 2017 from the Arnold Arboretum of Harvard University. It had everything he and his team of 11 look for in a new plant — conservation, interpretation and aesthetic value.
"Every plant has a story," Lyle said. "We want to share that story of how that plant got to where it is now and what's so important about it."
Though N. thermarum first flowered at the Missouri Botanical Garden in 2018, Lyle waited until this year to display the lilies and share their story. He has big plans for N. thermarum: He hopes to crossbreed it with other species to create new hybrids.
The Missouri Botanical Garden has a rich hybrid history. Beginning in 1912, George H. Pring, a water lily hybridizing pioneer, created more than 40 water hybrids including the first yellow water lily, Nymphaea St. Louis.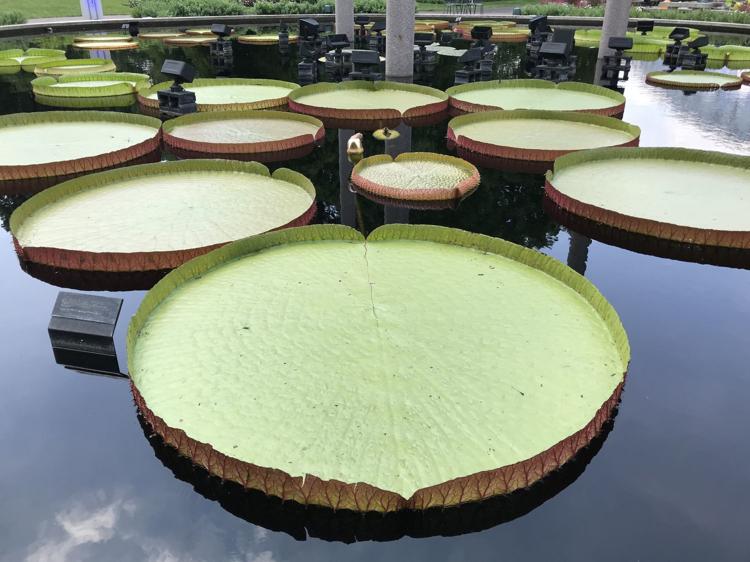 The garden also touts Victoria "Longwood Hybrid," a mix of the world's two largest water lilies — Victoria amazonica and Victoria cruziana.
Victoria "Longwood Hybrid" takes a Darwinistic approach to pool parties. Its lily pads, which can span 10 feet, are replete with thorns that push away nearby plants.
But not all lilies worth their salt are supersized, and the garden's horticulturists have already begun to showcase and study N. thermarum.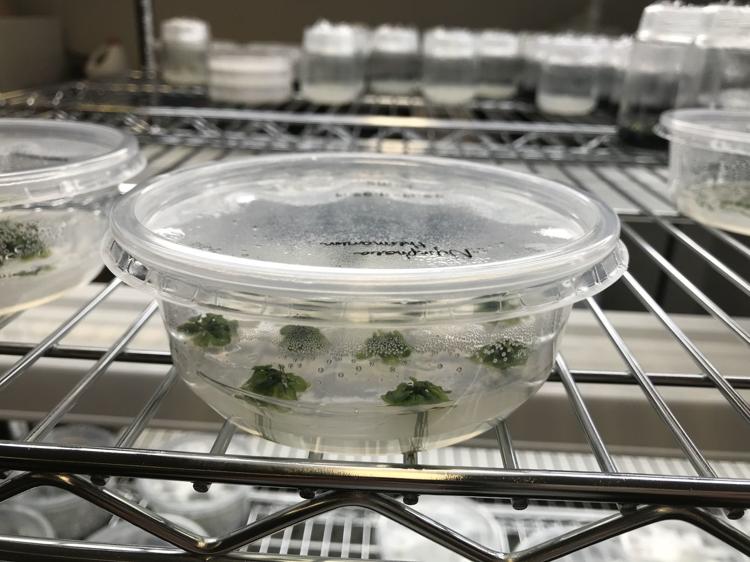 They are among the first to grow N. thermarum in a tissue culture lab, where they alter plants' nutrients and sugar to find the optimum balance for growth.
The garden plans to continue its conservation efforts in the coming years. By 2020, the pools in front of the Linnean House will feature only natural Nymphaea species — no hybrids in sight — to highlight conservation and the beauty in natural species.
"Each time a visitor walks in, I always hope that they walk out of here not only saying that that was a beautiful place but also to be proud that we are taking the initiative and working very diligently to … promote plant conservation around the world," Lyle said.
What Nymphaea thermarum • When Hours are 9 a.m.-5 p.m. daily • Where Missouri Botanical Garden, 4344 Shaw Boulevard • How much $14 for adults, free for ages 12 and younger • More info 314-577-5100; mobot.org