The troubled World Aquarium on Laclede's Landing has been condemned by the city, which says the facility is unsafe and the owners didn't get the proper permits to operate there.
"We have no idea if that floor can take the weight of those tanks," said St. Louis building commissioner Frank Oswald.
The aquarium announced on its website that it will shut down Sunday, but it's unlikely visitors can get in the doors anyway. A red-and-white "condemned" sign from the city is taped to the locked front door. The city condemned the building on Monday, after revoking its occupancy permit in March for not having a building permit.
People for the Ethical Treatment of Animals, learning about the closure, issued a letter calling for the transfer of the animals to safer homes.
"Sensitive animals were starved, forced into stressful public encounters, and left to languish in tiny, barren enclosures at this dismally ill-equipped operation," Heather Rally, PETA's supervising wildlife veterinarian, wrote in a statement to the media.
Oswald said the city had tried to work with the aquarium's president, Leonard Sonnenschein, telling him he had to get an engineer and architect for the place once he moved in, but Sonnenschein did not hire anyone. He said at one point police went to the aquarium, threatening to arrest him if he didn't comply.
Sonnenschein, reached Thursday, said he got the go-ahead from an engineer and architect when he moved into the space in 2016.
He said the city told him this spring that he needed to address electrical issues, install exit lights and fire extinguishers, and replace some steps, and he was working on those issues. When he went to a board of appeals hearing, he was told the building needed to be ADA-accessible and that he never had an occupancy permit for the basement. He said online trolls have made complaints about the space.
"It's a depressing thing when you're put into a situation that you have no recourse other than to turn over and die," he said.
He thinks the shutdown effort is politically motivated because the for-profit St. Louis Aquarium is opening at Union Station later this year. He said he has moved out of St. Louis and his curators are finding safe homes for the animals.
Oswald said he first started hearing complaints about the aquarium in December.
Online reviews for the attraction vary. Some called it a fun, interactive experience for kids with fish, a crocodile, turtles, tortoises and a sloth. Others complained about unclean tanks, a fishy smell and habitats too small for the animals inside them. A peek through the front window Wednesday afternoon revealed two dark, algae-filled tanks flanking a reception desk. The tanks were labeled "arch tank" and "coral reef atoll."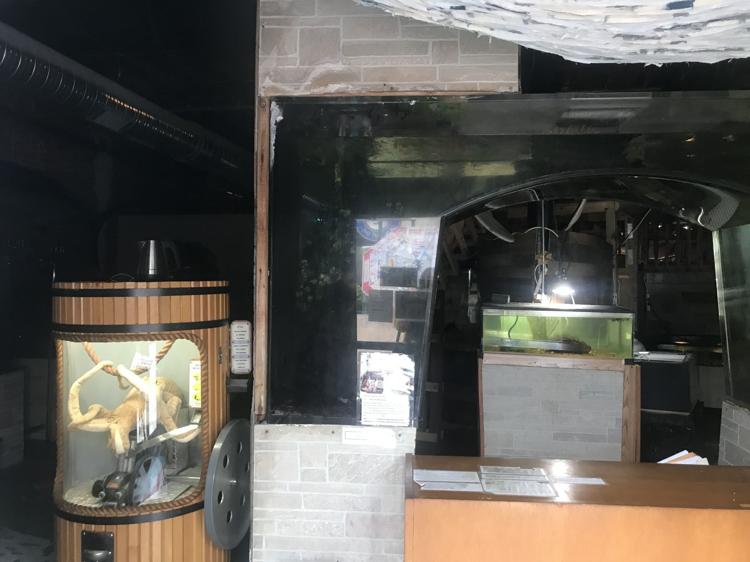 Sonnenschein posted a letter dated June 8 on the aquarium's website, announcing that the attraction would shut down entirely.
He wrote that it would take several weeks to dismantle the exhibits. The city is allowing staff to go in to feed the animals, Oswald said.
"One, the fish weren't being taken care of, and two, he wasn't taking care of his staff," City Museum director Rick Erwin said Wednesday. The museum also had problems collecting rent from Sonnenschein, and the aquarium was cited by the U.S. Department of Agriculture for issues like unclean litter boxes, murky water and unfed animals.
The city addressed its notice of condemnation to the building's owner, Veni, Vedi, Vici LLC, registered to Michael Scauzzo. Scauzzo, reached Thursday, said that Sonnenschein had tried to work with the city but that its demands were unreasonable.
"Leonard tried so hard. He had a pretty neat little exhibit down there," he said.