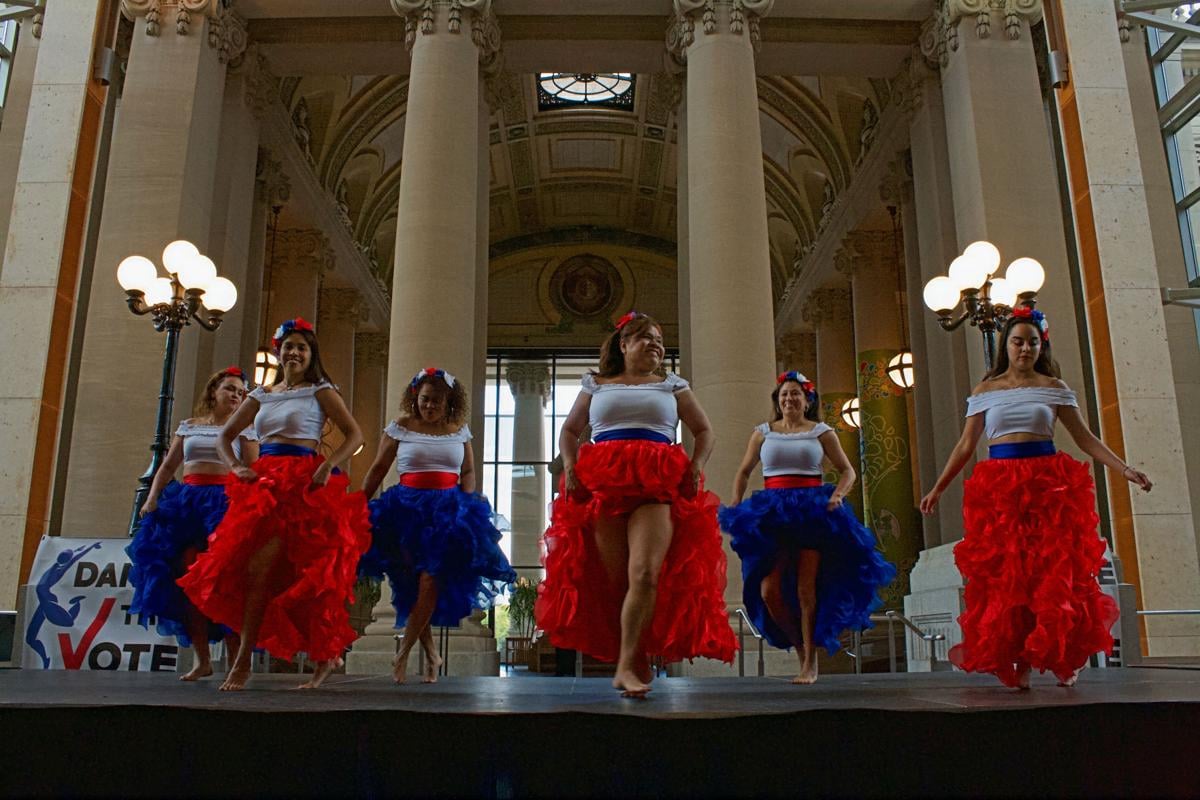 The presidential election next month promises the biggest turnout in a generation, perhaps several generations. But what about Generation Z, with the elder end of that cohort preparing to cast their first vote for a U.S. president?
Baby boomer and creative Joan Lipkin is trying to make sure they do. Along with co-producer Ashley L. Tate, she has organized a cadre of fellow artists, most particularly choreographers and dancers, both locally and across the country to inspire college students among others to register and cast a vote. It's called Dance the Vote.
Lipkin is best known as the artistic director for That Uppity Theatre Company, which has staged performances since 1989 that share the stories of underrepresented populations. Those performances have been held in regional theaters, gymnasiums, corporate board rooms and once even in a car wash.
Changing along with the times and the pandemic, Uppity has gone digital. You can find Dance the Vote at dancethevotestl.org and on social media. Lipkin and Uppity are serial collaborators, and so it wasn't hard for them to find choreographers and dancers eager to participate.
The pieces were created by many St. Louis-based artists and strike a balance between local and national. Local artists include those who have trained, taught or choreographed for COCA including Christopher Page-Sanders of Nu World Contemporary Danse Theatre (Denver), Kirven Douthit-Boyd and Anthony Redd Williams of Kode Redd.
Other St. Louis-based choreographers and companies include Robert Poe of Ballet 314, Geoffrey Alexander of the Big Muddy Dance Company, Alicia Sunshine Gbaho of Beyond Measure Dance Theatre and Ashley L. Tate of Ashleyliane Dance Company.
Contributors also include Versa-Style Dance (Los Angeles), Ashley McQueen of Smashworks (New York), Woodland Sky Native American Dance Company (Crystal Falls, Mich.), Heidi Latsky Dance (New York), Nai-Ni Chen Dance (New York), Time Lapse Dance (New York) and Keelan Whitmore of Tanz Theater Münster in Germany. 
Each has contributed commissioned videos based on various themes around the voting experience, with a special emphasis on African Americans and women as well as issues such as climate change, incarceration, racial justice, disability and indigenous rights.
"We are excited to create pieces tied to the history of voting to remind the community how important it is to exercise this fundamental right," Tate says.
The first Dance the Vote performance was held four years ago outside Vintage Vinyl in University City, offering non-partisan voter registration opportunities. From there, the effort expanded at the midterm elections to more than 1,000 audience members at the Missouri History Museum.
But with the pandemic preventing live performances, Dance the Vote still offers many opportunities. The group is debuting one episode each week, featuring two performances along with voter information.
And there's even more. Lipkin and her collaborators began another initiative aimed at college students here and nationwide. Partnering with Webster University, they are offering a contest for students under the title "Make Good Trouble: Why John Lewis Inspires Me to Vote." It builds on the legacy of Lewis, a civil rights icon who died July 17. The contest runs through Oct. 19.
"We know that Webster University students are engaged as voters, and this is an opportunity for them to tell us why they choose to do so," says Jennifer Stewart, the university's director of student engagement. "Students can honor John Lewis by telling us how they 'make good trouble' and help encourage and inspire other young people to register and vote."
Lipkin notes that nearly 40% of those eligible to vote in the 2018 midterm elections cast ballots. That was a huge increase over 2014, when just 19% of eligible students went to the polls.
Ahead of the pandemic, studies showed waning student interest. But a more recent study conducted by the James L. Knight Foundation showed a turn-around in part because of the pandemic, climate change and the police killings of George Floyd, Breonna Taylor and others. The foundation reported that as many as seven in 10 college students "are absolutely certain" they will vote in the upcoming election.
To feed that momentum, Webster University and Dance the Vote invite college students in the United States to share images, videos, music, dance, painting, sculpture, spoken word or other artistic expressions inspired by Lewis' legacy. Four finalists will receive $250, and one winner will receive $500.
Richard H. Weiss is founder and executive editor of Before Ferguson Beyond Ferguson, a nonprofit racial equity storytelling project.
"We are excited to create pieces tied to the history of voting to remind the community how important it is to exercise this fundamental right."

Ashley L. Tate