Justin Paul has won a Tony, an Oscar and a Grammy — all before turning 35. With songwriting partner Benj Pasek, Paul is known for his work on the films "La La Land" and "The Greatest Showman" and the musical "Dear Evan Hansen," which runs through Nov. 3 at the Fox Theatre.
"I feel very lucky to be working in musical theater at a time when more and more people are excited about the art form — and are excited to see Broadway shows, touring shows and movie musicals," Paul said recently from London, where "Dear Evan Hansen" was set to begin performances. "It hasn't always been the case, and I'm always aware that the window could close at some point."
Paul was born in St. Louis but grew up in Connecticut.
Directed by Michael Greif, "Dear Evan Hansen" debuted on Broadway in 2016 and revolves around the title character — a lonely teenager who writes letters to himself as therapy. When Connor Murphy — brother of a girl named Zoe with whom Evan is infatuated — takes his own life, one of the letters is mistaken for a suicide note.
Complications ensue as the tragedy brings Evan closer to Zoe and draws him out of his discomfort zone. In the touring production, Evan is played by Stephen Christopher Anthony, Zoe by Stephanie La Rochelle and Connor by Noah Kieserman.
The show, which has a book by Steven Levenson, was inspired by "a personal story from Benj's high school and also some of my own experiences in high school and college," says Paul, 34. But coming up with a musical that would entertain while addressing social anxiety and suicide was a daunting proposition, he says.
"While it's a show that celebrates life and is optimistic and funny, it also explores some complicated issues," Paul says. As such, the goal was also to "give the audience a cathartic experience — and ask tough questions. But we always felt confident that we could write songs that could explore the aspirations, joys, pains and needs of these characters."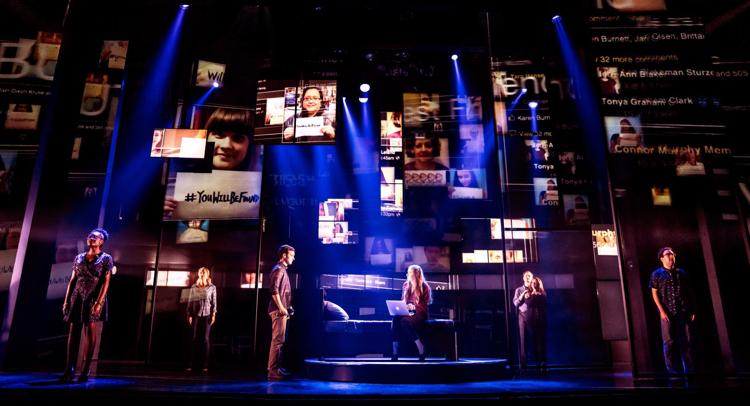 In being developed from an original idea, the show was something of a departure for Paul and Pasek, who had been known for musicals based on the films "Dogfight" (1991) and "A Christmas Story" (1983).
"Developing an original musical is extraordinarily liberating and extraordinarily challenging because the ground is always shifting," Paul says. "There's no spine to stay attached to. Anything could change."
"Dear Evan Hansen" has less in common with traditional Broadway musicals than with the Tony-winning "Fun Home" (the first Broadway show with a lesbian lead character) and the Pulitzer Prize-winning "Next to Normal" (about a suburban mom with bipolar disorder) — groundbreaking shows that "have expanded what a Broadway musical can be," he says.
Nominated for nine Tony Awards, with Paul and Pasek winning for their original score, "Dear Evan Hansen" also came out on top in five other categories — including best musical, best performance by a leading actor in a musical (Ben Platt) and best book of a musical (Levenson).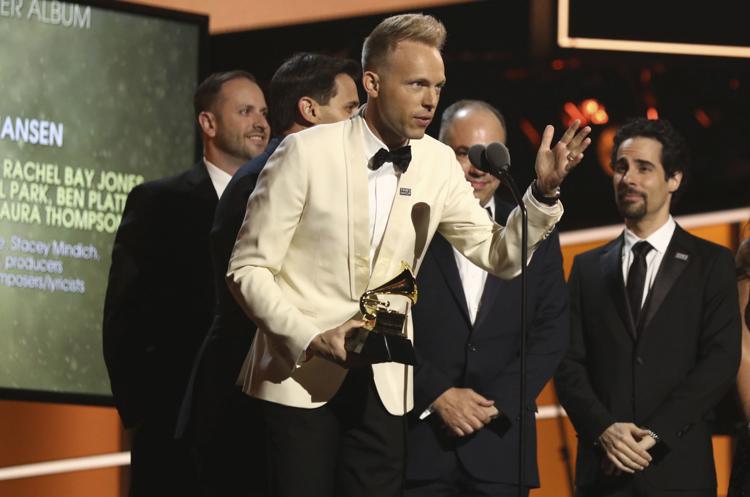 At the University of Michigan, Paul initially studied to be an actor before he turned to writing songs with fellow musical-theater student Pasek. Paul usually composes the music, with Pasek providing the lyrics.
Known professionally as Pasek & Paul, the two have been favorably compared to such classic songwriting collaborators as Richard Rodgers and Lorenz Hart ("Pal Joey"), Rodgers and Oscar Hammerstein II ("Oklahoma!"), and Alan Jay Lerner and Frederick Loewe ("My Fair Lady"). And Paul acknowledges them as role models.
But the duo he most admires is composer Alan Menken and lyricist Howard Ashman, who are best known for the musical "Little Shop of Horrors" and their contributions to animated Disney films including "Beauty and the Beast," "The Little Mermaid" and "Aladdin."
"Those were the animated films that I grew up with, and their work was just so singular," Paul says.
Ashman died in 1991 at age 40; "Aladdin" was the final Disney film he worked on. Paul said he was thrilled when he and Pasek were brought in to collaborate with Menken on the recent live-action remake, even contributing lyrics for a new song, "Speechless."
"It was one of the highlights of my career — and of my lifetime," he says. "The first compact disc I ever had, that I can recall, was the 'Aladdin' soundtrack. So getting to work with Alan, a musical hero of mine, was a total dream."
With a Grammy for best musical theater album for "Dear Evan Hansen" and an Oscar for "City of Stars" from "La La Land," Pasek & Paul are on the showbiz fast track. But Paul says there was no master plan for success.
"It's mostly just the timing," he says. "We always have a lot of irons in the fire, because projects die all the time."