Reality was still in charge at the Climatron.
Curves of glass flowers hang from the ceiling, echoing nearby orchids pouring from trees. Called "Spring," the work references both metal coils and the season.
Four-foot-wide "dragonflies" now nest among ferns and cyads. And by next weekend, an homage to a magical tree in the movie "Avatar" will rise among the real trees and their deep roots in the historic geodesic dome.
"I imagine that the sculptures have grown into the available space," says Craig Mitchell Smith, the artist installing the exhibit. His "Garden of Glass," which took a year to plan and create, runs May 13 through Aug. 13.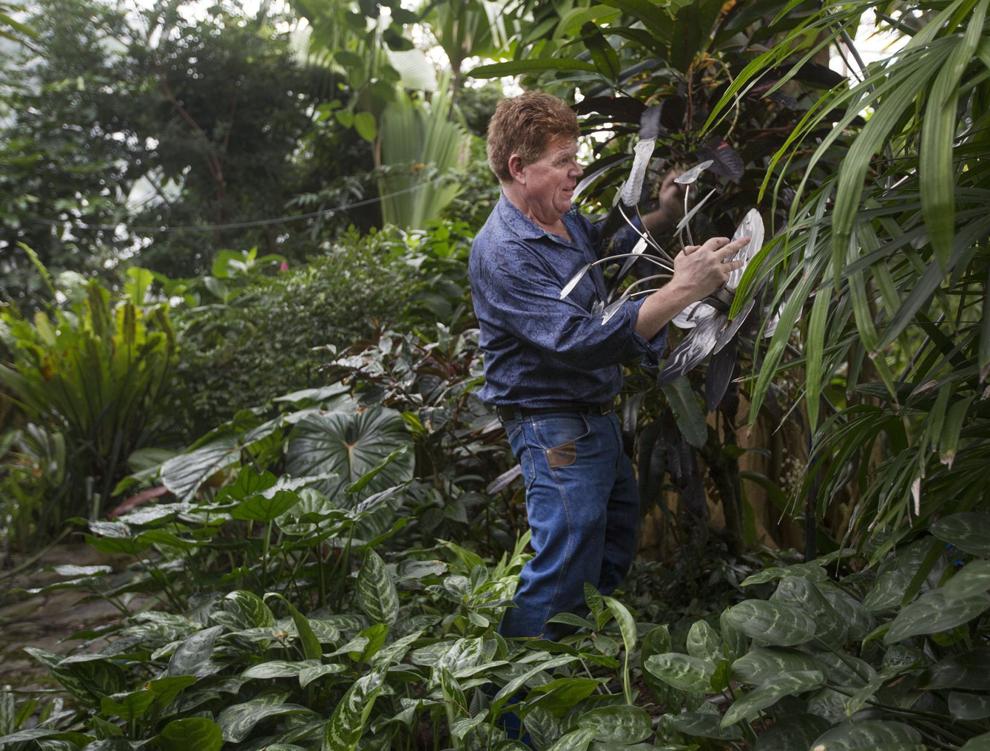 Mitchell Smith was supervising on Tuesday, the first day of the installation. Interested in a "fantasy version" of flora and fauna, he says, he thinks like a painter who puts his own interpretation on nature.
"I'm not interested in reality."
Yet one sculpture was immediately recognizable as a bird of paradise — if that exotic plant had stainless steel leaves and bolts holding things together. The artist points out how bright light from the windows reflects blue and orange from the glass onto nearby ferns. When the exhibit is open at night (Thursdays-Saturdays, starting May 25), professional lighting will cast its own colors, giving the artwork a different look.
Twenty-nine sculptures will be on view at the garden, with 25 in the Climatron. (A 30th sculpture, of blue butterflies, is already installed at the Butterfly House in Faust Park.)
The garden's artwork ranges from flowers to a "waterfall" and human figures, which will stand in the fountain outside the Ridgway Center. Entry to the exhibit requires a special ticket, and garden officials expect about 90,000 people to attend over three months.
It's the biggest installation Mitchell Smith has ever done. When the garden hosted the popular exhibit by glass artist Dale Chihuly in 2006, Mitchell Smith was just discovering how to work with glass.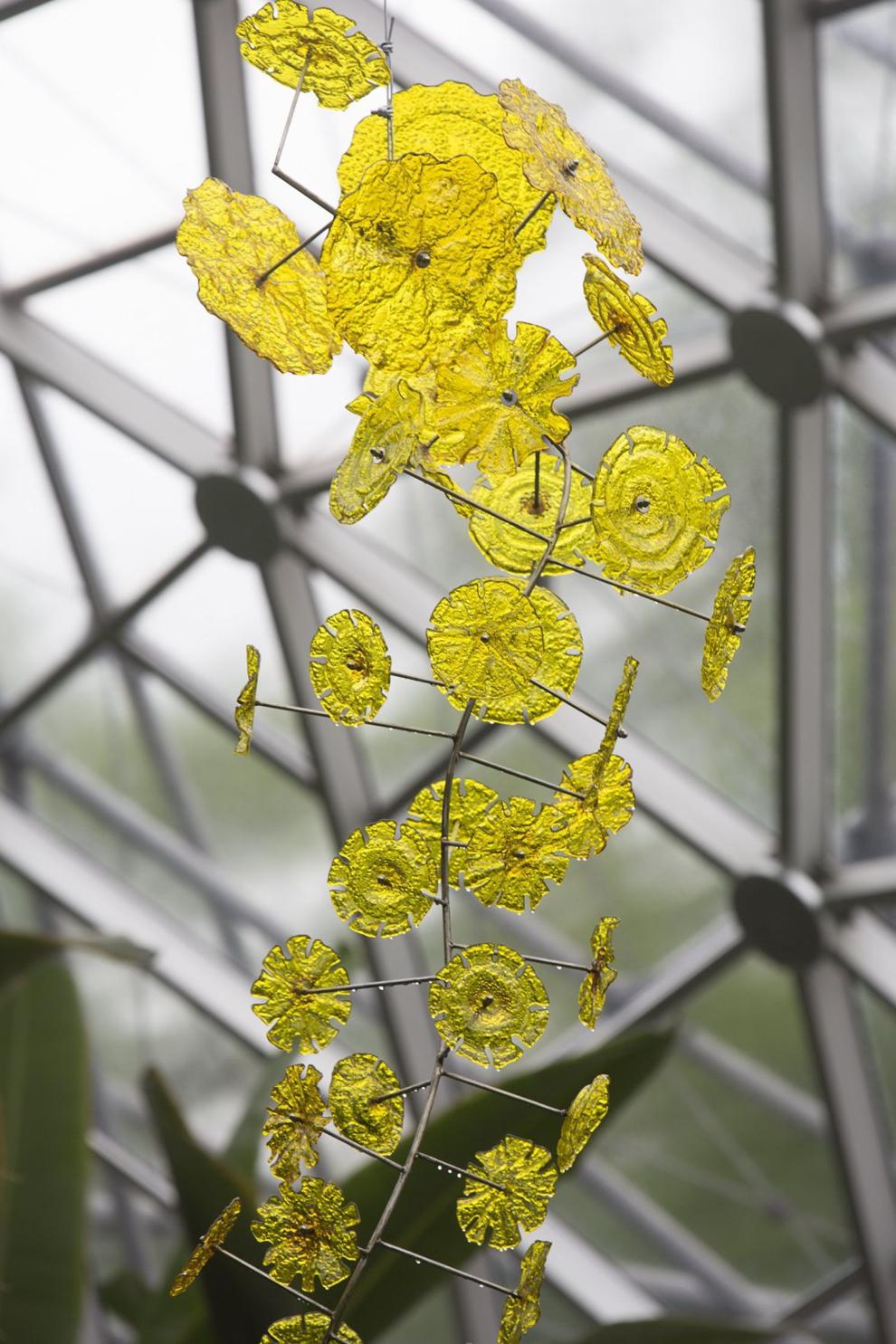 The Lansing, Mich., resident is now 53 and counts a variety of jobs in his past: theatrical set designer, flower shop owner, painter. About 10 years ago, he applied to have his kitchen filmed by HGTV. The show was more interested in a striking piece of blue glass (fashioned from a broken garden globe) they saw and asked if he had more such pieces.
Mitchell Smith didn't but would soon. He borrowed $5,000 and bought his own kiln, soon experimenting with how to fuse glass pieces at temperatures of 1,500 degrees.
"I broke all the rules because I didn't know the rules," he says.
After hiring a welder, he learned that skill too: "Once I got past the fear, I thought, 'I can do this.'"
His work of fused glass is different from, say, Chihuly's, which is blown glass.
"Blown glass is hot and fast; fused glass is cold and slow," Mitchell Smith says.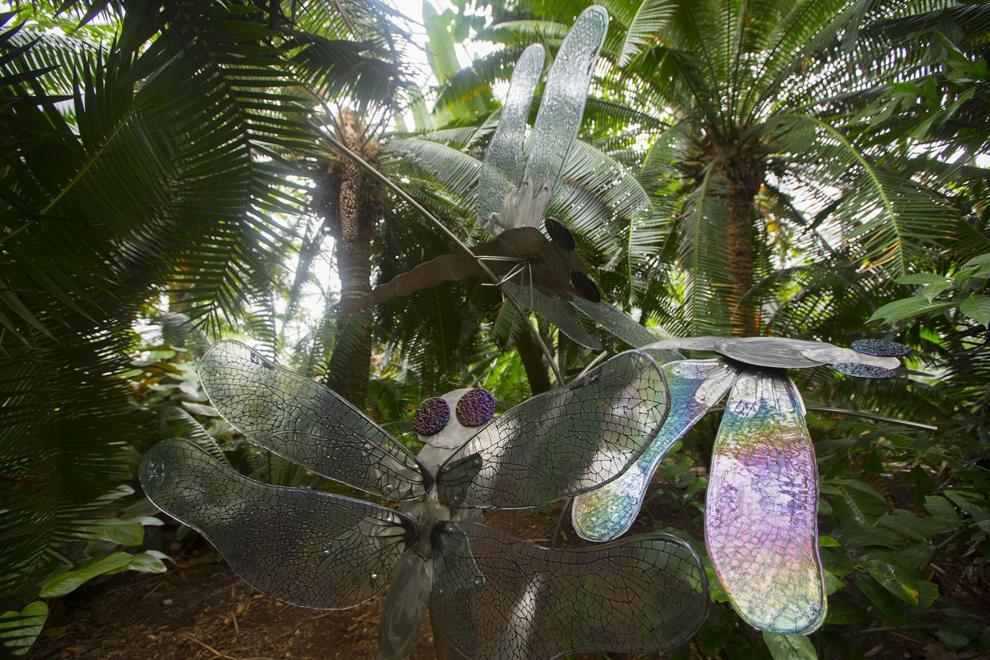 After arranging pieces of glass in a kiln and melting them together, he creates molds to drape the pieces over and reheats to give them a different shape. Some pieces have painted details or various textures. Except for an allusion to baking soda creating bubbles, he won't divulge his secrets about how he manages these effects. He doesn't want others to steal his techniques or vice versa.
"I don't want to be influenced by other glass artists," he says. The only artist he names as an influence is Andy Goldsworthy, a Scottish sculptor who integrates art into nature.
After just a decade of work, Mitchell Smith now has pieces in galleries across the country and plans artwork for hospitals, hotels and corporate offices. His studio includes three other glass artists and three welders.
On his way back from an installation at Walt Disney World's Epcot in Florida, he decided to ask for a meeting at the Missouri Botanical Garden to explain his work. His work for Epcot included a "Wizard of Oz"-like field of poppies, which are still his most popular works to sell. After he received the commission for the exhibit, he returned to St. Louis several times to photograph and film spaces where his own work could be integrated with plants.
When the exhibit opens next weekend, artwork should be visible from every part of the Climatron. It all will also be for sale, ranging in price from $5,000 to $65,000. Smaller pieces will be sold in the Ridgway Center, including pendants and glass cardinals.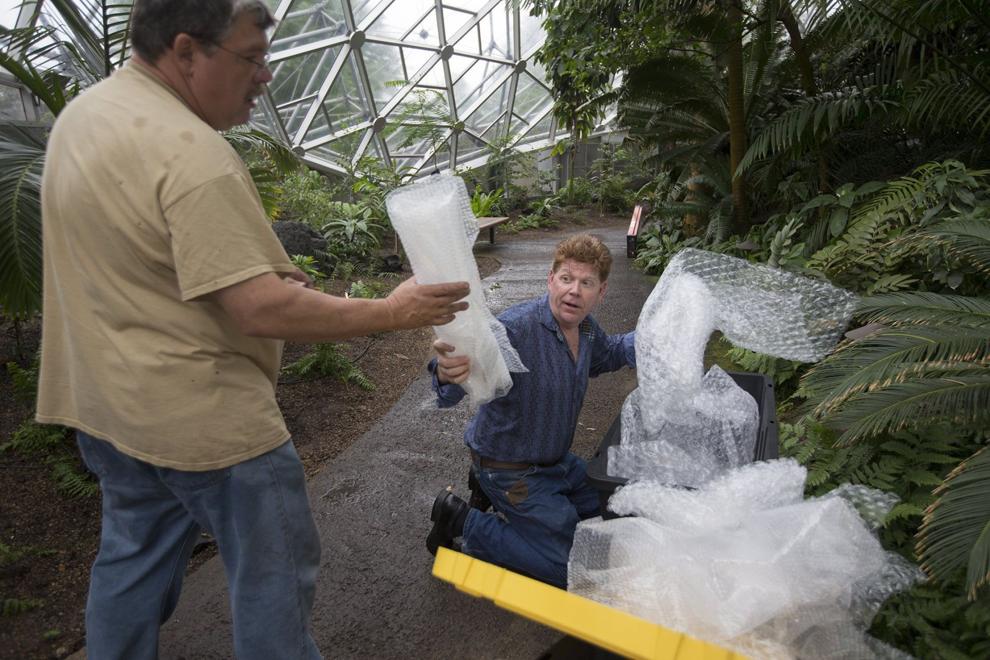 But the artist hasn't even seen some of the sculptures yet. "The vast majority have never been assembled until we get them here," he says. Transport included two 25-foot-trailers filled with 115 large trunks of glass pieces marked and swaddled in miles of bubble wrap. Aircraft steel wire, hundreds of bolts and washers, and pounds of cement are also required for the magic to happen.
Mitchell Smith will be on site for opening day, the "best part" of a year of work. He wants to observe the observers.
"I want people to stop for a minute and experience wonder."