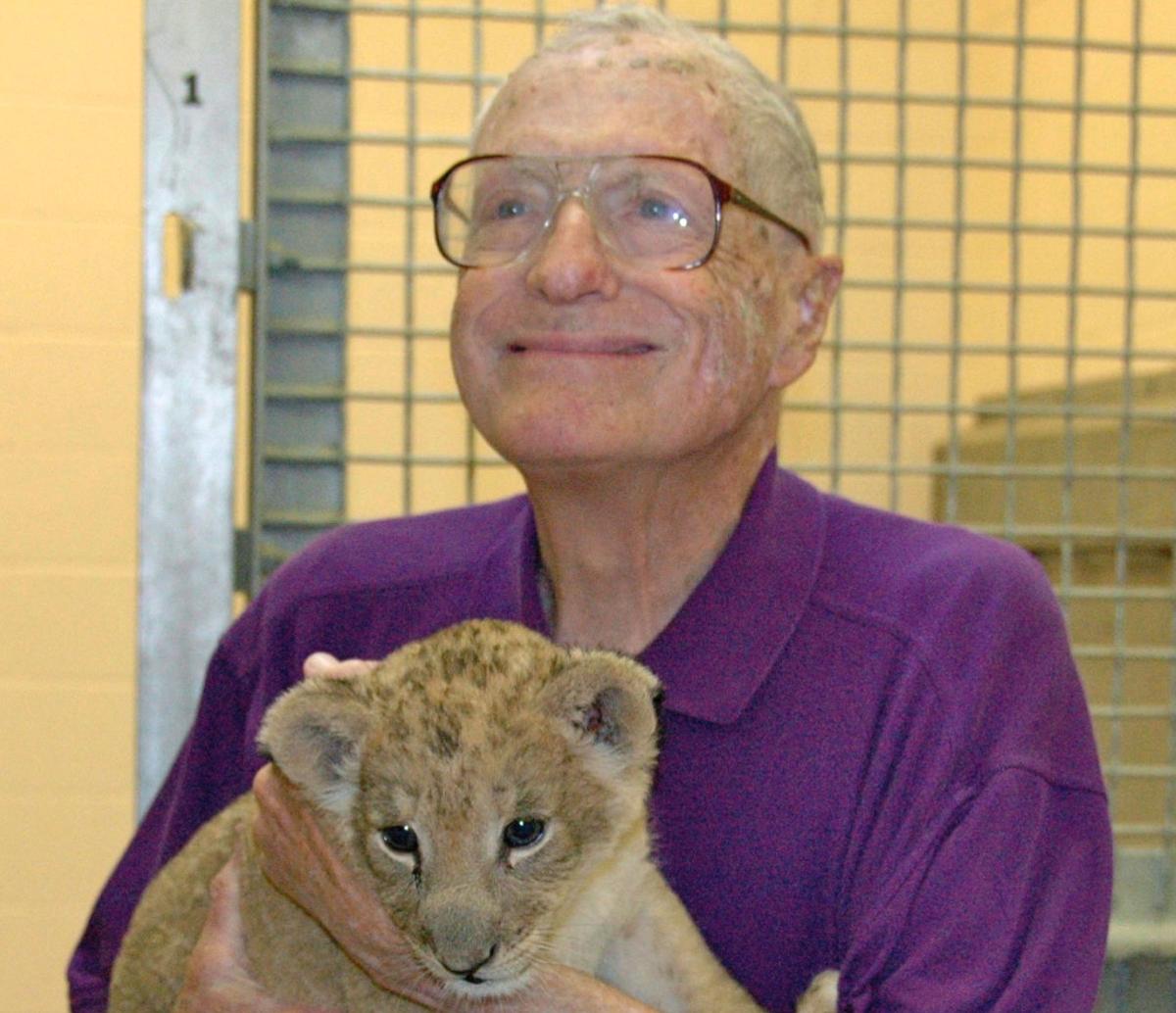 No one would ever call Joseph O. Losos a know-it-all, but those who knew and loved him might say he came as close as anyone to knowing all about what took place before A.D. 1000.
He could also tell you a whole lot about the British Empire, 1500 to 2000, Russia under the czars, the Soviet Union, World War II, the Cold War. Well, really, when it came to almost anything regarding the course of human events, Joe Losos was on top of the subject matter.
Losos made his living as a stockbrocker and investment adviser. He held a law degree, and was both a staunch civil libertarian and environmentalist, directing much of his philanthropy toward the St. Louis Zoo. And, as much as he had his nose (literally as you will see) in his books, Losos found the time to travel the world with his wife, Carolyn, their four children, and six grandchildren.
But given the venue provided, we will focus almost entirely here on his passion for the written word.
He knew so much, because he read so much. And Losos was driven to share it often in conversation with friends and family, but also in the pages of the Post-Dispatch.
Though nobody ever kept score, he ranks among the most prolific book reviewers the 142-year-old newspaper ever had, writing more than 500. He dabbed his toe into the book section in the late 1960s, then on and on from 1970 through 2017. (His last review was "Gorbachev" by William Taubman, a weighty biography of the Russian leader who oversaw the dismembering of the Soviet Union.)
His wife, Carolyn Losos, not bragging, would often say, "He is the smartest man I ever met."
Joseph Otto Losos died Oct. 11 at his home in Ladue of complications from cancer. That home is unique. It was specially designed to include a multitiered library with a winding staircase that Losos filled to capacity with close to 4,000 books. He had read them all, plus many more of lesser quality that were banished to other parts of the home, given to friends or donated to book fairs.
He was unabashedly obsessive, over the top when it came to his volumes. "I love books as physical objects," Losos told the Post-Dispatch's Deborah Peterson in 1993.
"I love to touch them. I love the way they smell." And then, as Peterson observed, Losos opened a volume and buried his nose inside.
Losos was born Sept. 4, 1931, to an enterprising and successful immigrant father, Sigmund, who came to America at the turn of the 20th century from a shtetl in Lithuania, and Claire Cohn, who was born in St. Louis, and whose family was well-established in Jewish social circles.
Though both were savvy and successful, neither attended a university, but instilled in young Joe a love of learning. From their home — then in University City and later in Ladue — they would send Joe to Country Day School, where he made an immediate impression on his instructors, who saw a nascent Ivy Leaguer in their midst.
In a brief history that he wrote for his family in 2012, Losos recalled that his parents were "superlatively happy when I went off to Harvard. Since I was an only child (I had a younger sister, Sara, who was born with Down syndrome, and died at age 1) I suppose (or so was later informed) I was spoiled."
But he added: "We were one little happy family. In fact, (leaving aside temporary abodes at college, law school and the Army) I have never lived more than a few miles from where I started. I am indeed deeply rooted."
In the interest of full disclosure, I am a member of the Losos extended family, a first cousin, once removed. He and my mother, Helen Weiss, were cousins, sharing the same grandparents. Joe's father not only saw to his son's education but to my mother's as well.
Her father died when she was just 13 and left little in the way of a nest egg. Uncle Sig, as we called him, helped bring my mother and grandma to St. Louis, and five years later she enrolled at Washington University. There she met my dad. As you might imagine, I am surpassingly grateful for how all that went.
It was hard not to be in awe of cousin Joe, as we called him, who was more like an uncle to me. My dad, Richard M. Weiss, a producer at what was then KSD-TV, was quite a reader. Just as Joe had, my dad plowed through Gibbon's six-volume "The History of the Decline and Fall of the Roman Empire," Gunnar Myrdal's twin-volume "An American Dilemma" and William Shirer's "The Rise and Fall of the Third Reich" (beach reading at 1,200 pages). I can remember my dad holding his own in a discussion — often leading to strong differences of opinion — concerning the great works with Joe, while I listened in cluelessly. But, to be honest, my dad was barely in Joe's league. Joe was Babe Ruth; my dad was Ray Jablonski.
Well, as they say, you don't get to choose your relatives, but Joe did choose to marry someone every bit as formidable as he. Or, in my own mind, she chose him.
As a young man returning from military service (spent almost entirely at Fort Riley in Kansas), Joe met Carolyn Werner, whose family was just as deeply rooted in St. Louis as the Losos clan. Werner was then a teacher, a favorite among the fifth- and sixth-graders at Clayton's Glenridge School. She would go on to a variety of leading civic roles including as the head of the region's Girl Scout Council. So effective was she that the Girl Scouts of America, the national group, named her to its executive committee.
Carolyn became an early director of a civic leadership training program that would morph into what is now known as Focus St. Louis. She also served as board member for numerous nonprofit entities in the arts and education. Over more than a half-century, she has been one of the region's foremost convenors — a peerless thrower of parties and a master of the focused two-minute conversation with all her guests.
Husband Joe worked the room quite differently. You could be in conversation with him for a good 45 minutes, if the subject was politics, civil liberties or, even better, ancient Greece or Rome.
He put his money where his mouth was. In 1985, Joe provided a gift to the American Historical Association to establish the James Henry Breasted Prize, honoring one of the foremost experts in ancient Egyptian and Middle Eastern history. The award goes to the best book in English in any field of history prior to A.D. 1000. The competition continues to this day.
Joe's beneficence was felt locally as well in ways large and small. So says Chuck Korr, professor emeritus of history at the University of Missouri-St. Louis, who was a longtime Losos lunch buddy. (46 years to be precise — the first at the Crest House, March 4, 1974 — Korr is a historian after all).
Quite a convenor himself, Korr would bring to St. Louis eminent historians and historical figures from around the world, and he would always make sure to bring that person to lunch with Joe. "Joe not only read a lot of history, he had the insight of a very good historian," Korr said. "I could always count on A: Joe to be interested in whomever I brought to lunch and, B: to come up with a question that neither I nor or whoever we were with had thought of."
Korr established himself as a scholar of British history, but he had long been interested in sports and began writing on those topics as well. Korr remembers a former department chair telling him, "'You can have fun with this sports crap, but nobody will ever take you seriously again as a historian.'
"When I told Joe about (my interest in sports history), I was braced for him to shoot it down too," Korr recalled. It was just the opposite. Joe said: 'Well, just remember, Chuck, there's basically two types of history. There's history well done, and there's history done badly. I think I can count on you to do it well.'"
Of course, Joe did not always find history done well. Most of his book reviews were generally favorable or at least understanding of the author's intent. He rarely gave a book a blanket thumbs-up or thumbs-down, leaving it to the reader to decide whether the tome was worth their money and attention.
But he could be acerbic. In 1977, Joe took no prisoners when he reviewed presidential son James Roosevelt's memoir, "My Parents," and presidential paramour Kay Sommersby's tell-all "Past Forgetting." He starts with six words: "Both of these books are pathetic."
In conclusion, he wrote: "One finishes these books with a great sense of pity for the authors, who seem to have meant so well, and managed so badly, whose heartfelt looks back are to golden ages structured by people far mightier than they. The illustrious dead are dead and it all seems so petty."
Joe wrote a substantial tract of his own in 1968, "Custom and Reason: An Examination of Modern Politics." It was not a bestseller, but at 500-plus pages, it was quite ambitious. An excerpt from the dust jacket: "The book painstakingly explores ... the relationship of political theory and action to philosophy, art science, religion history, economics. All human life is affected, and even the most non-political of men, Jesus and Kant, have given rise to political storms."
I was fortunate to be able to talk to Joe just several days before his death, and asked why he became so absorbed with books and reading.
Well, as Carolyn reminded Joe, his parents had given him history books as birthday presents starting at about age 9. By 13, Joe said, he was totally absorbed.
Given that he was born in 1931, that time would have covered the years 1940 to 1944, encompassing World War II and the Holocaust.
"You would get up in the morning, and during that time the United States was in big trouble," he remembered. "My father told me that if Hitler won the war, we'd all be murdered. These were not just theoretical matters, but I think vital to one's life.
"I think that had a lot to do with my reading. No question about it. Going back thousands of years, our knowledge of history provides the steering wheel to our existence."
Along with his claim to fame as a cousin of Joseph Losos, Richard H. Weiss was a reporter, editor and writing coach from 1975 to 2005 at the Post-Dispatch.