With the emergence of the coronavirus pandemic, live theater came to an abrupt halt. Performing on a stage was no longer considered safe, and neither was being part of an audience. But it wasn't long before theater artists found a place to practice their craft — at least in the short term.
Particularly, productions mounted with the help of online platforms such as Zoom, which compartmentalizes actors in a manner recalling nothing so much as the boxes that separated B-list celebrities on the TV game show "Hollywood Squares." With no way for performers to know whether the audience is mesmerized by their emoting or on the verge of nodding off.
Indeed, staging plays for folks out there in the ether is no substitute for the live experience. But it's a workable strategy for dealing with a crisis that many assumed would be under control by summer. By now, it was thought, things could gradually — and safely — get back to normal, and fall theater schedules could proceed.
Only it hasn't turned out way.
And for the time being, theater companies are pretty much confined to being online. The question is: Do virtual productions have a future once COVID-19 is a thing of the past? Or will artists be only too happy to refocus their energies on the stage? That is, if indeed the theater companies to which they've devoted their professional lives can secure the financial resources to come back from the pandemic once that health crisis is over.
Viewed strictly from a practical standpoint, Zoom and other technologies are making it possible for shows to go on that otherwise wouldn't.
Perhaps the most obvious example is this year's St. Lou Fringe Festival, which has ventured into the virtual realm for its ninth edition. But Zoom has also played a role in a wide range of productions — from the Muny's "Summer Variety Hour Live!" to SATE's "Frankenstein"-inspired "Mary Shelley Monster Show" and ERA's "Moscow!" (a drinking-game take on Chekhov's "Three Sisters").
"It's a brand-new space, and we're all pioneering here in the arts to figure out what virtual performative arts look like," says Matthew Kerns, executive director of the Fringe Festival, which runs through Aug. 23.
St. Louis Shakespeare Festival, which had planned to present "Much Ado about Nothing" this summer in Forest Park, instead has offered quite a few Zoom productions — notably "State of Denmark v. Hamlet," in which the introspective prince was put on trial for murder.
Tom Ridgely, producing artistic director of Shakespeare Festival, says there'll probably be more Zoom productions in the fall. But "fewer and farther between."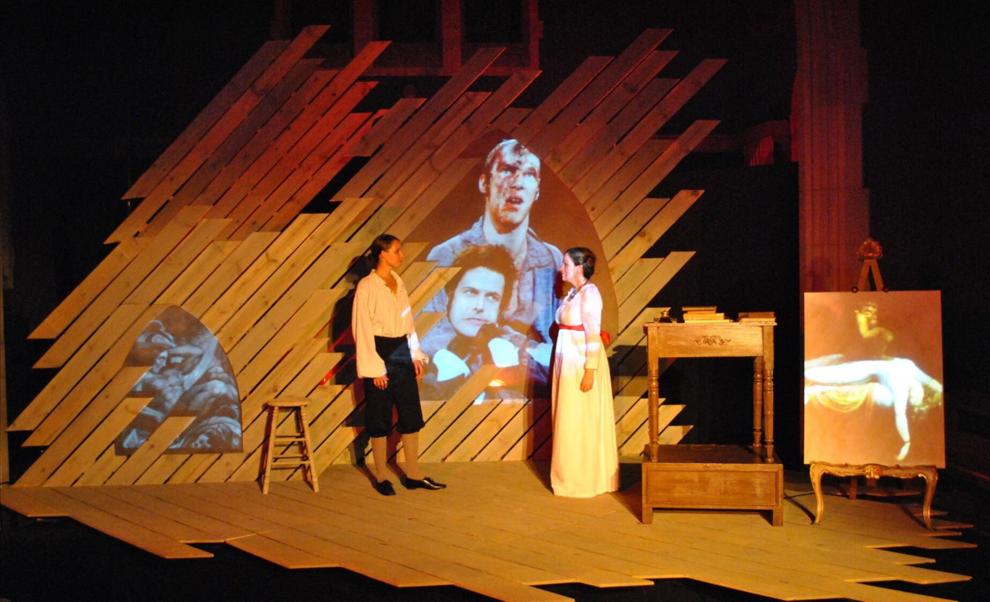 "We'll probably never return to that level of frequency," he says. "At the beginning, people appreciated that there was a way to connect and that something was filling the void."
His goal is for future online productions to be "a little more fleshed out than the things we were doing in the spring," and he cites the success of "State of Denmark" as a standard to aim for. The company enlisted professional lawyers and a circuit court judge to participate in the show.
One benefit of staging productions on Zoom, Ridgely says, is the ability to reach a much larger audience than is generally possible with live theater.
"And by that, I mean a more geographically spread-out audience," he says. "We had people from all over the country — all over the world — who were tuning in and watching and commenting and enjoying — and that's something that we've never been able to do before. So Zoom definitely enables the kind of geographic reach that regular theater doesn't."
Not every theater company opts to go the Zoom route.
"Lobby Hero," a Stray Dog Theatre production presented online, was recorded on the company's stage with each of the four actors inside a custom-built booth. The approach was inspired by the process of actors in booths getting into character before recording voices for animated films.
"It basically joins together theater, film and radio into one experience," says artistic director Gary F. Bell. "We got to think outside the box, and we were very happy with it."
Arguably, Zoom productions — whether live or recorded — work best when depicting the kind of real-life situation in which the videoconferencing technology would come into play. "Come Together," a Shakespeare Festival production written by Joe Hanrahan and directed by Adam Flores, dramatizes the kind of virtual family gathering that has become common during the pandemic.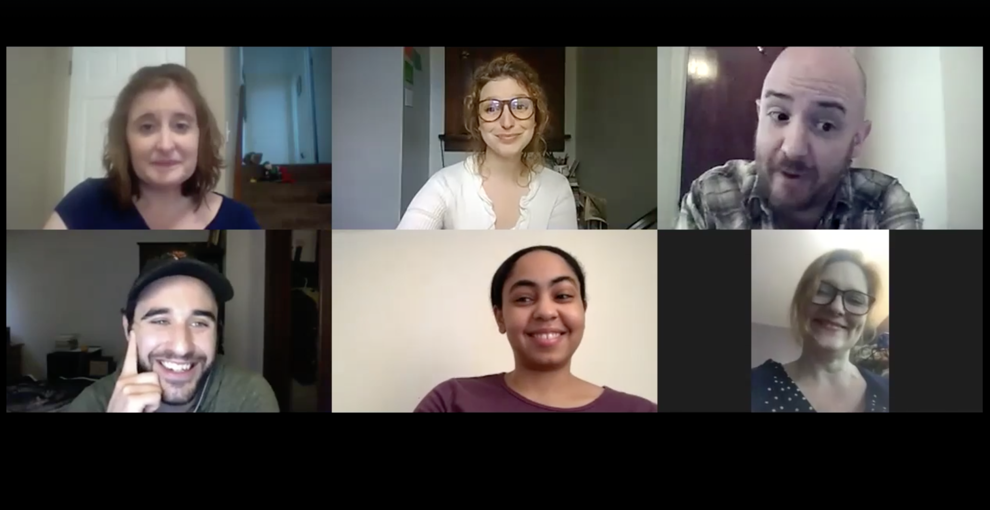 Hanrahan, who is artistic director of the Midnight Company, says that coming up with the Zoom piece was, in a way, "a lot less challenging" than penning a traditional stage play.
"One thing I really zeroed in on, having seen a couple of Zoom things, was that a family format would be very naturalistic," he says. "Overacting, or an actor trying to really hit it hard like you would onstage, is challenging to pull off on Zoom."
Writing for Zoom required a different approach to unfolding the story, Hanrahan says.
"The play is full of information," he says. "There are some subtle character dynamics, but basically they're all catching up with day-to-day stuff or some life-changing decision they've made. In a stage play, you reveal things more slowly. But again, we tried to keep it all kind of real — no big flare-ups or histrionics."
Virtual shows such as St. Louis Shakespeare Festival's "State of Denmark v. Hamlet" are gaining in popularity during pandemic.
Acting in a Zoom play is different than acting onstage, says Courtney Bailey, who performed in "Come Together."
"The ability to create a sense of presence is really restricted," Bailey says. "Because you are so limited in your ability to change the energy of the moment. In part because you're not in an actual space; you're in your own space, your own house, or your own living room. And then the communal space that you occupy is entirely two-dimensional and digital.
"And so, I really struggle with trying to feel connected to the other people that I'm performing with," she says. "Because if you look at their faces while you're interacting with them, the audience will feel disengaged from you as a performer, because you're not looking into the camera. But if you look into the camera, the audience member will feel connected with you, but you don't feel connected to your scene partner at all."
One of the more high-profile Zoom works is playwright Richard Nelson's "What Do We Need to Talk About?" Nelson revisited the politically engaged Apple family, characters he created for a series of well-regarded plays staged at New York's Public Theater.
In an interview with HuffPost, Nelson described Zoom as a "participant" and stressed that the format is "not like a film or TV show where the camera is a fly on the wall. Zoom is not just an observer. … It's a different form. The play I wrote cannot be done onstage. It's meant to be done on Zoom."
Kerns, of St. Lou Fringe, speculates that Zoom will remain in the theatrical toolbox after the pandemic has passed into memory.
"This has been introduced into the zeitgeist of the performance community, and it is never going away," he says. "When we get back to live performances, will Zoom and virtual-reality performance still be there? Yes."
It's the latest theatrical event to venture online.
"I've always wanted to be a talk-show host," Edward Coffield says. "I grew up watching Merv Griffin and Mike Douglas and Johnny Carson, and I was always mesmerized."
Theater companies struggle to adjust to coronavirus restrictions.