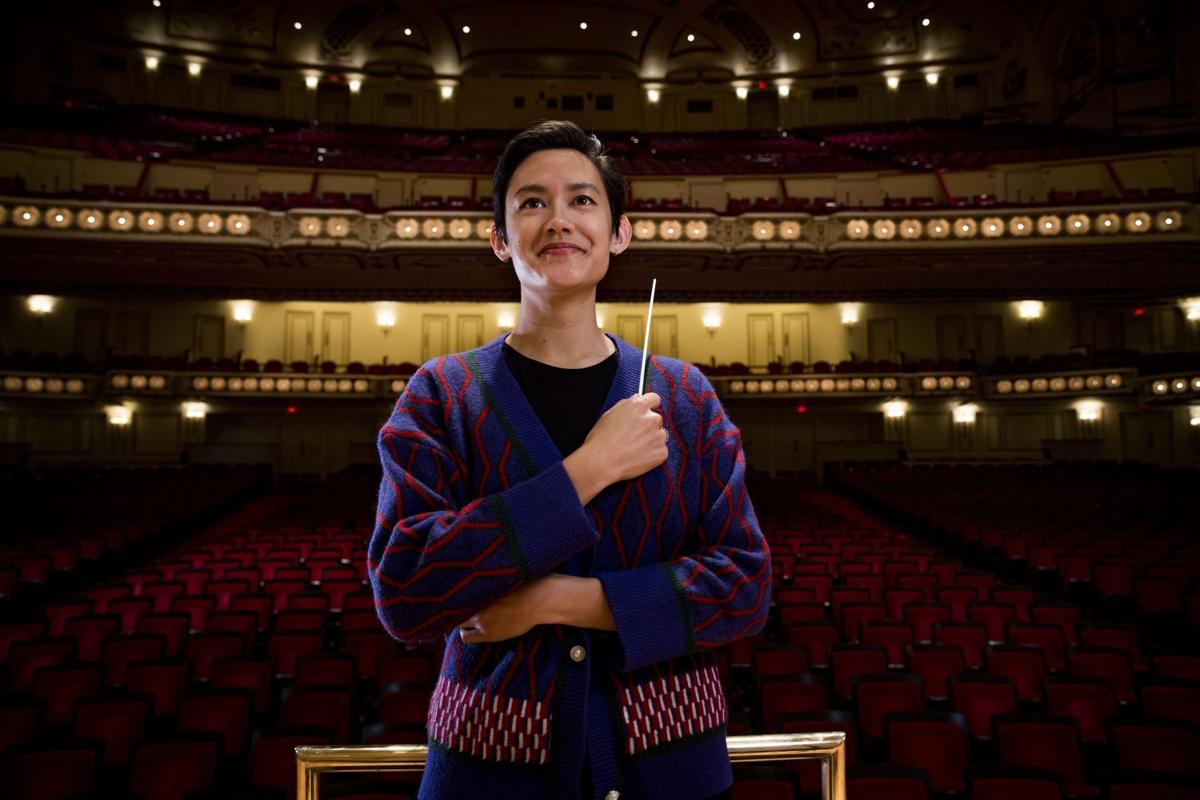 When Stephanie Childress took to the podium to rehearse the St. Louis Symphony Youth Orchestra on Nov. 13, she was only recently back from Paris, where she debuted as conductor with the Orchestre de Paris, afterward tacking on a quick side trip to London to see her family. The day before she left St. Louis, she ran a half-marathon in Forest Park.
"I treated it, really, as an all-night rave," Childress says of her overscheduled week. "That's what I was telling my colleagues. You just have to keep going."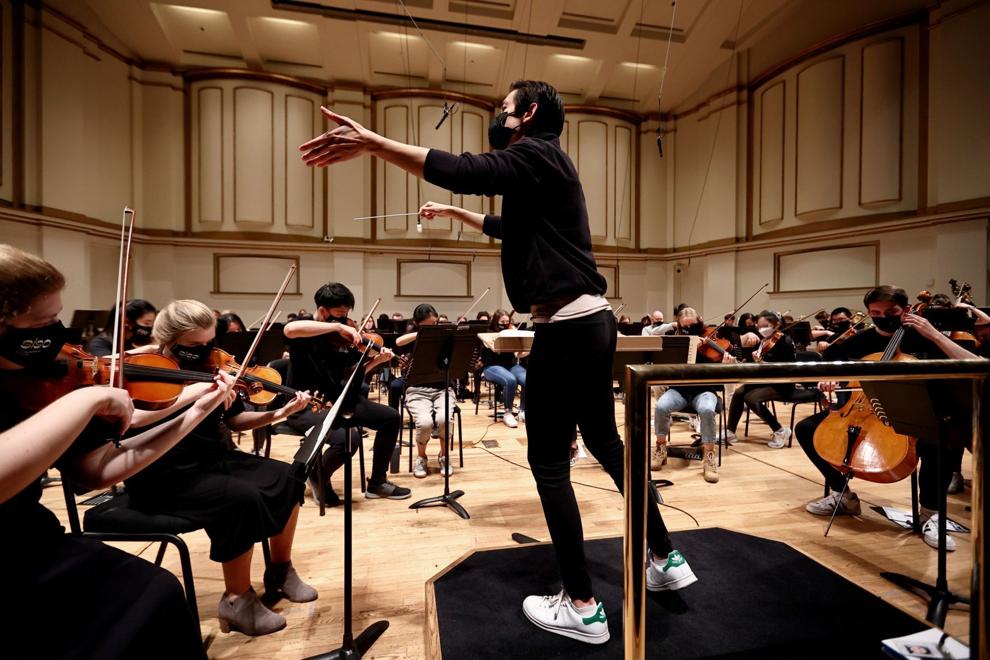 "I do enjoy that kind of fast-paced, restless, peripatetic lifestyle," she says. "I think it suits me very well."
That's a good thing, because in addition to Childress' commitments here — next up for her is a Youth Orchestra concert Nov. 21 at Powell, where she'll conduct Brahms' Second Symphony, plus works by Wagner and Tchaikovsky — she has other commitments for the 2020-21 season in Raleigh, North Carolina; Mullhouse, France; Budapest, Hungary; Paris once again; Katowice, Poland; Rotterdam, Netherlands; Lyon, France; and other cities across Europe and the United States.
"Perhaps the summer will be more restful, but who knows?" she says.
Childress, who is 22, was hired by the SLSO in March 2020 — "which is a lifetime ago, now," Childress says. The world went into lockdown soon after, leaving musicians and performers of all kinds with an uncertain future.
"A lot of my colleagues were very hard hit, especially young conductors who are trying to start their careers," she says. "I felt very privileged and very grateful to have this position, because I knew that there was light at the end of the tunnel and something I could focus on and stay positive about."
SLSO music director Stéphane Denève calls Childress "truly special" and says she has a "tremendously bright future. We are all absolutely amazed by her refined musicality and her inspiring energy on the podium."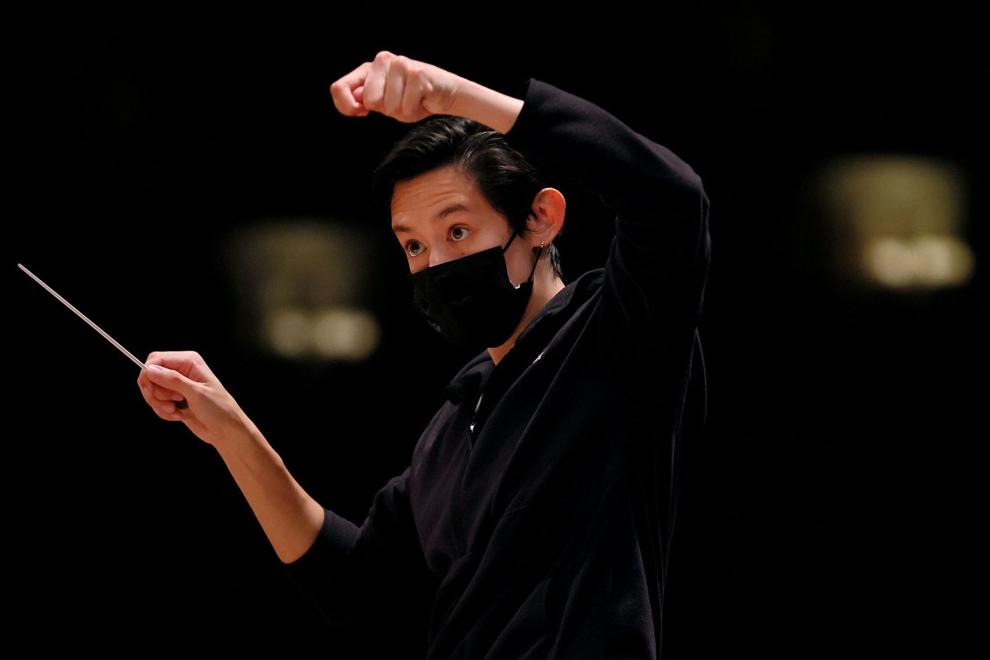 As it turns out, some of the young musicians in her charge agree.
"You can really tell that she has a vision for what she wants us to play," says trombonist Thomas Gustafson, a third-year member of the Youth Orchestra and a senior at Clayton High School. "The way she conducts is definitely energizing. She holds us to a really high standard, which is good. I try to do my best to follow through with that."
"It's nice getting to work with a young conductor," adds co-principal cellist Madeline Buchowski, a junior at John Burroughs High School. She values Childress' forthrightness but also her more descriptive instructions.
"She's very straightforward when things need work," Buchowski says. "But she also uses a lot of analogies like 'wading through caramel' or 'champagne' or 'marching.' That's helpful when we're trying to re-create the sound."
'The macro and the micro'
At the Nov. 13 rehearsal, as she broke down sections of the Wagner, Tchaikovsky and Brahms works, Childress spoke to the orchestra in broad terms about the pieces and the composers' intentions but also talked about the importance of the musicians listening to one another and the best times for them to look up from their scores for direction. For the strings, she offered specific bowing techniques.
"It's really the macro and the micro," Childress says, adding that it's her job to not only prepare the musicians but to add a sense of fun to the proceedings as well. "There's nothing wrong with cracking a few jokes," she says, "especially if I do them in my (English) accent. They sort of laugh more at my accent than my jokes, but I'll take it; I'll absolutely take it."
Above all, what she wants to impart to the Youth Orchestra, she says, is "everything."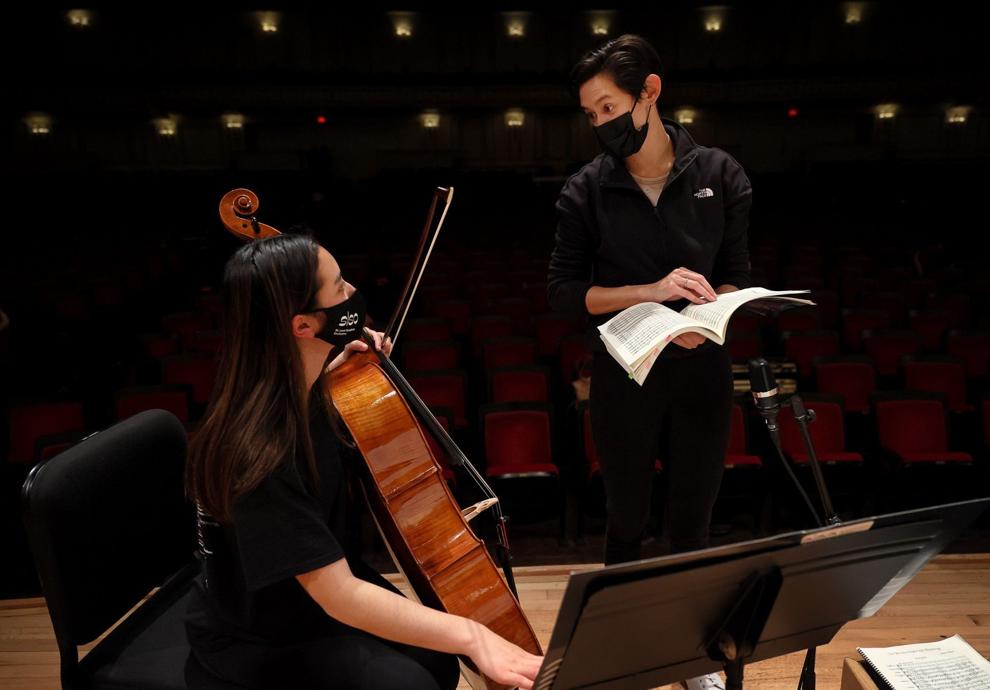 "Youth Orchestra programs are so important," Childress says. "When you're auditioning for conservatoires, a lot of people who go into the classical music route will end up in orchestras. And if you don't know what you've signed up for, it can be a very tricky thing.
"Playing in orchestras takes a lot of training; it's a hard skill. You have to be flexible, you have to listen, you have to be rigid sometimes, you have to push yourself, you have to push others around you. It's a really all-encompassing experience, multidimensional."
As the conductor, she says, "I'm just a conduit — I'm the facilitator. If the basics of the groundwork are not there, it's very difficult to make music at a high level. And that's what I'm aiming for with them."
Childress' own path to her current position includes being a member of the National Youth Orchestra in the U.K. for three years. She doesn't come from a particularly musical family, and her parents leaned more toward pop. Childress recalls being taken to a Neil Diamond concert at age 9 and a Tina Turner concert when she was 11.
But earlier, when she was only 4, she saw flamboyant English violinist Nigel Kennedy "hopping around, playing (Vivaldi's) 'Four Seasons'" and afterward told her parents she wanted to play the violin.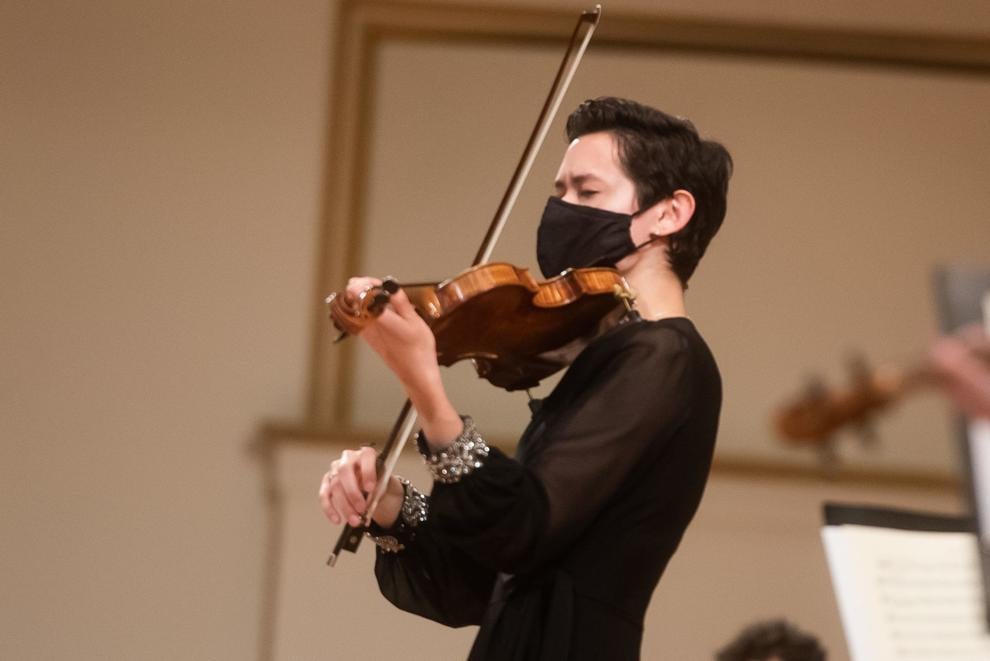 She wasn't a gifted player, she insists, and had a "tumultuous, very difficult journey with the violin. I remember telling my mother that the last thing I would ever be is a musician."
Nevertheless, she was a string finalist in the BBC Young Musician of the Year competition in 2016 and again in 2018. In September 2020, she took second prize at La Maestra, an all-female conducting competition in Paris.
Childress' interest turned to conducting when her youth orchestra was led by English conductor Edward Gardner.
"I wanted to have a bird's-eye view of the whole thing," she says. "I wasn't satisfied with just my part. That was really the moment where it was like, 'You know, there's something more — there's something missing in my life as a musician right now.' I knew that, not only do I want to be a musician, I want to be a conductor."
Opening up opportunities
Working with the SLSO itself can be intimidating, she admits, but early on she survived a bit of a trial-by-fire, which calmed her nerves.
"When I first got here in September, I landed on a Monday evening and then Tuesday evening had to do a concert of new music with them," she says. "And then Wednesday I had to take a rehearsal for Stéphane, who wasn't here yet."
Rather than worry, she realized, "at some point, you just have to get on with it."
Having gotten settled conducting a major orchestra like the SLSO, she says, 'Now when I go to Paris, or to North Carolina and Hungary and stuff, I think I will be less intimidated because I know what sounds good."
As a young person, and a woman of both talent and accomplishment, Childress is part of a rising tide in classical music, and indeed many other realms, in which an old-boys network is slowly — and in some cases, very slowly — giving way at last, opening up opportunities for those who deserve them.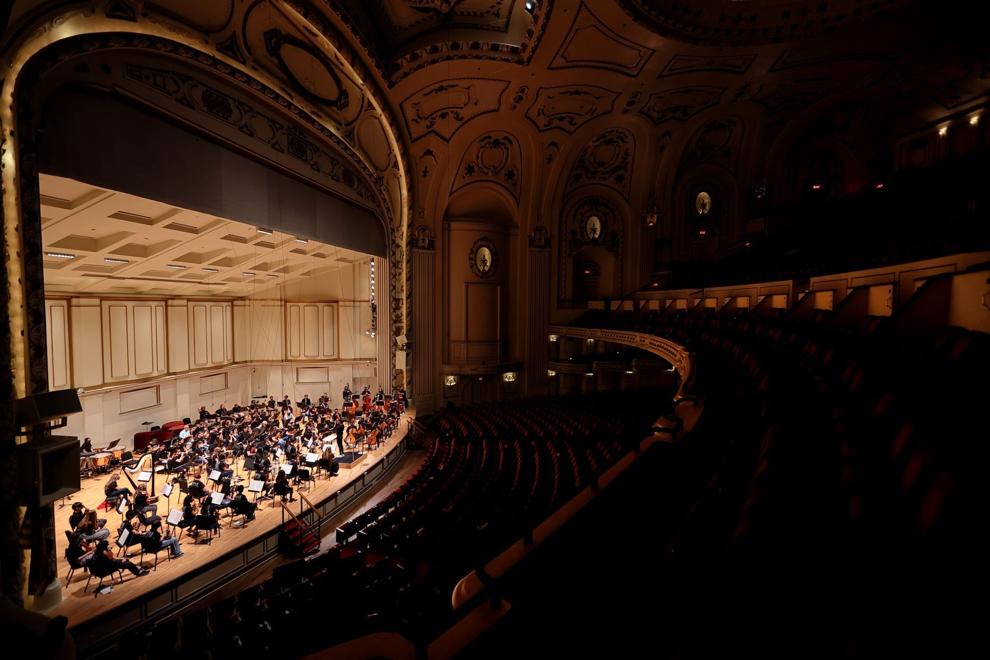 "I think it's an important issue, and it's an issue that should be addressed," Childress says. "I think female conductors are getting a lot of encouragement, which I think is what anyone wants, however they might identify. For me, I think, the biggest issue that I still have is the way we educate our children. It's well and good if we have quotas or all-female conducting competitions and all those things, but it's so much more effective if we really tried to target the problem at its root, and for me, it's sexism in education.
"It starts very early on, in the most formative years of a person's life. If I could start targeting one thing and start voicing my concern, it's with that. As adults, it's very difficult to unlearn patterns, unlearn habits from those formative years. That is my biggest concern, and that's something I'm very passionate about and I think people should pay more attention to."
Childress' contract with the SLSO runs out at the end of this season. So what happens after that?
"Who knows?" she says with a smile. "We'll have to keep you in the loop."