Tom Cipullo came up with the idea for his opera "Glory Denied," opening next weekend at Union Avenue Opera, at the MacDowell Colony in New Hampshire. "I should have been working," he says, "but instead I was reading the New York Times."
There he found a review of Tom Philpott's book "Glory Denied," about U.S. Army Col. Floyd James "Jim" Thompson, America's longest-held prisoner of war.
"I got it and read it cover to cover immediately. I knew I wanted to turn it into an opera." It took almost six years, but the result, premiered in 2007, has been widely acclaimed and performed.
Thompson was captured by the Vietnamese in March 1964 and wasn't released until March 1973. In solitary confinement and subjected to brutal torture, he kept himself going by thinking of his wife, Alyce, reliving their life together in his mind.
He came home to a different world. Mentally and physically traumatized, he discovered that Alyce had moved on (and moved in with another man), attempted to have him declared legally dead and told their four children — the youngest born on the day he was captured — that he was dead.
"It became very clear that in Col. Thompson's mind, his wife was two different people," Cipullo says. "That was the only way he could survive."
The opera has four characters, each played by two singers: Younger Thompson (a tenor), Older Thompson (baritone), Younger Alyce and Older Alyce (both sopranos). That, Cipullo says, allowed him to write ensembles. (At UAO, they'll be sung by David Walton, Peter Kendall Clark, Karina Brazas and Gina Galati, respectively. Scott Schoonover will conduct; Dean Anthony will direct.)
The characters each recall things differently. "I've always been interested in memory," Cipullo says. "It's such a tricky thing. If you talk with friends about events that happened 20 years before, you always have very different memories, completely different recollections about how those events transpired. And each one of you is convinced that your version is true and that the others are mistaken."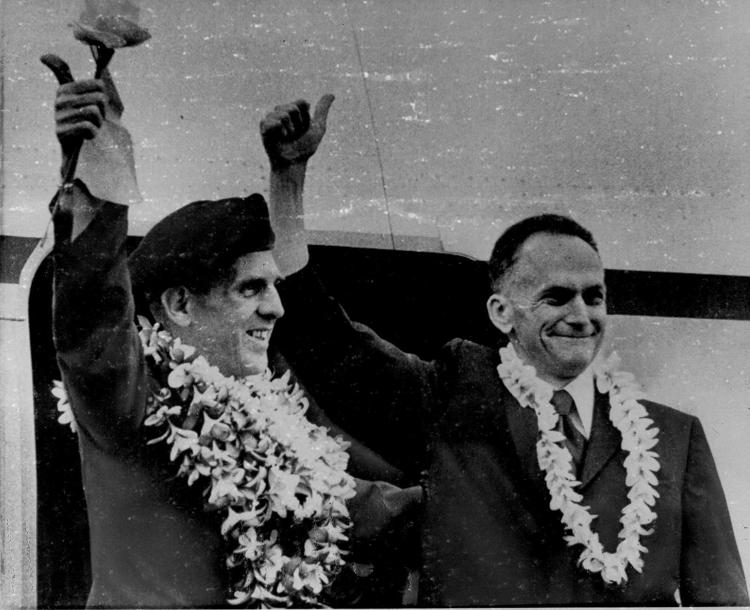 Cipullo, 63, never served in the armed forces. "I was 18 in 1974; the war was pretty much over." But he remembers soldiers coming home, labeled "baby killers" and publicly insulted.
"I think a lot of young people (today) don't really know a lot about the '60s," he says. "That surprises me. Col. Thompson left for Vietnam in 1964 and returned in 1973. Everything was so different. If you look at a yearbook from the mid-1960s and one from the mid-1970s, everything has changed. The counterculture, free love, 'do your own thing' — those were all completely unthinkable in the 1960s. He must have thought he'd landed on Mars."
The marriage collapsed, and Thompson took to heavy drinking. In 1977, he attempted suicide. After suffering a stroke and heart attack in 1981, he gave up alcohol but died in 2002. Alyce died of cancer in 2009.
"He was let down by so many things in his life," Cipullo says. "It's really tragic."
Thompson was happy about the opera, Cipullo says, but died before it was completed. "When it was performed in Nashville, all four children came. You've never seen such a nervous cast. One of the daughters said, 'Yup, that's my mom up there.'"
He admits, "I really didn't like (Alyce)." She refused to allow her husband's name to be used in any way, even on one of the P.O.W. bracelets that millions wore. To be fair to her, when Cipullo wrote her big aria, "I tried to make it so beautiful, that if somebody hears it, they'll think, 'If I had four children, I'd have gone on with my life too.' She had no support; other Army wives didn't want to be around her because she was a reminder that this could happen to their husbands."
Unusually, Cipullo decided to write the opera on his own. "I did everything wrong," he says. "I am the world's worst businessman. I did not have a commission. I decided I didn't care and would just see what happened." A conductor took a chance on it; there have been over 20 productions, with more on the way. "I have been so lucky. I feel like I have a guardian angel who looks out for me."