Anything but the Super Bowl: Salty St. Louisans have Sunday options
Your endodontist not open for a root canal Sunday evening?
Have you already thanked all those old socks that no longer spark joy?
Is your hair already shampooed? Your toilet already clean?
Here in St. Louis, watching the Rams-Patriots Super Bowl on Sunday is pretty low on our list of priorities.
We're still saltier than a feedbag full of Tostitos after the Rams abandoned us for the West Coast in 2016. (We were already pretty salty over their Super Bowl loss to the Patriots in 2002.) Who in their self-loathing mind wants to see the Los Angeles Rams battle the Pats?
We can help you not watch the Super Bowl — or at least make life tolerable if you have to. Kickoff is at 5:30 p.m. Start your mental or physical escape plan now.
By Valerie Schremp Hahn, St. Louis Post-Dispatch
Celebrate the Superb Owl.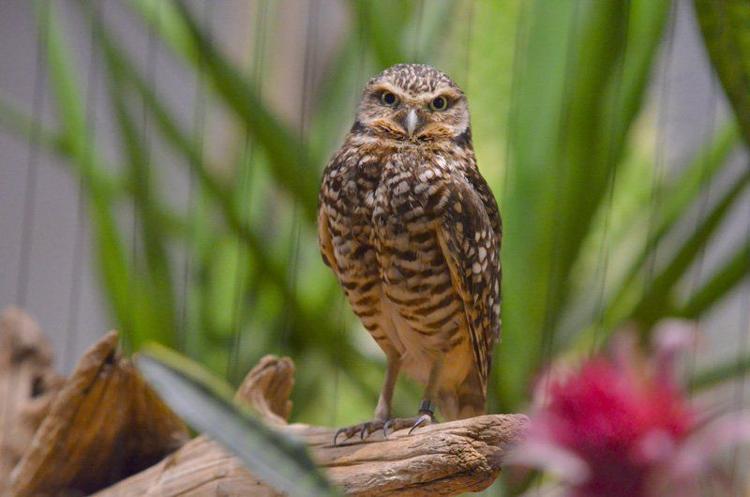 If you don't give a hoot about the Super Bowl, perhaps you can find interest in a superb owl. There are plenty of chances for that.
Visit the St. Louis Zoo (1 Government Drive, Forest Park; 9 a.m.-5 p.m. Sunday), which is home to spectacled, screech, great horned, barred and burrowing owls.
The World Bird Sanctuary (125 Bald Eagle Ridge Road, Valley Park; 8 a.m.-5 p.m. Sunday) is home to several owls, some of which were hatched there and some who were rehabbed and cannot live in the wild. (If you're still in the mood, the sanctuary hosts adults-only Owlentine and Wine events at 7 p.m. Thursday and Friday for $45 per person.)
For the main event, stop in for a drink at Tick Tock Tavern in the Tower Grove East neighborhood. Its Superb Owl Sunday party will feature live music by jazz guitarist Erin Stratman at 3 p.m. and a screening of the 1987 owl-themed slasher film "Stage Fright" at 6:30 p.m. No football will be shown on TV, and guests are invited to bring a dish to share. This is the fourth year of the NFL-less event.
When 1 p.m.-midnight Sunday • Where Tick Tock Tavern, 3459 Magnolia Avenue • How much Free; bring a dish • More info facebook.com/ticktocktavernstl
Destroy a computer. Maybe glance at the game.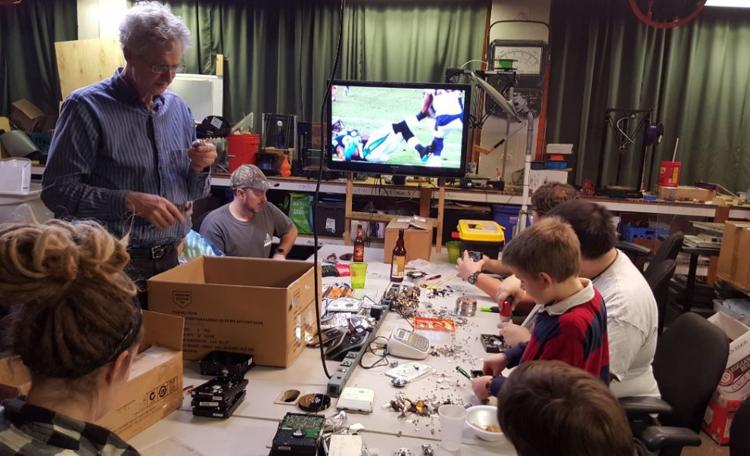 Arch Reactor is a makerspace/hackerspace that was started in 2009 by a group of friends who like tinkering and eating pizza. The group, which usually hosts workshops for metalsmithing and Harry Potter wand-making, is throwing a Super Bowl of Destruction party Sunday.
It's a time to break down the hardware donations that can't be used or repaired — hard drives, computers and server equipment.
Morgan Miransky of Arch Reactor says the tradition started four years ago with three shelves of donated items that the group didn't want to move to its new home in midtown.
"It's not quite 'Office Space' — smashing things with baseball bats — but a lot of times we will have a table of people taking hard drives apart," he says.
The materials are sorted for recycling; they even keep the aluminum to use in their own smelter. One guy used aluminum to make a hitch for a bicycle trailer, and ball-bearings have been made from cast aluminum for a maker-made 72-inch belt sander.
If you absolutely must watch the game, it will be projected onto an 18-foot wall. Everyone is invited to bring a snack to share while working out their football frustrations in a deconstructive way.
When Noon-8 p.m. Sunday • Where Arch Reactor, 2215 Scott Avenue • How much Free; bring a snack • More info archreactor.org
Slam the Rams — and their owner.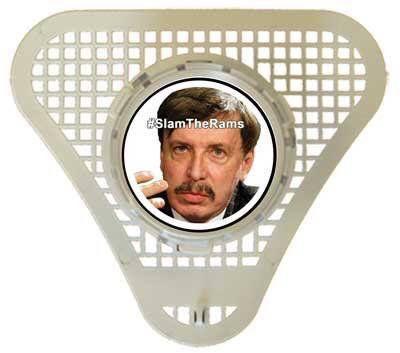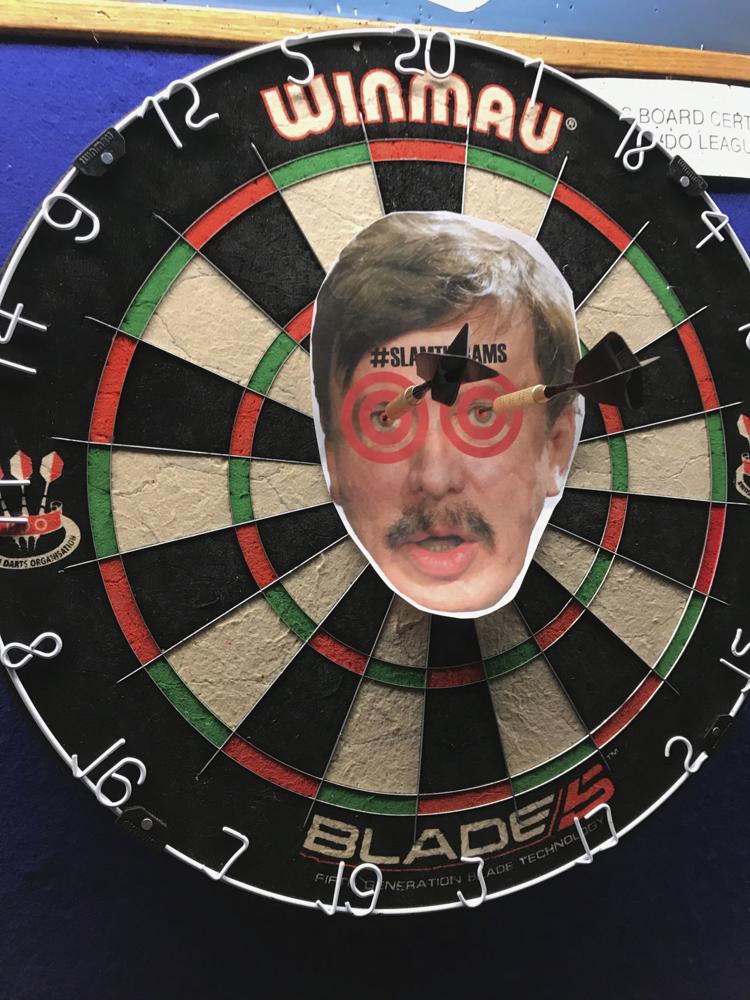 Hotshots Sports Bar & Grill knows an opportunity for a good gimmick, which is why the chain of bars put in another order for a few dozen urinal screens bearing Rams owner Stan Kroenke's face.
On Sunday, frustrated fans at Missouri Hotshots locations can take a leak on Kroenke's likeness. For those who don't use urinals, the bars will honor his face on their dartboards.
The bars will repeat specials from their Slam the Rams promotion from when the team left for Los Angeles — though the urinal screens couldn't be reused. "They were all stolen while being used, which is honestly kinda out there," says Justin Boyd, spokesman for Hotshots. "We're not talking one or two — we're talking 30 or 35 of them."
Customers who come to hate-watch the game will benefit from the Rams' demise: The bar will offer beer discounts for each touchdown scored against the team. If the Rams lose, Hotshots will host a Slam the Rams happy hour from 3 to 6 p.m. Monday.
"We're really not rooting for anybody but cheap beer," Boyd says.
When 5 p.m. Sunday • Where Hotshots Sports Bar & Grill locations in Missouri • More info hotshotsnet.com
Learn something new, then pause for reflection.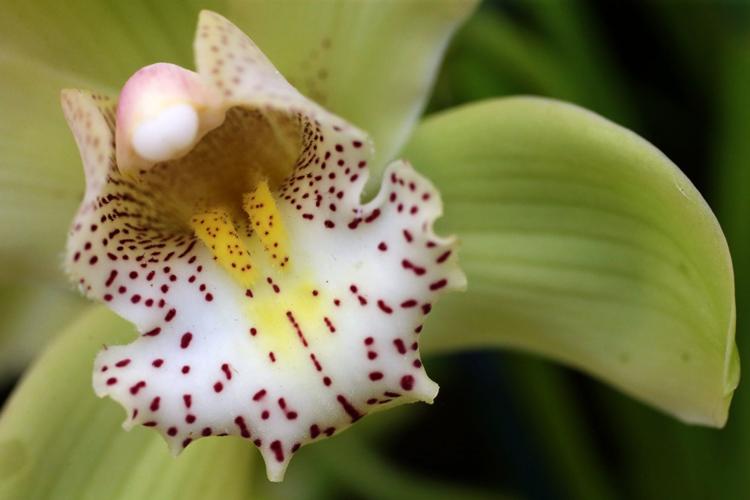 If you're avoiding the tube, you might as well pregame by checking out a new exhibit. Most of these institutions close before kickoff, so make sure to get there early. That's time you would've spent grazing on the appetizer table anyway. (These spots have cafes; grab a snack, and imagine it's wings or nachos.)
The annual Orchid Show at the Missouri Botanical Garden opens with a member preview Friday. The Orchid Society of Greater St. Louis Sale is Saturday and Sunday, and "Botanical Art Worldwide: America's Flora" is on view through May in the garden's Sachs Museum. (4344 Shaw Boulevard; 9 a.m.-5 p.m., $5 admission to orchid show for nonmembers)
The Magic House in Kirkwood opens its interactive exhibit "Children's China" on Saturday. (516 South Kirkwood Road, Kirkwood; 11 a.m.-5:30 p.m. Sunday, free with $12 general admission)
"Guitar: The Instrument That Rocked the World," which opened last month at the St. Louis Science Center, offers the world's largest playable guitar and dozens of artifacts and guitars. (5050 Oakland Avenue; 11 a.m.-4:30 p.m. Sunday, $5-$10.95)
Swap some clothing, and look good for the big game.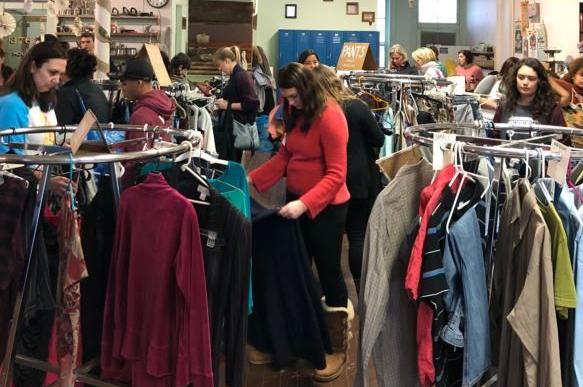 For the price of a beer and chips, you can walk out of Perennial community workshop Sunday with a new wardrobe for the game — or at least a few new-to-you pieces.
The gathering space and workshop hosts a community clothing swap every couple of months on Sunday afternoons. This one coincides with the Super Bowl. Workers sort and organize the clothes, and visitors can browse, try them on and take home as much as will fit in a bag.
Between 80 and 100 people usually show up, and time passes quickly, says Karalynn Skinner, office administrator at Perennial. "It's a little chaotic, but it's fun," she says. "I've gotten too many things."
The event is closet-, budget- and earth-friendly.
After the swap, workers sort the swapped items, keeping T-shirts, jeans and sweaters that can be repurposed in their own workshops and sending the rest to a textile manufacturer.
Clothing is weighed as people bring it in. Each event helps keep 800 to 900 pounds of it out of the landfill, Skinner says.
When 1-3 p.m. Sunday • Where Perennial, 3762 South Broadway • How much $10 if you bring clothing to swap; $15 if you don't • More info 314-832-2288; perennialstl.org
Watch the commercials — and only the commercials.
Several companies have already revealed their Super Bowl spots, but there's still no better time to tune into the game than during the commercials.
Kristin Chenoweth teaches dogs the Avocados from Mexico jingle. Michael Bublé will hawk Bubly, PepsiCo's sparkling water brand. Luke Wilson the close-talker demonstrates why you might need Colgate. Anheuser-Busch touts wind power with the help of a Dalmatian atop a Clydesdale hitch.
While you're watching, make it a party game: Fill out a Bingo card with brand names before the game, and mark them off as you see their ads, or rate your favorites on a scorecard.
A-B is hosting a Super Bowl Commercial Watch Party at the Biergarten at Anheuser-Busch. The ticket includes a tailgate buffet, two beers, contests and photo ops with the Clydesdales. Dalmatians and their owners are invited to enjoy a special Dalmatian VIP area at no extra cost.
When 4:30 p.m. Sunday; buffet begins at 5:30 p.m. • Where The Biergarten at Anheuser-Busch, 1200 Lynch Street • How much $45 • More info budweisertours.com