St. Louisans are pretty good at wrapping a strand of twinkling lights around anything that doesn't (or does) move to celebrate the holiday season. Case in point: The Shrine of Our Lady of the Snows celebrates the 50th anniversary of its display this year.
Bundle up to check out a municipal or commercial display, take a curbside seat for a lighted holiday parade, or go for a drive to see the brightest homes and neighborhoods. (For a guide, visit holidaylighthopping.com, compiled by locals Laura Thake and Mitch Miller.)
By Valerie Schremp Hahn, St. Louis Post-Dispatch
Brewery Lights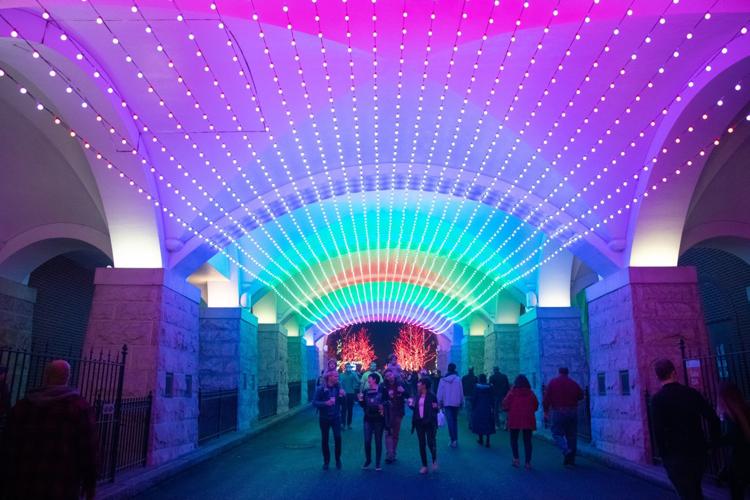 At Anheuser-Busch's Brewery Lights, visitors can wander the beautifully illuminated Soulard campus, take a spin on the ice rink, explore the kids zone, sample A-B's adult beverages and grab a bite in the biergarten. Fire pits and holiday packages are available.
When 5-10 p.m. Thursdays-Sundays Nov. 22-Dec. 30, drive-through tours welcome Mondays-Wednesdays • Where Anheuser-Busch Brewery, 1200 Lynch Street • How much Free • More info 314-577-2626; budweisertours.com
Celebration of Lights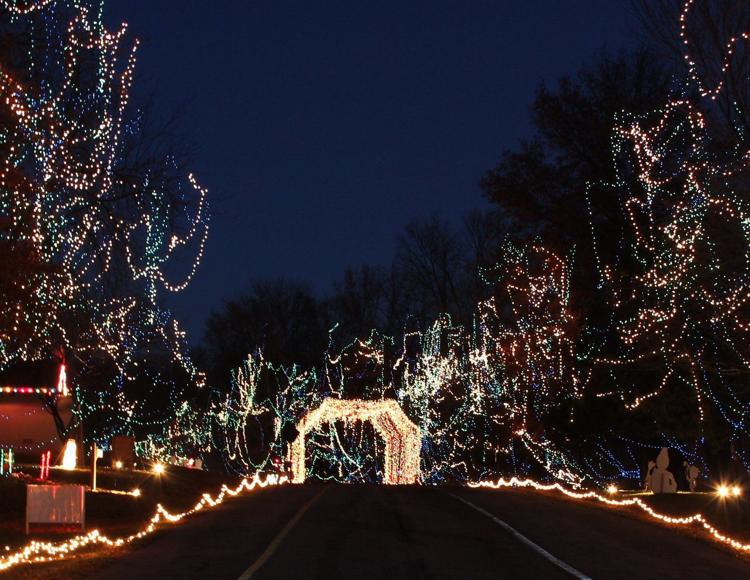 This light display, which has been delighting guests since 1991, includes scenes designed and funded by local organizations, churches and businesses. It attracts more than 10,000 vehicles each year and more than 10,000 visitors during the Old-Fashioned Holiday Stroll, Dec. 9-10. Train and horse-drawn carriage or trolley rides are available.
When Nov. 29-Dec. 30, walk through Dec. 9-10, closed to vehicular traffic on Mondays; closed Dec. 25 • Where Fort Zumwalt Park, 1000 Jessup Drive West, O'Fallon, Mo. • How much $10 for cars, $15 for commercial vans and limos, $8 Tuesday nights • More info ofallon.mo.us/celebration-of-lights
Christmas Wonderland at Rock Springs Park
The "Grandpa Gang" has hung more than 4 million lights at Rock Springs Park for its annual display. Drive through and check out hundreds of scenes that include cascading waterfalls and lighted trees. A walk-through event (without cars) will be Dec. 2, and Santa will meet children through Christmas Eve at the Enchanted Forest.
When 6-9 p.m. Mondays-Fridays, 5-9 p.m. Saturdays and Sundays, Nov. 29-Dec. 29 • Where Rock Springs Park, 2116 College Avenue, Alton • How much Suggested donation of $7 for cars and small vans, $1 per person for parties of 10 or more • More info 1-800-258-6645; visitalton.com
Garden Glow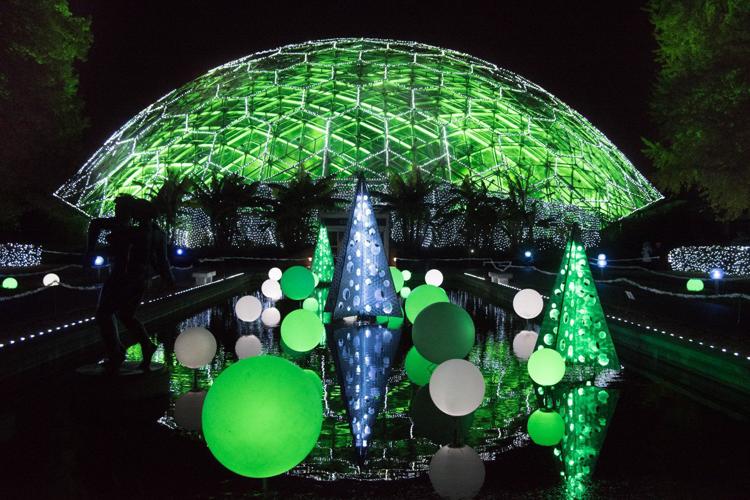 The Missouri Botanical Garden transforms into a winter wonderland each year for Garden Glow. Interact with the outdoor displays featuring more than a million lights, and enjoy special photo ops, holiday treats and music. New this year: two different holiday-themed shows projected onto the exterior of Tower Grove House. Garden Glow tickets include admission to the indoor Gardenland Express Holiday Flower and Train Show. This year's train display theme is "Victorian-style holiday."
When Nov. 23-Jan. 4; closed Dec. 9, Christmas Eve and Christmas Day • Where Missouri Botanical Garden, 4344 Shaw Boulevard • How much $3-$18 • More info mobot.org
Holiday in the Park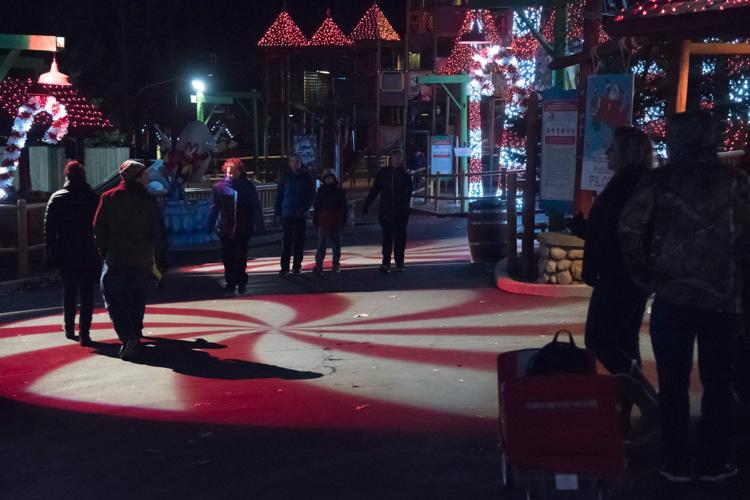 For a fourth year, Six Flags St. Louis drapes the park with more than 1 million twinkling lights. Visitors can ride the park's usual attractions, plus take in a live, holiday-themed show, visit Santa and his helpers, savor holiday treats and listen to holiday favorites performed by carolers. This year the park adds two new shows: "Miss Kitty's Christmas" and "A Christmas Scarol," starring a puppet, Jacob Marley. Also, visit the new Gingerbread Village, and watch for more daily "snow."
When Various dates through Jan. 1 • Where Six Flags St. Louis, 4900 Six Flags Road, Eureka • How much Free with park admission • More info sixflags.com/stlouis
Lebanon Winter Wonderland
The display at Horner Park, which organizers describe as a "family-friendly, nostalgic look back in time with just a hint of modern day," is run by volunteers who crafted many of the displays. A mile-long road meanders past scenes dedicated to the military and first responders, a penguin village and an animated light show set to music.
When 5-9 p.m. Sundays-Thursdays, 5-10 p.m. Fridays-Saturdays; through Dec. 31 • Where Horner Park, 11113 Widicus Road, Lebanon • How much Free; donations accepted • More info hornerparklights.com
Santa's Magical Kingdom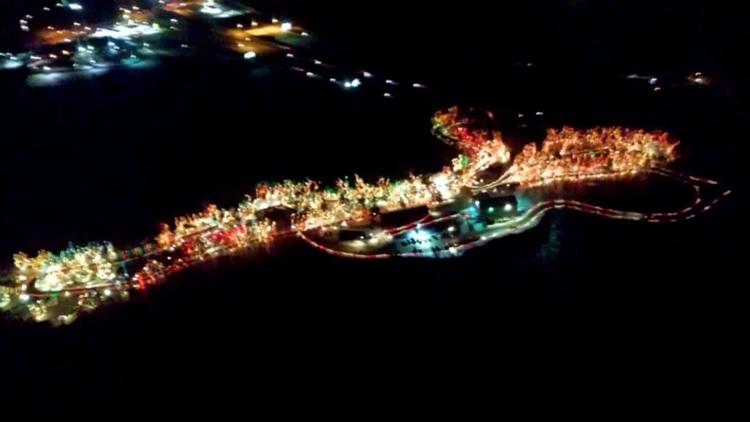 The 35-acre Jellystone Park is transformed for the holidays with animated scenes, special effects and millions of lights, including a gingerbread village, a giant toy land and three lighted tunnels. For a treat, visit Santa at Kringle's General Store.
When 5:30-10:30 p.m. daily through Jan. 5 • Where Jellystone Park, 5300 Fox Creek Road, Pacific • How much $23 per vehicle, up to eight passengers; $35 for large vans and other vehicles • More info santasmagicalkingdom.com
Way of Lights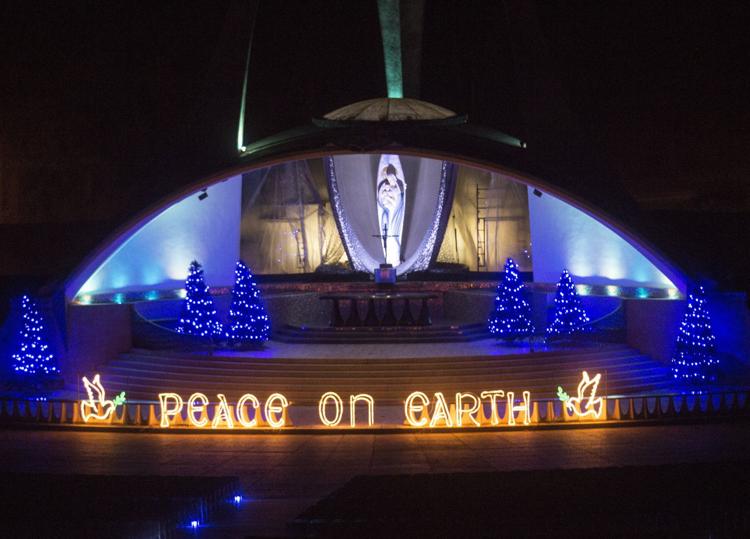 This year marks the 50th anniversary of the Way of Lights, a display organized by the Missionary Oblates of Mary, focusing on the birth of Christ. Enjoy crafts, storytime, a life-size Nativity made of Legos and plenty of photo opportunities. Watch for discounts and extra activities on Tuesday family nights.
When 5-9 p.m. Nov. 22-Jan. 1; outdoor lights only Christmas Eve, Christmas Day and New Year's Day • Where Shrine of Our Lady of the Snows, 442 South DeMazenod Drive, Belleville • How much Free • More info snows.org
Wentzville Holiday Night Lights
A 1-mile display in Rotary Park features tunnels of colorful lights. On Saturday nights, visit Santa at the Kolb Building and enjoy trees decorated by various businesses and organizations. Tractor-pulled hayrides are available for groups on specific dates.
When 5:30-9:30 p.m. Nov. 29-Dec. 28; closed Christmas Day • Where Rotary Park, 2577 West Meyer Road, Wentzville • How much $8 per vehicle, up to six passengers ($1 per additional passenger) • More info wentzvillemo.org
Wild Lights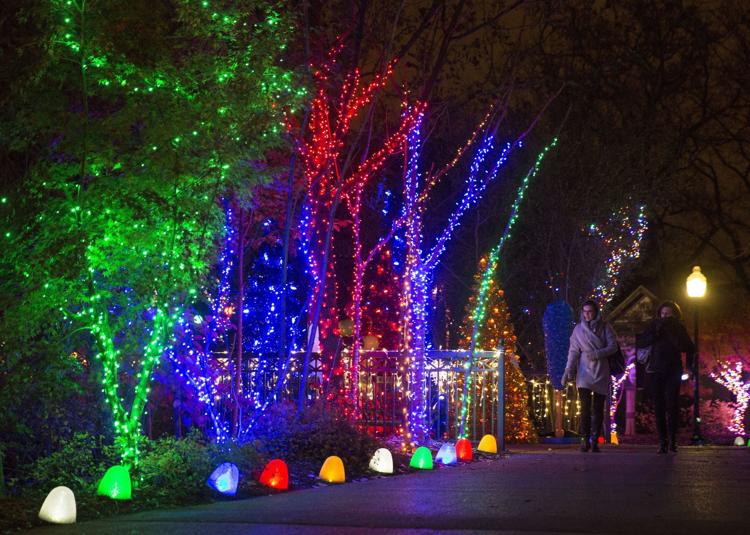 More than half a million bulbs will light up the zoo at night this holiday season. Walk among dazzling displays while spending time with the animals, and enjoy special food menus, fireside storytelling, carolers, fire pits, family activities and more. The zoo offers a sensory night Dec. 9.
When Various dates, Nov. 29-Dec. 30 • Where St. Louis Zoo, 1 Government Drive, Forest Park • How much $8-$11, free for children under 2 • More info 314-781-0900; stlzoo.org/wildlights
Winter Wonderland at Tilles Park
Tilles Park will be decorated with holiday scenes and more than a million twinkling lights in a display that has drawn crowds for more than 30 years. On select nights, mostly Mondays, the park is closed to vehicular traffic for the Winter Wonderland Walk ($6 per person). Carriage rides are also available.
When Nov. 27-Jan. 2; closed Christmas Eve and New Year's Eve • Where Tilles Park, 9551 Litzsinger Road • How much $10 per vehicle, $90 for a tour bus; no credit or debit cards accepted • More info stlouisco.com/parksandrecreation
Nighttime holiday parades
For a chance to see Santa and watch colorfully illuminated displays roll through the streets, check out some of these nighttime parades.
• Washington, 6 p.m. Nov. 29
• Highland, 6:30 p.m. Nov. 29
• Millstadt, 7 p.m. Nov. 29
• Waterloo, 5:30 p.m. Nov. 30
• Prairie du Rocher, Ill., 6 p.m. Nov. 30
• O'Fallon, Ill., 6 p.m. Nov. 30
• Jerseyville, 7:30 p.m. Nov. 30
• Ferguson, 5 p.m. Dec. 1
• Wentzville, 5:30 p.m. Dec. 1
• Festus-Crystal City, 7 p.m. Dec. 2
• Pevely-Herculaneum, 7 p.m. Dec. 5
• Union, 6 p.m. Dec. 6
• Swansea, 7 p.m. Dec. 6
• Columbia, Ill., 5 p.m. Dec. 7
• Collinsville, 5:30 p.m. Dec. 7
• De Soto, 6 p.m. Dec. 7
• St. Clair, 6 p.m. Dec. 14