Got a smartphone or a digital camera? Stuck at home and looking for a reason to go outside?
Then we have a biodiversity inventory project for you.
The worldwide City Nature Challenge asks people to take pictures of plants, flowers, weeds, trees, fungi and critters, share the images to a database, and then help experts identify the findings.
The observation portion of the challenge runs Friday through Monday, and the identification part takes place Tuesday through May 3. Any observations you make before or after the challenge will still be valuable to naturalists and planners.
The City Nature Challenge started in 2016 with the development of the free iNaturalist app; users in San Francisco and Los Angeles competed to identify the most flora and fauna. More cities came aboard, with St. Louis joining in 2018.
The app is available for download on Google Play and the App Store.
This year, the City Nature Challenge won't be an official competition, because cities face different circumstances due to the coronavirus pandemic.
But with more people stuck at home by themselves or with kids, organizers expect lots of interaction — with participants practicing social distancing. There are plenty of resources for teachers and parents to encourage students, too.
Last year, 812 participants from around St. Louis took part, making 13,000 observations and identifying 1,480 species, says Allison Brown, community programs coordinator for the Missouri Botanical Garden.
"There's a lot of nature hanging out in our city, whether we actually see it with our own eyes or not," she says.
Coyotes have been captured on film by trail cameras, Brown says, and she's seen them for herself at O'Fallon Park in north St. Louis. And the Missouri Botanical Garden is home to foxes and eastern red bats.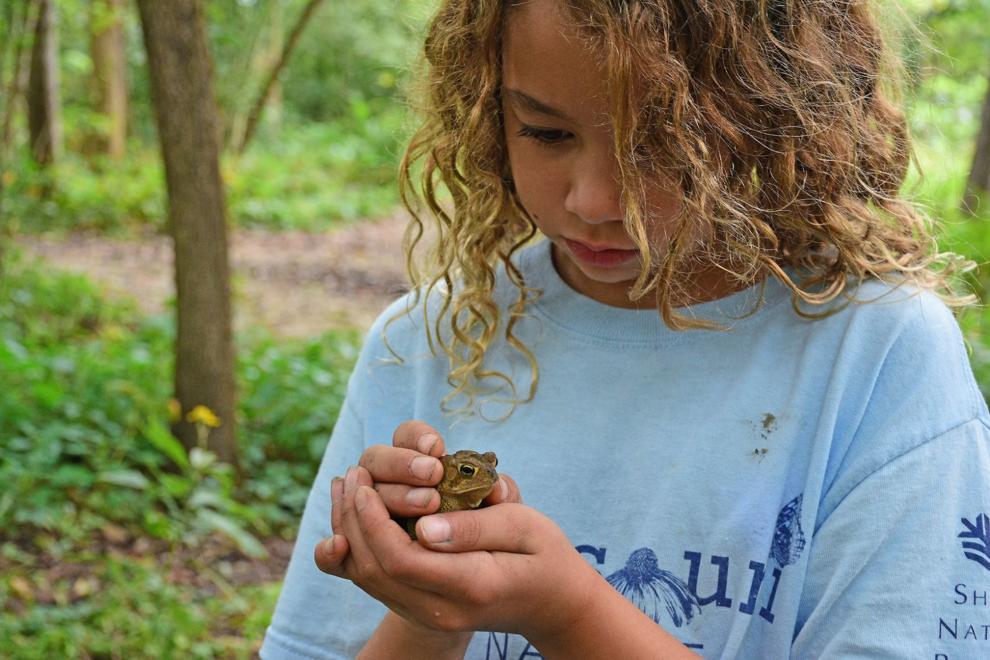 "Lots of plants kind of pop up and volunteer and grow in places, and a lot of times, people automatically assume it's a weed," she says. "This might be a good chance to see what's growing there, and it might be a beneficial plant."
The website for the challenge provides tips for finding and photographing wildlife, such as partnering with someone to help upturn rocks and logs to see what critters will scatter from underneath. Organizers encourage participants to go out early in the morning to record birds singing and wait by a porch light at night to photograph the gathering moths.
The app does a decent job at helping to identify the things users photograph, but trained identifiers also verify them.
After users collect the information, what do experts do with it?
Members of BiomeSTL (Biodiversity of Metropolitan St. Louis) are working on an atlas of local biodiversity that can have many uses, such as learning which areas contain threatened or endangered species, managing invasive species, or encouraging cities to loosen ordinances or make recommendations for native plants and grasses.
The city of St. Louis uses the information to develop a surrogate species list to figure out the quality of urban biodiversity areas.
Michael Wohlstadter drew a geographical boundary around his Southampton neighborhood and uses the observations there to help encourage residents to plant native trees, flowers and grasses.
Wohlstadter, a regional planner at East-West Gateway Council of Governments, is also involved in planning the City Nature Challenge. During last year's challenge, he identified 172 unique species in the region — more than anyone else in the area.
He's a Missouri Master Naturalist and has a good idea of what to look for. While completing the challenge last year, he took time to hike in different parks and nature areas, something he plans to do again this year.
"I think it's great fun," he says. For decades, he went hiking and didn't know the identities of the plants around him. The training and the app made a big difference.
"This is a tool that really takes it up another notch," he says. "It not only helps me identify these things — it really helps identify things for science."