Middle age? Bah.
At 40, Soulard Mardi Gras is determined to stay young, by golly.
What started as a party among friends at a rowhouse apartment on Russell Boulevard has since grown into what many say is America's second-largest Mardi Gras celebration — behind New Orleans, of course.
Yes, a few clashes with police marred its adolescence. Yes, growing crowds have caused growing pains for the city and the Soulard neighborhood, which have adapted and learned what to expect.
This year, Mardi Gras uses its middle-age milestone to look toward the future.
The event has its first regina, or queen of Mardi Gras, instead of the traditional rex, or king: Missy Kelley, the CEO of Downtown STL Inc., reigns over this year's festivities. Instead of bands playing on two or three outdoor stages, it's paying for bars to hire bands, so entertainment options will be spread throughout the neighborhood.
Planners reached out to millennials and asked them to come up with an alternative to the usual Wine, Beer and Whiskey Taste event. The result was the Bacchanalian Ball, a party held Feb. 9.
The big tent at Soulard Market Park, used for various events throughout the festival season, was divided into four themed areas representing different eras. Revelers played with oversized Connect Four games, created Instagrammable moments with a glowing boom box and sang their hearts out to '90s tunes.
"So it was amazing," says Maggie Bailey, 33, who was on the event's decorating committee. "And I say that not just because I worked on it."
Lots of her peers attended the Mardi Gras Grand parade as kids or in their 20s, she says, but stopped when they moved from the city or started families.
Organizers wanted the ball to be a reasonably priced, interactive experience. "I wanted this to be owned by the next generation," Bailey says. "Bringing that energy back is important."
As it's aged, Mardi Gras has grown wiser. More events have been added, spread out over several weeks, starting with Twelfth Night in January. That way, attendees can pick and choose what appeals to them, and if weather interferes with one event, there are others to keep the good times and money rolling.
"A big anniversary like this is an opportunity to get introspective," says Mack Bradley, president of the Mardi Gras Foundation and spokesman for Mardi Gras Inc., which organizes the festivities. "It's never bad to take a moment and really take stock of everything that we're doing."
Looking back
Because it's Mardi Gras, it's easy to forget. Here's look back to help some of those hazy memories come back into focus.
1980 • Friends Bob Brinkman, Hilary Clements, Bill Coleman, Jim Rabbitt and Bill Stubbs threw a party at 1017 Russell Boulevard, where Clements lived. They each pitched in $250 and invited 50 guests. About 20 inches of snow covered the ground, but that didn't stop a midnight parade. The group marched to McGurk's Irish Pub, carrying a casket, and then marched back. It was so cold that the trumpeter's lips froze on his horn.
1981 • The friends hosted another party. When they opened the door at midnight, more than 1,000 people were waiting to join the fun.
1982 • The parade, with the theme "The Spirit of St. Louis: Past, Present or Future," moved to daytime and included the Mizzou marching band. The Post-Dispatch reported that 15 bars and restaurants put together a drink-as-you-go tour, with Budweiser novelties given away along the route. Actors from the Goldenrod Showboat and from St. Louis' Visual and Performing Arts High School presented plays in the auditorium above Soulard Market.
1984 • Clements opened a restaurant and piano bar called Hilary's on the first floor of his rowhouse. The first Cajun/Creole cook-off was held, with cooks competing for a $1,200 prize.
1988 • St. Louis' first Fat Tuesday Parade was billed as the Soulard Jazz Dollar Parade and stepped off at 12th Street and Russell Boulevard. "Leading the parade will be some of St. Louis' finest saxophone players, including Chuck Tillman, Roland Clark, Rich Cotton, Willie Akins, Jimmie Cherrard, Peanuts Whalum, Freddie Washington and Harry Simon," the Post-Dispatch said. A costume or a musical instrument were required for anyone else who wanted to march, and participants and spectators paid a $1 fee, with proceeds going to a Soulard charity.
1989 • Icy weather meant only a few hundred people showed up for the parade.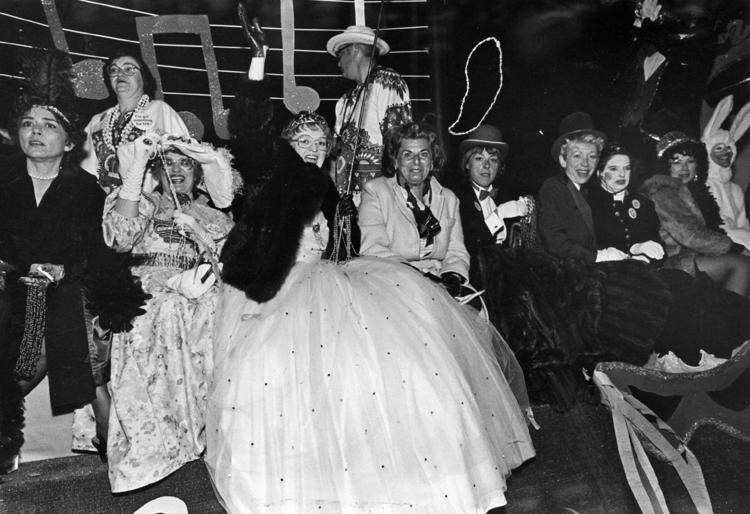 1994 • The first Mystic Krewe of Barkus Pet Parade brought a furry element to the festivities, along with the first Wiener Dog Derby, held outside Mike and Min's bar at 10th Street and Geyer Avenue. The first derby included about 50 dachshund contestants, and spectators climbed trees and roofs to get a better view.
1995 • Tiny Tim was the grand marshal for the parade, and 75-degree temps brought an estimated 250,000 revelers to the streets of Soulard. The crowd clogged traffic, and neighbors complained about excess trash.
1996 • Fearing a repeat from the year before, Soulard residents led a drive to put out more portable toilets, move the parade route to ease congestion, close bars earlier and add more security.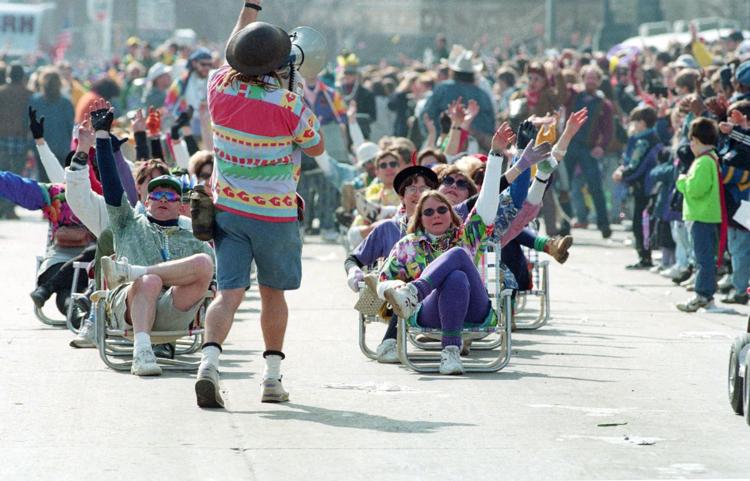 1997 • A "spectacular" engine fire in a van pulling a float midway through the Mardi Gras parade caused the rest of the parade to be rerouted. Some floats and groups never left the starting blocks.
1999 • An unruly crowd at the Fat Tuesday Parade in Soulard threw bottles at police officers, toppled portable toilets and vandalized cars. Police sprayed them with Mace and arrested 34 people. More than 50 summonses were issued for underage drinking.
Later that year, Mardi Gras Inc., a group of business leaders and residents, took control of the festival. The group canceled the 2000 Fat Tuesday Parade and established rules to ban coolers and limit alcohol sales.
2000 • Mardi Gras happens with more restrictions and relatively few issues. "Last year there was the clash of the titans — a bunch of cops against a bunch of drunk idiots," bead seller Mike "Frog Catcher" Giasomo, told the Post-Dispatch at the time. "This year everyone is a lot more cool."
2002 • The St. Louis Mardi Gras Foundation forms to give back to the neighborhood year-round. It has raised more than $500,000. It's paid for or put money toward fencing around parks, permanent electrical access in Soulard Market Park, new trees, security cameras and more.
2003 • The Fat Tuesday Parade returned but moved downtown. About 20 floats and 1,000 people marched in the streets, throwing beads to crowds lining the curbs. Mayor Francis Slay and his wife, Kim, hosted the first Mayor's Mardi Gras Ball at City Hall, and proceeds go to the Mardi Gras Foundation.
2004 • Organizers decided to celebrate Mardi Gras' 25th anniversary. But then Brinkman, one of the founders, pointed out that their math was wrong.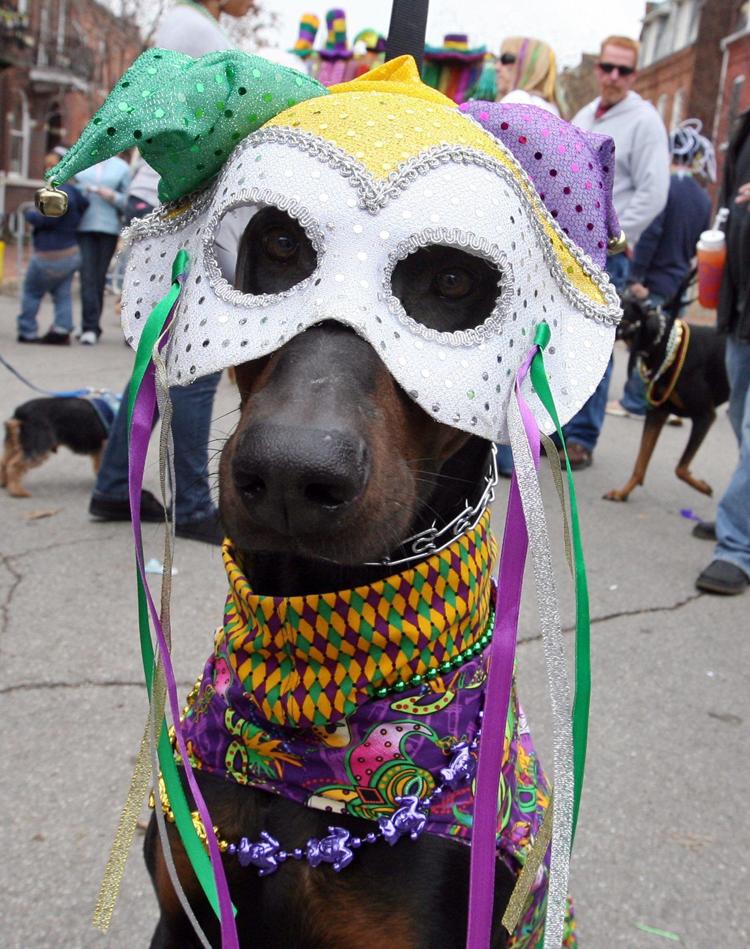 Harpo's in Soulard, which opened in the fall, was the site of the neighborhood's first Mardi Gras party in 1980.
2005 • Organizers definitely celebrate Mardi Gras' 25th anniversary. But their math is still wrong. It was actually the 26th anniversary.
2006 • Mardi Gras scheduled free outdoor concerts for the first time. Headliners included the Little River Band and Mini Kiss, a group of four little people who perform KISS covers. The festival footprint expanded east of Seventh Street to encompass the stage.
2012 • The Beggin' (formerly Barkus) Pet Parade broke the Guinness World Record for "most dogs in costumed attire gathered in a single location." With a count of 1,326 dogs, the parade more than doubled a record of 603 set in Japan. The Soulard record still stands.
2013 • A St. Louis County man was shot and killed by two St. Louis officers working off-duty as security at the festival. Police said Otis Roberson pointed a loaded gun at them and didn't drop it after being ordered to do so. The Bacon Brothers (Kevin and Michael) headlined the pet parade.
2015 • The Mardi Gras Grand Parade fell on Valentine's Day, making for a no-brainer of a theme: "All Things St. Valentine."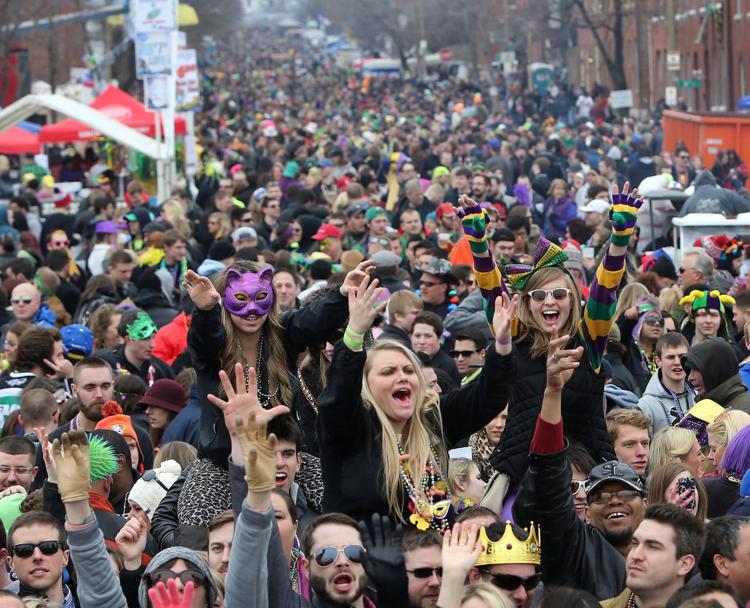 2016 • Organizers canceled the Fat Tuesday Parade, after it had wound through various routes downtown for more than a decade. Attracting crowds and participants on a weeknight had become too much of a challenge.
2017 • The space at 1017 Russell Boulevard, the site of the first Mardi Gras party, reopens as Harpo's, one of a regional chain. For several years, it was known as Hilary's and then Johnny's. Harpo's later closed its Soulard location after less than a year.
2019 • Barclay, the Blues hockey dog, was the first four-legged marshal of the Purina Pet Parade. And the new Bacchanalian Ball replaced the usual Wine, Beer and Whiskey Taste. Oh, and it's the Mardi Gras Grand Parade's 40th anniversary! Brinkman will be the grand marshal. And yes, organizers triple-checked their math.