Tracie Quackenbush's favorite job duty of the year comes Sunday: She gets to admire dogs and cats — and even fish and turtles — festooned in their finest Mardi Gras garb for the Purina Pet Parade in Soulard.
Even better? She gets to collect registration money to help the animals of Open Door Animal Sanctuary, which she directs.
"It's (more fun) when it's 70 degrees outside and sunny, but out of the 25 years I've been doing it, I think there's only been three or four really cold ones," she says.
The 26th annual parade is part of the annual Mardi Gras celebration in Soulard. Open Door Animal Sanctuary in High Ridge has been the parade's main beneficiary since the event's second year.
Quackenbush was a volunteer for the sanctuary back then, and its president at the time asked if she wanted to attend. "I went down there, and I had no idea what I was getting into," she says.
That year, the parade included about 300 dogs and was called the Mystic Krewe of Barkus. Since then, Purina has jumped in as a sponsor and organizer, naming the parade for its Beggin' brand of dog treats. This year, it's the Purina Pet Parade.
It's become Open Door's second-biggest fundraiser, bringing in up to $25,000 each year. Open Door is the largest no-kill shelter in the bi-state area, with its 400 or so dogs and cats in a mostly cage-free environment. The shelter also runs a food bank for people who can't afford to feed their pets and a low-cost spay-and-neuter program.
"We not only help animals — we help people," Quackenbush says. "We're funded solely by donations and requests and fundraisers, so every bit helps."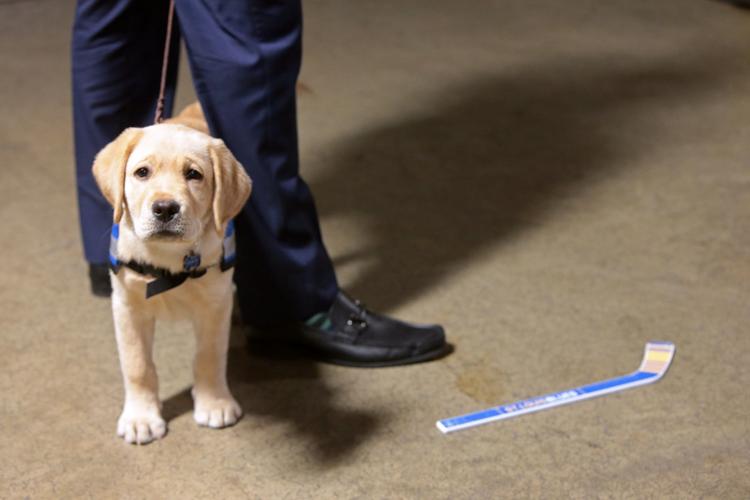 Each year at the parade, Quackenbush gives a speech about the mission of the sanctuary. Last year, she was even a grand marshal.
This year, one of the grand marshals is Barclay, a Labrador retriever being raised by the Blues hockey team to be a future assistance dog. He's the first four-legged marshal for the parade.
"That's OK," Quackenbush says of being ousted by a dog. "He can have the honor this year."
What Purina Pet Parade • When Registration at 10 a.m. Sunday at 12th Street and Allen Avenue; parade at 1 p.m. Sunday • Where Steps off at 12th Street and Allen Avenue, south to Russell Boulevard, east to Ninth Street, north to Lafayette Avenue, east to Eighth Street • How much $10 donation to register; free to watch • More info stlmardigras.org
What Wiener Dog Derby • When Registration at 10 a.m. Sunday at Ninth Street and Lafayette Avenue; races begin at 2 p.m. Sunday; registration available online • Where Soulard Market Park • How much $10 to race; free to watch • More info stlmardigras.org
What Taste of Soulard • When 11 a.m.-5 p.m. Saturday-Sunday • Where Participating Soulard restaurants • How much $25 for six food vouchers and one drink voucher • More info stlmardigras.org