Editor's note: This article has been updated to reflect the new date for Fete de Glace, which has been postponed to Feb. 6 because of inclement weather.
Ice sculptures are nice — when there are people around to admire them.
The gleaming works of art — staples of country club weddings, office holiday gatherings and fancy banquets — have had a bit of a tough go in the coronavirus era.
More than a dozen ice sculptures will take shape Feb. 6 at the Fete de Glace, an annual ice carving festival and competition on North Main Street in St. Charles. The festival was set for Jan. 30, but organizers announced it would be postponed due to predicted inclement weather.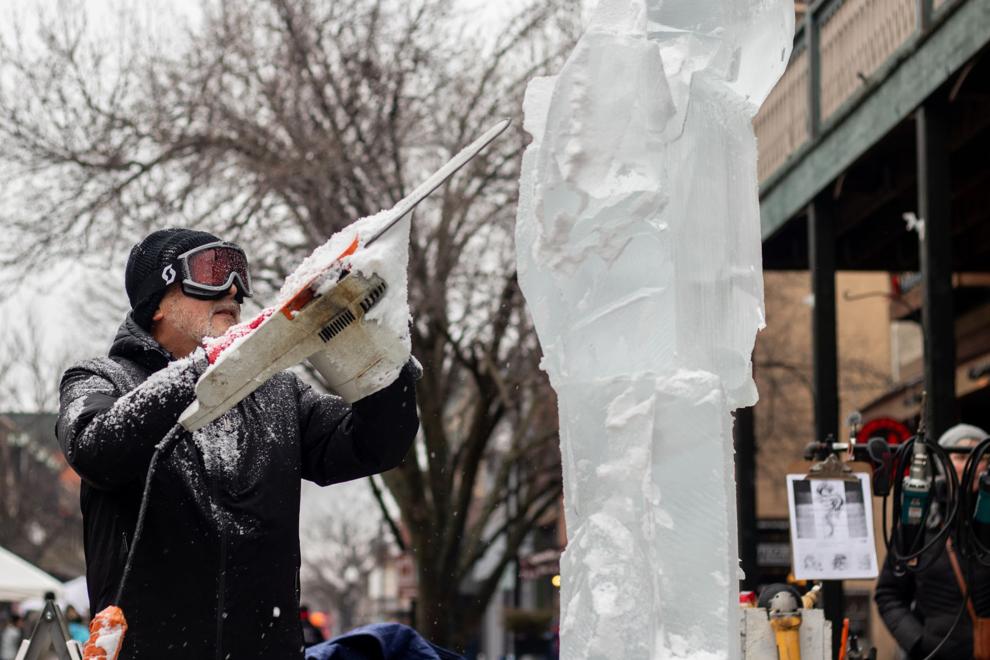 The event started in 1999 and is believed to be the first ice festival produced in the area.
The other popular ice festival, the Loop Ice Carnival, was canceled this year due to St. Louis city and county restrictions on events and the financial deposits required for the sculptures, which are planned months in advance. The sculptures normally sit outside Delmar Boulevard businesses to lure people inside for shopping and dining.
Other events with ice sculptures, ice bars and liquor luges, such as the Schlafly Cabin Fever Festival and Mardi Gras Mayor's Ball, also have been canceled.
Rose Wells, organizer of Fete de Glace and owner of Thro's clothing store on Main Street, says the company that used to provide the massive ice blocks used by sculptors has stopped producing them. Another company will provide the ice now.
"He's going to supply my ice this year, which is good, because they were in single digits counting how many ice blocks they've sold," Wells says. "The country clubs aren't doing them. You saw them at weddings. I talked to one carver, and he said, 'We've done three all year.' If that's what you do for a living, that's a lot."
The festival includes two events, in which carvers using chainsaws, chisels and blowtorches will create sculptures from 275-pound blocks of ice, 40 inches tall and 20 inches wide.
Starting at 10 a.m., four two-person teams will carve five blocks of ice into sculptures. They have until 1 p.m. to finish.
The second event starts at 1:30 p.m. Teams of nine carvers will sculpt a single block, and the sculptures must be finished by 3 p.m.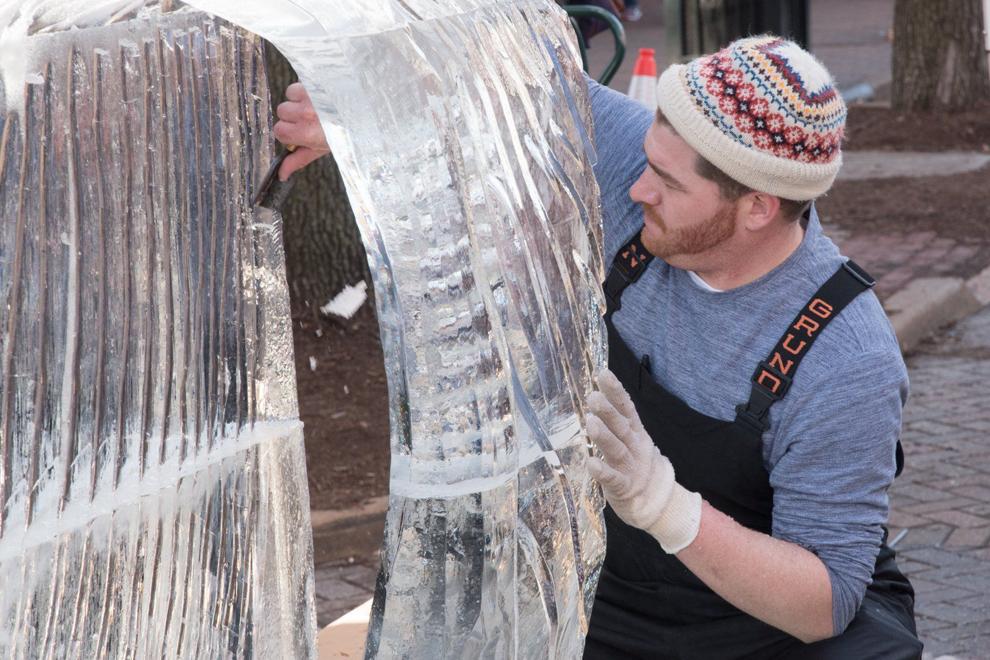 Spectators will vote for their favorites, and winners will be announced at 3:30 p.m. While people watch, they can warm up at an outdoor fire pit and visit stores and restaurants.
Wells hopes for a cloudy, chilly day — normally not great for business but great for keeping ice sculptures from melting. Face masks aren't required but are encouraged.
Naomi Hamamura, 67, has won several international ice carving competitions as well as the Fete de Glace. He's a chef at the St. Louis Club in Clayton and usually carves dozens of sculptures each year for events.
This year, he's sculpted one. He's not worried about rusty skills.
"I don't need to practice much," he says. "I've been doing it 40 years."
Art Phetsadasack and Brian Willis will carve as partners this year, working together to sculpt an eagle swooping into the water to capture a fish. Willis, of Granite City, is a chainsaw carver, but his usual medium is wood. Ice is much easier for him.
"I have to slow myself down with the ice because the wood carves a certain way," he says. "You've got the grain you have to worry about, whereas with the ice, the saw just goes right through."
He said the pandemic hasn't hurt his wood sculpture business much, aside from not being allowed inside some parks in the summer to carve tree stumps, and the cancellation of some festivals, where he does demonstrations.
He likes the interactive element of Fete de Glace. "That's the neat part about it," he says. "Everybody can sit and watch us make snow cones."
Phetsadasack is a chef at the Regency conference center in O'Fallon, Illinois, where he would carve the occasional sculpture for a wedding or banquet. Now, the venue focuses on smaller meetings or drive-thru meal events.
He considers ice carving more of a hobby and the festival a chance to shine.
"It's just being outside and getting away from work," he says. "It's contributing to the work of art — ice carving. There's not a whole lot of that going on. It's a little token, to just be out there and showing people what you can do for the ice."
What Fete de Glace • When 10 a.m.-3:30 p.m. Feb. 6 • Where North Main Street, St. Charles • How much Free • More info discoverstcharles.com
---
Ready to hit the ice? Here's your guide to area rinks