This article was originally published in April 2017, before Nichols appeared at Wizard World St. Louis Comic Con. Nichols died July 30, 2022.
---
"This isn't reality. This is fantasy."
Indeed, when "Star Trek" premiered in 1966, the idea of a powerful, proficient black woman as a crew member of the starship Enterprise might have seemed like fantasy to the audience. But more than 50 years since then, the show's vision of a future of equality has moved closer to reality.
Actress Nichelle Nichols blazed a trail through the stars for African-Americans, playing Uhura in "Star Trek" on television and the big screen for decades.
Nichols has kept busy in recent years, whether visiting President Barack Obama in the White House in 2012, guest-starring in "The Young and the Restless" in 2016 or making countless appearances at sci-fi conventions.
Nichols answered a few questions from Go! Magazine by email. This interview has been edited for length and clarity.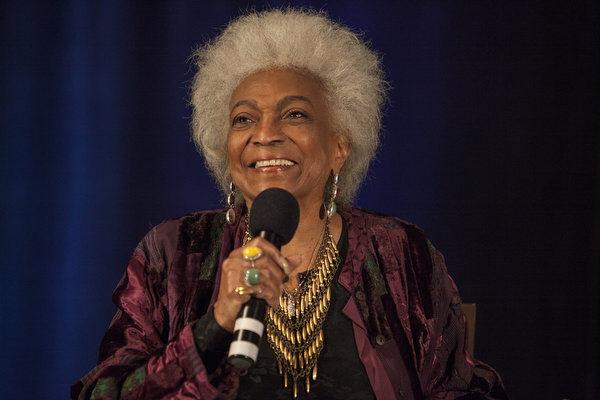 Q • You suffered a stroke in 2015. How are you doing?
A • I've been pretty darned well, if I do say so myself. I took a bit of a break from traveling, but I knew when I was starting to get stir-crazy at home that I must be feeling better.
Q • What do you look forward to about shows such as Wizard World Comic Con?
A • My favorite part of all these shows is the fans. The fans are the reason shows like "Star Trek" exist to this day, and that excitement and energy is what keeps me going.
Q • Like me, my kids are big fans of "Star Trek." They wanted me to ask: Did you face backlash from having such a prominent TV role as a black woman in the 1960s?
A • You know, I've been asked that a lot, but the answer really is no. Maybe it's because of the space I was in — Hollywood in the 1960s — but I was treated with nothing but professionalism and respect. The tone was really set the first time I met (series creator) Gene Roddenberry. I was treated like everyone else, and I just thought that was normal.
Well, there was one time. ... One day, driving to the studio lot, the security guard didn't want to let me through to the sets. He was trying to push me toward guest check-in, not believing I was one of the prime-time actresses. But the producers sorted that out quickly.
Q • Some of my favorite Uhura scenes were those where you got to sing. What was it like jamming with Spock?
A • Some of my fondest memories. What an amazing, genuine and talented man.
Q • Your character, like those of Sulu and Chekov, was never given a first name during the original show. I understand you liked the name "Nyota," which was used onscreen for the first time in the 2009 reboot film. How did that name come about?
A • Uhura is a little play on the name Uhuru, which is Swahili for freedom. I loved that name, as it helped connect the character to her African roots, and Freedom fit the role and story so well. Nyota is Swahili as well. It means star. Star Freedom — I thought it was clever.
Q • Many folks may not realize that you made major contributions to space exploration beyond your acting roles. Tell me about helping NASA recruit women and minority candidates for the space shuttle program.
A • NASA approached me in the 1970s with an issue — that they weren't getting minority applicants for the space program. I knew there were the right people out there, but they probably just didn't feel like they'd have a chance applying because there was no one who'd ever done it before. I agreed to help them as a spokesperson on the promise that when I found the women and minorities who were every bit as qualified as their current recruits, they would take them in. This couldn't just be a PR stunt. I wanted to see them in space. We all did.
And they were true to their word. Sally Ride, Mae Jemison and NASA director Charles Bolden were some of the recruits I helped find and bring in.
Q • So many black women were empowered by your performance as Uhura. How do you see the legacy of "Star Trek" and your own legacy as a trailblazer?
A • I was an actress doing my job, at the end of the day, but I am inspired by these amazing people who saw something in my performances, and in Gene Roddenberry's vision for the future, and decided to let their own inner stars shine.
Q • In the 50 years since "Star Trek" imagined a better future, there has been progress on social issues. But recent events, such as police shootings in Ferguson and elsewhere, show that there's still a long way to go. What's your take on the state of civil rights?
A • I take a very optimistic view. I think things are vastly better than they were. There is more scrutiny on the remains of injustice and bias that is still out there that will eventually help wash it away. We just have to not let it tear us apart in the meantime, from either side.
Q • In 2012, you visited President Obama in the White House. Did you ever imagine there would be a black president? Was he a "Star Trek" fan?
A • He certainly was! I don't know which of us was more of a fan of the other. What an amazing experience and one I'll cherish forever.
I knew there would be a black president but was pleasantly surprised it happened so soon. What an amazing indicator of how far we've come.
Q • Do you worry about President Donald Trump's plans for the arts and space exploration?
A • There have been ups and downs throughout my lifetime in the government's attitude toward space exploration. I see hope in the president's interest in deep space exploration but cannot get behind the arts budget cuts. Simply too deep.
Q • The new show "Star Trek: Discovery" is the first installment of the franchise to have a black woman as the lead character. Have you met Sonequa Martin-Green? Do you have any interest in appearing on the show?
A • I have not yet (met) Sonequa but am absolutely looking forward to the opportunity. If there's a role that the producers and I think would be a good fit for an appearance, I'm absolutely open to discussion.
A • I was pretty surprised by the Emmy nomination, but I knew the role had gone over well from the response of fans after it aired. I'm very, very honored and glad I had the opportunity to be recognized like this at this stage in my career.