Bundle up and fall in line, St. Louis. Actually, don't fall. That could hurt. 
And as for the lines, you can etch them into the ice, outside in the elements. There's no shortage of outdoor ice rinks at which to do that this holiday season. Think "Ice Castles" — or at least "A Charlie Brown Christmas."
Along with the usual ice complexes and recreation centers that offer public skating times, three new temporary outdoor ice rinks are opening for the season:
• A rink with a synthetic surface opens Dec. 27 at Luther Ely Smith Square, between the Arch and the Old Courthouse.
• At Union Station's Glacier Park, which includes snow tubing and other holiday attractions as part of Holidays at Union Station.
• Among the 700,000 holiday lights and under the Budweiser sign at Anheuser-Busch Brewery.
So if you don't regularly go ice skating, or have never ventured forth before, now is the time.
We're focusing on St. Louis' outdoor rinks, including two covered by pavilions but still open to the elements.
Steinberg Rink in Forest Park is the only permanent outdoor rink that's dedicated to public skating sessions, so there's no competition with hockey leagues or closings for private parties. At 27,600 square feet, it's the largest outdoor rink in the Midwest, says Anne Kasal, an owner at the rink.
Kasal remembers coming to Steinberg's opening day nearly 50 years ago; the building maintains its mid-century appeal.
Many baby boomers love skating at the rink because they've done it all their lives, she says. People can enjoy a bonfire with a beer and skate under the rink's light canopy.
"There's something about skating outside in the park with all the trees around," she says. "You wouldn't even know you're in the city."
Since Steinberg is open on Christmas Eve, Christmas Day, New Year's Eve and New Year's Day, families who don't have a lot of visiting relatives can enjoy a skate. And if you have family in town, it's a good place to get everyone out of the house, she says.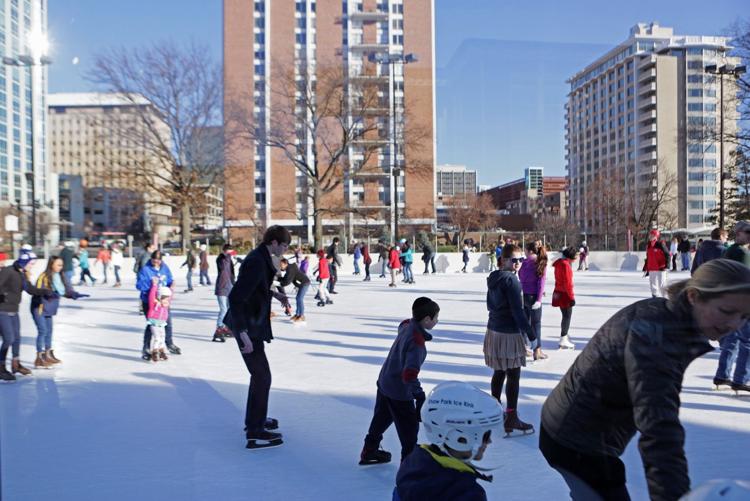 Shaw Park Ice Rink, set between the trees of Shaw Park and the buildings of downtown Clayton, is 55 years old. It's set up for hockey and also offers bonfires on some nights.
"To me, it's like a winter memory," facility supervisor Patrick Magee says. "You go out there and skate outside, you bundle up. Some of the advantages are more or less the atmosphere, as opposed to being indoors in a temperature-controlled rink."
The Meadows shopping center in Lake Saint Louis has a temporary ice rink that's in its third year of operation. It's the only outdoor rink in St. Charles County, with all hours dedicated to public sessions. It's open on Christmas Day and New Year's Day.
"Literally, it's a day full of activities when you come here," says Jae Marbury, marketing director for the shopping center. "You can do your holiday shopping, you can go eat, you can also do your horse and carriage rides. The community absolutely loves it."
Florissant and Granite City have municipal ice rinks that are outdoors but covered by pavilions. They share the ice with hockey teams, so their public skate sessions are limited.
Granite City's rink celebrates its 50th anniversary this year. A covered rink has its own benefits, says facility manager Justin Brinkmeyer. "If it is raining or snowing, you're still kind of covered. Being covered, it does help because the sun's never directly on the ice."
Warmer outdoor temperatures still present a challenge, like at any other outdoor rink, he says.
Brendan Kane, Florissant's facilities director, says their rink offers a unique atmosphere. "If you're indoors, it's kind of a cookie-cutter thing. It looks the same. Being outdoors, cars drive by, and you're out in the elements. We have tournaments and people come in, and they love it. There's not many like it."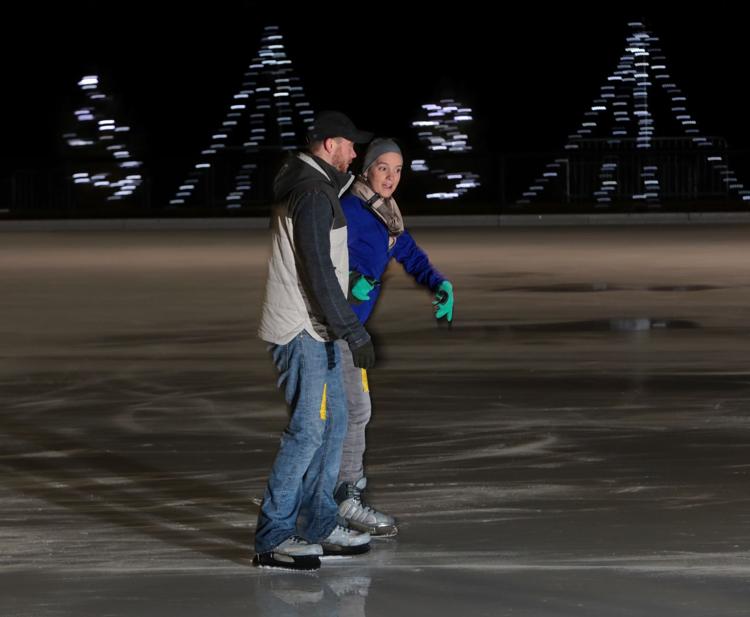 ---
Lace up those skates
Here's a guide to outdoor rinks in the St. Louis area. Call ahead or check their websites for info on public skating times, admission, skate rental, party rentals and lessons.
Florissant ice rink
This rink, covered by a pavilion, offers free skating sessions for Florissant residents. Where 1 James J. Eagan Drive, Florissant • More info 314-266-7335; florissantmo.com
Granite City Ice Rink at Wilson Park
This Granite City staple has been around for 50 years. A pavilion covers the ice but allows you to skate in the elements. Where 2900 Benton Street, Granite City • More info 1-618-877-3059; park.granitecity.com
Shaw Park Ice Rink
For more than 50 years, skaters have taken to the ice between the trees of Shaw Park and the buildings of downtown Clayton. Where 217 South Brentwood Boulevard, Clayton • More info 314-290-8595; claytonmo.gov
Winter Fest Ice Rink at the Meadows
This temporary rink is in its third year of operation and is on the grounds of the Meadows shopping center, where you can also eat and dine. Where 21 Meadow Circle Drive, Lake Saint Louis • More info 1-636-695-2626; themeadowsatlsl.com/icerink
Glacier Park Ice rink at Union Station
After you skate, grab a tube and slide down an "arctic hill." Take in a fire and water show, and visit Santa's Workshop and other attractions inside Union Station. Where 1820 Market Street • More info 1-877-892-7785; holidaysatunionstation.com
Bud Light Ice Rink at Anheuser-Busch Brewery
Take a free walking tour, enjoy the holiday lights on the brewery grounds, sample beers (if you're of age), and warm up with hot cocoa or kettle corn before taking to the ice. Where 1200 Lynch Street • More info 314-577-2626; brewerylights.com
Winterfest at the Arch
Skate on this synthetic ice surface and take part in a free ice clinic, a whiskey tasting or a family-friendly New Year's Eve party. The attraction is open Dec. 27 through Jan. 8. Where Luther Ely Smith Square, between the Arch and the Old Courthouse downtown • More info 314-881-2015; archwinterfest.com
Steinberg Skating Rink
Enjoy all-day admission at the largest outdoor ice rink in the Midwest. Cash-only, but an ATM is available. Where 400 Jefferson Drive, Forest Park • More info 314-361-0613; steinbergskatingrink.com