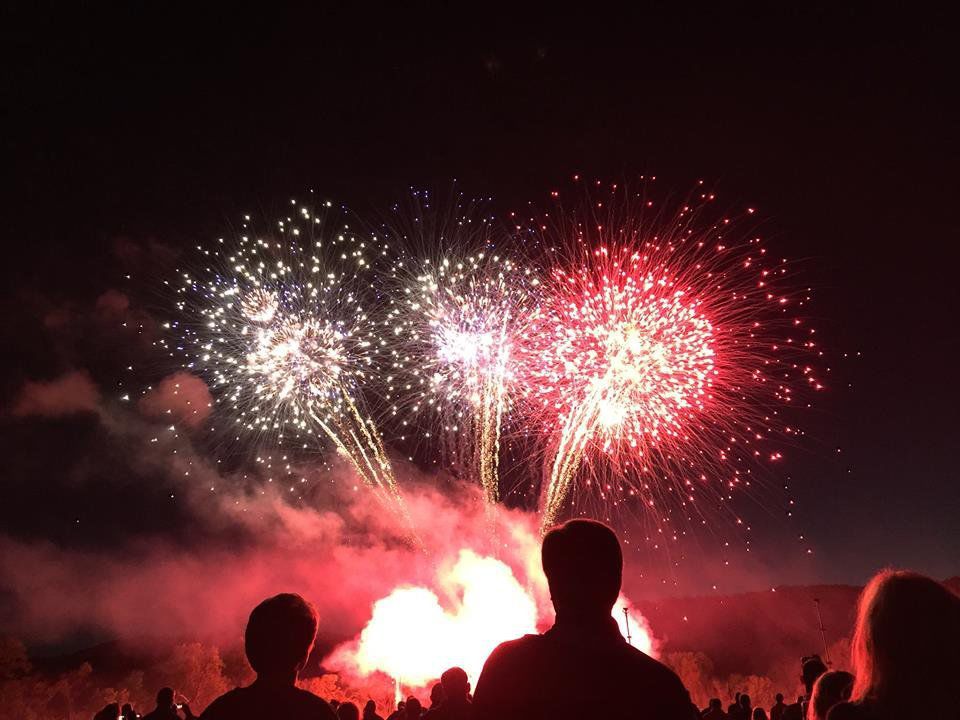 'Pyromania" is not your average fireworks show. For one, the show that the Missouri Pyrotechnic Association will put on Saturday at Cedar Lake Cellars in Wright City is much, much larger.
Organizer and professional pyrotechnician Rob Cima puts things in perspective:
"The average fireworks display that you might see in a town on the Fourth of July might have two to four pyrotechnicians working on it. We're going to have over 150 pyrotechnicians from 20 states in working on this event."
Carl Bolm, the proprietor of Cedar Lake Cellars, says he was blown away when his winery hosted the event for the first time last year. He describes the experience as the Fourth of July "times 10."
"I've never seen anything like this," he says. "I'm in my mid-50s, and I've seen a lot of fireworks shows, and this one tops them all."
These pyrotechnicians will create various explosions throughout the 2½-hour show, including traditional fireworks displays, a 500-gallon gasoline fireball and the event's centerpiece, the pyro-musicals.
"A pyro-musical is where each firework is precisely timed to create what we say is a 'concert in the sky,'" Cima explains. "So down to the hundredth of a second, it's precisely timed with the music."
Three teams from across the country will display pyro-musicals in what Bolm calls "the World Cup of fireworks." Cima and Bolm both expect well over 5,000 spectators when the trophy is awarded.
That kind of crowd is new for "Pyromania." Though the fireworks have always been big, the surrounding event has not. When it started 13 years ago, "Pyromania" was just a gathering of a group of professional pyrotechnicians and enthusiasts who met on a now-defunct messaging board called "PyroUniverse."
"They would meet to talk about techniques and good products and what works and what doesn't work," Cima says. "And then eventually they said, 'Hey, we should all get together.'"
Over the years, the gathering grew until it needed a large, permanent home to accommodate the pyrotechnicians and their audience. Cima reached out to Bolm, whose Cedar Lake Cellars and its 380 acres of event space provided the perfect location.
This year, Bolm's staff is also taking care of all of the operations, making the non-fireworks side of "Pyromania" more professional than ever, Cima says.
"We're great at putting a beautiful show in the air; we're not so good at parking and making sure that there's enough food and drink for people," he says. "And that's where they (Cedar Lake Cellars) excel."
According to Bolm, one of the biggest additions to the event is a family festival area, which includes face-painting, food trucks, basketball and obstacle courses to make the normally 21-and-up winery more child-friendly.
"We're working with (the Missouri Department of Transportation), we're working with the local community," he says. "We've taken the entire operations to another level."
With the new infrastructure in place, Cima jokes that he thinks there's now only one drawback to "Pyromania."
"Unfortunately, it's going to ruin the Fourth of July fireworks for you," he says.
What "Pyromania" • When 4 p.m. Saturday • Where Cedar Lake Cellars, 11008 Schreckengast Road, Wright City • How much $40 • More info pyromaniaevent.com
Jon Lewis • 314-340-8104
@jlewis5211 on Twitter