Great things are happening in St. Louis, so why not throw a parade and tell as many people as you can?
This is the thought process behind the Veiled Prophet Organization, the host of the 135th VP Parade, which will roll through downtown Saturday morning.
The VP Parade is 22 years older than the Tournament of Roses Parade and 46 years older than the Macy's Thanksgiving Day Parade.
Last year, organizers secured a trademark for "America's Birthday Parade." That's the name that appears in television listings for the parade, which will be seen in even more households across the country this year.
Two years ago, it was broadcast in just five markets. Last year, it expanded to 29 markets, reaching 15 million homes. This year, it will be seen in 61 markets, reaching about 30 million homes, says Jim Hetlage, the grand marshal of the parade.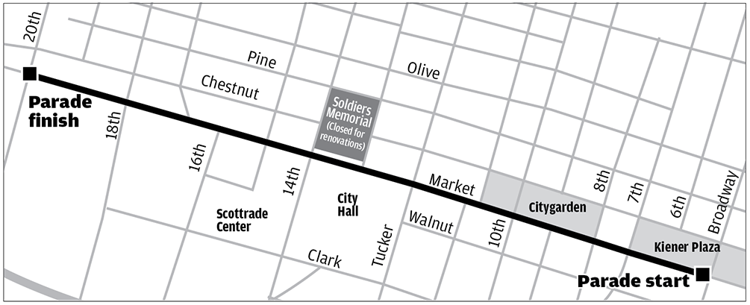 "We've always considered the VP Parade to be our gift to the city of St. Louis," says Hetlage, who started volunteering with the parade 20 years ago by manning a street barricade. "We see this also as a vehicle to spread good news about St. Louis and the St. Louis region across the country."
Indeed, this year's parade theme is "Great things are happening!" The parade's 17 professionally designed floats, many with choreographed performances, will highlight themes such as jazz in St. Louis, the Muny, the trolley in the Loop and Route 66. A jazz-on-the-bayou-themed float can be seen as a nod to the parade's early days, when the first floats, purchased by a group of St. Louis businessmen, were carried by steamboat up the Mississippi River from New Orleans.
The parade was a nighttime event back then, lighted by torches and lanterns.
This year the parade starts at the newly renovated Kiener Plaza and travels west on Market Street to Union Station.
Fourteen high school marching bands, most of them local but one from Iowa and another from Minnesota, will compete for $10,000 in prizes in the Liberty Drum Challenge.
This year's honorary grand marshal is U.S. Air Force Maj. Gen. John C. Flournoy Jr., chief of staff of the U.S Transportation Command.
While the parade draws big crowds, Hetlage hopes the nationwide marketing push will help people decide to make St. Louis a July 4th destination.
"By putting on what we hope will truly be a national parade, we think that can increase tourism in the city," he said.
---
What VP Parade • When 9:30 a.m. Saturday • Where West on Market Street from Broadway to 20th Street • How much Free • More info americasbirthdayparade.com