On April 12, Jones will open in another show at Stray Dog. He's playing the title role in Andrew Lloyd Webber's "Jesus Christ Superstar."
And one day, he says, he'd love to play Aaron Burr in Lin-Manuel Miranda's musical theater masterpiece about the American Revolution. In "Hamilton" — which opens Tuesday at the Fox Theatre — the historically white characters are played by black, Latinx and Asian performers.
Coalhouse Walker, a ragtime pianist in New York around 1900, must be played by a black actor. "Ragtime" is all about the way that different racial and ethnic groups collide or coalesce in America; a white Walker would turn the story into nonsense.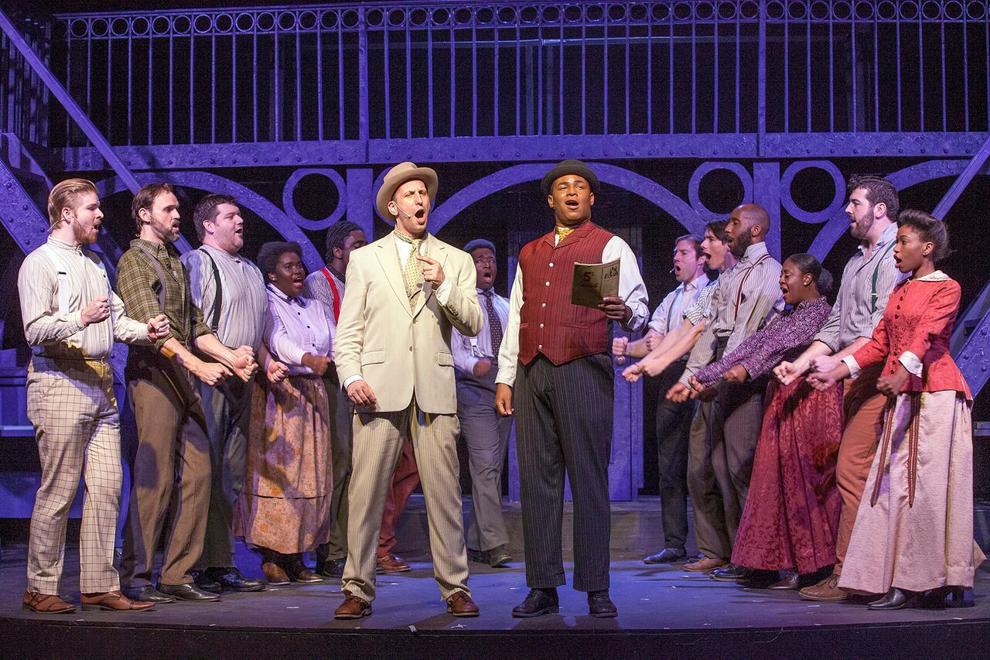 NEW YORK • Most Easter Sundays, you can find John Legend at home, helping cook a big dinner …
"Superstar," on the other hand, belongs to that large group of shows in which race is no factor at all. In this production, Jesus is black, and Judas (Phil Leveling, who played the prosperous Father in "Ragtime") is white.
The practice of filling roles with actors who don't usually get to play those parts is known as "colorblind" or "nontraditional" casting. (Sometimes gender is freed up, too. In Stray Dog's "Superstar," for example, the role of Pontius Pilate will be played by a woman, Lavonne Byers.)
But often, casting is not truly blind; departures from tradition are intentional. Recent and current shows reveal many ways to handle race consciousness in casting. Let's call them who-cares, mandated, confusing and deliberate.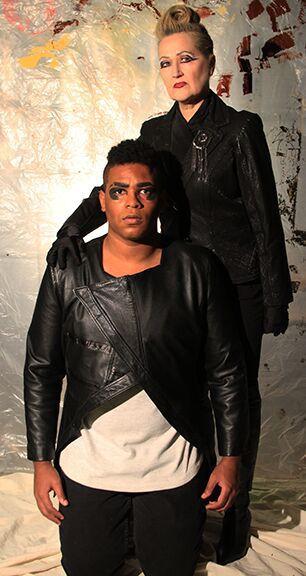 Who-cares
This works beautifully for shows in which race has no bearing. It includes most classics (maybe not "Othello") and most musicals, such as "Superstar," the recent production of "Anything Goes" at New Line Theatre and just about everything at the Muny.
Did William Shakespeare picture Paulina as a black woman or Ophelia as an Asian one? Probably not, but does that matter? We didn't see these plays in 17th-century London; we saw them in 21st-century St. Louis. The circumstances and demography of the audience have altered entirely since they debuted, and it's appropriate to reflect that onstage.
Joe Papp, founder of New York's Public Theater, helped accustom audiences to nontraditional casting with his immensely popular Shakespeare in the Park productions. (The Public is also where "Hamilton" premiered.) Shakespeare in the Park performances — like most classics and musicals — are so stylized, so frankly not-real, that they exist in worlds of their own. No reason those worlds need to be as race-conscious as ours is.
"Who cares" also takes in the casting of minority actors in roles in which race is insignificant. For example, in 1998 the Black Rep presented "I'm Not Rappaport," a comedy about the friendship between two elderly men, one black and the other Jewish.
There are also small roles for other people, a snooty man who owns a co-op and a pretty, young woman. As a rule, they are played by white actors; at the Black Rep, they were played by black actors.
"Usually that man is a yuppie; we made him a buppie," Ron Himes, who co-starred in "Rappaport" with Wayne Salomon, said at the time. "What's the difference?" Himes is also the troupe's founder and producing director.
"If we accept that to come to the theater is to suspend reality, we should be able to accept a person of color in those roles as much as any other."
Besides, he added: "It is not solely an issue of casting. It is about being able to represent the whole cultural landscape. If you are doing work by black or Asian or Latino writers, then there certainly will be parts for actors who are black or Asian or Latino.
"Actors of color need to be able to work in both ways — in culturally specific plays and in nontraditional casting. I don't want one to exist at the expense of the other."
Mandated
Does anybody want to see a white woman play Celie in "The Color Purple," which just played the Fox Theatre? Yes, it is a musical — but one so rooted in the experience of American black women in the 1930s that it compels race-conscious casting.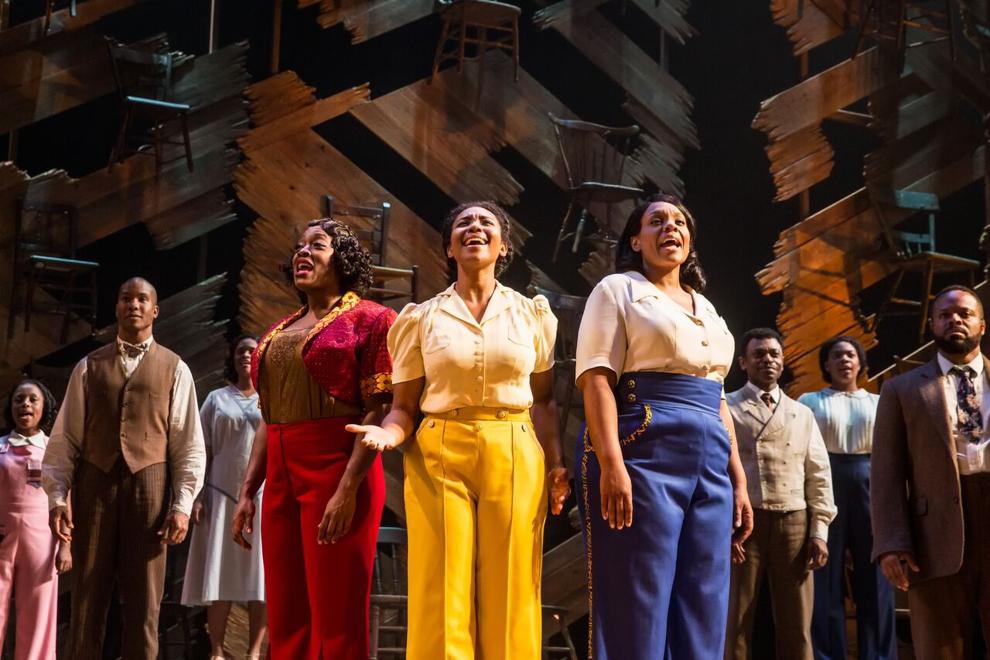 Similarly, "Caught," which just closed at the Rep's Studio Theatre, demands an Asian actor to play a dissident Chinese artist. Kenneth Lee brought the character to life. Suppose the artist had been played by, say, Jim Butz — a fine actor too, but a white man. The audience would have been baffled at the director's intention, or perhaps genuinely offended.
Omega Jones — who ended his acceptance speech at the Circle awards with the shout-out "Wakanda forever!" — has little patience with white actors who complain that they won't be considered for certain parts, from "A Raisin in the Sun" to "Hamilton."
"They have the entire repertory (of theatrical literature) at their feet," he said. "Throw a dart, take a part! But I can't do that." Furthermore, he's unimpressed by the "tokenism" of casting directors who assign minor roles to one or two black actors "to make themselves feel good.
"That's just pandering," Jones said.
Confusing
"Born Yesterday," the political comedy on the Rep's Mainstage, is set in Washington, D.C., in 1948. The whole production takes great pains to establish the time and place, from Lou Bird's gorgeous period costumes to the lavishly stocked sideboard for cocktails to the "correct" style of telephone on a table beside the sofa.
Into this scene step a corrupt senator and his wife. The senator is a distinguished-looking white man. His wife, also distinguished and elegantly attired, is black.
Seriously? Could a white man married to a black woman in 1948 have had any kind of a political career, let alone make a successful run for the Senate? Nor would it have helped much to cast a distinguished-looking black actor as the husband; the first post-Reconstruction Era black senator, Edward Brooke III of Massachusetts, wasn't elected until 1966.
Gina Daniels gave a pitch-perfect performance as a proper senator's wife, but her physical presence was enough to take you out of the play. (One theatergoer said that he thought corrupt Sen. Hedges would turn out to be a "good guy" because of the progressive attitudes his marriage implied. This is not the case.) It violated the terms of time and place that the production worked hard to establish in every other respect.
On the other hand, black actor Randy Donaldson was a treat as a crooked businessman's loyal longtime assistant. The assistant's race has no bearing on American postwar politics, and Donaldson is a charmer.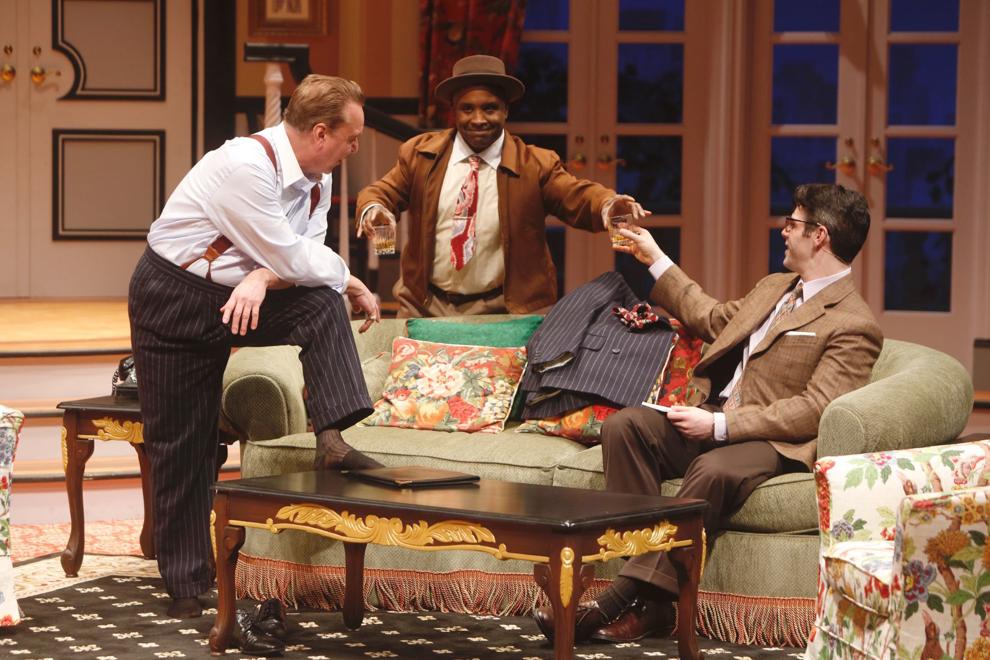 Deliberate
"Hamilton" exerts such a monumental force on the current theater scene that many observers have tried to parse the elements that make it a great show.
The music, which Lin-Manuel Miranda composed, ranges widely, from hip-hop to Broadway show tunes, from martial themes to jazz. The lyrics, which Miranda wrote (and which comprise the script of this sung-through show), are brilliant: packed with narrative, rich in word play and at times searingly painful.
But the first thing that really caught people's attention was the casting.
No one had ever seen anything quite like it.
Miranda, who is Latino, played the title role himself. Most of the other leading roles — Burr, Washington, Jefferson, Lafayette — were played by black actors. An Asian-American actor played Hamilton's wife, and her sister Angelica was played by a black actor. There are white members of the ensemble as well, and a white actor played King George.
The extra kick: All the characters they played were once real people, drawn from the pages of American history books. And all of those people were white.
Why the change? Miranda lets George Washington explain, when the president tells his trusted aide that you can't control "who tells your story." That's so. But Miranda's telling comes from quarters that haven't always been audible.
The point of view has impressed a lot of theatergoers, Tony voters and political pundits both left and right. They loved the show from the start, not only for its exciting music and dance but for its sweeping, inclusive vision of America.
Variously playful and poetic, political and passionate, the words of Lin-Manuel Miranda demand your attention.
Not everyone, however, was thrilled. In 2016, a casting notice for "Hamilton" led to a brouhaha when many people — mostly actors but also a civil rights lawyer — said that the call for "nonwhite" actors was repugnant and possibly illegal in New York.
The labor union Actors' Equity, which had posted a notice about the audition, said that excluding an actor from auditions because of sex, race, religion or other factors conflicted with the organization's advocacy of equal employment opportunities.
But Equity further explained that casting notices often do indicate race (or gender, or age) "because this reflects authorial intent."
And Miranda's intent could not have been clearer.
"Hamilton," wrote Jeremy McCarter in the essay that opens "Hamilton: The Revolution," a book he authored with Miranda, "changes the way that Broadway sounds, alters who gets to tell the story of our founding, lets us glimpse the new, more diverse America rushing our way."
It is an arresting vision, particularly the vision of George Washington — unmistakable in his dignity as well as in the blue jacket of the Continental Army — when he arrives onstage to a chorus of "Here comes the general!" And he is a black man.
Obviously, the historic Washington was a white slave owner. But theater is not history, as any student of Shakespeare can tell you. It's a version of history, a version mediated by the kind of authorial intention that Actors' Equity, and generations of theatergoers, acknowledge without reservation.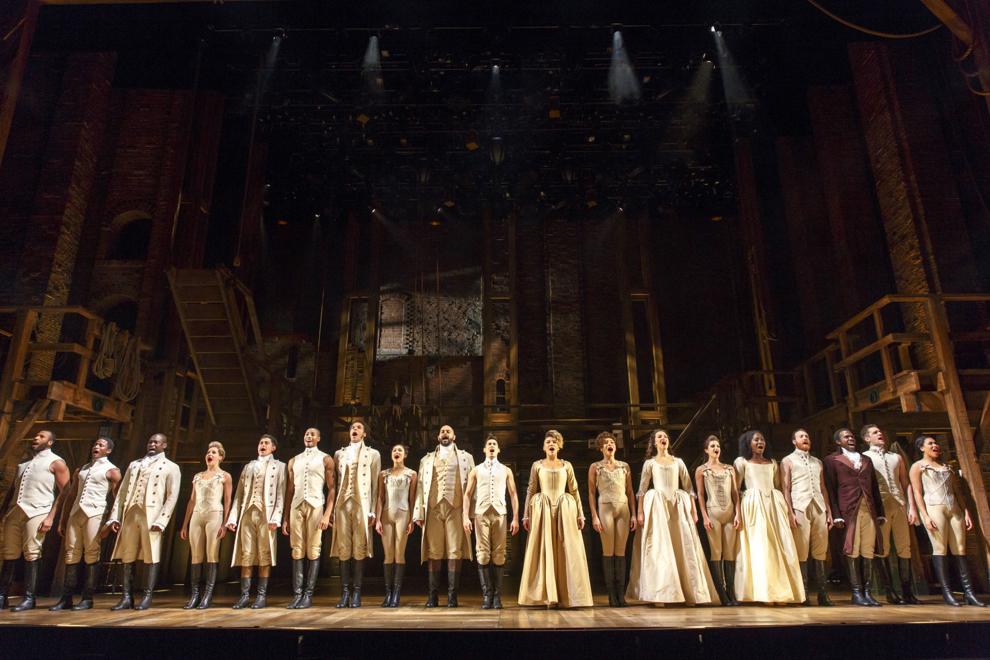 Washington has been played by actors who bore little physical resemblance to him, and no one objected; no one objects when he's portrayed by a 7-year-old in a school pageant. Here, the deliberate decision to have nonwhite actors play him and the other characters in "Hamilton" makes a lot of sense when you think of it in those theatrical terms.
It's not biography; it's art. And the visual surprise of the "Hamilton" ensemble makes that artistic statement as vivid as a box of crayons.
Miranda has described "Hamilton" as America now talking with America then. The demographics, like the music, have changed. The generous ideals are shared, though. The show's deliberately nontraditional casting uses black and brown performers to tell a thrilling story of red, white and blue.