More than 100 years ago, women in long dresses, men in silk hats and students parading with flags gathered proudly in Forest Park to celebrate.
The nation's first Jefferson Memorial, sheltering a 9-foot-tall marble statue of a great Founder, was finished. Some schools and businesses closed for half a day to mark the happy occasion — a monument to the third president built with money from the 1904 World's Fair.
The fair itself, of course, had honored the president's acquisition of the Louisiana Territory, including the city of St. Louis and the future state of Missouri.
In a dramatic moment, a large U.S. flag was pulled off the statue.
"Behold one of the immortals," David R. Francis, the fair's director, said at the unveiling on April 30, 1913.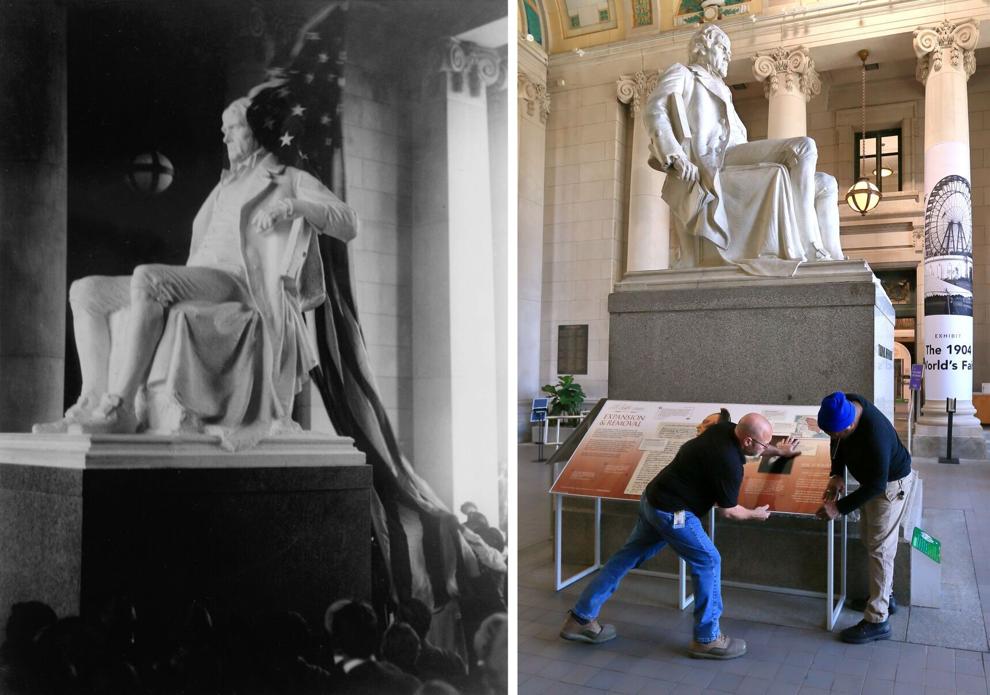 In the 21st century, those formerly glorious achievements and the primary writer of the nation's Declaration of Independence are, if not tarnished, now held up to a different level of scrutiny.
In modern parlance: "It's complicated."
Thomas Jefferson's name is still carved on the building, but it's now better known as the Missouri History Museum. His statue by Karl Bitter remains, but on Tuesday it acquires interpretive panels, which explain that the president fathered at least six children with a woman he enslaved.
The panels also depict land he bought from the French as the longtime home of Americans whose presence was inconvenient to white settlers. These Native Americans would be fought, killed or eventually removed to reservations.
"Should the Louisiana Purchase be celebrated?" one new 6-foot-long panel asks. Another says: "Can we still be moved by the words of Jefferson but horrified by his actions?"
The panels, two years in the making, are part of the nation's ongoing efforts to publicly reckon with flaws in men idealized as "immortal" heroes through monuments, statues, signs and the like.
The new panels show "a better history," said Peter J. Kastor, a history professor at Washington University and a museum trustee. "Times change. It was not only necessary and urgent, but a tremendous opportunity."
Kastor was part of an advisory committee for the panels, a project that also included input from at least 100 reviewers, including high school students.
Some thought the statue should be removed; others thought panels should focus on Jefferson as an accomplished leader. But most agreed with a more rounded view, said Jody Sowell, managing director of public history at the Missouri History Museum.
National criticism of some monuments often notes that they belong not in a public park, but a museum. Well, the Jefferson statue is in a museum.
"We long for heroes," Sowell said. "We long for people to hold up on a pedestal. But visitors would rather be told the whole story and know the 360-degree view of these historic actors."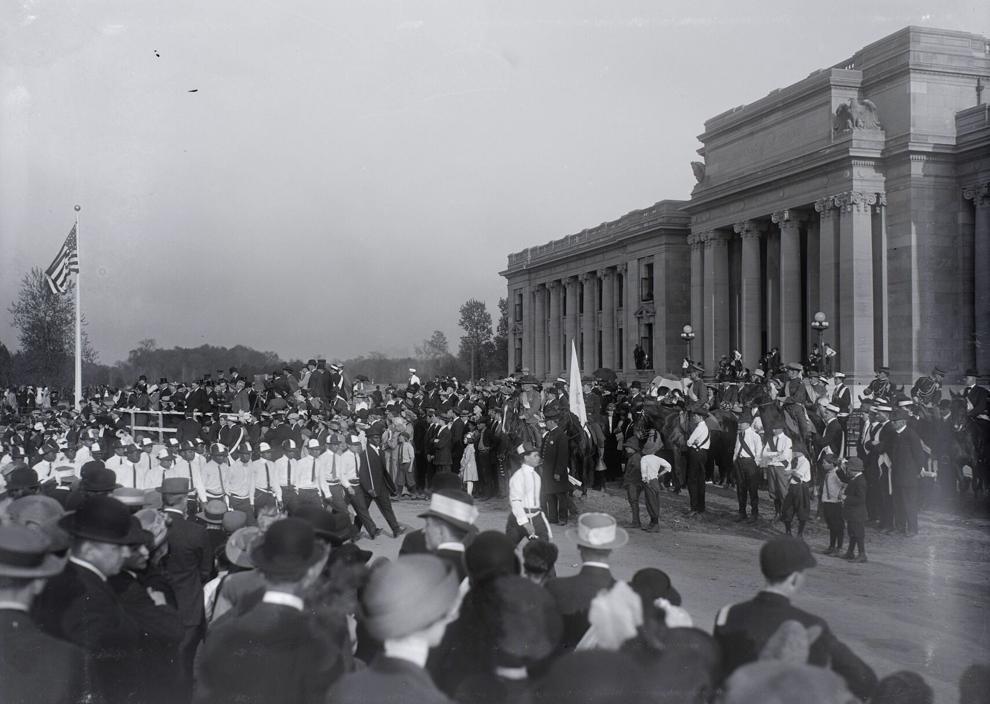 Always controversial
"Jefferson was controversial pretty much all of his public life," historian Annette Gordon-Reed said last week while giving a speech at Washington University. The author of the Pulitzer Prize-winning book "The Hemingses of Monticello," Gordon-Reed talked about how views of the president evolved over 250 years.
He was hated; he was loved. His idea on the separation of church and state made critics see him a dangerous atheist, Gordon-Reed said. "Some people buried their Bibles because some were afraid Jefferson would take them."
He condemned slavery in the first draft of the Declaration of Independence, but the passage was removed. Likely, too many colonists, including Northerners, had profited from it. During his life, Jefferson owned more than 600 enslaved people himself.
Although even some contemporaries knew he had fathered children with Sally Hemings, an enslaved woman 30 years younger, his white family members continued to deny that the pair's four adult children were Jefferson's offspring. The children, whose heritage was seven-eighths European and one-eighth African, were legally "white." But they had been born into slavery because their mother was enslaved.
It wasn't until 1998 that DNA testing confirmed Jefferson as their father, and not until 2018 that the Thomas Jefferson Foundation introduced a new Hemings exhibit at Monticello, calling paternity of her offspring "settled historical matter."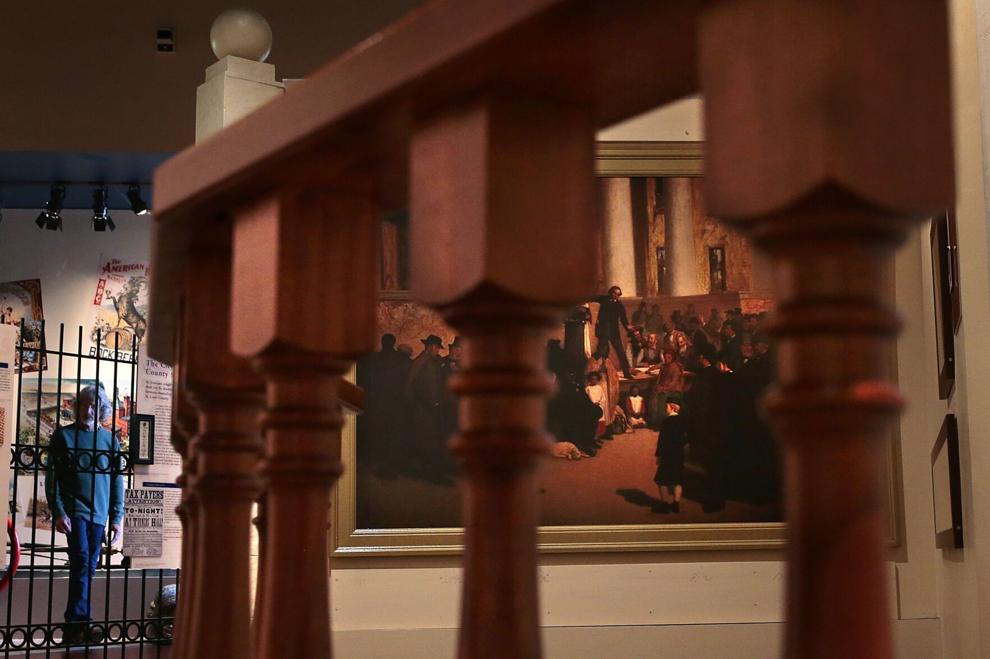 On the new panels at the Missouri History Museum, Hemings and Jefferson are referred to as having a "relationship." More than 100 years ago, she was often called a "concubine." Today, some call the coupling less a "relationship" than "rape" because of the power dynamics.
But "relationship" at its most basic can be used to indicate any connection between people. Sally Hemings' feelings about the situation are unknown. Her son Madison recalled years later that his mother only agreed to return to America with Jefferson from France (where she was free) if Jefferson agreed to treat their children with special privileges and to free them as adults.
For Gordon-Reed, statues don't imply "hero worship." To her, she said, "it's someone who was important to the development of the country."
U.S. expansion
The second important controversy acknowledged in the panels concerns the Louisiana Purchase, which doubled the size of the United States. In 1803, the U.S. paid about $15 million (a portion was debt forgiveness) to Napoleon Bonaparte, who had military control over at least some of the area, particularly the crucial shipping port of New Orleans.
"(The Louisiana Purchase) assures forever the power of the United States, and I have given England a rival who, sooner or later, will humble her pride," Bonaparte said. Bonaparte had not, however, purchased most of the land from the people who lived on it.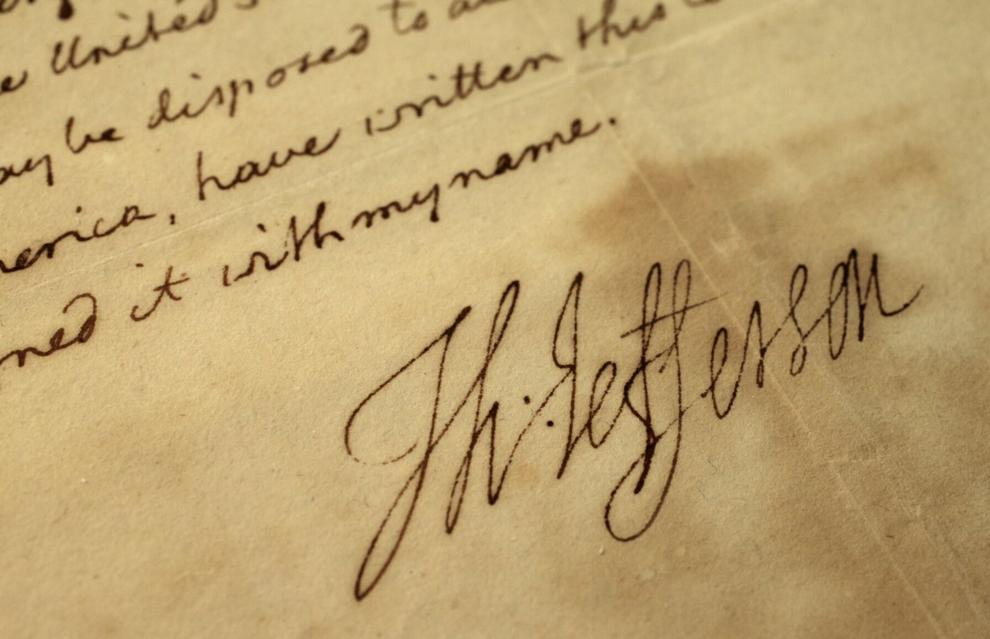 In 2008, Robert Miller, author of "Native America, Discovered and Conquered," phrased the sale thus: "You have no doubt read that the Louisiana Purchase was the 'greatest real estate deal in history' because the United States paid only 'three cents an acre.' That statement is false. … Instead, the United States bought the Discovery right to a limited sovereignty over the territory, the right to be the government the Indian Nations could deal with politically and commercially, and the preemptive right, the exclusive option to purchase the real estate whenever the owners, the Indian Nations, chose to sell."
The panel says: "In the years to come, the U.S. would make many treaties with the Native American nations who called the Louisiana Territory home. However, these treaties were often one sided, negotiated in bad faith, or ignored by settlers who pushed to take more territory from Native Americans."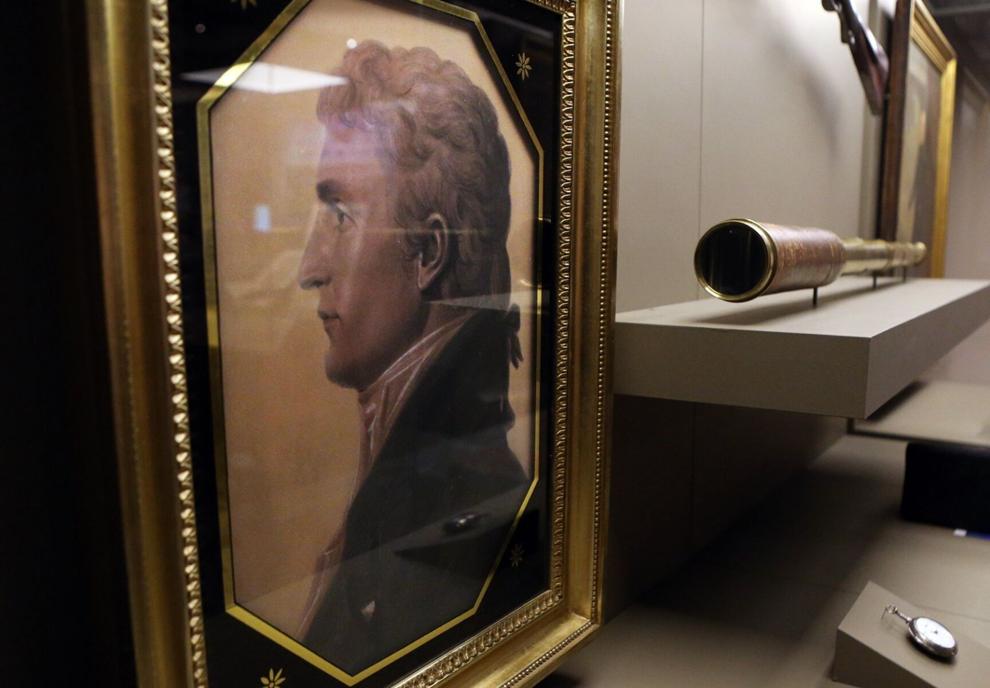 Monumental views
Geoff Ward teaches a class called "Monumental Anti-Racism" at Washington University. His students followed the progress of the history museum's panels.
He said visitors to the Jefferson Monument "don't need to feel threatened by interpretive panels."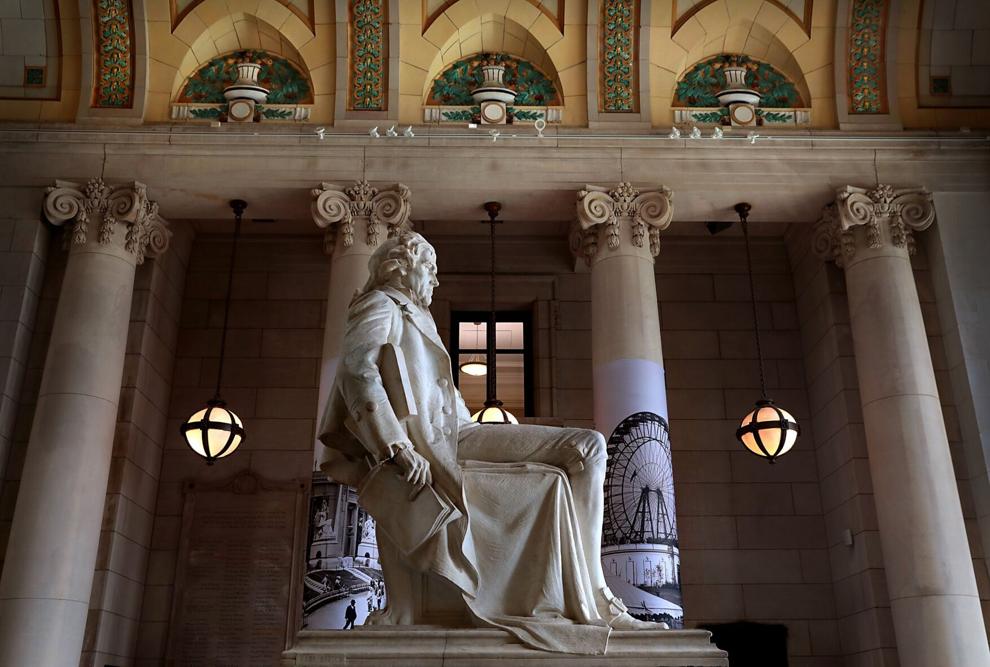 "We have a collective interest in understanding this figure in our national story," Ward said.
Because "most people aren't going back to school," they often learn about evolving ideas about history through museums, films, public art.
When many monuments were first conceived, corridors of power had little to no diverse input. Now other views are being offered.
On his own campus, Ward would like to see more information added to a statue of George Washington and another highlighting the Olympic Games played in St. Louis. He'd like more discussion of street names and cities (like Clayton) named after slaveowners.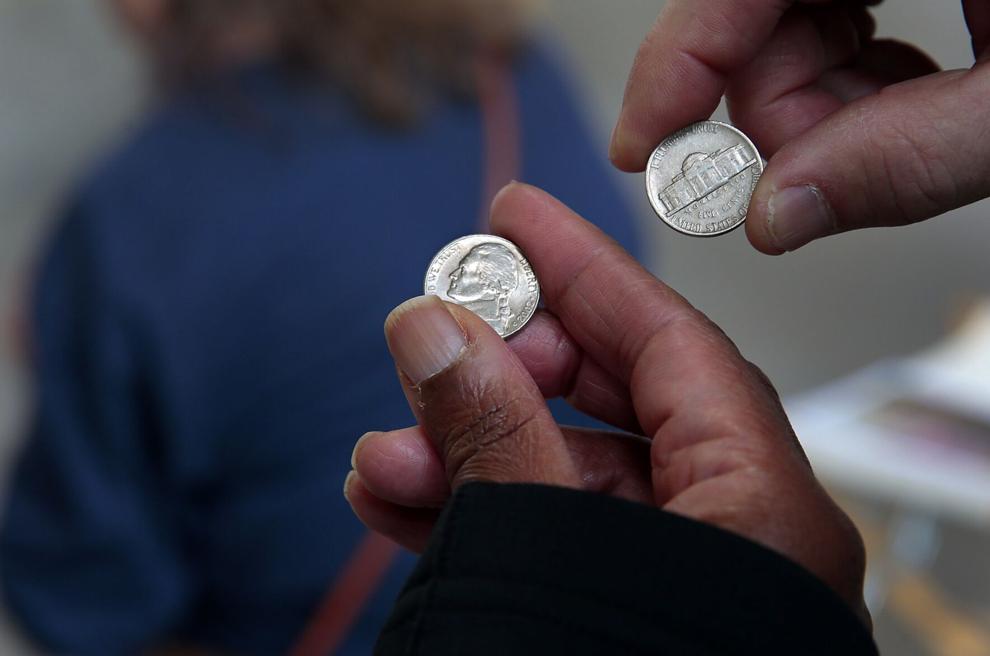 At the museum, Sowell expects that within a few years, more information will be added to the World's Fair gallery and to the reproduction of Charles Lindbergh's Spirit of St. Louis airplane. (A panel discussion about monuments and memorials is set for 6:30 p.m. Thursday at the museum.)
The plane and the Jefferson statue are such long-held museum artifacts that reinterpretation often took a back seat to newer exhibitions. Still, Sowell said, the panels for Jefferson should have been added years ago.
Concise and meant to appeal to all visitors, the panels still only touch on the paradox of Jefferson's life. For more, there are always a multitude of biographies and histories.
"If you leave the museum saying, 'I never knew that' or 'I was fascinated by that,' and then you decide you want to learn more, I think we've done a real service," Sowell said.
Photos: Jefferson Memorial in Forest Park, from dedication to contextualization
Statue of Thomas Jefferson Memorial crowd in 1913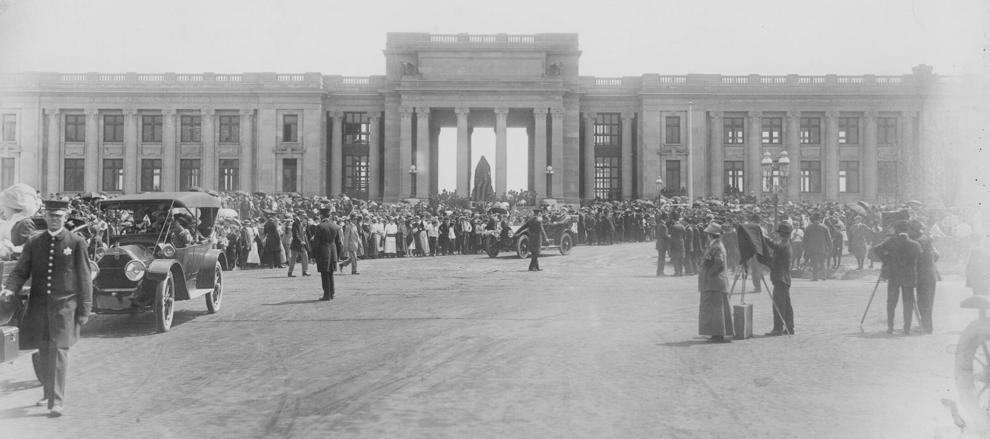 Sumner HS Students at Jefferson Memorial 1913 Parade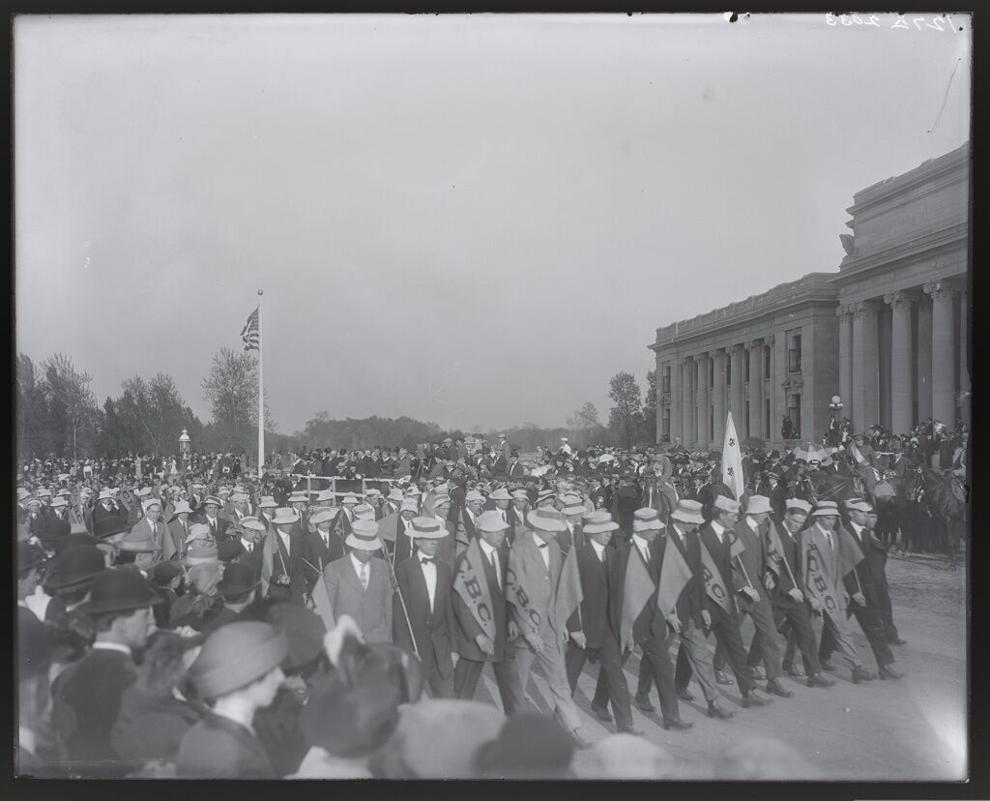 Jefferson Memorial 1913 - Exhibits inside the building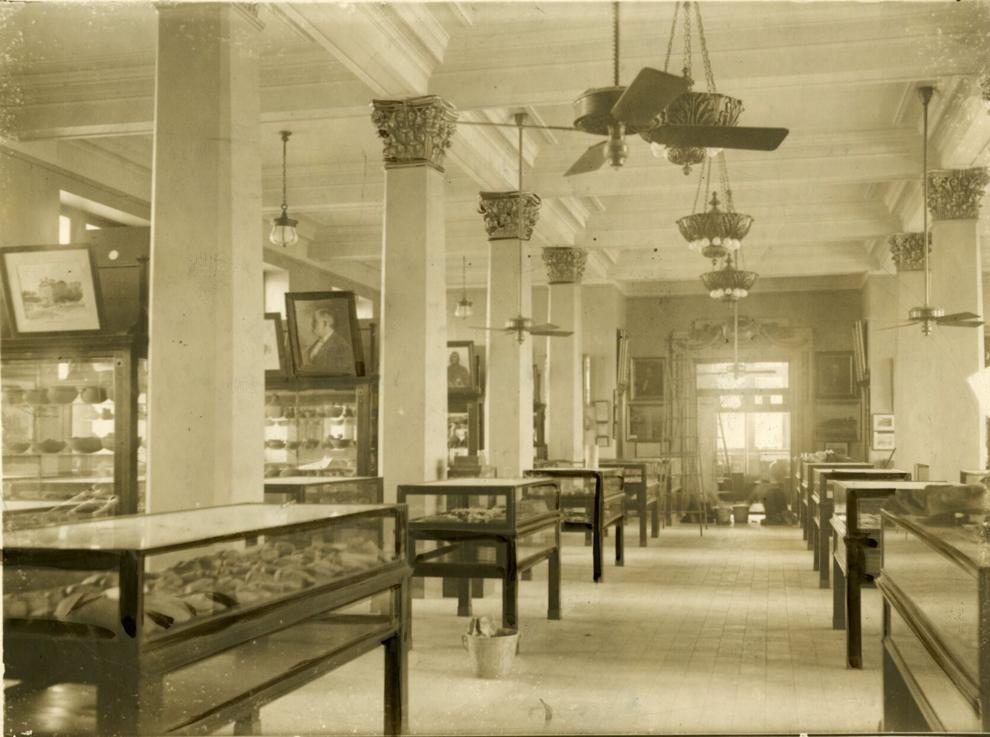 Jefferson Memorial Groundbreaking 1911 (Now the Missouri Historical Society)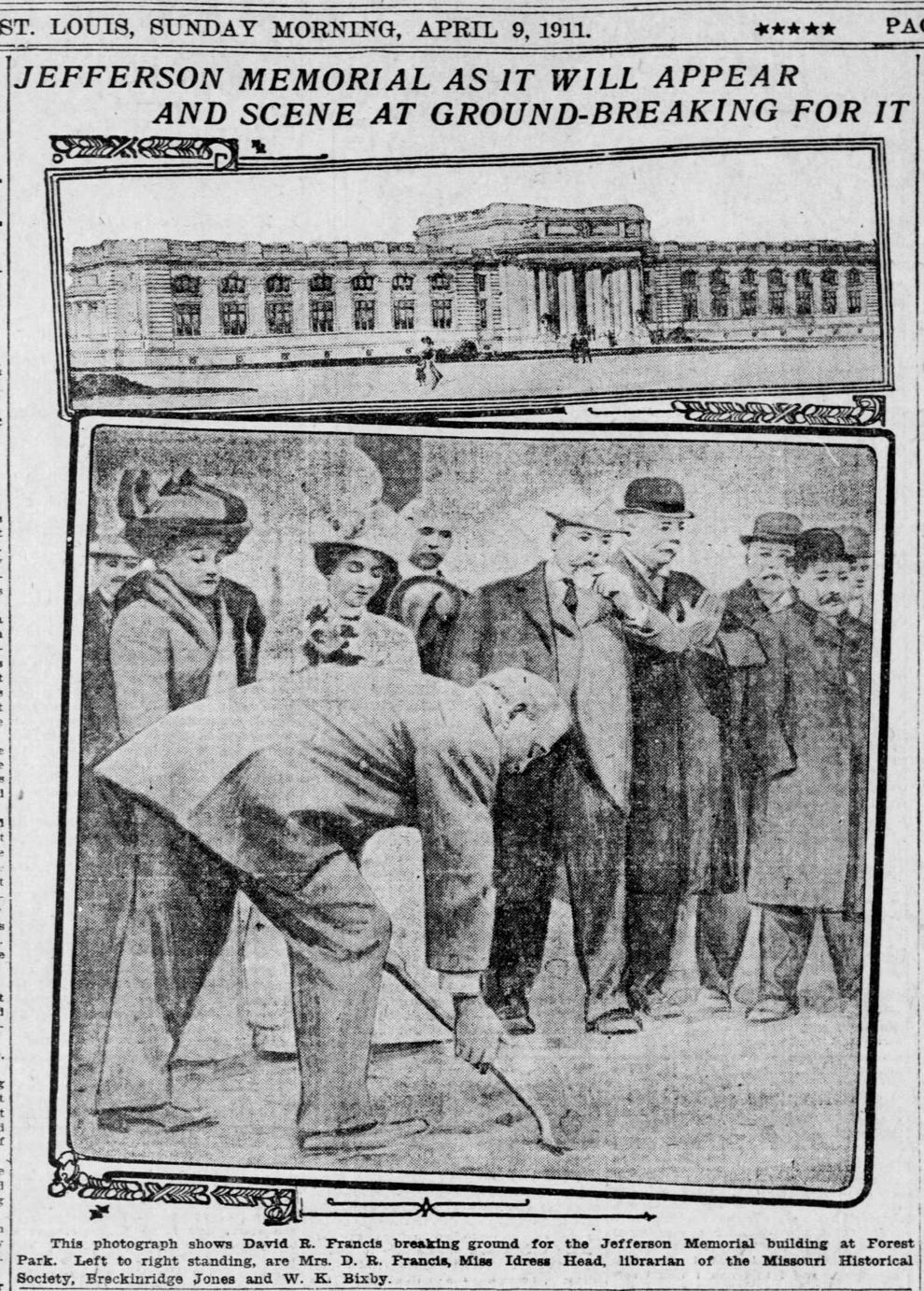 Jefferson Memorial - 1913 - Tablet Commemorating the Louisiana Purchase
Jefferson Memorial Dedication newspaper clipping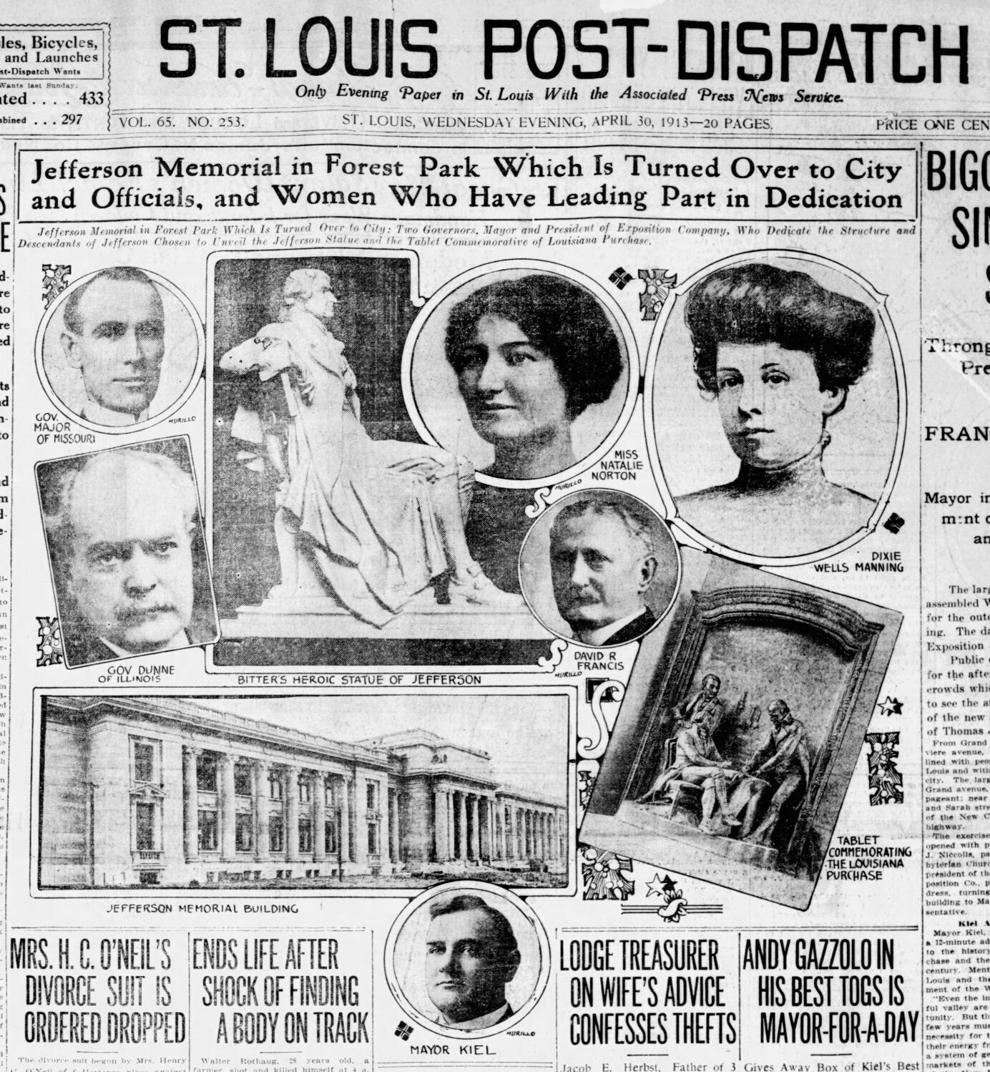 Karl Bitter's Thomas Jefferson sculpture for the Jefferson Memorial in St. Louis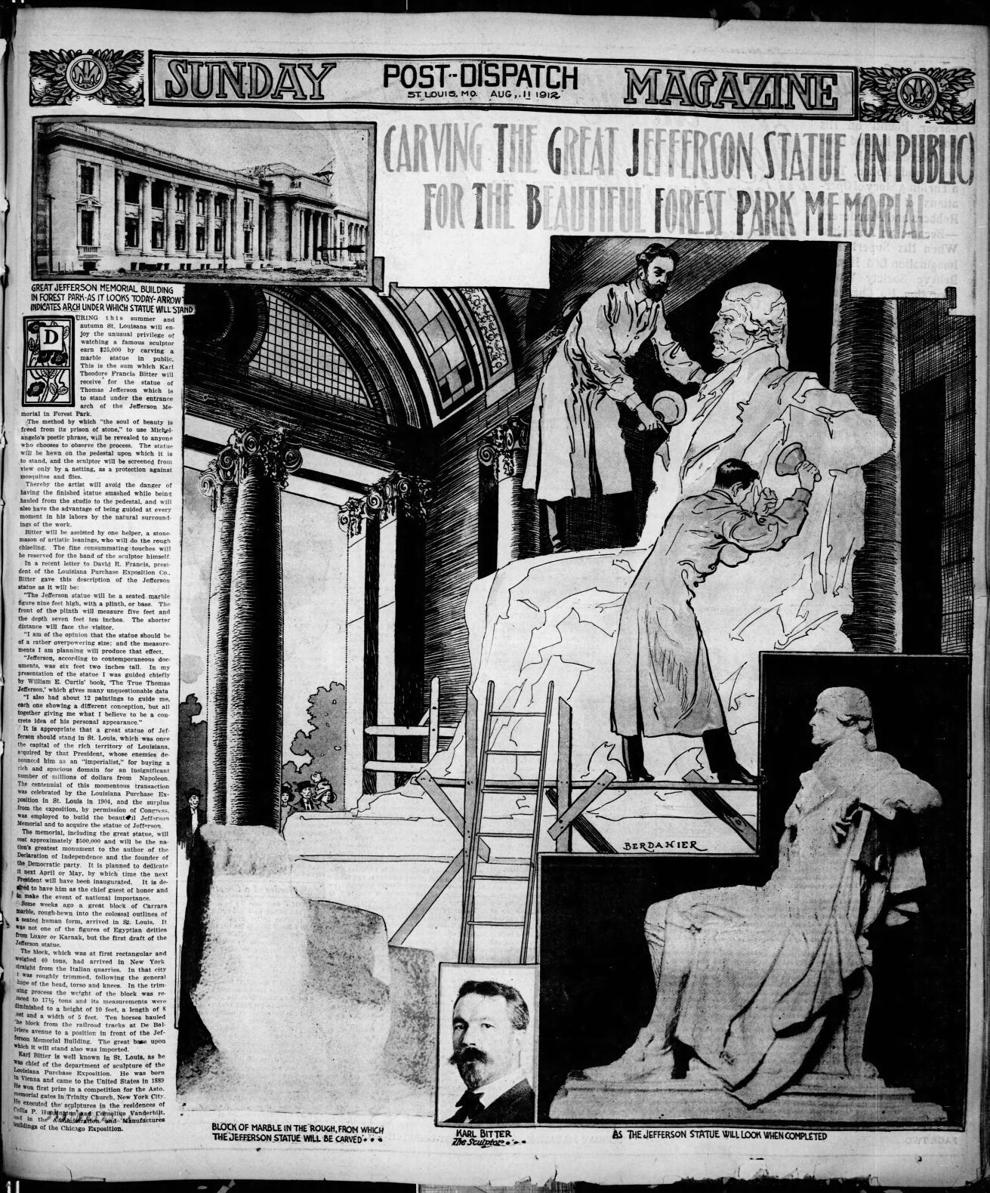 Thomas Jefferson Statue at Jefferson Memorial in Forest Park, ca. 1922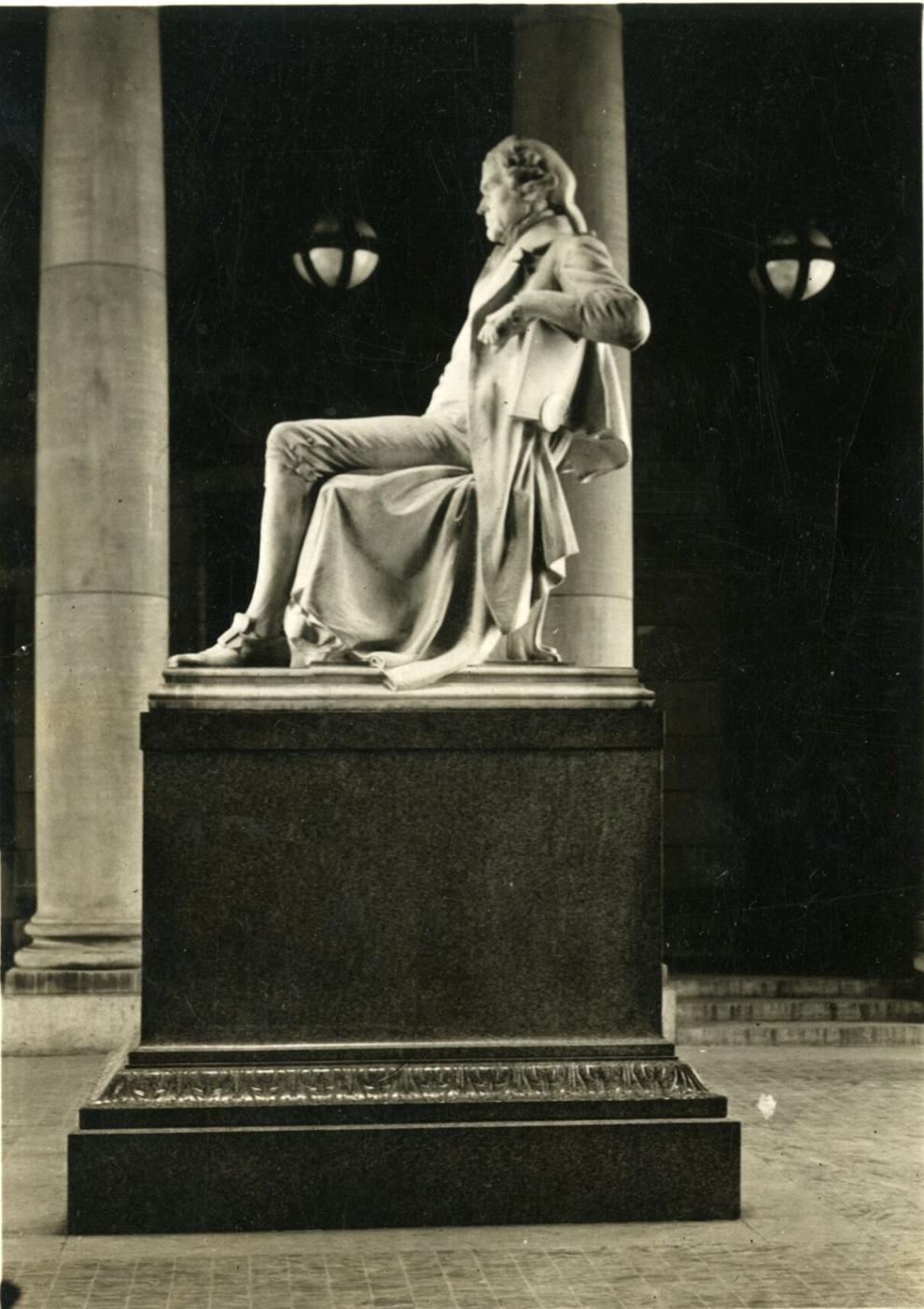 Jefferson Memorial Monument - 1921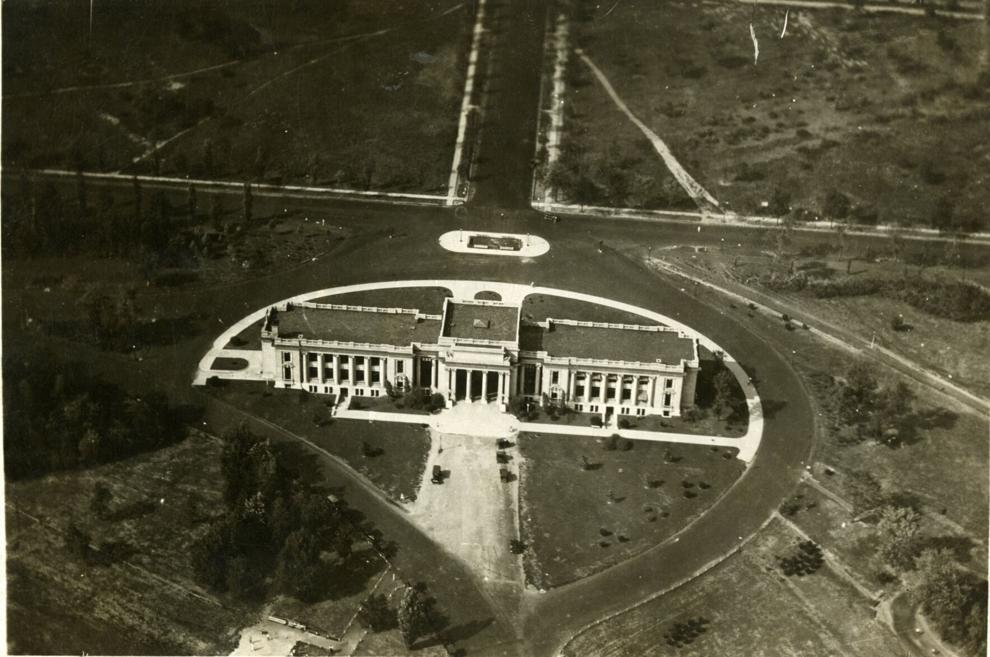 Bath time for Jefferson Memorial statue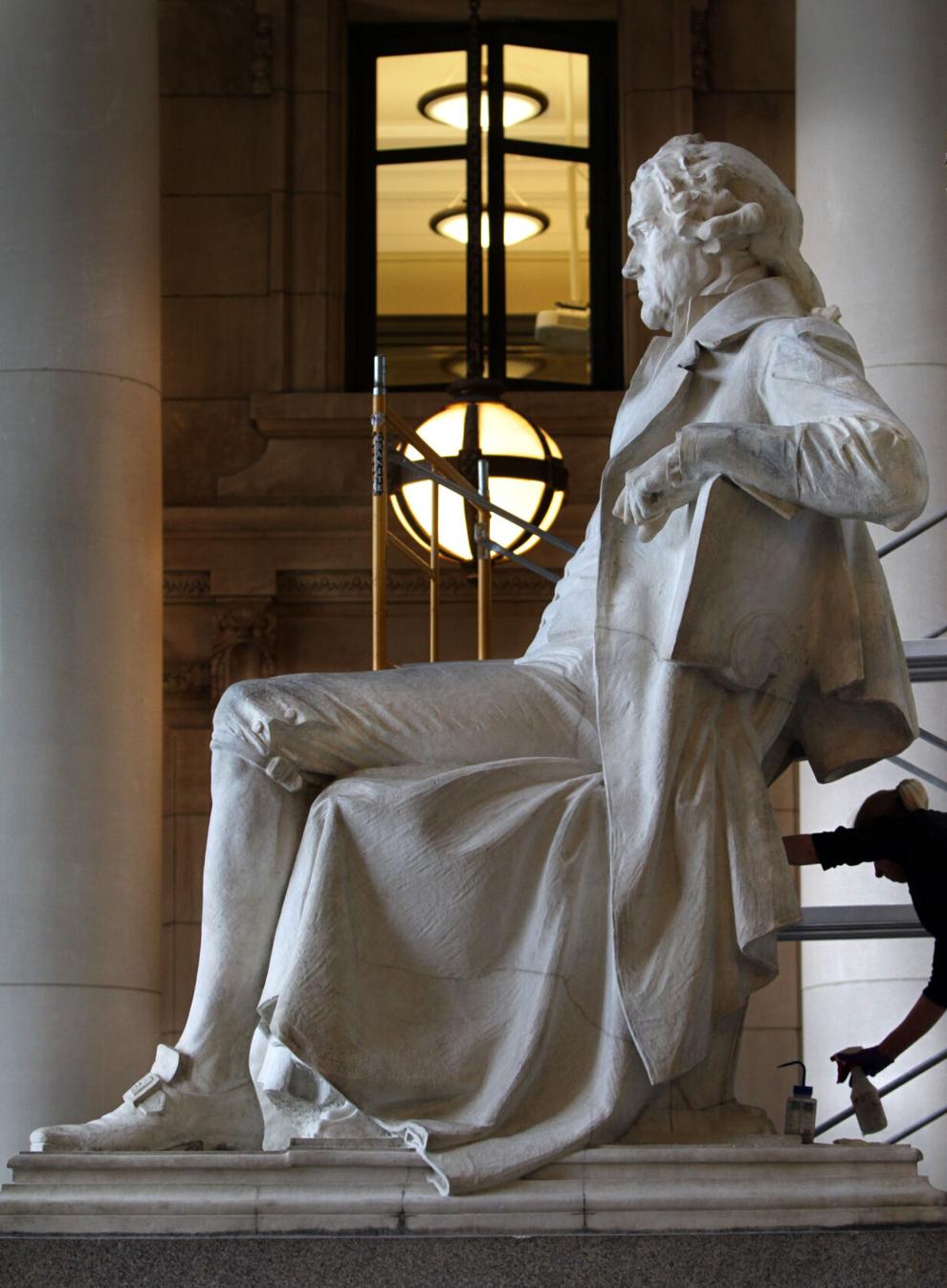 Attractions, cultural institutions await reopening approval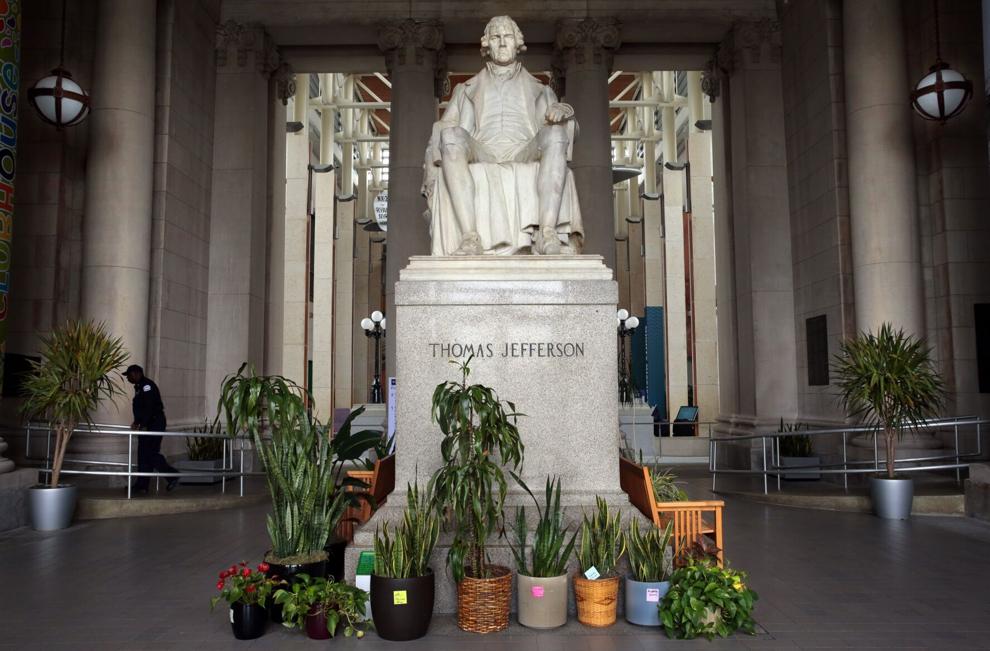 Thomas Jefferson statue in Missouri History Museum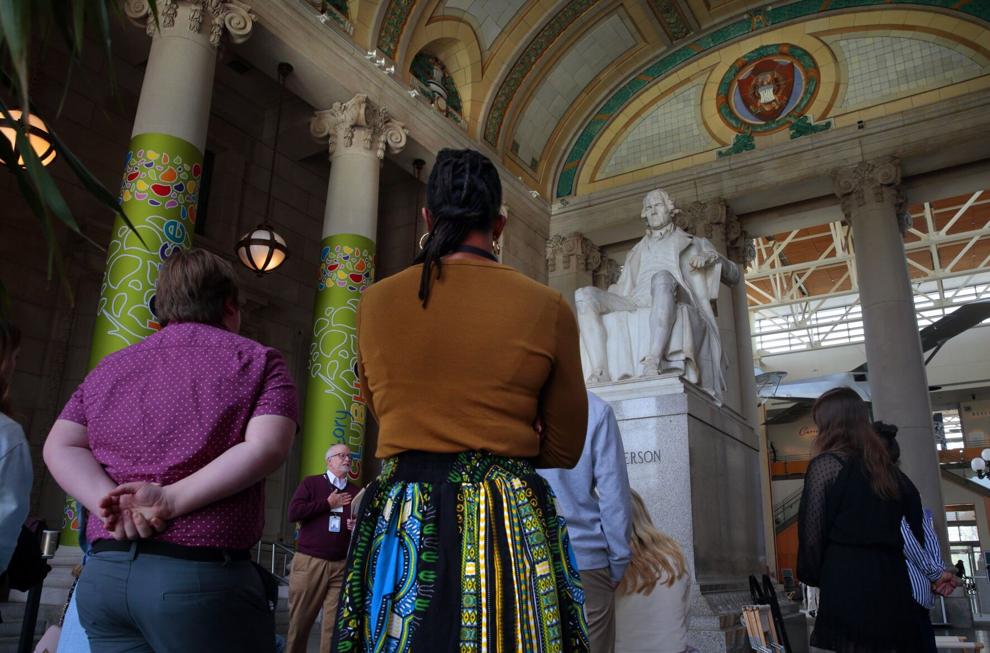 Thomas Jefferson statue in Missouri History Museum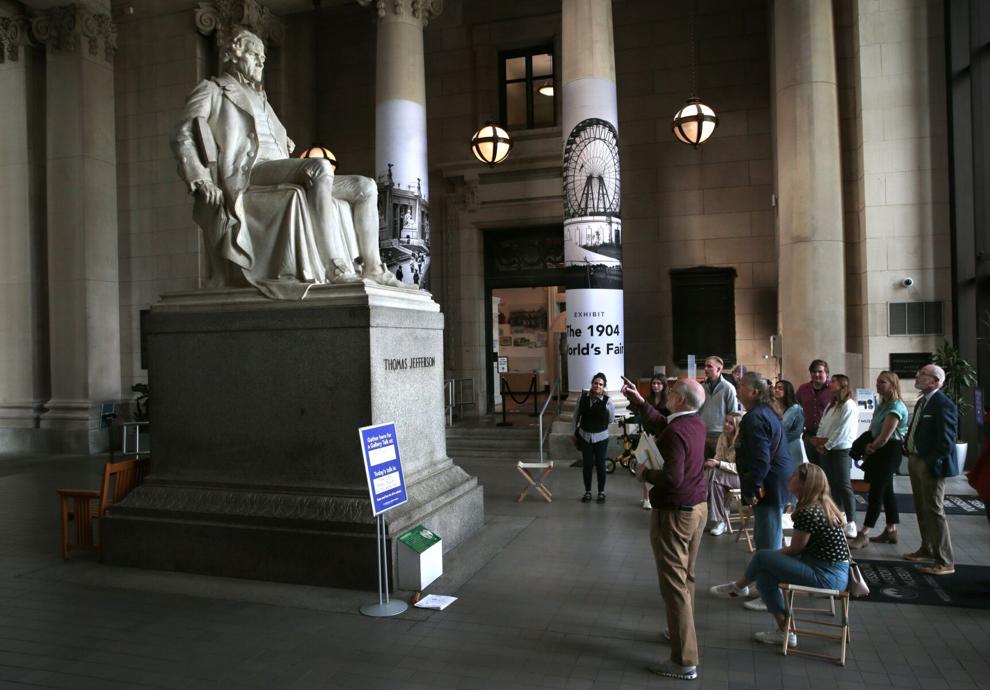 Thomas Jefferson statue in Missouri History Museum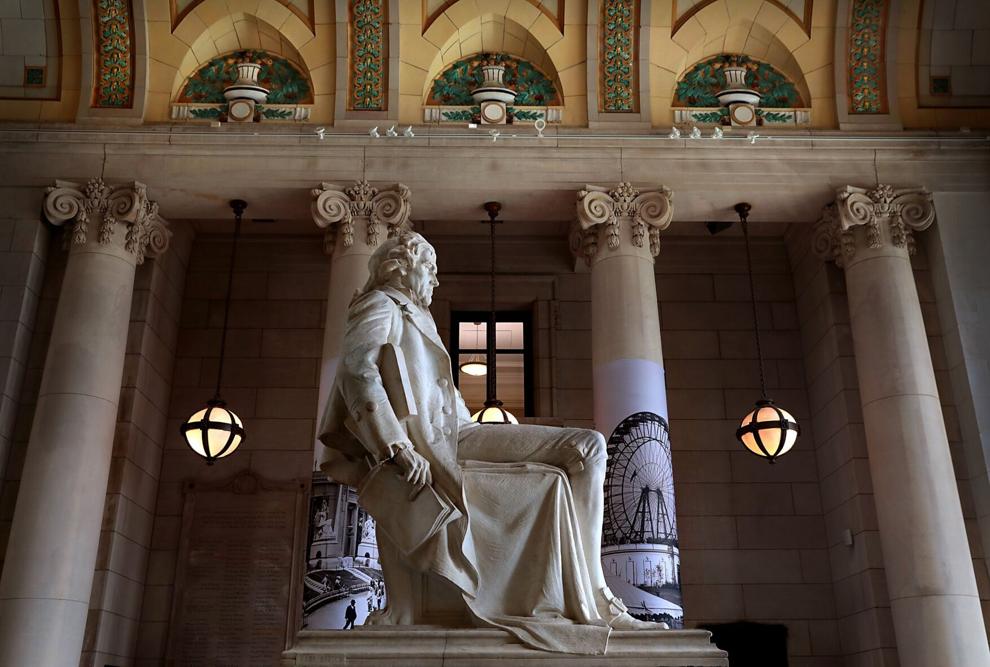 Interpretive panels installed next to statue of Thomas Jefferson at Missouri History Museum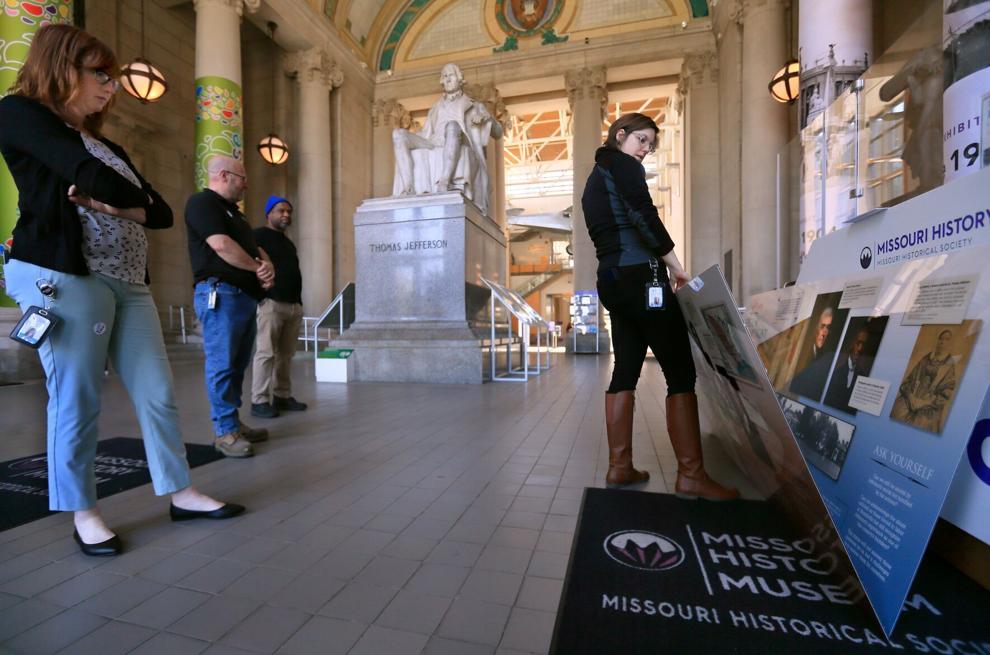 Interpretive panels installed next to statue of Thomas Jefferson at Missouri History Museum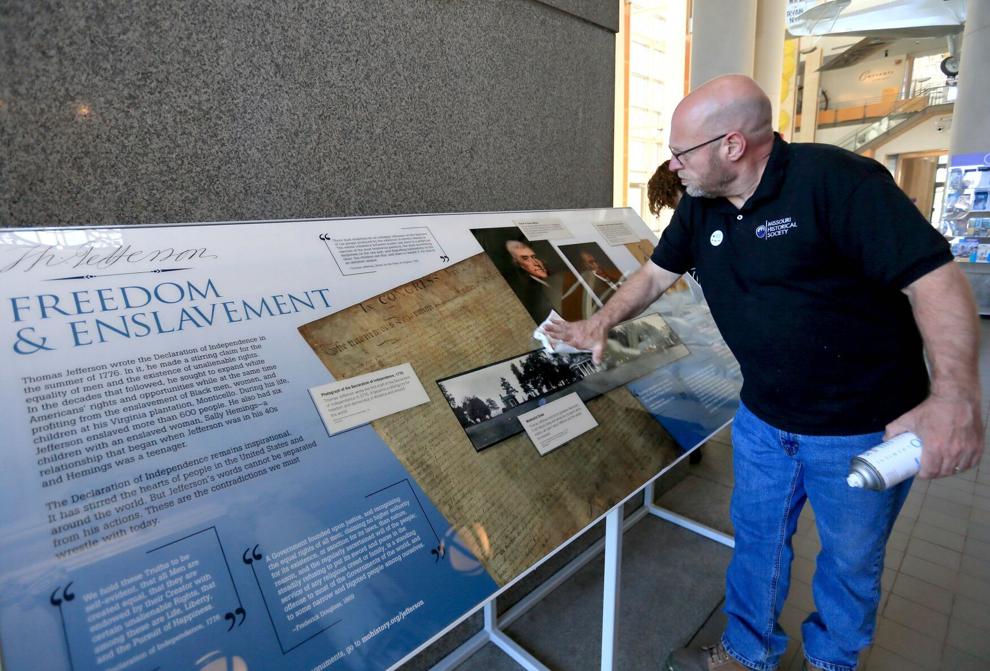 Thomas Jefferson statue in Missouri History Museum