For some St. Louis residents, blighted homes and abandoned properties are an everyday encounter.
The displaced doors, windows and other original parts of a house owned by the city's Land Reutilization Authority will be on display for a few weeks before the brick shell of the original property at 4562 Enright Avenue is fully demolished next month. Then the guts of the home will linger at the Pulitzer until mid-October.
"For the artists, it was very important — this duality between the spaces," says museum executive director Cara Starke. "So when our show opens here, it has one version of the house, and that the house in the city still remains. It's also important that it's a slow process, that it doesn't just disappear immediately, that we actually observe and recognize that this is the transformation of our city."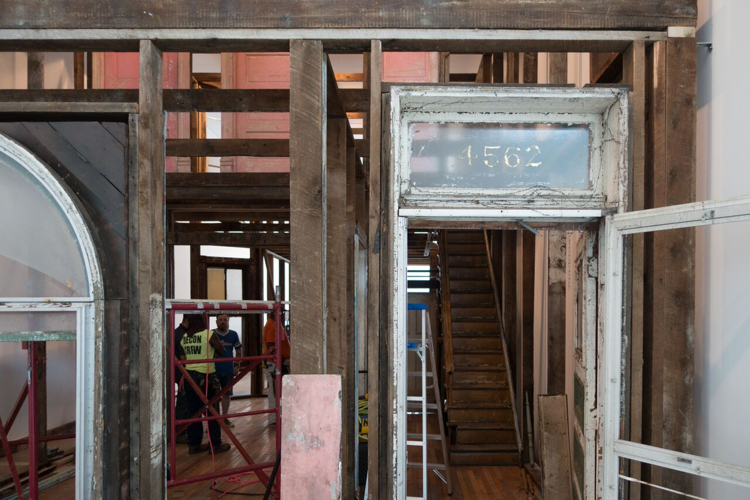 There are thousands of vacant and abandoned properties across the city, and the LRA owns more than 11,000 of them. The 1890s-era home that is the subject of the Pulitzer exhibit stands — for now — in the Lewis Place neighborhood, where a search on the land bank's website shows 227 LRA-owned properties.
Kristin Fleischmann Brewer, exhibit curator and the Pulitzer's director of public projects, says the museum received permission from the city to use the property for the project. Artists and museum staff then researched the history of the property and community with help from area residents, historians and Lewis Place Historical Preservation Inc.
The neighborhood was once largely filled with middle-class German immigrants and now is predominantly African-American. Past residents of the home on Enright included Irish and Canadian shoemakers, a German carpenter and an English photographer.
"We talk a lot of the past, present and future and what that means and how it's encompassed in a single home," Brewer says.
Visitors to the exhibit can expect to take a journey through time to understand the historical shifts of the neighborhood, one devastated by foreclosures and discriminatory mortgage lending practices, says Pamela Talley, a longtime Lewis Place resident and president of the Lewis Place Historical Preservation Inc.
"This is and has been a dynamic neighborhood, with many firsts for our culture," she says, in an exhibit guide produced by the museum. "It is important to recognize and preserve that history. My hope for this project is that it not only helps to inspire and motivate the community, but also impacts the decision-makers in public and private sectors."
Museum leaders say they wanted to listen to locals and reinvest in the community. Brewer says that after the building demolition, the money from bricks sold locally will go to a neighborhood youth camp.
"It was important for us to work with the neighborhood," she says.
Read more about new work on view at the Pulitzer.