When Kyle Heikkila was a child, his grandfather called him "bear."
Heikkila still does not know the meaning behind the nickname — he simply assumes he must have "looked like a bear" as a kid. Despite the mystery, he incorporated the sentiment into his artistic persona: Bear Howl.
Heikkila grew up an only child. He occupied his time by teaching himself to draw, simultaneously learning how to productively work alone and avoid boredom.
The introverted little boy would be proud of Heikkila now, he thinks. He follows his musings and works as an artist hoping to combine abstract and street art in paintings and portraits.
"I'm still that boy that just wants to be left alone and have his own imagination," Heikkila says.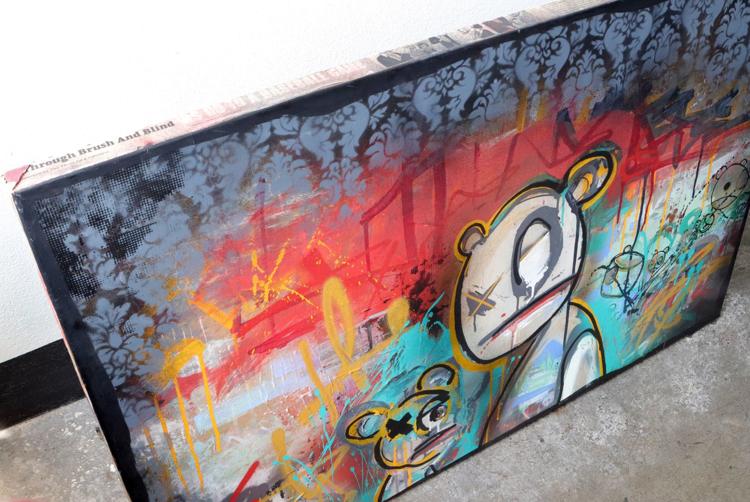 Creating layers • Heikkila graduated from Webster University in 2009 with a bachelor of arts degree and a focus in photography. He found himself "stacking negatives" to build on photos and began leaning toward abstract photography.
While in school, Heikkila studied at the Art Institute of Seattle for a year. He discovered that painting presented an aspect he needed to pursue art: freedom.
In photography, Heikkila worked with models or people at events, but he did not want to feel constricted. In painting, he could combine his ideas with colors and textures in addition to his subjects. He still feels his abstracts need a character, but he likes that he can create the background to surround it.
"Being a photography major, you're kind of stuck with the colors that you see out in the world," Heikkila says. "With painting, you get to come up with these colors just by mixing."
Untitled • Heikkila wants his paintings to exude attitude. He takes inspiration from what makes him laugh and often adds a "silliness" or a "rock and roll star" vibe.
He thinks, however, his views should not matter to his audience. He prefers not to even title his pieces when showcasing them.
"I think when you title something, you're kind of making up the other person's mind that's viewing it," Heikkila says. "You're directing them in a way. I can look at a painting, and you can look at a painting. It's the same painting, but we're going to see it completely different."
Art should help the person making it express himself, he says, but also the one viewing it. Heikkila used to do politically charged work, but as people divide themselves further and further, he wants his art to bring them together.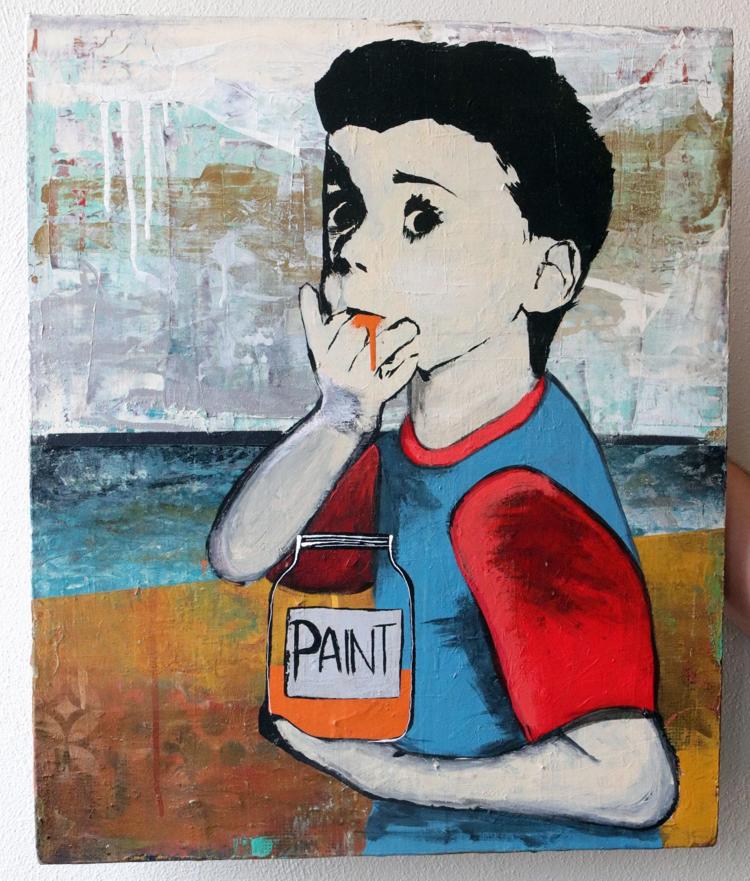 Heikkila aims to be "edgy but not politically edgy." He focuses not on the process of painting but on colors and layers. He allows music to guide his art as he listens, changing the attitude of his work as tempos quicken and notes flow.
The process of adding more and more to his paintings does not get tedious. Heikkila actually has problems deciding when to stop, hardly ever feeling quite done.
"I like to have the freedom of just a blank canvas," Heikkila says. "I get to do what I want with it."
Moving forward • Heikkila currently also works as a Lyft driver to supplement income. He aims to eventually do art full time.
The arts need more nourishment in St. Louis, Heikkila says. He would love to curate a show, thereby giving others like himself an opportunity to showcase what they do.
His newest dream, however, would be to go on the road with his pieces. He heard about an artist renovating an old food truck to turn it into her own miniature gallery, inspiring him to consider a similar path.
If he converted a bus to travel with his art, Heikkila says he could meet people, hear about their art and exchange ideas.
"I like when people see my stuff, and it provokes or evokes something in their mind," Heikkila says. "That's beautiful."
Home • Downtown St. Louis
What he makes • Heikkila primarily uses layers of colors to create a style combination of street art and abstract paintings, utilizing mainly spray paint and acrylics.
How much • Items range depending on size. An average painting of 24-inches-by-26-inches can cost around $600.