As the cancellations and postponements filled his inbox, entertainer Joshua Routh got to work, building a spaceship.
Oh My Gosh Josh, as he's known in birthday party, festival and school assembly circles (you know, the types of circles that draw crowds of more than 10), knew the coronavirus crisis meant trouble for his life as a magician, juggler, comedian and performer.
He and his wife, Ginger, run Circus Kaput and manage dozens more in the same boat — or, in their case, spaceship.
The spaceship — a black plastic tub normally used to store props, now festooned with lights, stars and pictures of astronauts and David Bowie — is a prop for their new kids Facebook Live show, "Quarantime Live," performed at 4 p.m. Tuesdays and Thursdays in their Wildwood home.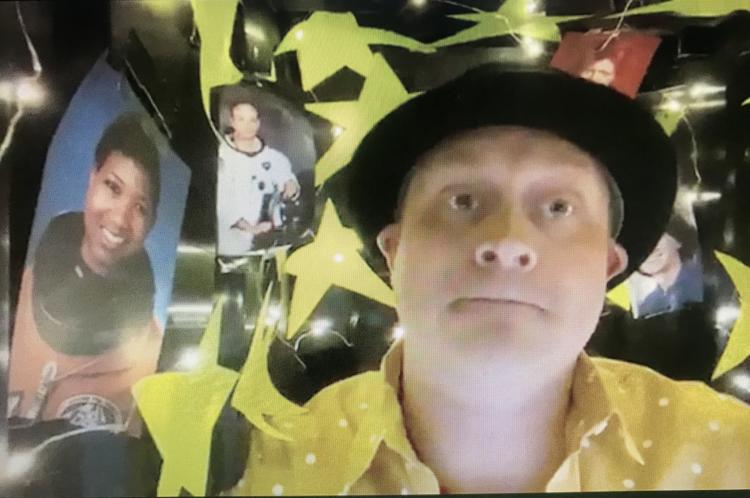 On the first episode, he juggled on home exercise equipment in the basement, did a math magic trick with Mathtilda the dinosaur puppet in his library and watched a little social distance unicycling by performer Logan "Salto" Sheehan in his driveway. He's always wanted to host a kids' show — he pitched one to PBS once — so why not?
You gotta adapt. And if you can, you gotta laugh.
"I don't want to come across like a whiny baby, because we're all affected by this," Josh Routh said. "Every entertainer I know globally — and I know people in Japan, Russia, all over the world — they're all at home dying to get in front of an audience."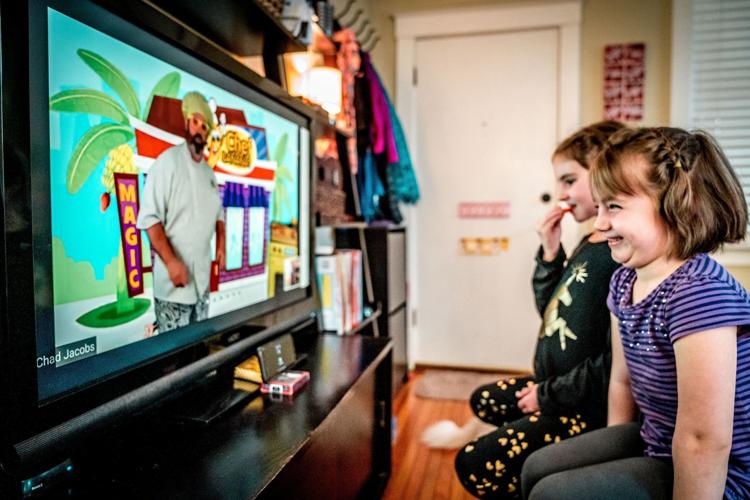 Chad Jacobs, who as Chef Bananas performs for younger audiences at parties and libraries, took his time over the last few weeks studying how to put out a virtual product. He ordered a larger green screen and installed it in his Webster Groves basement. He studied Zoom to learn more about its features. He consulted with other entertainers worldwide about how to pivot in a pandemic. He's rolling out online Zoom parties for younger kids and magic classes for older ones.
And as for two local children who had to cancel in-person birthday parties last month, he rescheduled them and met with them and their relieved parents via Zoom on their actual birthdays, performing a few tricks and reassuring them he'd see them in person soon.
"I don't do this just to make money," he said. "I like to do this because I really like kids, and I like to entertain and make people happy. It's just a hard time."
He knows of other entertainers who value the live audience so much they refuse to offer entertainment virtually, for fear people will never return in real life. Jacobs feels differently.
"People understand that this is a very special time in the world; people are begging for some normalcy. And if you can do something to figure out how to do that, especially for kids to feel like it's their birthday, that's a good thing."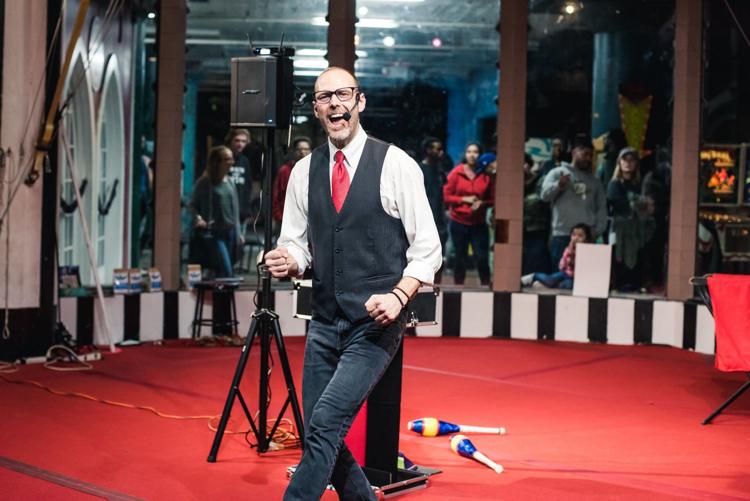 Christian Misner, known as Christian the Magician, works as a lawyer during the week and a magician on nights and weekends. Luckily, he can barrister from his St. Louis home. His wife, Johanna Ballou, is a pianist. Both saw their entertainment work dry up.
He performed on Facebook Live and is working with a talent agent to possibly put his performances on Zoom. But he's had to think about what that means for a magician — so much of his work requires audience participation, like asking an audience member to hold up a playing card or a seemingly empty container.
"I can't do that," he said. "Instead, I may have something where I have people hold something in their hands, or they think of a number. I can still do it remotely, and they're part of the show." He's thought of reaching back to the magicians who performed on the radio, hoping to adapt those tricks for online audiences.
Jeff Koziatek, known as Juggling Jeff, entertains at festivals and events but also does motivational speaking and training for corporate groups. "My work was very diversified before," he said. "But unfortunately, all my diversification was within large groups."
One recent Sunday afternoon, he hopped up on his stilts and took a walk in his Kirkwood neighborhood, stopping in front of homes to perform for gathering families on porches.
He decided to offer live porch parties and Zoom performances, a free webinar to help people stay grounded, and an eight-week video series on reinventing oneself.
The experience makes him think of a short film he made, called "Mask," that talks about how people deal with pain. Do people deny it? Identify with it? See it for what it is?
"I feel like there are a lot of people that are stuck in the denial aspect, where everybody expects you to smile and just keep moving forward. And we're not engaging in the reality of the situation," he said.
But he thinks people can be real, have an emotional response and have hope all at once. He can help.
"A lot of people just need a little pick-me-up, a little laughter," he said, "and a little connection from a safe distance."
A look at kids party performers — before the virus
Stay up-to-date on what's happening
Receive the latest in local entertainment news in your inbox weekly!