Jeffrey Schecter is far from a novice performer.
But he never before had to step into the big leading role of a Stephen Sondheim show with barely four days to get ready.
That's the kind of thing that happens only at the Muny — and not even very often there. In 99 seasons, this is only the fourth time that a leading actor has had to be replaced.
Truth to tell, Muny performers always have less rehearsal time than performers at other theaters. The Muny rehearsal period is 11 days long. Elsewhere, it's four to six weeks, maybe longer.
But many Muny performers — including Schecter — compensate by being ready to go the moment rehearsal starts. Before Schecter made his Muny debut on June 20, playing the comic Scuttle the Seagull in "The Little Mermaid," "I knew my lines and my song," he said. "My wife and children came to visit. It was enjoyable, with time for museums and the swimming pool.
"It was different from this."
"This" is the current show, "A Funny Thing Happened on the Way to the Forum." Schecter plays the enormous leading role, Pseudolus, a canny Roman slave who longs to win his freedom.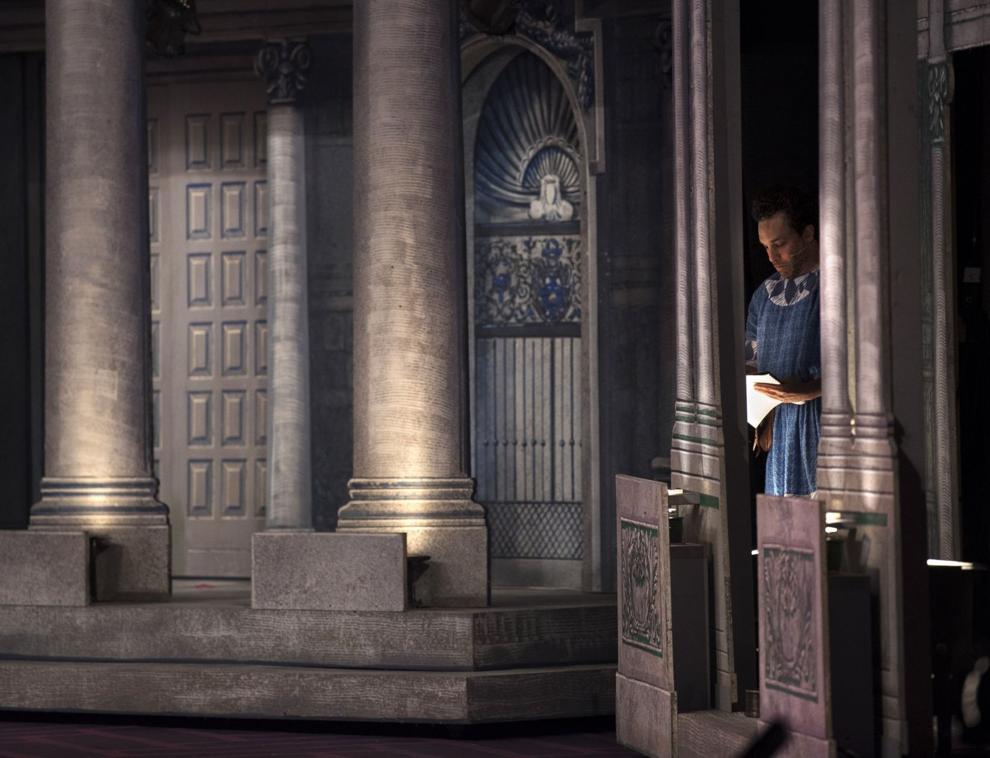 The role was supposed to have been played by actor Peter Scolari. But Scolari, wracked by allergies and a sinus infection, lost his voice. On the Saturday afternoon before "Forum" was scheduled to open, Schecter — back in New York City with his family — got a text message from the Muny's producing associate/casting director, Megan Larche Dominick: "Call me ASAP."
He was on a plane the next day. It had barely landed before he was being fitted for his costume. Then, it was off to rehearsal. He was going to do this.
Known to all as Shecky (a nickname bestowed on him years ago by famed choreographer Sergio Trujillo, and one "that I am proud to own"), the performer, 44, admits to a moment of doubt.
In the first place, he and his wife, Melissa Swender, have young children; he hated telling Helena, 5, and Mattias, 2, that Daddy was going away again. Then there was the size of the part of Pseudolus, the leading man.
But his wife and his manager encouraged him to step up to the challenge. In the course of his long career, he's always tried to.
Starting out as a dancer who walked away from a college scholarship to tour Europe in "West Side Story," Schecter made his Broadway debut at 21. With nine Broadway productions to his credit, he's probably best known for his performance as Mike ("I Can Do That") in a revival of "A Chorus Line."
Last week's Scuttle the Seagull is this week's leading man
But this was a whole new category of work: instant theater.
Schecter was once in a Sacramento, Calif., production of "Forum," playing one of the male dancers called the Proteans (because they take so many roles).
"Do I remember anything from that? No!
"I did use (the opening number) 'Comedy Tonight' as one of my first audition pieces, so I kind of knew that song. Well, I knew the first 32 bars.
"If I could have, I would have spent two months working on 'Forum' by myself."
The hardest thing, he said, was having to give up his whole rehearsal process. There was no time to concentrate on songs, or on dances, or on dialogue. He had to master it all in one giant gulp.
As he performs at night, he continues to rehearse by day, running lines or singing with music director Brad Haak.
He also needs to eat and sleep.
"You have to take care of yourself, especially in the heat," he said. "But it's hard to balance everything.
"Everybody in the show has been great. They have all said, whatever you need, we'll give it to you, and they have. But I am usually a person with a lot of energy. I am pushing it now. I tell myself, 'Shecky, just pull through.'"
Schecter carries his script onstage, an unusual but necessary concession to circumstance. He relies on it less and less each show but says he's not sure if he'll be able to give it up completely before "Forum" closes on Tuesday. (Muny artistic director and executive producer Mike Isaacson prepares the audience with a little speech before the show.)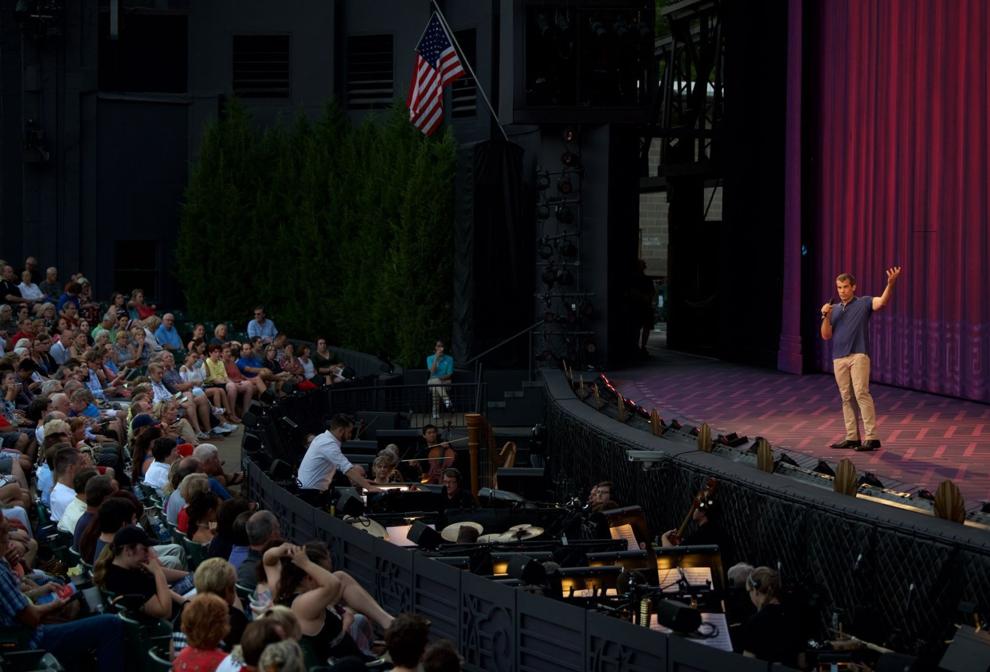 Nevertheless, he said, people seem to get used to that quickly — and it has not stopped him from giving an all-out performance as the wily Roman schemer.
"I've always played sidekicks," Schecter said, "and I'd be lying if I said I didn't dream of getting a starring role sometime. As crazy as all this is, I'd do it again.
"This feels like this is a game-changer — for my career, and for my life."