In the Muny's early years, St. Louisans debated what kind of shows best suited the enormous open-air theater in Forest Park. Operettas? Opera? Revues?
But in the 1950s, the Muny blossomed with a kind of show that didn't even exist when it was built: musicals that told absorbing, socially astute stories through rich, romantic songs. They were written during a period that stretched from the 1940s into the 1960s, a period known today as musical theater's Golden Age.
The Muny was well-positioned to give those shows first-class productions as soon as they were available. With its size and polish, the Muny matched the proportions of shows by such Golden Age artists as Cole Porter and Irving Berlin, Frank Loesser and Leonard Bernstein, Kurt Weill, and Lerner & Loewe.
And above all, Rodgers & Hammerstein.
Composer Richard Rodgers and lyricist Oscar Hammerstein II were already giants in their field through earlier partnerships (Rodgers with Lorenz Hart, Hammerstein with Jerome Kern) before they teamed up for "Oklahoma!"
Comedic and serious, homespun and beautiful, above all supremely American, "Oklahoma!" set the course for a long, successful partnership that flowered through the 1950s.
On Broadway, they triumphed. At the Muny, they ruled.
R&H fever
"Messrs Richard Rodgers and Oscar Hammerstein II, St. Louis Welcomes You," proclaimed a 1955 ad for the Muny in the Post-Dispatch. The acclaimed team was coming to town for the opening of a festival of its work — a festival that would fill half the Muny season.
It was exciting, but not exactly novel. The Muny presented its first, shorter R&H festival in 1950, with Hammerstein on hand. (Rodgers was supposed to come but injured his back and couldn't travel.) That one opened with a revue starring four vocalists, three dancers, a chorus of 90 and an "augmented symphony orchestra of 70" under the baton of Muny music director Edwin McArthur.
Post-Dispatch theater critic Myles Standish, enthusiastic about the whole program, deemed "Some Enchanted Evening" "just about the best love song of this musical theater generation." The next week came another R&H show, the touching "Carousel."
In 1954, "Oklahoma!" broke Muny attendance records, drawing 12,137 theatergoers in a single night; the next year, "South Pacific" matched that number — twice.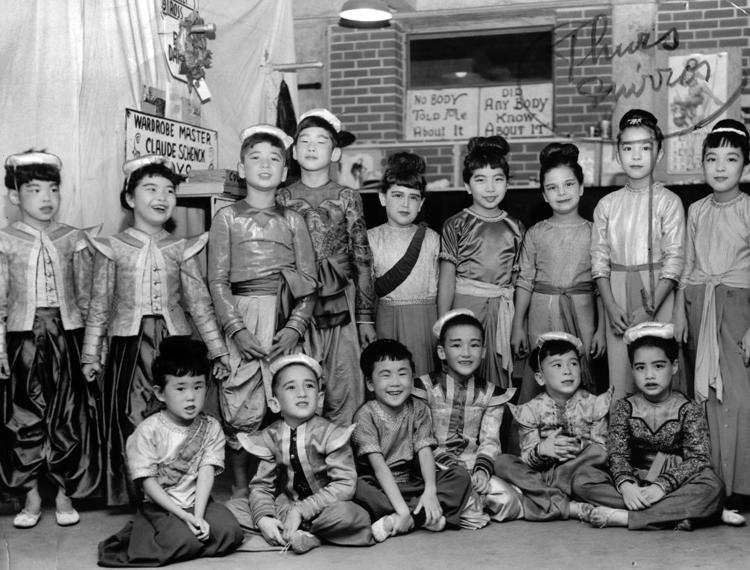 The big 1955 festival opened with another concert show, followed by "Carousel," "Allegro," "The King and I" and "South Pacific." With both R and H on hand, the team was lavishly feted. Mayor Raymond R. Tucker gave them the keys to the city; they were guests of honor at the Chase Hotel party that lasted till 3 a.m. (At the last minute, the next day's Muny rehearsal was postponed to 11 a.m. Good call.)
A Post-Dispatch editorial praised the Muny's ambitious festival, "the first such occasion anywhere in the world." And for years to come, no Muny season would seem complete without an R&H show.
A city of fans
Everybody wanted a connection to the Muny. The 1954 Veiled Prophet Parade — an extravaganza that lined St. Louis streets with dense, admiring crowds — took the Muny as its theme. Eighteen big floats represented shows including "Oklahoma!," "The Mikado," "Show Boat" and "The Wizard of Oz."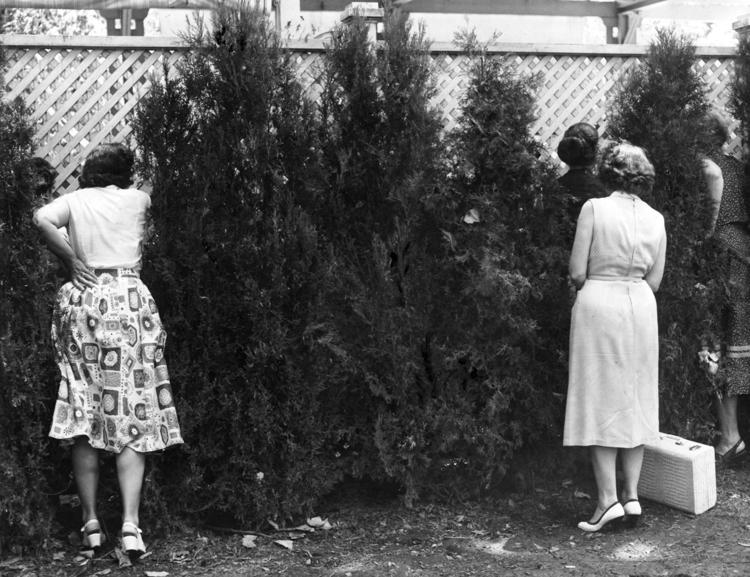 Manchester Bank issued novel new checks, illustrated with pastel etchings of St. Louis landmarks. The Muny was one, naturally; so were Aloe Plaza, the Arena, the art museum and Forest Park itself.
And little King Quality, the cartoon mini-monarch of Quality Dairy, toasted the theater with his favorite beverage. In one ad, the entire singing chorus sipped along, posed behind milk bottle "footlights."
A high bar
After Broadway producer Edward Lester saw his hit show "Song of Norway" in Forest Park, he proclaimed that "no summer theater, in the United States or anywhere else, does this sort of thing as well" as the Muny.
But many were trying. By the 1950s, Kansas City, Dallas, Pittsburgh, Miami, Memphis, Tenn., and Louisville, Ky., all had open-air theaters. Post-Dispatch columnist Ralph Coghlan called them "the sincerest form of flattery," noting that "in most instances the great success of the Muny Opera has been the propelling force."
The stars look down
Post-Dispatch readers seemed to have insatiable curiosity about anything performers had done before working at the Muny.
Jack Williams ("Lady in the Dark") danced for Truman, Churchill and Stalin at the Potsdam Conference. Apparently there's nothing like a time-step after a long day of redrawing the postwar map.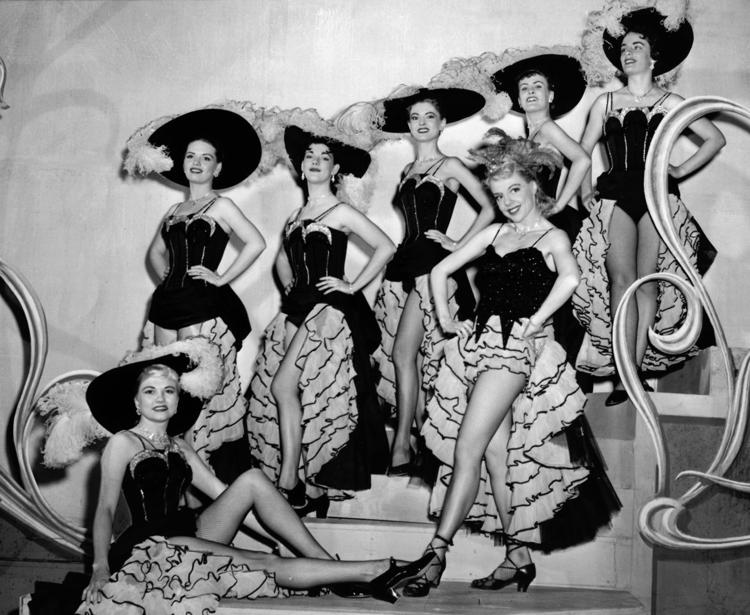 Jim Hawthorne ("The Merry Widow") had been a soda jerk. Elise Rhodes ("Carousel") was a census taker, and Tony Bavaar ("Paint Your Wagon") was a machinist. Theodor Uppman ("The Great Waltz") had been a "barrel-roller" at a Bendix Aviation factory.
Harvard alumnus Kent Smith ("Call Me Madam") co-founded New York's University Players, a group of well-educated young theater artists that included James Stewart, Henry Fonda and Joshua Logan. Gil Lamb ("Where's Charley?") worked a telephone switchboard.
And soprano Jarmila Novotna ("The Bartered Bride"), from Prague, recalled singing in Vienna for a tiny audience right after the Nazis marched in. People were in no mood to enjoy themselves. "Backstage we were thrilled to see them stay away," Novotna said. "That was the one time I was happy to sing for an empty house."
Animal tales
A recalcitrant donkey that refused to leave the spotlight delighted the Muny audience on hand for "An Evening of Great Music." But it was all in a night's work for Frank Allen, the Muny's longtime property chief and director of nonhuman performers.
Over the years, Allen told the Post-Dispatch, Muny shows had involved ponies, calves, monkeys and pigeons. "But what the audience seems to like," he said, "is when several possums that live right here in the park wander on the stage during a show and scare the dickens out of the actresses."
Nobody was scared of a shaggy stray dog called Rosebud. Sprung from the Humane Society to play a walk-on role in "Panama Hattie," Rosebud was "clipped, bathed, fattened, perfumed and penicillined," the Post-Dispatch reported. "She tasted fame. And dog food." An immediate favorite of chorus girls and stagehands, Rosebud was quickly adopted by Clara Steinlage of north St. Louis.
Twinkling toes
Maria Tallchief, the famed Native American ballerina, was a specialty dancer in "Song of Norway." Muny ads hailed another dance star, too.
"Remember the sensational new dancer you saw earlier this summer in 'The Chocolate Soldier'? He's Jacques d'Amboise, and he's back." George Balanchine would create roles just for the great d'Amboise, a principal of the New York City Ballet.
The male dance chorus was another story: It barely existed. Until 1949, there hadn't even been one for 10 years.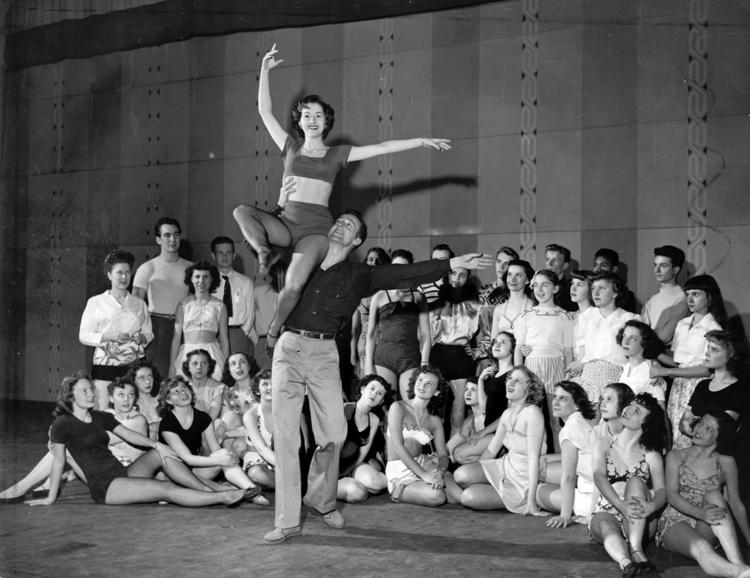 Older men might suit the singing chorus, but good male dancers were just the right age for the service. Also, the war meant that male dancers lost precious years of studio training.
In 1951, the Muny began paying for prospective dancers to take private classes four times a week, for months. These candidates hadn't even auditioned, much less been chosen. No one came right out and said so, but it's never hard to find well-trained female dancers. Who were those private classes really for?
No doubt 17-year-old Rose Marie Florey of north St. Louis counted herself lucky to be selected for one of the highly contested women's dance spots, luckier still when she was chosen for the specialty, The Girl Who Falls Down, in "Oklahoma!"
She was too good for her own good: Rehearsing the fall, she broke her foot in three places. "It just about broke my heart as well as my foot," she mourned, standing on crutches.
High style, low comedy
"Roberta," a Jerome Kern show set in the world of couture, included a fashion-show-within-the-show. The Muny went all out, presenting an "elaborate and exciting collection of gowns designed by Paul du Pont." The dresses were valued at $50,000 in 1954 — almost $500,000 today.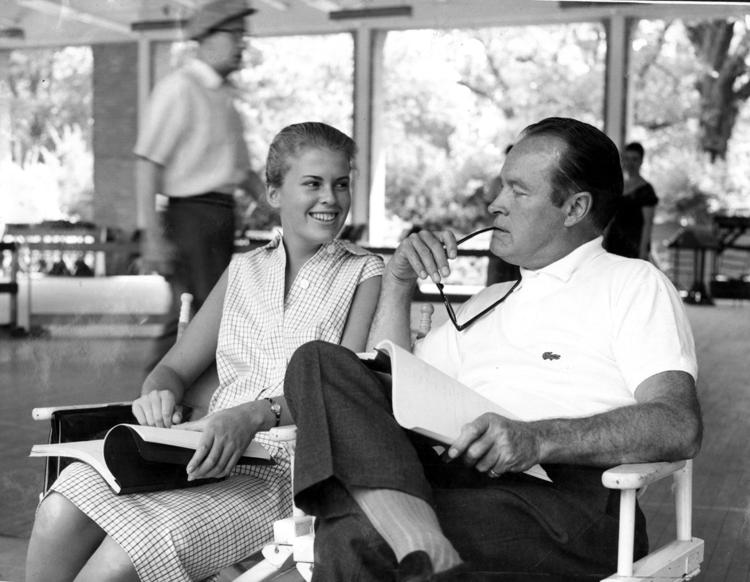 Professional wrestlers Red Vitale and Michael A. O'Grady appeared in "Of Thee I Sing," a political satire with a Gershwin score. Production manager John Kennedy showed the men the difference between actually wrestling and pretending to wrestle for the theater. Evidently there was a distinction.
Running hot and cold
Comedian Jack Goode was overcome during the 1949 summer heat wave and had to leave the stage during a performance. Five ushers and two patrons were stricken as well.
Muny manager Paul Beisman attributed the drop in attendance during the first half of the 1951 season to a spate of bad weather: There were three rainouts before August, an unusually high number, plus many gloomy days that discouraged walk-ups. Conversely, a bundled-up audience of 7,500 braved temperatures in the 50s to see Irving Berlin's "Call Me Madam."
But heat was the usual issue — and a serious one. Music director McArthur considered home air conditioners a key Muny competitor, along with night baseball and "the phenomenal growth of television."
The Muny tried. In one imaginative effort, engineers installed tubes to bathe the concrete tiers under the seats with a steady trickle of water from dawn to dusk. In theory, this would keep concrete from holding heat.
Union Electric engineers predicted that on the hottest nights, this system could reduce heat by as much as 20 percent. Unfortunately, theory and practice diverged.
In 1955, two big "dispersal fans" were installed after Dr. Charles A. Thomas — president of Monsanto Chemical, father of a young woman in the singing chorus — put the problem to his engineers. The fans were too noisy to run during performances, but they helped before the show and at intermission. They also reduced humidity.
Listen up
A $35,000 sound system was installed for the 1949 season. Later it was adjusted to control "peaks of amplification" around the theater, and six high-fidelity speakers were added to carry music and words to all points of the theater with equal clarity.
Reviewing Irving Berlin's "Annie Get Your Gun" in the Post-Dispatch, Howard Derrickson deemed the sound system greatly improved. But Muny-goer Ray Klauber complained in a letter to the editor that "the words 'damn' and 'hell' were used to get an occasional laugh. ... It is my sincere hope that decent people will put an end to this." The Muny apparently wouldn't.
Keep 'em coming
Any drop in attendance worried Beisman and his colleagues. As the Muny approached its 40th anniversary, outdoor theater remained a curiosity. Would people tire of it?
The Muny responded in three ways, the Post-Dispatch's Standish reported: more new shows, more big-name talent and more accessibility. That meant making it easier, and sometimes cheaper, to buy tickets.
In 1952, prices for the 50-cent seats were cut almost in half; season tickets in the same section went to $3.30 from $5.50. Season tickets included free bus passes to and from the theater.
Not a bus rider? The Muny added 500 free parking spots on a new lot, its third. No car? Your could buy Muny tickets from your Ace, Laclede or Yellow taxi driver, who would radio in your order.
Or you could visit the box office at the theater, at the downtown Arcade Building, or at a new spot, Famous-Barr Southtown. ("It's air conditioned!")
Big theater parties were encouraged. In some years, Famous-Barr (now Macy's) bought out whole performances, giving two tickets to each employee. At the end of the show, the whole audience joined in singing "Good Old Famous-Barr."
Single-show patrons were celebrated, too. When Haig Vartanian of south St. Louis became the 19 millionth Muny-goer at a 1949 performance of "The Firefly," he and his wife received a pair a season tickets. Eight years later, Joseph G. Toth of Carondelet was named the 25 millionth Muny-goer when he, his wife and their two sons went to see "The Wizard of Oz." The Toths also received season tickets, plus personal congratulations from the Tin Woodman. (Well, from actor Harrison Muller. But he was fully costumed.)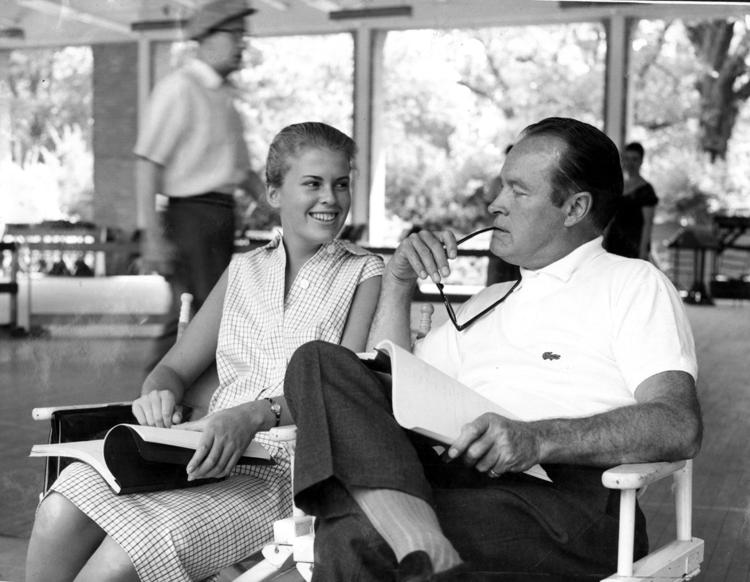 Hope rises
As for the big-name stars? The Muny got one of the biggest when comedian Bob Hope starred in the 1958 revival of "Roberta."
Thousands of fans, the Post-Dispatch reported, went to the airport, eager for a glimpse when Hope arrived with his wife and four children. Their 19-year-old daughter, Linda, also was in "Roberta."
In the crowd, Hope somehow managed to spot Sam "The Watermelon Man" Zvibleman, whose melon stand at Natural Bridge Avenue and Goodfellow Boulevard was a local landmark.
"Where's the watermelon?" Hope shouted. It was in Zvibleman's car; the Watermelon Man and Hope had been friends for 20 years. When watermelon was served at a cast party, Zvibleman and Hope shared a big slice.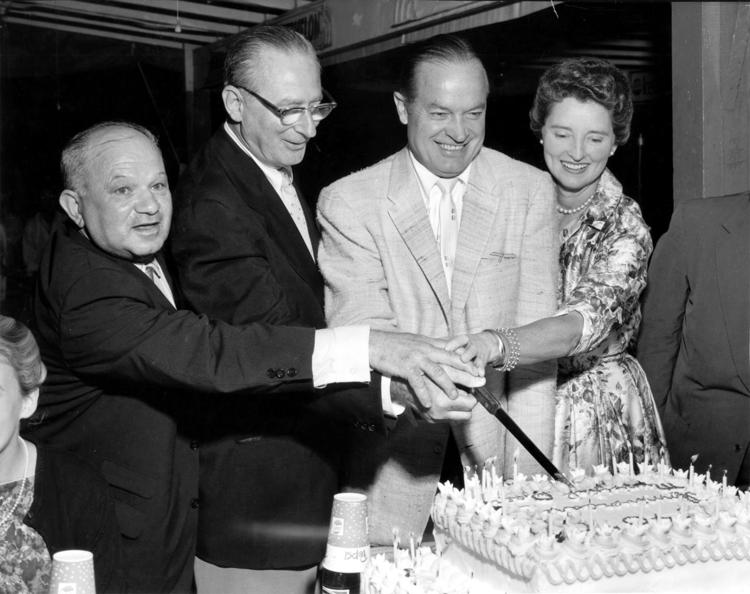 Although "Roberta" didn't break attendance records, the house was full every night, and the gross, around, $115,000, set a record.
And Linda Hope liked St. Louis so much that she came right back, transferring from Mount St. Mary College in Los Angeles to St. Louis University.
Happy anniversary
In 1958, actress and producer Margaret Anglin died; she was credited with selecting the spot where the Muny rose. A longtime director of the Muny board, Marvin E. Holderness, wrote a book about the theater's first 40 years, "Curtain Time in Forest Park." And that 40th-anniversary season closed with "Oklahoma!" — by who else? Rodgers & Hammerstein.
Photos from the Muny in the 1950s
Stay up-to-date on what's happening
Receive the latest in local entertainment news in your inbox weekly!