Barack and Michelle Obama and their daughters, Sasha and Malia, broke ground when they moved into the White House in 2009, becoming the first African-American "first family." And the artists selected by the former president and first lady to paint their official portraits are the first African-Americans to be so honored.
Amy Sherald and Kehinde Wiley have experienced heightened national and social-media profiles. And their work has found its way onto the schedules at two top St. Louis museums.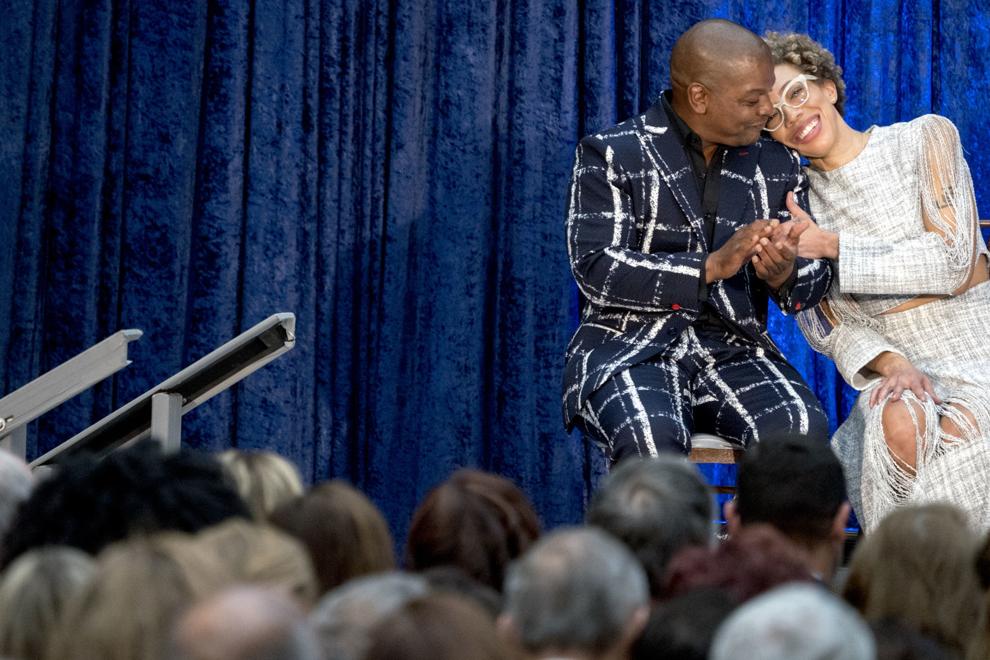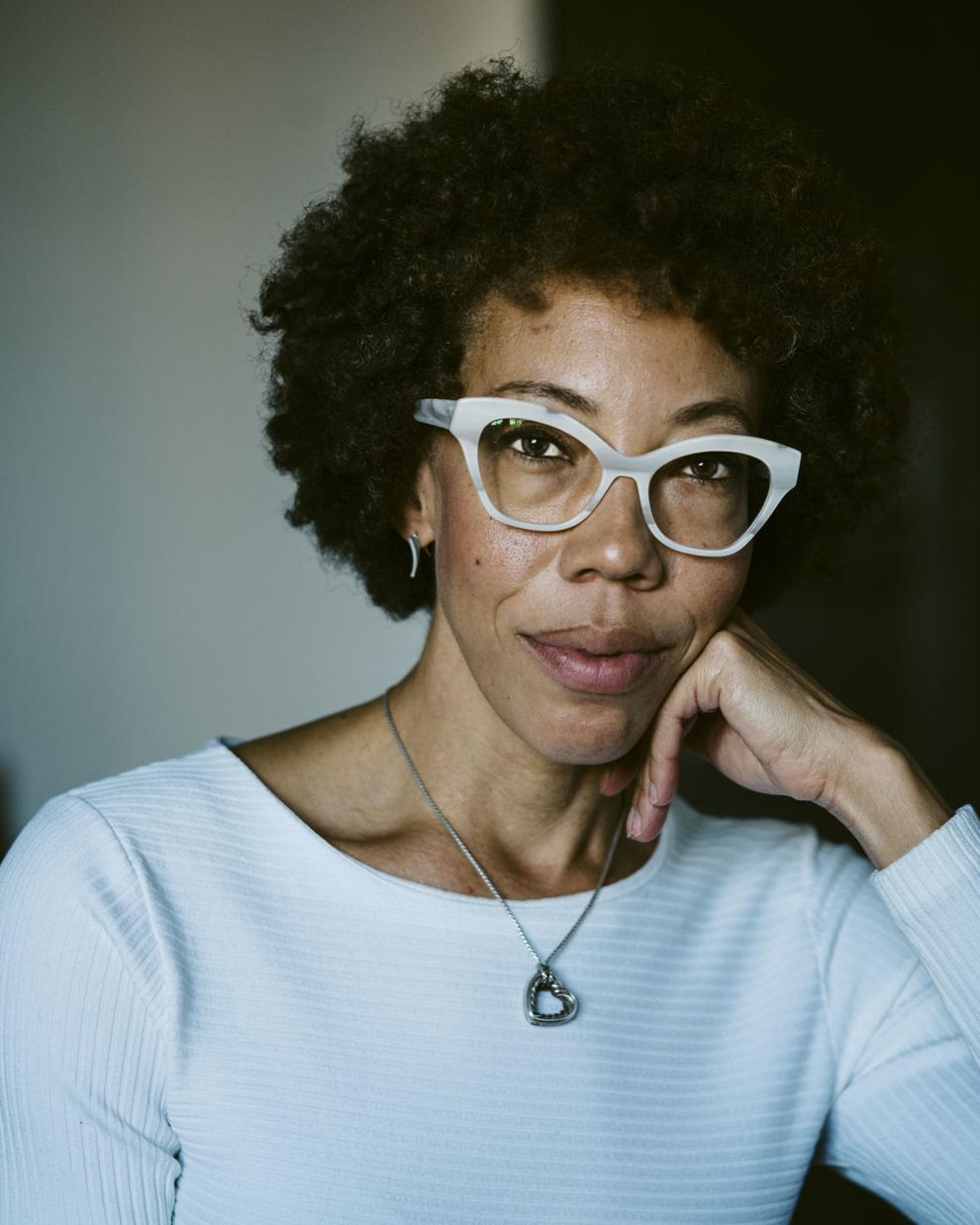 Wiley, who lent his touch to former President Obama's portrait, will have an exhibition at the St. Louis Art Museum beginning in October.
Sherald, whose bold rendering of Michelle Obama sparked vigorous debate, has seven paintings on view at the Contemporary Art Museum St. Louis through Aug. 19 as part of its Front Room series. It's her first solo museum exhibition.
Sherald's painting of the former first lady isn't included here; the Obama portraits were commissioned by and have joined the permanent collection of the National Portrait Gallery in Washington, D.C. But museumgoers are unlikely to be disappointed. Sherald's artistry is not only distinctive but also worthy of acclaim beyond her celebrity moment.
In a recent interview, Sherald, 44, said that she was excited to make the shortlist of artists under consideration for the Obama commission, and she was elated when Michelle Obama chose her for the job.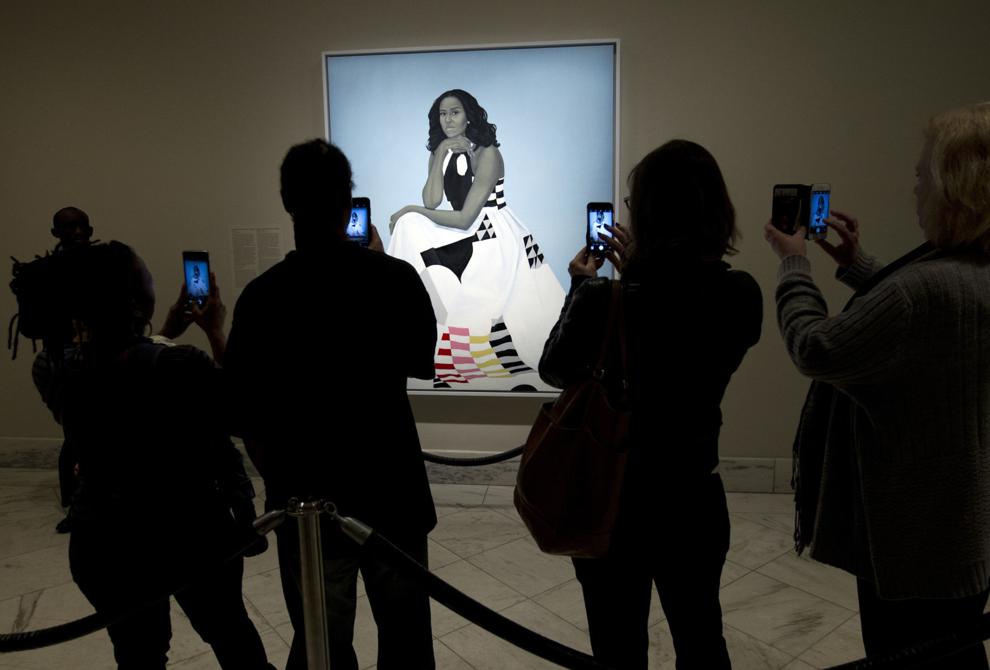 After that, it was a matter of deciding just how the former first lady should be portrayed.
"I worked with her stylist," Sherald says. "I told her what I was looking for — bold colors, patterns, things like that. Her stylist sent me 11 dresses, and I narrowed it down to four, and then I chose two from those four." The final choice — the dress that Michelle Obama wears in the portrait — bore the chic Milly label.
"I like that dress because of the geometric patterns and because I felt like the dress was a painting in itself," Sherald says. "I wanted it to be its own thing, as well. It had its own story, to tie into her history as an American woman."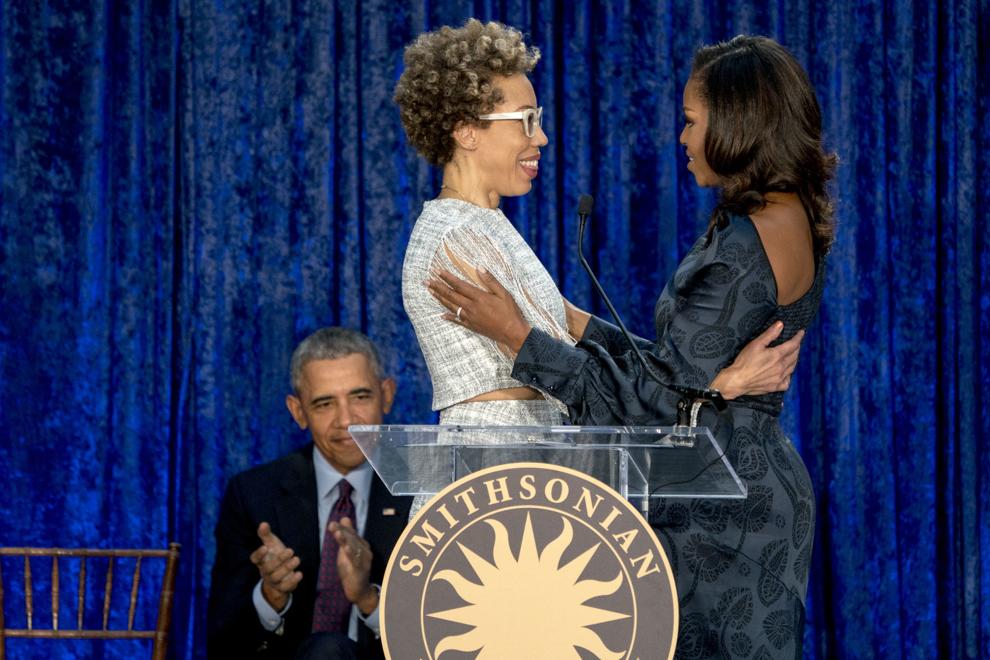 She met with Michelle Obama twice to photograph her as part of the process of creating the painting.
As much as she appreciates the attention, Sherald says that media accounts that described her as an "obscure" artist before she was chosen as an Obama portraitist were inaccurate.
"The thing is, I was already well known in the art world, and I already had a waiting list for my work," she said. "And my career trajectory was definitely — I wasn't worried about my life at that point, or having money. What it has done is put me into the minds of non-art lovers, the people who aren't familiar with the arts that much at all. So I appreciate the fact that, because of this, a lot of children have become interested in the arts because they see something that they can recognize and relate to."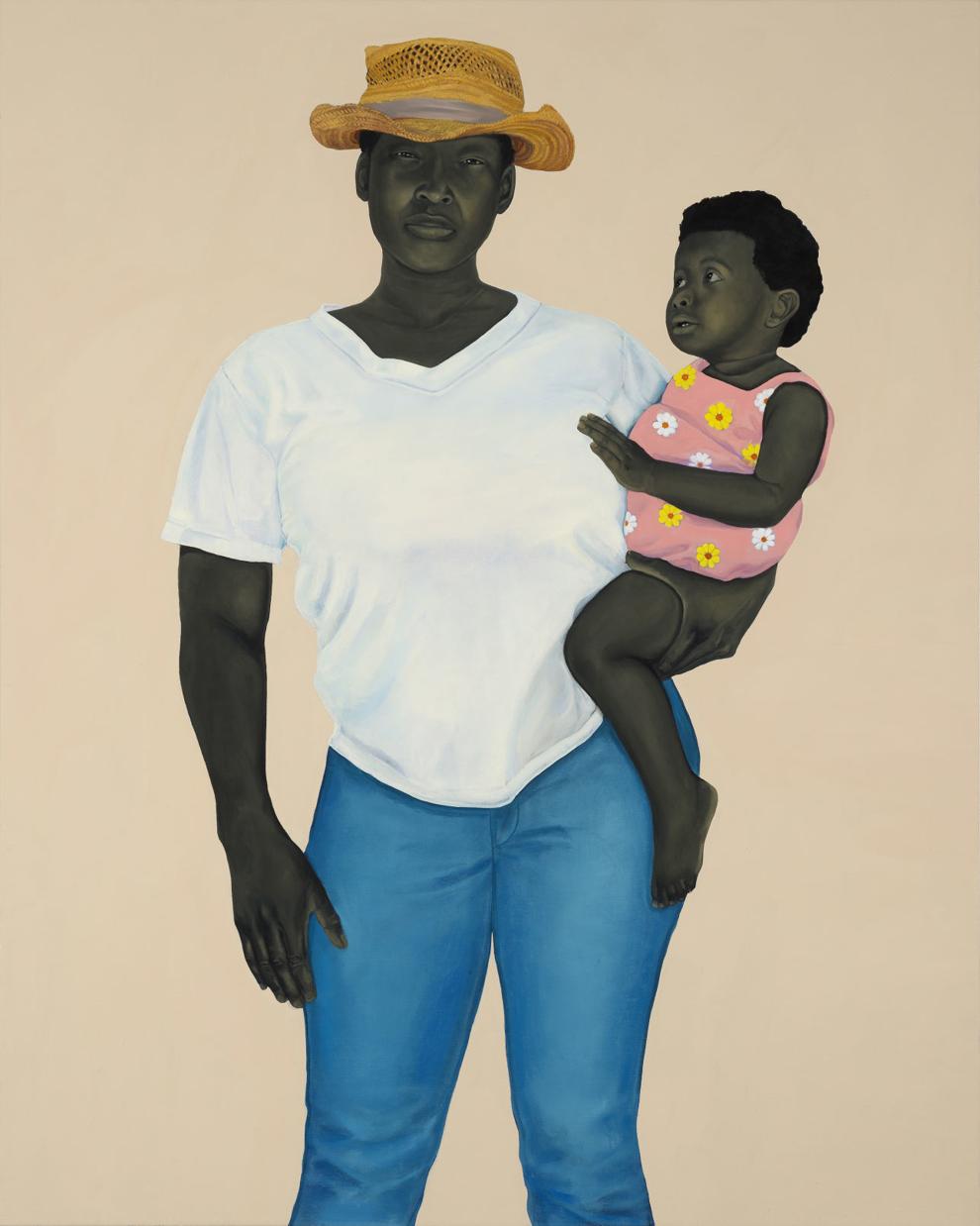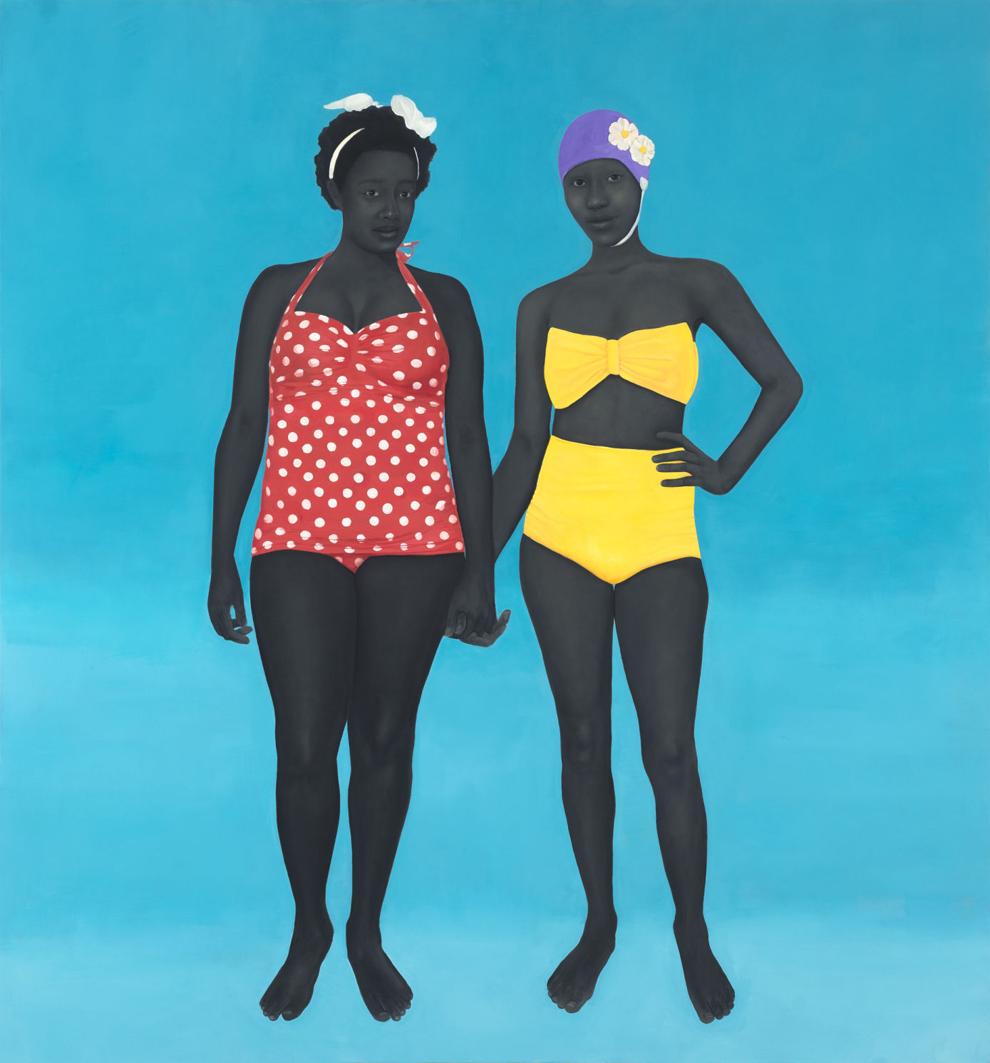 Based in Baltimore, Sherald was born in Columbus, Ga. She earned a bachelor's degree in painting from Clark Atlanta University in 1997 and a master of fine arts in painting from Maryland Institute College of Art in 2004. In 2016, she was the first woman to win the Outwin Boochever Portrait Competition grand prize.
Sherald cites realist painter and fellow Columbus native Bo Bartlett as an early influence.
"He's the first artist whose work I saw at a young age," she says. "It was figurative, and I related to that as what it meant to be an artist — being able to render the figure. A lot of the artists that people equate my work to, I didn't find out about until after graduate school."
Another important influence on her work is photography, Sherald says.
"That was the first place that I saw portraiture that I could relate to, that wasn't European portraiture," she says. "I looked at European paintings for composition and color and things like that. But when I looked at photography, it likened to those paintings done of aristocracy (after) the invention of the camera, where black people were able to represent themselves the way they wanted to be represented."
Sherald's career as an artist has taken her to far-flung destinations including China, Norway, Panama and Senegal. And her travels, she says, are reflected in her work.
"All of your lived experiences as an artist somehow come into play," Sherald says. "When people ask me about color in my work, I tend to say that it came from spending a lot of time in Panama."
What "Amy Sherald" • When Through Aug. 19; 10 a.m.-5 p.m. Wednesday, Saturday and Sunday, 10 a.m.-8 p.m. Thursday and Friday • Where 3750 Washington Boulevard • How much Free • More info 314-535-4660; camstl.org